Amazon mistakenly sells 1.4 million yen camera lens for 10,000 yen and delivery is actually done without cancellation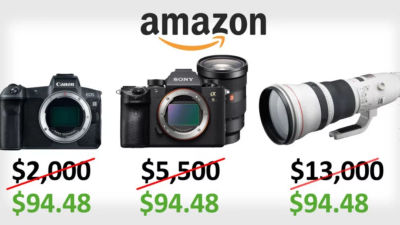 There is a happening that a camera item over $ 13,000 (approx. 1.4 million yen) is mistakenly displayed as $ 100 (approx. ¥ 10,000) on Amazon's prime member Thanksgiving Day "Amazon Prime Day" (Prime Day) The people who happened and noticed this jumped to the product all at once. I think that Amazon will respond to this mistake with a cancellation, and the surprise report that 'the product has actually started to arrive' has been raised.

Amazon Accidentally Sold $ 13,000 + Camera Gear for $ 100 on Prime Day

https://petapixel.com/2019/07/17/amazon-accidentally-sold-13000-camera-gear-for-100-on-prime-day/
Amazon's prime member sale 'Prime Day' is launched from July 15, 2019, and sales over the two-day sale are
said to have
reached $ 5.8 billion (approximately ¥ 630 billion). A variety of items from books to home appliances have become items for sale, but in fact, camera items with prices of hundreds of thousands and millions are displayed 'incorrectly' at around 10,000 yen. There was a happening that.
The fact that the camera is at a
bargain
price on Amazon is that users who noticed that Sony's mirrorless single-lens '
α6000
' and a
16-50mm lens
set were sold for $
94.50
(approximately
10,180
yen) It spread by
sharing information on the website Slickdeals.net
. At this time, some users were able to confirm that the camera was about 10,000 yen on Amazon, while some users indicated that the price of the camera was as normal as $ 550 (approximately 59,000 yen). is. The low priced cameras were not sold by third parties at the Amazon Marketplace, but were sold by the official Amazon store.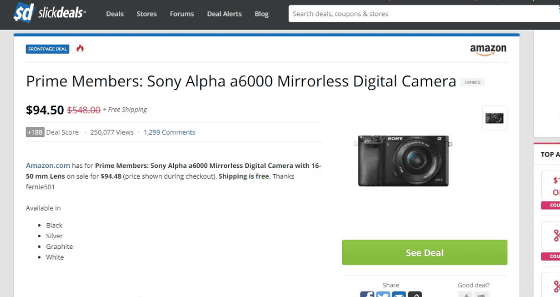 Slickdeals.net commented: 'I was totally $ 94.48 for serious. I purchased a total of $ 10,000 (about $ 10,000) items for $ 900 (about $ 97,000),' one
commentator
or '1 13,000 dollars lens and bought was 'in 94 US dollars
Some people have said
.
It was obvious that the price was displayed incorrectly, so many users thought that 'it will be canceled later' while pressing the purchase button. However, it is reported that what was actually purchased is delivered. In addition, Amazon
actually ships
a lens of $ 2200 (approximately ¥ 237,000), which was displayed as $ 500 (approximately ¥ 53,000) by mistake in the past.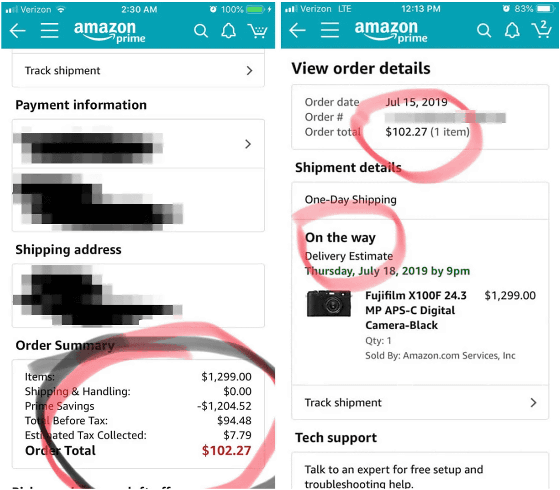 This is a photo of an item that actually arrived, taken by a user contacted by
PetaPixel, a
technology media. It is commented that 'Christmas has already come!'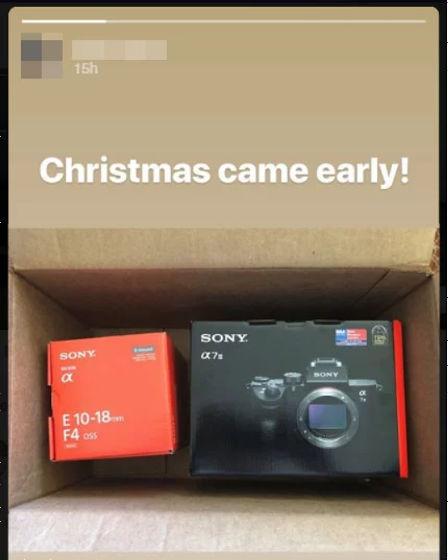 One of the photographers 'I noticed that 'someone hacked' when I tried to buy a high-end camera, so I was locked out of my account. Others are better than me I think you're shopping, 'he says.

Products that are back in stock may be canceled or refunded from now on, but at least those that have been purchased have actually been delivered and many Slickdeals users have received the product and have reported joy doing.