Produced by Kumada Koji's manga "Sayonara Zetsubo sensei", the third stage of animation "contest / Sayunara Zetsubo sensei"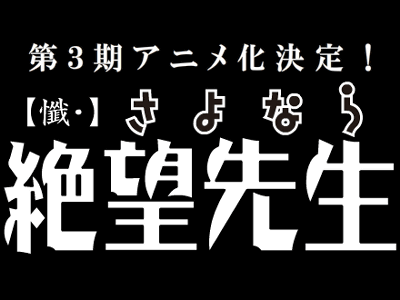 Kanji Kumada's manga "Sayonara Zetsubou Sensei" (Weekly Shonen MagazineIt is decided to make TV animation for the third time in series). The title is "Sensui Sayonara Zetsubou Sensei", and broadcasting starts at U station system nationwide from July. Of course, the animation production is responsible for the shaft, and the director is Akiyuki Shinbuchi. Cast has also changed without change.

Details are as below.
StarChild: Penalty · Sayonara Zetsubou Sensei

"Sayonara Zetsubo sensei" serialized by Koji Kumada who has been transferred from Weekly Shonen Sunday to Weekly Shonen Magazine since July 2007 to October 2007Television anime Phase 1, But from January to March 2008Television anime 2nd term (vulgar · Sayonara Zetsubo sensei)Has been produced. In October 2008, as an OAD series to ship a DVD to comics "Prison · Good byeAlthough it has been heard popular works such as being produced and the rumor that the third term of TV animation will be produced has been heard long before, it was finally officially announced.

Like the previous series, it is the shaft that produces animation. Director Akiyuki Shinbun is in charge. There is no change in the cast, and the opening theme song is based on "Otsuki Kenji and despairing girls".

I am looking forward to see what sharp directing can be seen in the third term.