Free software that can freely change MAC address "AnalogX AnonyMAC"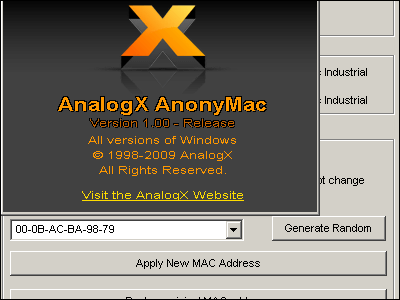 It is free software that runs on Windows 95/98 / Me / 2000 / XP / Vista / 7, in short, all versions of Windows from Windows 95 to Windows 7, and each NIC (adapter) can be rewritten without rewriting the firmware of each NIC, SeparatelyMAC addressYou can change it. When changing, it can be set randomly with one button, and the MAC address of another PC running on the same LANARPYou can also retrieve it by displaying it, copy it, or change it back to the default MAC address after changing it.

There were various ways to change the MAC address so far, but this "AnalogX AnonyMAC"As a free software, the function is very substantial, and the point is that it can be used easily and easily.

Download and actual usage is as follows. In addition, please go with all your own responsibility.
Network Downloads: AnonyMac /// AnalogX

Click the "DOWNLOAD NOW" button at the bottom of the page to download "anonymci.exe"




I will install it on Windows XP this time. Execute "anonymci.exe" and click "I Accept"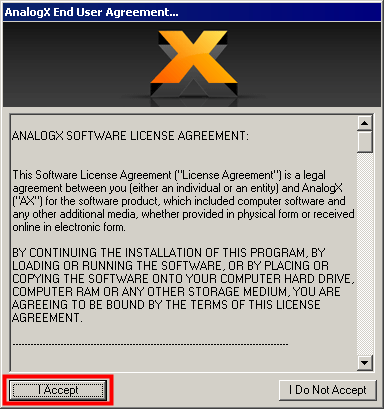 Click "Yes"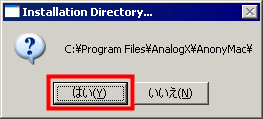 自動的に「http://www.analogx.com/install.htm?app=anonymc」が表示され、インストール成功

Click "No"




Click "OK" to complete installation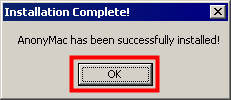 Launch "AnonyMac" from the start menu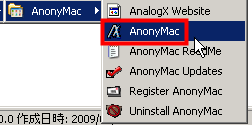 It takes a while while booting up.




This is the startup screen of the main body.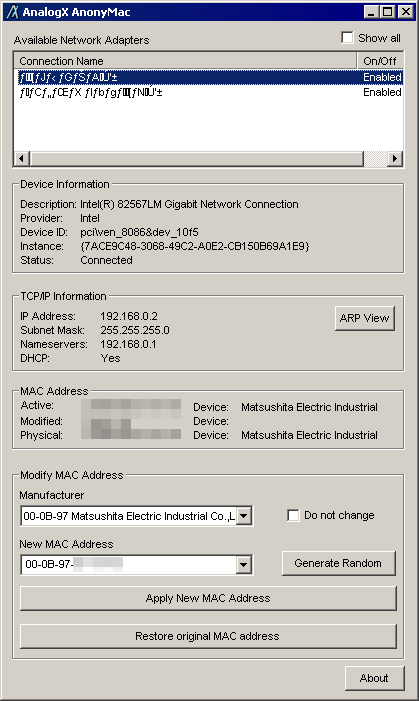 The adapter currently being used is displayed at the top, and it is garbled, but if you select it, details will be displayed in the "Device Information" at the bottom so there is no particular problem. If you check "Show all" in the upper right corner, you can also make settings for adapters that are not currently connected.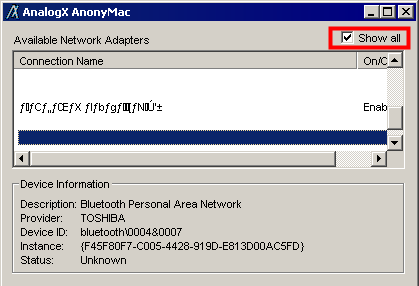 There are various ways to change the MAC address, but as a basic procedure, first click "Generate Random" and generate an appropriate MAC address. The randomly generated MAC address is displayed in "New MAC Address" on the left of the button.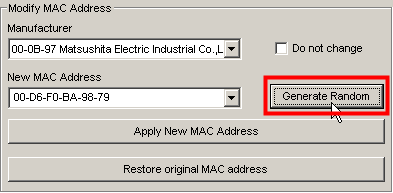 Next, select an existing manufacturer name from "Manufacturer" above it.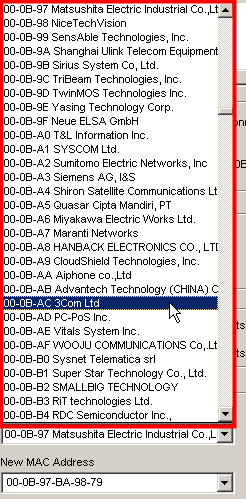 Finally, click "Apply New MAC Address" and the new MAC address will be set to the selected adapter. To restore, click "Restore original MAC address" and restart it is OK.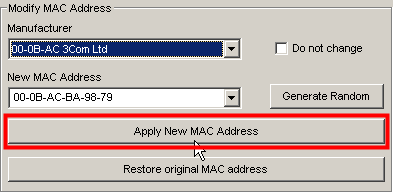 By clicking "ARP View", you can copy the MAC address of another machine in the same LAN




In this way, select the machine name you want to copy, right click and select "Copy MAC to clipboard" OK.