Whole 43 Episodes of "Mobile Suit Gundam" Webcasted On Bandai Channel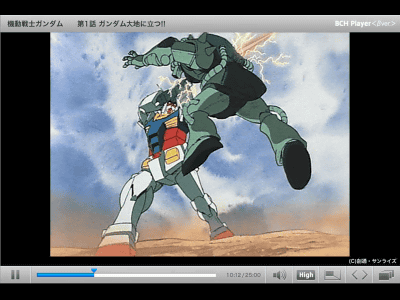 60ft. statue of Gundam is erected in Odaiba and all kinds of commemorative products are released as Bandai's 30th anniversary collection, so any anime-fan worth his salt must be aware of the anime's 30th anniversary by now. But quite a lot of them may confess to not actually have watched the whole 43 episodes of the first Mobile Suit Gundam. Don't worry, there's a great opportunity this summer for you!

Read on for details.
BANDAICHANNEL

Streaming Whole 43 Episodes of MOBILE SUIT GUNDAM - Official Gundam Portal Site GUNDAM.INFO(Link to the video)

The whole 43 episodes of Mobile Suit Gundam, or the First Gundam is being streamed for free on BANDAI CHANNEL from July 20 to August 31 (in JST, so that means 15:00 Jul. 19 to 14:59 Aug. 30 in GMT) one episode per day. The anime is delivered by BCH Player <βver.> which can be embedded on blogs.

The webcast coincides with the summer holiday of most Japanese grade schools (we have short summer holiday despite the hot weather in Japan), so many children who weren't born or whose parents weren't even born 30 years ago might be watching the first Gundam for the first time this summer.