Production confidential stories talked about in talk show "Fushimi Takashi's father's sister can not be this cute" decided to animate, "Fail over my talent!"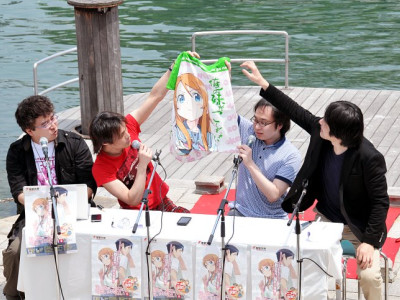 Not at the official site, but at Akiba BlogAnnouncement announcedLight novel "was done"My sister can not be this cute(Hereafter, it is abbreviated as my sister). " Events held in Tokushima "Machi ★ Assobi vol.3In the original author'sTsukasa FushimiAnd Iwakami san of Aniplex who made planning animation did a talk session talking about the work.

The main character of "My sister" is a sister of a junior high school student and a brother of a high school student who had no conversation from usual. My sister is as beautiful as a model and smart but 18 harmless game is a hobby, a story that the relationship between two people will change as the older brother lends power to the ripple about that secret. In the talk session I was talking about the setting of the work and the prospects for animation.

Details are as below.
"Shimachi board walk" of Tokushima that became the venue. It was only about the staff who was set up almost an hour before the start ... ....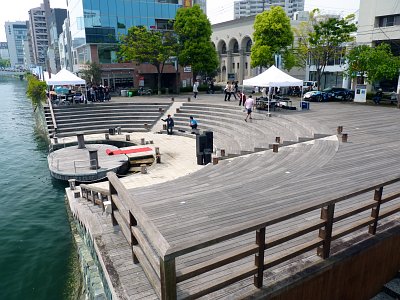 A crowd of people started when the event began.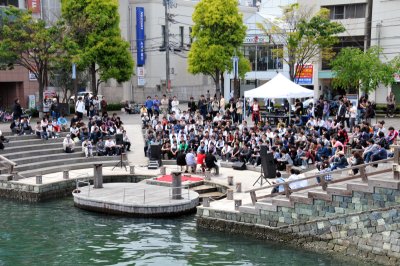 Four people gathered at the talk event. Mr. Ohara from the Dengeki Bunko editorial department from the left, Miki of the Dengeki Bunko editorial department, Tsukasa Fushimi, Mr. Iwakami of Aniplex.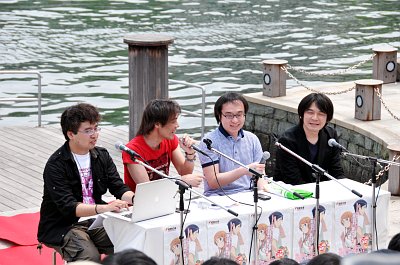 Miki
It is very hot today, is not it? How is Tokushima?

Fushimi:
I thought that Tokushima is a nice place, but the data of Dorakue is gone and it is a big shock this morning. I am about to cry from the morning and the tension is not rising now (laugh). I am setting a passing challenge, but if there is a poor monster of level 1, it is mine.

Miki
Mr. Iwakami, you accepted animation well.

Iwakami:
No, as I thought that the original was interesting, I am happy to be able to join you.
I thought that it was a new home comedy, and it contains the neta which I have not dealt with before. I hope that it will be a fun film to watch and laugh.

Miki
Akiba blog is Aoona's AA, but in reality it is a great producer.

Fushimi:
As an original worker, is it all right?

Miki
... I think it's all right.

Ohara:
Why did the answer stop for a moment (lol)

Miki
No, no I heard that Mr. Fushima himself was strange. It's okay.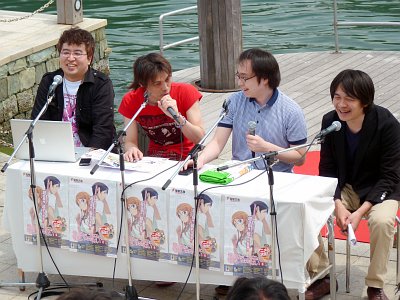 Miki
How hard was the drama CD novel?

Fushimi:
Although it was not so hard, I am proud that it takes time and effort for one book as far as the drama CD as a whole is concerned.

Miki
Do you have any concepts or opportunities to animate

Iwakami:
I think that it is funny. I have to think "I want to see this character moving" on my own. It is quite a tough job to make animation. "My sister" has that power.

Miki
From the original side, the recommended point of animation is original illustration chargeKanzaki Hiro(Name as an animator is Hiroyuki Oda) is scheduled to be added, I expect that the degree of visual integration will be high.

Iwakami:
Among those wearing two pairs of illustrators and animators, at the top classBonds (animation production production)Since he is also a painting director, we also expect very much.

Fushimi:
I just saw an illustration of the animated version, but it looked like the original (laugh)

Miki
Oda - san 's awesomeness may be understood by looking at the animation "HEROMAN" currently broadcasting.

Ohara:
Oda was a painting director at the 5th episode.

Miki
Actually, I have already entered a series of arrangements in the series, and Fushimi is getting into it too much, is not it painful to get out every time?

Fushimi:
Well, it is troublesome.

Miki
Hey! It's already dull because of Drakuie (laugh)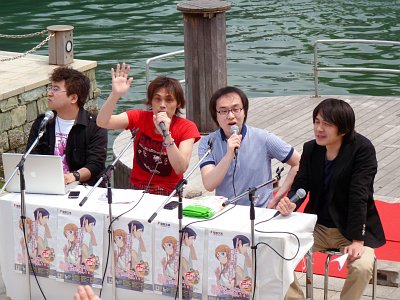 Fushimi:
Well, the screenwriting itself is very fun, but it is late at night that the meeting of the bunko will start afterwards and return home ....

Miki
Because it's a unique opportunity to meet once a week? Let's have a meeting.

Iwakami:
The screenwriting conference is done for 3 to 4 hours, but it can be said that the screenplay conference is real one hour.

Miki
Other than that it is all otaku talk, is not it.

Iwakami:
Although it is not Fushimi, a geek talk of a writer is said to be spread.

Fushimi:
I think that the writer is a very nerd person, probably awesome than the heroine 's Kirino, so I have no problem with depiction.

Miki
Screenplay corrections are also small.

Iwakami:
I agree. It is high perfection from the first draft. After that Kanzaki has another face.

Miki
Ah, you are the one who blew up from that nose.

Fushimi:
People who do not understand, with Nico Nico videoSearch for "Nose Somen P"Please try to.

Miki
Productions are also going around like location hunting.

Fushimi:
Since the place which became the model of the stage should be reproduced quite accurately, if you see the animation please go to sacred place pilgrimage.

Miki
wait a minute. This is Tokushima, but (the stage is) Kanto is not it?

Fushimi:
If there is love that much. Well it's a little over an hour by plane.

Miki
I do not know how far it will be animated, but there are places to shift the stage abroad on an original work. The director was desperately saying "Let's go to the location hall, let's go to the location hall", are not they? Is that because you want absolutely free to go on a trip?

Iwakami:
Of course it will be (laugh). Others are in Akihabara and other places are nearby.




Miki
If there are places you are expecting or worried about with animation, please.

Fushimi:
Anyway I do not have any concerns. I believe Mr. Iwagami will manage everything.

Miki
You said the same thing as the industry talk show?

Fushimi:
Because I answer that way when asked every time. On the other hand, what we are hoping for is how far the heroine's otaku is reproduced.

Miki
"My sister" is a real name or placeStrike 2 Master UmesharaI think that there is quite a lot of story that you do not know unless you know it. Since there was a person who did not know the dragon ball story in the last questionnaire of Machiasobi, I think there are also dates and something, but it seems to be an interesting point if you can understand otakuuneta.

Fushimi:
Every time I am interested, every time I am interested, during this time scales fell down from the eyes with an opinion that "the place where Kirino is totally unknown what it is talking" is interesting in fan letter. There may be some story that can not follow the next volume at all, but please do that way of doing that (lol)

Miki
In the 3 volumes that came out in April 2009, I am writing the word "Twitter". So, "Fushimi, what is this Twitter? I do not know so please change it." But, "I will leave it as an alternative story and leave it," Fushimi says, and the result is what I have leave as it is now. I am sorry to lower my head.

Fushimi:
Is it a place saying "Get over to my talent!" (Laugh)

Ohara:
It is a reversal of position.

Miki
I have heard opinions from various people about the original, but it seems that there are things getting worse as the volume increases.

Fushimi:
What is it?

Miki
It seems that hero / Kyosuke's pervert is plentiful. Especially "With nasty eyes against aya". Is the neighborhood okay?

Fushimi:
No, they are ants at all. Because the drama CD was the most terrible though I was the best.

Miki
Is it the same for 6 volumes to be released?

Fushimi:
I agree. I have memories that I wrote.

Miki
By saying that Kyosuke is turning into a perverted, or nerdy?

Fushimi:
Yes. It is a depiction that it is staining little by little under the influence of Kirino, so it has never changed suddenly.

Miki
It looks like a retrofitting, but is it okay?

Fushimi:
It is not such a thing (laugh).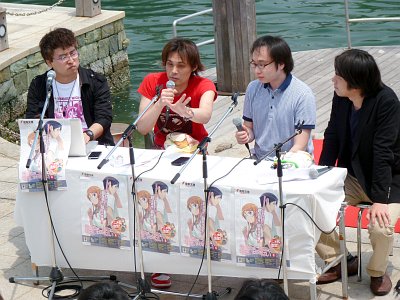 Miki
Okay, let's put it, what does the reading of 6 volumes feel?

Fushimi:
In response to the popularity of 4 volumes in 6 volumes, the short story is composed of 4, but a little trick is given at the end.

Miki
I think that the book has arrived to Mr. Iwamami, is not it 2 episode? It is said that Akagi goes to a strange place.

Fushimi:
Every time I make friends telling me that I went to interview to write, it is said to be "funny". I think that you can read and feel it is not such a thing.

Miki
I think that everyone is an adult to be separated, so please read and think that it is culture. I would like to say that I'm never making something big. Even if something happened, "Mr. Miki said in Tokushima, I'm glad to say that I was approaching the place that properly meets culture."

Ohara:
Why are you making an excuse (laugh)

Iwakami:
I thought that the story of 3 stories coverage was also amazing.

Fushimi:
In the third volume there is a scene that I go to a love hotel with my sister, but I went to Shibuya alone on Christmas Eve to write that scene.

Miki
There are so many people in Shibuya on Christmas Eve. After that, it is basically full of rear. It is a combination of a couple or two females.

Fushimi:
It sounds like I do not match Shibuya.

Miki
No, what are you saying, it is not so, but is it a harsh land to go as a coverage? It seems like a poisonous swamp without a trumpana.

Fushimi:
So, I ate at a restaurant at 109, went round about Loveho and watched live houses.

Miki
109 is very hard. The moment you enter, you get intoxicated by the smell. Even though I was writing it, I thought "This is real experience". You do not come, you have an aura.

Fushimi:
If I say such a thing, it seems like I felt Lesantiman (laugh)

Miki
Also, I got a gorgeous gorgeous clerk who told me "I will give it to my sister" and actually chose an accessory. Because Fushimi does not have a sister, it becomes a fictional sister, did you buy after all?

Fushimi:
After introducing it in the real thing or the catalog, I went back without buying anything after listening to the commentary.

Miki
Fushimi Tsukasa serious legend is there, and when I talk, I will definitely interview the next day. I will read everything if it is manga, and the stage will go with the scene.

Four people spreading "my sister" goods at the venue.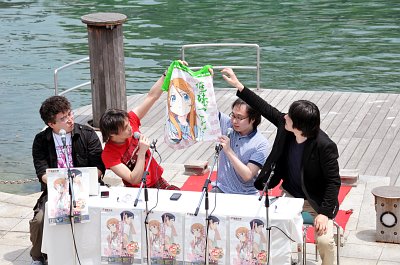 Two kinds of sports towels.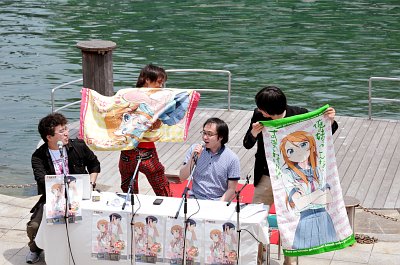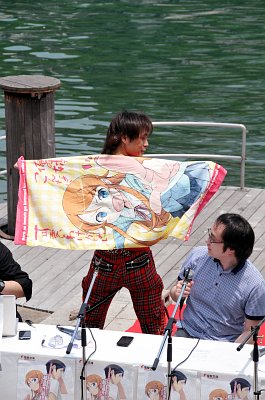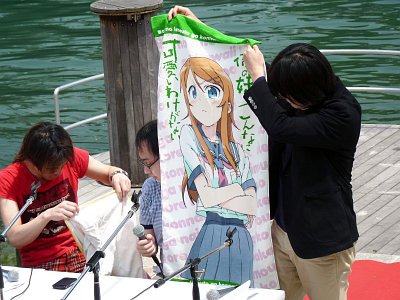 Mercure shirts come out from Cospa, too.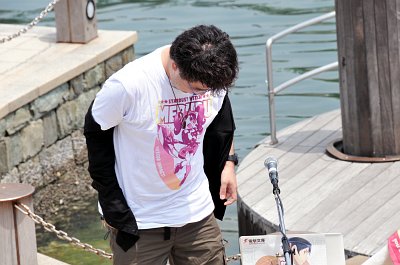 I answered questions from customers and Twitter who came to the talk show.



Question:
Do not you write spin-offs?

Miki
There is an in-process work such as "Star Tsu ☆ Wuichi Meru" or "Maschera ~ The fallen fall of a fallen beast".

Fushimi:
Actually I wrote anymore. It is recorded in ToraCa including rough setting. So those who want to see spin-offs collect tricks (laugh)

Scheduled to be released from May 27, 2010 "Lambs × Trading Cards". You can enjoy visuals and new stories by multiple illustrators, and on the official websiteYou can see samples.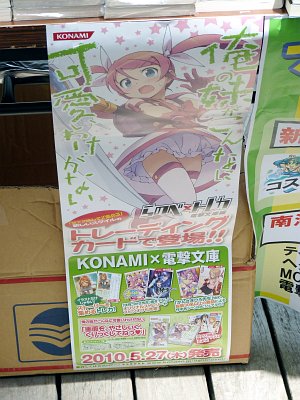 Miki
Will spin-off work be an image even in animation?

Iwakami:
Become.

Miki
I decided it myself right?

Iwakami:
Because Mr. Fushimi told me that, I feel like. I am glad that I want to do it with a stupid feeling.

Question:
What is a sister for a teacher?

Fushimi:
It is fantasy. I write with imagination because my sister does not exist, so I am thinking it is fantasy instead of reality.

Iwakami:
Actually, I have three younger sisters, but it is fairly realistic Distance feeling. There is a part to understand.

Miki
Is there about the place where you read this book "(Was this scene there)"?

Iwakami:
I think that there are many scenes that are misleading in various ways in this work.

Miki
Like entering the hotel together.

Iwakami:
Yes Yes. Well that's not a matter of course, but there are parts that I think "I do not understand".

Question:
Is there a sister in a black cat? Although the home environment has not been revealed much in the original, though.

Fushimi:
A black cat's sister goes to anime. Naturally there is a back side setting that there is a younger sister also in the original work. Although there are restrictions to draw from the viewpoint of Kyosuke in the original, I think that it is definite to go out as animation restricts its limitation.

Iwakami:
In the phone scene, someone's room comes out, so Fushimi thinks there were many questions in the part not drawn in the original, but there are also parts that settled by that.

"My sister" item adorned with the Nankai Books booth of Boardwalk.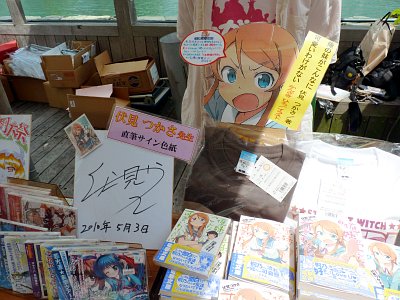 Question:
If you are a teacher, which do you prefer, Turuno or Black Cat? By the way, I am quite clear.

Miki
This funny child.

Fushimi:
I heard it in two choices and answered another character at all (laugh). Well then I like Saori.

Miki
Is it true? Is not it big?

Fushimi:
I am tall, but I amBeyonettaI love it.

Question:
The father of Kirino and Kyosuke is tough, but is there someone who became a model like my parents?

Fushimi:
I am not a real person, but "Code Geass"Emperor Charles J. Britannia and so on while imagining.

Miki
Fushimi will fly very much from the original story.

Fushimi:
But everyone knew what I meant to say.

Question:
What do you think about pronunciation of the name of Kirino that was a drama CD?

Fushimi:
I thought I did not want to do anything when I first decided on pronunciation, but what about it?

Miki
Just by deciding the best intonation is on the spot, there is no intention, so it may be considered if there is your opinion. Consider.

Fushimi:
Now I got to Mr. Iwakami.

Although animation was announced, it was also talked about movie making.

YouTube - Fushimi Takeshi talk show of "My sister can not be this cute"


Question:
"Durarara! It is!Do you have a collaboration with Dengeki Bunko like?

Miki
Did you feel like you can do it for now?

Fushimi:
Because I am a writer in the Dengeki Bunko and few close friends. How about that?

Miki
You can do it like a style.

Fushimi:
I agree. If you can get permission from the other side.

Iwakami:
Because the city of Akihabara comes out, I feel like I can do various events.

Miki
By the way what should I collaborate with? Are there any titles?

Questioner:
"Durarara!!".

Miki
Well, I will take Narita 's permission first. Thank you very much.

A sign color paper written during the Machiasobi.



Fushimi:
I am looking forward to everyone's reactions, so it is truly a pleasure to see results. Thank you in the future.

Miki
Apart from the anime official websiteOfficial site of the originalI am doing it, so I will think about various interesting projects so as not to be defeated by animation, so please check out the net as well.

Iwakami:
I am doing my best to make it a good animation, so I would like to ask for your continued support.

Miki
There are various circumstances but it is decided but there is something I can not say but because I think that I would like to release it while entertaining you somehow and let it be open to cold, I think that you can enjoy it.

Ohara:
Thank you again this year.

Miki
Oh, I'm still only about a third, is it okay? It seems that there are still horse mackerel this year.

Ohara:
Well, thank you from now on.

Fushimi:
I hope I can come again. Thank you very much during the hot weather.

"Special" category of official websiteSo we also talk about the event and talk about the end of the event. You can also listen to the answers to additional questions.