"I want you to communicate opinions in an analog way instead of writing to the net" "Reservation is important", actual situation of the scene of anime / game industry stakeholders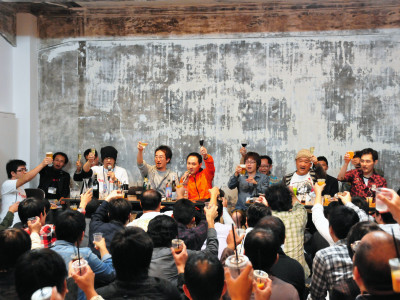 "Gusset ★ Asobi"There may be people who think that animation is screening or that the voice actor is a talk event or a live performer. Certainly they are also one of the events, but what is more interesting is that it is easy to hear stories of people in the animation industry and the game industry.

"Machi ★ Assobi vol.4On the evening of the second day, the talk event of the industry association which became the custom was held. In this event that the Elai people involved in the animation industry and the game industry gathered, what was revealed this time is that every industry "Anyway the reservation is importantThat was that.

Details of the talk event where the talk of internal feeling jumped out so much that it is not Gurigishi Safe is out is as follows.
The venue is ufotable cafe Shinmachi River Culture Gallery in the same building as Tokushima. Approximately 70 people were in the gallery and 30 people were in the café side, and also in Ustream there was relaying.



The participants of this time also have a lot of faces. Even people who do not know their face and who think "Who are you?" When they came, when they hear their name, they are just people called "Oh !!". If you introduce it in brief strictlyEuphor table·Kondo Hikaru,Aniplex·Yuma Takahashi,Cyber ​​Connect to·Hiroshi Matsuyama,NAMCO BANDAI Games·Yusuke Tomizawa,Kadokawa Shoten·Seiichi Hachiya,Bushiroad·Masatoshi Shimamura,Nitroplus·Would you do it,good smile Company·Mikatan, Kadokawa Shoten ·Yosuke Nishiyama, Bushiroad ·Tanaka Bunkei,Megami magazine· Matsuzaka Toyoaki,Frontier Works·Takayuki Matsunaga,King record·Takahiro Yamanaka,Mouse Promotion·Shozo Naya,Clock works·Tsuyoshi Tsuneo. In addition, I joined the good smile companyTakanori AkiThe president also joined.

Mr. Yuuma Takahashi said that the host chosen 15 seconds before the start of this member. It is a famous public relations officer appearing in various places under the name of "Aniplex Yuma". The event started with incongruous swing from Kondo P "Please, please partition".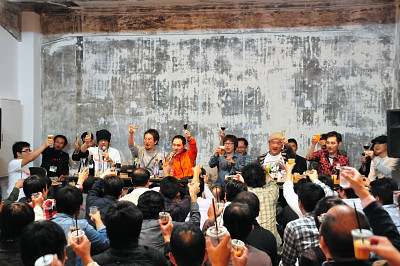 Yuma:I'm glad I could finish it safely until the second day.

Kondo:Are you the one who came to the first day? (More than half of the hands go up) I did not know that an alarm was issuing in Tokushima, anyhow, I decided to do until the customer ceased to exist. If you stop the event, it will make a fuss about it. In the case of the screening, I just wanted to shed a picture and I was thinking that if anyone ceased to be there, I would end it.
(note:Severe rain (inundation flood) flood warning was issued in Anan City and Komatsushima CityIt seems that warning was issued to Tokushima city)

Shimamura:At the screening of the first day "Black ★ RockshooterI saw it to the end, but I was surprised to leave it in units of 100 people.

Tomizawa:On the first day was a lot of rain, and at Bandai Namco Games and Frontier Works I had an event with the ufotable first floor, the umbrellas shop across the street was tough and I am sorry somewhat.

Kondo:I did not tell you the details of the crepe shops that I sold at the summit, but it seems that it was a great sales.

(From the customer "ROMANDO ROLL"SWEETS WAGEN"Information that two stores were sold out)

Matsuyama:I came by plane this morning, well I was surprised to see that there are so many people. I knew the existence of the event itself "gore ★ Assobies", but the participation was decided from Tomizawa P on Twitter contact.

Tomizawa:It was my position to play in the past gobby Assobi, but from now on I think that I have to stand in a position to excite the game. Last time, when I came by bicycle, I went to see the Naruto Strait, and thought there, "Oh, Naruto ...... Naruto?" I came up with Mr. Matsuyama (of cyber connect to making Naruto's game). The animation industry seems to be strong in the sideways connection, but the game industry in the side is easy to come casually when thinking whether it is difficult because the side is severe.

Kondo:The animation is not loose, either.

Tanaka:At the booth of Bushiroad, about 1.5 times the number of people I thought gathered. I was very happy.

Shimamura:During the busiest time of the booth, I went to help the Milky Holmes event to be held at the summit, and it seems I was starting to go to leave when I returned to the booth. Excuse me.

Yuma:Did you decide that Milky Holmes will come out with them all together?

Shimamura:I am in charge of Milky HolmesNakamura (Nobuyuki) P, I was doing a story that seemed like it would be nice to do something with "Machi ★ Assobi". Since I was broadcasting just one episode in October's holidays, I was talking about that we had to take along only because we had to take along, but we are holding the district finals tournament at the same timing, and in fact this event will also be held in Taiwan There were four people, so if I thought that it was impossible, I was in a meeting with Mr. KondoPresident Kiya (Takaaki)Came and came "with four people", it was decided by a word of Tsuru.

Kondo:"Four people wanted me to go," was a word.

Let's do it in:Nitroplus participated in three events. One said that the game maker put the emphasis on how to sell a beauty girl game to animation usersAdvertisement exhibition gathering advertisement illustration. Also, at the top of the mountainRancha Stratos's pain carI decorate it so please take a look.

Yuma:It is a wonder car, is not it?

Let's do it in:On the third day, I will sing a lot of sweets Kanako so please come and see.

Yuma:Did you decide the contents of the event as you are talking about?

Kondo:The project which I brought in the first was a halfway feeling. However, there was a story about how to do a whole bowl of beef at the same time, and here was a stop from the public health center, but Doi (vice president Nitroplus) who heard it said "I understand, I will bring it again It was this project that I issued it again.

Yuma:At the summit there was also an event by Kana Hanazawa though.

Kondo:That suddenly Mr. Matsuoka (managing director of the Osawa Office) got a call and said, "I will leave the schedule on October 10, because it will come out." I decided it. Though I thought that Mr. Hanazawa had something to do with Tokushima, I am thankful.

Yuma:When I heard it and proposed "How about this kind of event or something", somehow "I'm gonna moderate" now.

Kondo:I was contacted by Mr. Iwagami (of Aniplex Producer) "Because Yuma will host"?

Yuma:What kind of personal concession is that ... ....

, An event that started with a talk control by Yuma, not to be fully opened suddenly. Following the memories of "Machi ★ Asobi", Q & A was carried out by picking up talks about works currently in charge and questions flowing on Twitter.

Bee house:From October 1st "Sora no Otoshimono f (Forte)Although the broadcasting of this episode has started, this episode will be broadcasted on the NicoNico Channel this week, but please also look at the Internet distribution by people who are not being broadcast as it is being delivered on Nikoniko Channel.

Kondo:Can not you see it in Shikoku?Shikoku BroadcastingLet's flow in.

Yuma:The picture is powering up, right?

Bee house:Also complain from television stations to power up, what to do (laugh)

Kondo:Are you complaining?

Bee house:I'm coming like "Please take a moment to express it." "Well, you are careful with this, is not it?" But it looks like (laugh)

Kondo:I happened to be surprised to see that pants (1st 2 episode ending) by chance. What is "Cape Meguri?"

Yuma:Besides, anything is OK with animation and games, though. Mikan Tan, figures and other topics are OK.

Mikan Tan:Do you know all of the Good Smile Company?

(They all nod)

Yuma:I think that everyone who comes here comes to know.

Kondo:Mikata blog, Everyone is watching.

Mikan Tan:This time, I am sending a umbrella shop by board walk, but there may be some figures from the work being broadcast. It is a begging anniversary.

Yuma:Even past works may be acceptable, but how do you decide to figure this into figures?

Mikan Tan:It is a question frequently asked from customers. From planning staff, we may ask you to wish to "make this figure a figure", but we may also make a plan by giving hope that "I want you to convert this to a Nendoroid" from Mr. Shigenobu Motohara. Recently there are quite a few cases of the latter.

Kondo:Well then, can I ask questions to Yuma-kun from me? (While watching Twitter) "Pantyhose (panties & stockings with garter belt)What kind of treatment do you have in the industry? "Is coming.

Yuma:Would you like to ask me that?

Kondo:I wanted to ask you.

Yuma:Before this "Tengen Toppa Gurren Lagann"It was a work of the staff who made it, and Gurren Lagann was also a flying artwork, so I am looking forward to it.

Kondo:Well then let's throw this question to Nyushan (Kadokawa Shoten Nishiyama).

Nishiyama:Thanks to you, it has been popular.

Kondo:Oh, right, I saw Tamaki Tsuneo's name in panties (staff roll).

Yuma:It is strange that "I saw my name on panties".

(All lol)

Kondo:What are you in charge of?

Takechi:It is production.

Kondo:Yes, this person is a producer of panties, I forgot.

Takechi:Industry is not "panties" but "pantyhose". At the meeting of the Production Committee, the receptionist 's sister "on panties & stockings" is just like a strange person ... Well there are a lot of things, but the work is funny so please take a look.

Nishiyama:"Panty & Stocking with Garter Belt" on air from October, the main character's panties are all sex with the contents that flew so terribly, the other main character stockings are eating sweets but the hobby of sex is said to be metamorphosis It is really rich content. Thanks to you, the television has been hit by the television.

(All-out loud laugh)

Nishiyama:The information volume of the video is amazing because the staff of Gurren Lagan is making it. Who is watching by recording it, please "wow, what have you been seeing now?", Please rewind and rewind his neck. People who are not, I have a high-quality product called Blu-ray right now, so I'd like to wait for it.

Kondo:Oh, it is truly. Well then will you go to "my sister" talk at the end of the "panty & stocking" talk. here you go.

Yuma:Also the new animation "My sister can not be this cuteIt seems that a certain stupid publicity is Nico's life "I will take over the hegemony of autumn 2010 animation".

Kondo:Method

Yuma:Well, it's me though ...... I think that there are a lot of people who have already seen it, but Mr. Hiroyuki Oda of the character deed is the same direction as Hirokuni Kanzaki of the original illustration, it was not likely so far, "The original work as it is I think that there is an answer to the question that "What will happen?" Kurata (Hideyuki) gives you good story for the script.

Kondo:(While watching Twitter) To Mr. Naya, "In the 4th one year anniversaryStewardComment on ".

Naya:On the summit of MeishanMr. Hanazawa (Kana)Thank you for coming to nearly 200 customers despite being doing the event. I do not know the situation of the mountaintop, but if there are so many people in the lower park, is not there actually a person on the summit? It was gathering to say that.

Kondo:Well, the summit was also amazing. I was crowded in front of the stage.
(While watching Twitter) Next, whom should I ask ... Megami magazine I wonder, "I'm not TV animationREDLINEWhat do you think about it? " I'd like a movie that has such a tremendous effort to hit. Otherwise, you will not be able to challenge. So, Megami Magazine, how are you?

Matsuzaka:Megami magazine is a pretty girl magazine ....

Kondo:What I'd like to say is "Megami magazine, let's go to the copyright paintings!"

(All lol)

Kondo:Kimutaku It is Kim Taku. I'm coming to Twitter, "I want the copyright picture of REDLINE, Megami magazine".

Bee house:First of all, REDLINE side receives the rough ordering of Megami magazine, is not it (laugh)

Kondo:It's okay, today (Madhouse's spokesperson) came to Asobi.

Bee house:If it is a rough sort of naked baseball, it will be refused by various works and eventually "Sora" will undertake it (lol)

Kondo:Is "Sora no Otoshimono" on Megami magazine?

Bee house:This person (Mr. Matsusaka) is placing an order, so everything.

Kondo:Is not it a daughter TYPE?

Yuma:I will cut it down ...

Bee house:Okay, I will place an order for Megami magazine, I will not lose! I am doing it.

Kondo:That's wonderful.
Speaking of October 'God Eater Burst' will be released. here you go.

Tomizawa:"God Eater Burst"Is the power up version of the previous work" God Eater ". So, if you really want to power up this movie, I'd like to power up the movies and the opening, so at first I consulted with you about adding 3 characters to a new character at the beginning, but increased about 30 cuts and returned You did it.

Kondo:In all of 90 seconds we replaced about 50 seconds, I used about 3000 sheets. It depends on the work but it is about 30 minutes of animation (laugh)

Tomizawa:When I first heard the number, when I thought that I made a mistake in number or something was deceived, it turned out, it was true.

Yuma:I really want to see it on a 300-inch screen. (On this day, PV was played at the outdoor screening)

Kondo:At the screening we also played a remix of the boundary of the sky, but it was not recorded on the DVD yet, I had never looked back. Because I will flash back hard memories and others. But, it was really nice to see it. Like, that.

Yuma:... President! Sure, boundary of the sky!

Kondo:That's right, thank you.
Next time, ask questions of this Twitter's "What are the voice actors who are interested in recently?", Ask all of them. How about you, Taro.

Let's do it in:Oh, I'm sorry, I have not heard. I remembered the taste of Tokushima Ramen I ate a while ago.

Kondo:I seem to have a habit of shaking suddenly, so please respond well. By the way, where shop?

Let's do it in:New place in front of Washington hotel. When I thought that the taste was normal, putting raw eggs was pretty stupid.

Kondo:I am not a live egg, I am a meat / small rice school. Does the customer in the front row get nodded? It is good to have only tacito.

Yuma:"Voice actor you care"! It is!

Kondo:I am interested in going to Tokyo ...

Yuma:ignore! Is it?

(All lol)

Kondo:I do not have rice after entering Okonomiyaki. You do not have okonomiyaki, are you? Do not you also have Tokushima ramen noodles? Hey, look here.

Yuma:What should I do if you told me that?

Let's do it in:Anxious voice actor ...... Mr. Kana HanazawaSTEINS; GATEHowever, I think that it is a good feeling if you hear the heroine.

Shimamura:There are always Milky Holmes people in front of me, so my eyes will go there. Especially, I received it in the audition of February 2010Sasaki (future)It is fun to see Mr. growing rapidly.

Mikan Tan:Milky Holmes is here as well. Today, I heard that there is a live performance at the summit, I brought a silume, but it caught me by the baggage check at the airport, and if you explained it properly, please let me care!

Nishiyama:One is a pantyhose protagonistAri OgasawaraMr. I think I'm sorry to say that sex, bitch, and unco is to be said at the dubbing site, it is said that "I love beer" is written in the buckle of the belt that the person himself has done, so I'd like to drink it together What? The other person,Strike Witches 2Mikoto Sakamoto who joined with only voice actor change atSaori SaitoMr. I had a very good performance. "Strike ~" is the voice acting office of 11 leading protagonists falling apart, so something is terribly troublesome at the time of the event, but at last 2 years later Mr. Gen.Sawashiro Miyuki)I was covered with san. Besides, as I discovered that I'm an alcoholic drinker in an interview, I feel that I am interested.

Surprisingly here,Kaori KawamoriThe director appeared in the face show.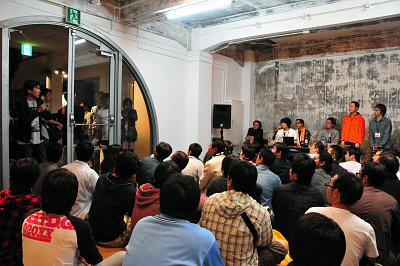 Although it was lightly greeting only, I fully enjoyed gore ★ Assobi and "I want to come by all means if there are opportunities" and left a nice comment.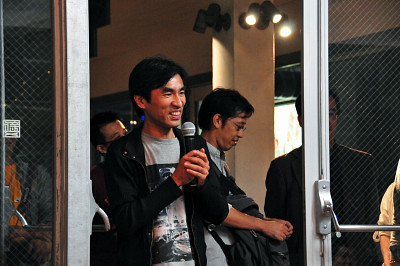 YouTube - Mathiasovi vol.4 Masaharu Kawamori appears as a talk event for industry stakeholders


Continue talk of "favorite voice actor".

Matsuzaka: Megami magazine likeAyana TaketatsuMr. Azu-san, kiss × sis and so on, and since the new series also started, I am paying attention.

Bee house:I have been out for a few years agoSaori HayamiI am wondering how much Mr. regular will increase. I wonder how far they grow.

Tomizawa:Personally I like itHirohashi RyoMr. As recently as "WORKING !!I am doing Yamada something, and I will see the works that are out. "CLANNADThere was a performance like the time of, "There was a relaxed atmosphere, it was an entertainer, and I liked the voice, so I got it on" God Eater Burst ".

Tanaka:I want to cite all names for various reasons, but if you do it it will run out of time (laugh), so if you dare choose oneAmi NakuraMr. I want you to keep trying not to lose to Mr. Takeda.

Matsuyama:Among the animation people, in our company "NARUTO - Naruto"the game of"Narutimate StormI am doing the creation of such things. Both games and animation are the same cast, so the field is not a young person you expect, but many veterans.Yoshitada OtsukaAndKazuhiko InoueAndTakeuchi JunkoOr something. If I mention one person in such circumstances, it was said that my work was the one who dubbed the game for the first timeMasumi AsanoIs not it?

Kondo:A good question is coming, "What do you think about voice actors changing with games and animation?"

Naya:Here's the question to change ... ... (Originally it was the order to answer the question "What voice actor do you like recently?") Seriously talking about sound, the game is a connection between the game company and the sound company, and the animation is a connection between the animation company and the sound company, which do not necessarily match, so I think there will be changes.

Kondo:Well then let's return to the topic of voice actor.

(All lol)

Matsunaga:Recently,Asami ImaiYou are interested. I did not have a chance to work forever, but when I first met with last year's "Machi ★ Assobi", I sit in a girls-like way to squirrel hair and face the river's edge and it looks like "It's going to get hotter today, is not it? What? At that time, I was thrilled to be "a wonderful person."

Kondo:It is not "an obsessive voice actor", but love (laugh). (In addition to this, Tsukkomi enters the mountain, Matsunaga who flers over)

Matsunaga:Did you fall in love! (Lol)
There is continuity in this, after that "Kiss × sisI met again at the time of the event, but if I thought that it was a clean image, I was talking about talks while talking about "I'm told a woman was born from the mouth" Look at, ah, that was different (haha)

Yamanaka:It seems like a moment when a year's love is over.

Matsunaga:I agree.

Naya:Matsunaga lost-love talk, complete.

Kondo:Lost love talk. After that there is nothing?

Matsunaga:I am working a little together now, but I can not say the content a bit.

Yamanaka:IMinori ChiharaYou are interested.

Kondo:(Gakuen Yu Pia A Manabi Straight!It is him who suggested that Mr. Chihara sing the "Sakura dance this promised land" at Sakura Gakuen. Oh, a little phone ...... Hello.

Yuma:Get out!

Kondo:I'm doing a talk show at the cafe now ... Yes, wait a moment ... .... He was Mr. Aki. I hear that they will come.
Oh, a good question is coming, "Do you have a voice actor and an industry person's love?"

Yamanaka:Do not you have it?

Kondo:I got married.

Yamanaka:Out of (King record), there is a certain P or a certain P or a certain P ... ... There are three people.

Kondo:It will match with events, for example.

Yamanaka:There is no such thing as producers or opponents like actors.

Kondo:It is close to in-house romance.

Yamanaka:So, why do not you like Mr. Chihara for pear?

Kondo:What reason do you like Chihara, is not it, Yumaku?

Yuma:You are the one who is here! Well, Mr. Yamanaka, please answer.

Yamanaka:Mr. ChiharaThe Melancholy of Haruhi Suzumiya"If you are interested in seeing such activities,MinamikeI thought that I could play Chiaki 's, I was asked to perform.

And one day Kimoo P remembered "Yuuma Takahashi's birthday party" that he said at the eve of the evening, and Yuma says "Good!" Actually, you forgot about the surprise schedule that Kanna Hanazawa sang "Happy Birthday" at the summit event. So, to celebrate Yuma at this venue.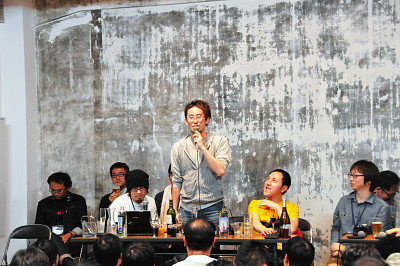 YouTube - Machi ★ Assobi vol.4 celebrates 30 year old Aniplex Yuma


Talk continues to talk about publicity and publicity.

Yuma:There is a big deal of promotion, Mikata.

Mikan Tan:How does the customer respond to the information I gave you?

Nishiyama:Advertising is a lot of fun. Since various kinds of information of various works come in a little earlier, I think about what timing to put out it. Even though we have direct contact from customers, ...

Yuma:"Why do you do the same thing eight timesOr?

Nishiyama:It was an endless summer, it was a hot summer. For some reason, there was only one person in the company in the morning. My boss came to the office this afternoon and said "I am sorry."

Tanaka:Public information of the game is also hard. At first I was sending the materials, but I thought that the typographical errors I wrote in the magazine as "ah!", I wrote and sent the content as funny as I thought it would be fine as it was copied as it was. In that case, Famitsu and Gemaga and so on will be published so that they will fight.

Tomizawa:If you release the game, there is a place called "one section," you have to spend time taking the time to release the PV or you need to put out the information at the game show, it will be a lot of work. Especially, now it is a short-term battle situation in which it is said that all two weeks from the release are all. But God Eater is not a short-term decisive battle type, it's a popular reputation of customers' reviews.

Kondo:Written on Twitter as a painful thing, "As many games are on sale day, the theatrical animation is a game against the release date". It is really painful if you are told by the customer that you have seeped out.

Tomizawa:Certainly, there is such a reality ....

Kondo:I have been asking a lot of questions, Mr. Matsuyama of cyber connects two. "Having said that, honestly you were damn it?"

(All the same)

Matsuyama:We do not have one. I might get angry.
Even for game software, whether animated or filmed, a lot of people are involved, there are battles of publicity for the advertisement, there is a battle of sales in production, production in production That's right. After all, the number of shipments to be shipped on the release date is determined by customer expectations and excitement after all. It is about Thursday now is the release date, from there to Sunday it will be released as the number of the first week's release, but what we care about the most is that even a single one It is about gathering reservations for. And, on the release day, Thursday, I am concerned about digestibility up to 17 o'clock.

Yuma:I am telling you a lot ...

Matsuyama:This is normal, is not it?

Tomizawa:Where can I get the numbers? (Lol)

Kondo:It is painful just to know various things.

Tomizawa:Mr. Matsuyama is a production company, a so-called developer, we are a publisher (production company), so there are not many people (people of developers) appealing themselves in various places themselves as advertising captains. Normally it is a publisher 's doing it, but Mr. Matsuyama is confidently appealing to the work he made.

Matsuyama:I am angered by my fans, but I do not say any extra things (lol)
From the customers' perspective, is the game industry a lot of mysteries? I wonder why it seems that there are a lot of concerns that the title that appeared in the previous year will come out in another hard the following year.

Yuma:Is it a transplant?

Matsuyama:It is a transplant or a "more complete version" ... ... Some people have reduced their mouth somehow, but I think that there are things that you do not understand from everyone, but ah well There is a good reason. It happens to be not the case. The making side thinks that each customer will be pleased. Although I bought a piece of software with every hard, I will be told that I am going to do anything, but this is my opinion to the last, but I personally think that I was very happy when I bought every piece of hardness you know. When it comes out later with new hardware, it is something that customers think that they are good because they are waiting even at that hardware. I understand the anger feeling well, but let's stop denying myself whom I pushed hard and bought hard and played the game.

Tomizawa:Recently, I feel that when there are so-called transplants in the game industry, there are a lot of reactions.

Kondo:(Look at Twitter) I'm told that "Please solder Soratobo with PS3."

Matsuyama:... .... Well! Is it? PS! Is it? How much specs are DS and PS? (Lol)

(LOL laugh at the venue)

Kondo:"SolatronThe reservation status of your room, will it be okay? The question that comes "seems to be worried.

Tomizawa:I think that those who are worried surely have already made reservations.

Matsuyama:To tell the truth, I do not like the number of bookings I'm currently using very much. If you add it a little more, it may be a number that you like very much. (Laugh) Because Bandai Namco Games is working hard so hard that you want Ora to share your courage.

(All lol)

Tomizawa:I have talked about reservation, but I think there are places for receiving a reservation for the user and reservations for us a bit different way of receiving.

Matsuyama:I think that pretty booking is also a hassle. I think that I think that I will be able to buy it if I have to pay a cash payment or have to write a name or address, and if I go to the shop on the launch day anyway I think that I will be able to buy it. Um ... ... Can I shout from the bottom of my heart? On the other side of the camera (Ustream relay)Please reserve as you ask..

(Clapping at the venue)

Matsuyama:I am a production company so I can say it like this, but I think that the makers are hard to say. "Please reserve ~" is not a light feeling, that is. Because I'm saying from the bottom of my heart, pretty much shedding tears of blood. To say such feeling, it is from Mr. Tomizawa san ...

Tomizawa:I swept it ..... Indeed, we feel that one person's booking is expected for 100 people. (Again, like the air,) No, do you think so?

Matsuyama:Do you know how to get out the number of shipments on the release date? Although the number of shipments on the day the game was launched has been compiled, it is impossible to confirm that the manufacturer's person confirms that reservations are made from stores in all over Japan. That is, I asked a cooperating shop regularly for figures and calculated based on that number. So, one of your bookings has an expected value of over 100 people.

Tomizawa:There is time to go on sale, but I can do various things, but there is a thing that the crucial game can not be released until the release date.

Yuma:This is same for animation. Thank you for your reservation.

At the very end, a question and answer section was also set up, and a casual talk was held here.

Q:What is the response rate of the user postcard included in the software?

Tomizawa:Do you want to know what percentage ... ... really is a few percent. I do not get anything even if I send it ...

Kondo:But, I am very happy when I get home. Especially when it is autograph. I think that something will be hit when you send it (lol)

Tomizawa:The reply rate has been decreasing year by year, but the opinion you have gotten to be a reference to the next work. Producer and development team are looking at the free entry column, and not all opinions can be heard, but I am treating it because I get hints there.

Q:There are few opportunities to watch animation with terrestrial waves when living in rural areas, and broadcasting is much slower than other areas even if there are, but it is painful in the era when information spreads out in no time. Although the opportunities to watch anime delivered in Nico Nico Douga are being equalized, I feel that regional disparities are not being filled quite often. What is going on?

Bee house:First, there are two kinds of TV animation, one is animation produced by TV station, and the other is animation produced by manufacturer. Most of the people here are latter, who are offering like "I'm sending this program with the offer of Kadokawa Shoten". The guy who is flowing in dozens of stations nationwide in the evening or in the golden time is the former. In the latter case, increasing the number of stations to broadcast will increase the burden so much, so if you investigate in various ways and radio waves will reach the neighboring prefecture if you flow in this broadcast station, we are sorry for broadcasting at this broadcast station , I am coming to press for a selection. In the meantime, thinking that net distribution and mobile delivery will help you, we are starting with each company. Of course, these circumstances are irrelevant to the viewer side, so I think that saying "Please shed more." That overlaps with the previous question, but letters and questionnaires are very effective. Even if it is written on the net, we can not pick up so much, so if you would like to let us know your opinion.

Yamanaka:As it was in the story of a bee house, increasing the number of stations to broadcast increases the burden so much, and on the other hand it is sometimes said that "this content is ..." from the broadcasting station side, so head to what broadcasting station I am bothering you.

Yuma:Even a voice actor of a sell like Hanazawa-san was told at the event that "There is a time when it is really okay to be OK", but at that time there is a single fan letter to support my mind.

Naya:Even the people who are now on sale had a time when they were depressed, and there were fan letters in those days, so it seemed like I should try a little more. So, fan letters are very important. A letter, please do. You do not have to be with me (lol)

Kondo:It's more handwritten than writing, email than writing. Together with the love letter, the analog one is transmitted. I have written notes in ufotable cafe, but quite a lot of staff are watching it.

Tomizawa:I always carry a fan letter that I got at the time of the Tokyo Game Show.

Matsuyama:Writing on the net is probably the best we can understand our age group. Even if I take a story to say "I am amazing!" To Ochchan above it, I am angry that "It's because I gather all the favorable opinions for myself". Everyone think that I have a blog, but that only touches the eyes of those who went to read from me. As it is a letter I touch the eyes of the human being received and spread from there, so please do.

Kondo:Gusset ★ Asobi is also a person's connection. Oh, it closed tight.
So, today, thanks to everyone who gathered at the 30th birthday of Yuma - kun (lol)

Finally, the successive team and others joined for taking a commemorative photo. Mr. Yuuma Takahashi, Happy birthday 30th birthday.