Anime production company UFO table, open the dining at Shinjuku Sanchome following the cafe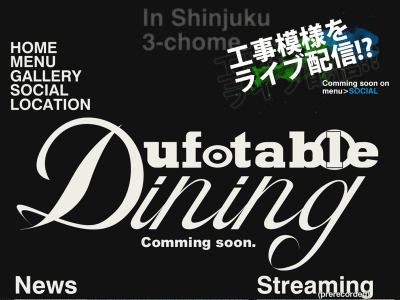 Movie version"Sky boundaryProduction of the seven copies and future TV animation series "Fate / ZeroAn animation production company known for producing the animation production companyEuphor table(Ufotable).

It is also known that there are studios in Tokyo and Tokushima, each managing a cafe in the same building as the studio, but this time he is opening a dining room in Shinjuku Sancho.

Details are as below.
Ufotable Dining

Euphor table is an animation production company based in Nakano-ku, Tokyo. Currently Blu-ray BOX is launching the "sky boundary" and "Gakuen Yu Pia A Manabi Straight!In addition to being known for producing, in 2011TYPE-MOON × ufotable project"Fate / Zero", "Girls' Work (Girls Work)", and "Touhou Project X Anime Store Manager"Many works are abstracted, such as.

Ending as a way of making animationClay animationThere is a characteristic that the company has a studio as well as Nakano as well as Tokushima, and in either Nakano or Tokushima it has a cafe in the same building as the studio.

Ufotable Dining is the announcement decorating the last of the 10 Uforfa table announcements at the end of 2010, this time the official website opened and a bit more detail became clear. According to the official website, it seems that the location of the shop is Shinjuku 3-chome, and the shop is not completed yet, but the situation of the construction will be delivered by Ustream.Facebook's Euphor table dining official accountWhen,Official account on TwitterIt is also open, and it seems that information will be flowed even here.

Also of a figure maker who opens a cafegood smile CompanyEven though it was said that food and drink are putting in force firmly that it is not the core business, what kind of shop will dining become? I am looking forward to Ustream distribution in the future.