Sony decided to fully resume "PlayStation Network (PSN)" and "Qriocity", some including "Japan" at a later date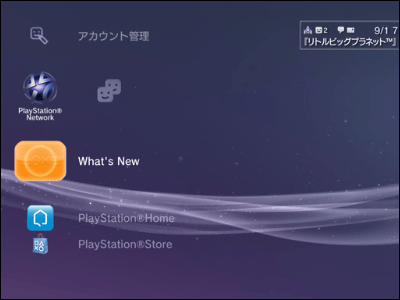 Finally the other daySome services of "PlayStation Network (PSN)" and "Qriocity" have been resumed in JapanHowever, it was announced that it will resume all services this time.

However, as with some service restarts, Japan is treated as "later", and Sony's Vice President Mr. Hirai has announced comments.

Details are as below.
Sony Japan | News Releases | Notice of Full Service Restart of PlayStation (R) Network

According to the press release of Sony and Sony Computer Entertainment Inc., we are planning to offer "PlayStation Network (PSN)" and "Qriocity" which have been resuming some services now, by the end of this week all services and "Music Unlimited Powered by Qriocity "to resume. As for Japan, Hong Kong and Korea, "We will show you again later".

Sony Network Entertainment International (SNEI), which operates these services, takes various safety control measures to further strengthen the security of the network infrastructure and has further examined the safety of the system including the settlement process, This time, it is said that all services of PlayStation Network including the following functions and some services of Qriocity will be available.

All functions of PlayStation Store
Purchasing functions such as items from within the game
Product code number and use of "PlayStation Network" card · ticket
All functions in "Music Unlimited powered by Qriocity" for PS 3, PSP and personal computer
All functions on Media Go

For this matter, Mr. Kazuo Hirai, Senior Executive Vice President and Executive Officer, Sony Corporation commented as follows.


"We have further verified the safety of the settlement function to fully resume PlayStation Network service so that we can enjoy the best entertainment again with confidence. We sincerely apologize again for your concern and inconvenience, and thank you for waiting.
Also, please wait for a while for Customers of PlayStation Network users in Japan, Hong Kong, Korea and customers who enjoy Qriocity's services on Sony's network compatible products. "