Project you want to see now to enjoy animation over the future "Animation Mirai"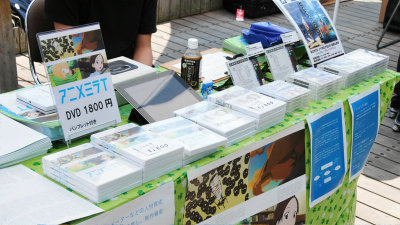 One of the cultures that Japan is proud of overseas, animation. In fiscal 2011, the Agency for Cultural Affairs launched a project to support young animators to solve problems in their production environments and to promote animation more. The second bullet this year also "Anime Mirai」Was released in theaters, but for what purpose is this project done for what purpose, what kind of things are done, Daisuke Okuda who is actually working as a product manager,Machi ★ Asobi vol.8I did a talk show with you.

Animation Mirai [animemirai]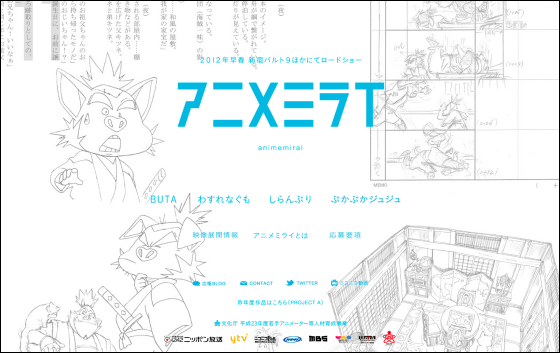 As soon as the event began, the cheers of "Yopie!" Came up, announcer Yoshida Naotomi of Nippon Broadcasting, who will be the moderator, appeared.

Yoshida Naoji (Yoshida):
It is amazing how many people will gather from 10 in the morning .... Suddenly I am disturbing you. An announcer of Nippon Broadcasting Animation Fan, who will host a chair from here, one anime fan,Yoshida Naotohiis. In the last time, I was wandering around this place by calling as a moderator of the New Type Award, but I heard that the animation event of the world is killing it. (Laugh) I know that it is a fight , I do not have to fight so much. But this peaceful atmosphere of Asobi, it is really good.

Many people came in hot sunshine at the stage where voice actors and others did not come by guest.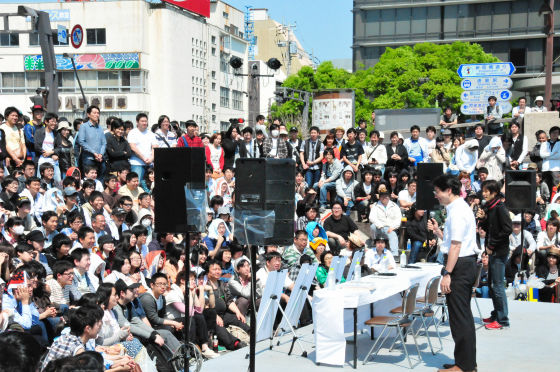 I am supposed to host this "Animation Mirai" by being able to come here somehow also this time. Since Nippon Broadcasting is a radio station in the Kanto region, there may be some people who do not know it, but it is an announcer who has made radio waves private. By the way, how many people do not know about me? Oh, it's quite well. But thank you so much for having us gather! I have been participating in Comike for about 6 years with individual circles, and when I was a high school student, I am a human being who has participated since comiket was still doing it in Harumi.

What I will do today is talking about "Animation Mirai", but if you do not know what it is to be honest, animation Mirai ... ... (Half the meeting place half a hand) It is about half. There seems to be some who already bought a DVD, but in reality animation Mirai is saying that the Agency for Cultural Affairs is making animation. Well then, I would like to invite people to talk with. First of all, a lawyer who is a product manager of Animation MiraiDaisuke OkudaMr.

Daisuke Okuda (hereinafter referred to as Okuda):
Good morning, I'm Mr. Okuda who is now the product manager of the project called Animation Mirai introduced. I am planning to talk with you in an easy-to-understand way today, so thank you.

Yoshida:
There is not much that a lawyer will talk at an animation event.

Okuda:
Moreover, it is a classmate.

Yoshida:
Actually, I am a high school classmate, I met about the first time in 18 years last autumn. Once a mutual avertless! Looking at the Emperor 's Demon.

Okuda:
I borrowed a video.

Yoshida:
It was such a relationship, but when we meet again and talk about an anime-related person, "I know that person" alone, wait a minute Who are you? When I thought that, I was looking after this person, Animation Mirai. That is amazing, I've been doing something like publicity of animation Mirai for a while.

Subsequently, since animation Mirai is a project to make animation works, you have to see it after making it. Mr. Sato of Animax is in charge of that.

Animax Isao Sato (hereinafter, Sato):
Hello, this is Mr. Sato of Animax. Cable TV We are broadcasting at Tokushima so we ask local people, thank you.

Yoshida Ana, Mr. Sato, Mr. Okuda.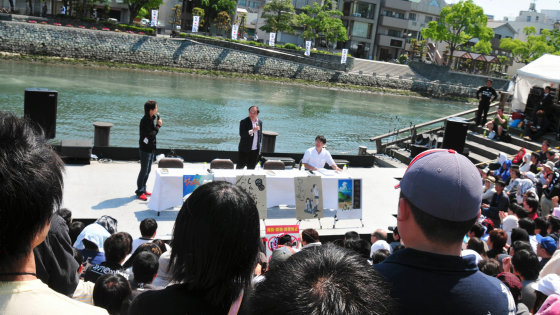 Yoshida:
You mean that you contract with me and become a member.

Sato:
"Magical Girl Madoka ☆ MagicaIt is also ongoing broadcasting.

Yoshida:
Thank you.

People related to animation Mirai, but from here it is not related at this stage but as a listener I will participate, but I will also be a producer of that work. It is Mr. Iwakami of Aniplex.

Aniplex Atsuhiro Iwakami (Iwakami):
Hello, it is Iwagami of Aniplex. Mr. Yoshida said a little while ago but I got acquainted with Mr. Okuda and said "Today, please go out" without knowing about Animation Mirai well. I think it feels like a chick of a variety show.

Yoshida:
Indeed, in my head I was converted as cute, but that is what it is. That ... ... From the order I am about Mami? It will be tough if you get mummed after the event ends ......

So, first of all, is not animation me? From that point, I would like to talk to Mr. Okuda, product manager.

Okuda:
Animation Mirai has two main purposes. One thing is to nurture young artists who mainly produce animators. Another is the promotion of production companies. Although original animation is gathering popularity these days, it is still difficult to pass through the plan, so securing the opportunity to make original projects, the right of the work is like whether the production company has everything like the old days , I am doing it for industry promotion.

Yoshida:
I'd like to ask Mr. Iwakami as it is about the industry, but the work of animation is serious.

Iwakami:
I agree.

Yoshida:
I think that there are few people doing it especially for profit, but is it hard to make money with animation?

Iwakami:
Although it is commonplace, there are many late-night animation now, but it is not income at the time of broadcasting. Because it is the world that sells the video package and as to the result. We thought that there was a problem in that the young animators are going to work from now on, so it is nice to be thoughtful.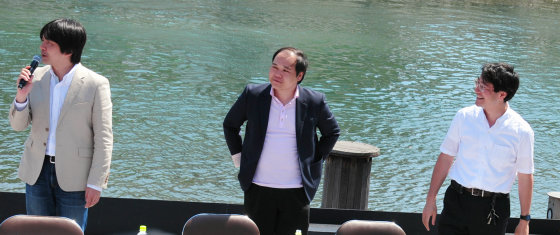 Yoshida:
I'm daring to hear it, but what percentage of animation is profitable? I think that Saezae who is broadcasting in a place not midnight is fine as expected.
(Venue lol)

Iwakami:
I think that everyone is supposed to be guessed, but not half.

Yoshida:
It is a tough world. From the producers, it is important how to bring it to the profitable side.

Iwakami:
Well, the entire entertainment is such, but since it is different from industrial products, if you make exactly and apply it exactly, it is not such a story, so I think there is a case of getting hit or off. So, I hope to pay enough young animator for salary, but there is a dilemma that it is difficult as a business there, it is important that there is a camphor agent there.

Yoshida:
Many cases are animated cartoons made by bringing up money at the Production Committee, but in this animation Mirai, the Agency for Cultural Affairs will make money and make it.

Okuda:
All Agency for Cultural Affairs is issuing.

Yoshida:
How long have you been out in a year?

Okuda:
I got a little 200 million yen. Because it is four in one year, the budget is 38 million yen if it is called per one.

Yoshida:
Mr. Iwagami, how about listening to this number?

Iwakami:
How is it (bitter smile), "Thank you" (laugh)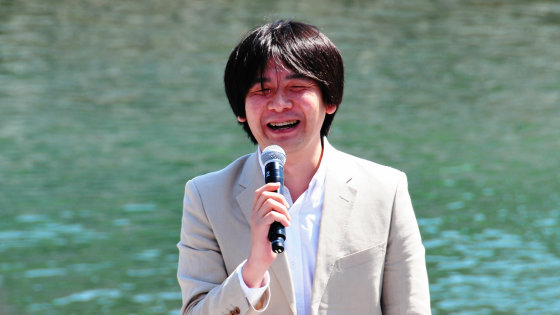 (Venue lol)

I think that it is a budget that can make a pretty solid one.

Okuda:
I think that some people have heard such numbers, such as 10 million yen or 1 million yen by one animation, but it is divided by 13 or 26, etc. Making songs, making a work world, making prototype plots, called preproduction, it takes time and expense for such preprocessing. This point does not change even if there are 13 talks or only 1 talk, so it is not delicious as you see.

Yoshida:
I make it by doing serious things, but I have to make money as a business. Education may come back in the future when I want to create the next generation that will be responsible for the next job, but I will not return at that moment. Around here, do young people at home in the production site are in the country? Are they all put out of the country?

Iwakami:
There are lots of talented people in the country. If you are a person who is doing animation at an animator, you may not receive much monthly salary, but a good person gets more and more embarrassing and it becomes a star creators and overflowing talent I think there is.

Yoshida:
Indeed, talent is overflowing. I saw it in the report, but Mr. Okuda, the percentage that the movie is doing in the country right now is quite low.

Okuda:
Although there is no overall neat survey but it is understood only by the sense, it is said that about 80% of animation / finishing is going abroad. However, the exact figures are unknown.

Iwakami:
There are cases that domestic videos depend on overseas, but for example, in the Euphor tableAnime BunkoIn the work, Mr. Kondo said that he did most of the work in the country. Actually, the animation bunko is like a mini "Animation Mirai" in me and Mr. Kondo, trying to do something new with the young power of the Euphor table.

Yoshida:
Works were made in such a form, and what we did was broadcasted by Animax, but Mr. Sato.

Sato:
I made the first broadcast in March this year, but did anyone see it?

Yoshida:
Welcome let me see you. One who saw it on a DVD or theater ... .... Oh, about 40% is coming.

Works DVDs are sold at "Animation Mirai" booth of Machi ★ Asobi, some of the customers have brought this.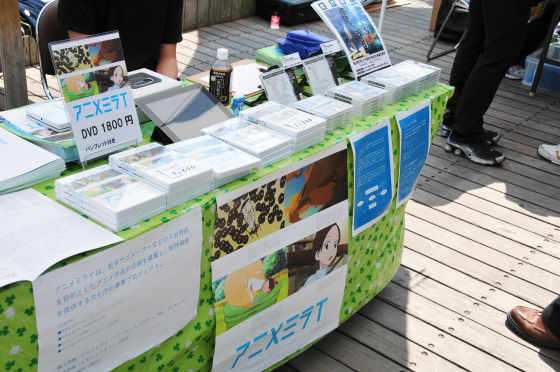 Sato:
We broadcast in Animax nationwide in March, after that two stations Kansai semi-key station called MBS and Yomiuri Television will take a breakthrough form to broadcast two pieces of Animation Mirai works separately . I hope various people will cooperate beyond fence, and that will lead to motivation of animator by going out to the world.

Yoshida:
In terms of public relations last year I wanted people to see it from Okuda, so I got a story about whether I can cheer for people who like animation and celebrities, can not ask Takashi Nishikawa straight away " That was the story. As I know the contact information directly, when I call, I heard that Mr. Nishikawa in the first word "I heard that the site of animation is serious, I always wanted to do something if there was something I could do for that" Please say that.

Okuda:
Have them contact me around 2 o'clock in the morning.

Yoshida:
And I underwrote a public relations ambassador. I think that there is not anyone who is in that position and is almost doing it in Nogyara (lol)
Even if Mr. Sato is to be Mr. Iwakami or Mr. Okuda, everyone is fun to watch animation, but there is a feeling that the scene is slightly dangerous as it is.

Iwakami:
Mr. Otsuka briefly describes the story that it is difficult to become a voice actor also in the lecture of Otsuka Akio by "the word I will not recommend"Although it was doing, the entertainment industry is not a place where everyone who entered succeeded, I think that it is the same for a painter. People who have started with an environment that is somewhat harsh and have successfully won their skills are now supervising on a line-up basis, so it is true that there is a tough place. Even so, I think that there are parts that can be better, such as systematic parts, even a little.

Yoshida:
There were two pillars of how to do well to nurture young people and make original works, how to do well. Since training of young people has fine details, I would like to talk about time, but making bigger original works is also a big point. There may be some people who are listening here, becoming producers in the future, but this is doing groundbreaking things, right?

Okuda:
Unlike animation such as manga, original works are not able to read pie. High risk.

Yoshida:
In the case of Animation Mirai, there is no manga original or Lanobe original as a premise.

Okuda:
Yes, I am asking animation Mirai to stop the work of manga and light novel's original work. Since such work is being done in the main job, it is that it is not the same as plotting official things there.

Iwakami:
What if it is a classic novel?

Okuda:
"Oi い 's lamp" which is one of the works of last year is a work of Shinmei Nankichi. It is said that Mr. Minami Kichi's birthday is close to 100 years, so that it can be used even at its event. That's OK.

Yoshida:
Apart from saying that the Agency for Cultural Affairs is not saying out certain lanobets, it is important to make original works. Is it difficult to make the original again?

Iwakami:
It is serious. It is Madoka ☆ Magika like someone who has a great success, but the failure rate is higher in the world. Evangelion, only the title hits like Gundam remains, but the possibility will be touched down, but having no existing fans is a pretty gamble.

Yoshida:
I'd like to bring works made with Animation Mirai to Animax and serialize ... ... Is it OK?

Sato:
I definitely want to go there so far. As you can see 4 of this year's work, I want to expect not only TV anime but also a theater etc. that develops as a style that I can not do with commercials based on commercial basis now It is.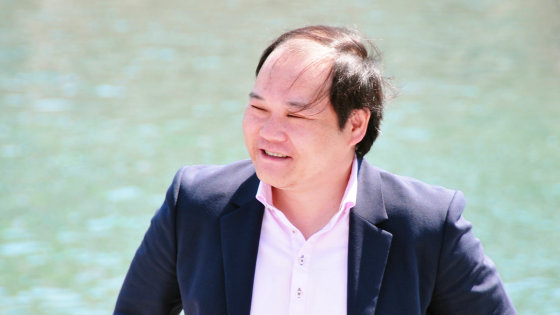 Yoshida:
Although it seems that "It is already over here" when it is the office partition, is it okay?

Okuda:
Normally it is, and live action movies are doing similar efforts, and the Agency for Cultural Affairs has all the copyright. At Animation Mirai, the Media Arts Center, which was once Aso trying to make an anime and a manga hall of fame, but since that is doing and all the partitions inside have been taken away, the copyright is over At the moment I hand it all over to the production company. The rest of the use is free if it is announced even once a year even if it is posted, and it is no problem to have a sequel made. It is "to simmer or burn and love it".
(Venue lol)

Yoshida:
For example, here "Fluffy JujuIs it OK even if you make "Pu-Puka Juju Zero"?

Okuda:
Even at zero, STARS, stay night is OK.

Yoshida:
Is this epoch making it from the animation industry?

Iwakami:
I think that it is revolutionary. Whether it is making young people in the center or making the original, there are places where it is difficult to step on taking the business into consideration, so it is appreciated, is not it new?

Yoshida:
with this"A challengeIs not it okay to make goods? If I make and report goods, the Agency for Cultural Affairs will not say "Please send us halfway."

Okuda:
As long as these two objectives have been reached, it is good. Extreme story, as original unpublished work at the time of entry, it is OK, saying that there is an original animation of a new program scheduled to be broadcast next January or April, for example, apply here and make the previous day or the extra edition Even so it is OK.

Yoshida:
Well, it is good! If it is broadcast next April, it is precisely the plan is now a mountain, but there is a way to have you apply for animation Mirai when you want to make a pilot film there.

Iwakami:
Is there a provision for entry?

Okuda:
It is a way of making it rather than inside. Young people, animators in their twenties are five or more, and veterans are fewer than three. With a leader, they feel like they work at the same workplace at the same time, do not hang on.

Yoshida:
For example, as one series of series things are made with ordinary partitions, it will be a team system if it is a series, but on the previous day's "Zero" it was produced with the animation Mirai's regulation and raising the youngster, from there It is ant to rush into.

Okuda:
Even in the usual production style, each line will be followed by each story, so there is no problem if you organize a team that matches the anime Mirai's regulation.

Iwakami:
It is a good story if you can go in regulation. I'd like to consult Mr. Okuda for a moment (lol)

Yoshida:
By the way, when is the application?

Okuda:
This year, May 16th is the deadline.

Yoshida:
No matter how much anything will be done in 10 days the plan can not be launched (laugh) What kind of material is needed?

Okuda:
The application documents themselves are simple in these things, it is OK if there are 1 or 2 standing pictures which are the basis of the character deza. What I would like to see is not the contents of the character, but whether it is a character suitable for moving. Rather than wearing clothes or drilling on it, it's normal short hair, is not it? Also, the script of the plot level and the names of the director and the producer are decided. Is not the point that the hurd is the highest is to make a one-minute storyboard equivalent to the trailer?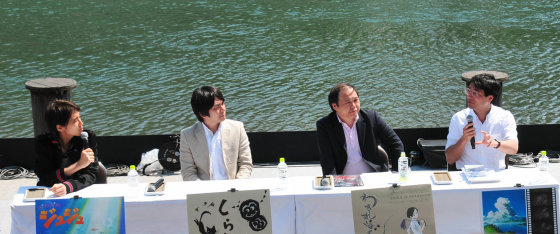 Okuda:
However, there must be something similar in moving or sleeping projects. When thinking first, such a troublesome and troublesome application from 1 will be few, so there should be plans for everywhere storage so that it will be in a form to be able to apply for it I made it.

Yoshida:
I have been watching animation that "O Go" made a while from childhood. Because I am watching such a thing, there is an image that it must be an educational content, but in fact, among these works, the dialogue "This Lolicon!" Appears. When I saw it, I was surprised that I could do it.

For example, Magical Girl Madoka ☆ Magica was rebroadcasted on NHK's E-EverydayAlthough it is a work that it will not go like it seems like, for example, if the first story of Madoka Magi is brought in, is it OK as animation Mirai?

Okuda:
In terms of the Agency for Cultural Affairs, at the Media Arts Festival of Agency for Cultural Affairs in February this yearMadameagi received the Animation AwardBecause it is doing.

Yoshida:
Indeed, with no problem at all.

Okuda:
According to the person in charge of the Agency for Cultural Affairs, "We have been promoting movies so far, we support pink movies in the promotion of movies, how many things are there in animation?" "It does not concern the contents at all."

Yoshida:
seriously? Is that so!?

As a Yoshida Ana venue that is a bit scary.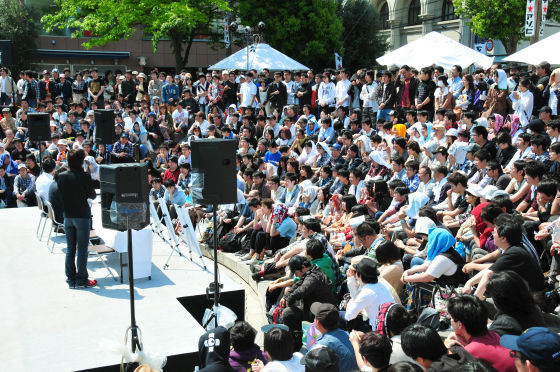 Okuda:
I think that being against Eroguro and public order and morals is to be forgiven as expected.

Yoshida:
As for the Agency for Cultural Affairs, OK if it is about it, there is no NG if it is an animation that flows on TV. ...... Queen's Blade's DVD version or something?

Iwakami:
According to the judges' recommendation of the Agency for Cultural Affairs Media Arts FestivalPanty & Stockings with Garter BeltIt was included.




Yoshida:
Well, pantyhose is good. ...... I'm talking about this, but he's a lawyer (Mr. Okuda).
(Venue lol)

It is reggae that is so wide that I am glad that entries will gather. We do not have to think about things like "Okusakusasa".

Okuda:
It is the idea of ​​the people of the Agency for Cultural Affairs that it is meaningless to work if you wish to something like a government. Because the current animation style is wonderful, it is a story that I want to protect it.

Yoshida:
Well, I do not mind letting you get more done. I was honest, I did not know about this project for the first year, but it was interesting to see the actual work. You can see four so-called "slim moving animation". Mr. Sato, you see, how was it?

Sato:
The first, the predecessor of animation Mirai "PROJECT-A"Although this one is also complete, although it is a challenging content, Production I. G, which is well known for action, made an at home work, surprisingness was interesting.

Last year's young animator training project "PROJECT-A".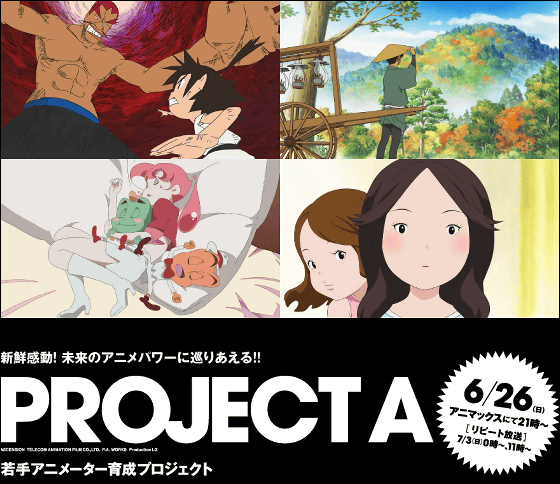 Yoshida:
In terms of broadcasting, Mr. Animax is a broadcasting station that gets a viewing fee, so there is a responsibility to shed something more than a certain amount.

Sato:
Since Animax is a channel specialized in animation, I think that it is important to nurture young animators in broadcasting quality works in the future. From the perspective of making the work as a business successful, places to experiment young people with new attempts will be reduced. In that respect, people come out through animation Mirai, I want people to make a great work and become a star creators, I want to make a good flow that broadcasts the work with animix.

Yoshida:
There are many cuvettes here
(Venue lol)

From the long-term perspective of the animation industry, it is greatly appreciated that public places like the Agency for Cultural Affairs, rather than manufacturers and broadcasting stations that require immediate effect, do what someone has to do. Clearly, I reviewed the Agency for Cultural Affairs with this work.

Iwakami:
It is something you can not do without a presence like the Agency for Cultural Affairs. Madoka ☆ Magika was very pleased with Mr. Shinko who received the Media Arts Festival's Grand Prize. I think that it is very difficult to think about the work of art film series and Madoka ☆ Magica on the same balance, but it was our power to evaluate the work a second time, and from now on the theater There was also a version so I felt like I was going to do my best and I was happy.

Yoshida:
I'd like to do so because I have a little time about what I was talking about if I had time ago. About the original work there is such a wide area, it was a story that there is depth of this pocket in the Agency for Cultural Affairs. Another thing about training an animator, I am the only one who is watching, so I do not know what to train, but I do not know how to become an animator, or will life become true I do not understand. Specifically, what kind of things are you doing?

Okuda:
Concretely speaking, OJT is the basic idea that on-the-job training, you can not learn unless you are actually in the process of doing work. Because there is also a story about how much it changes with the usual work if only it is so, plus lecture is also combined. Specifically, what is different from what OJT usually does is that it is not the current site that the same work, the same title, people doing the same number of stories are gathered at the same place .

Yoshida:
That was the case in the past.

Okuda:
When I listen to stories from old people, I keep making the same work in one site for six months or two years. There are also juniors if you enter seniors. Right now, we allocate how many cuts the original picture, exchange it by takkyubin, and people who are progressing are collecting with cars, and there are many places that are working with individual disjoints. Even with the same animation, there are rules from drawing lines to promises of movement, for example, eye-catching is like this, there are various rules, but as everyone is working apart, they are in charge of different works People are hard to hear. But it's easy to hear that you are doing the same work. Kyoto Animation, P. Works, Euphor table as well, but where all the drawing styles are similar, everyone's drawing styles are similar.

Yoshida:
Speaking of which, it seems that a company that has just been listed is just hitting a hit here.

Iwakami:
Not because it is a home ground, but Mr. Kondo is seriously considering training young people and studios.

Yoshida:
Because it is thinking about the town beyond animation when it comes to Machi ★ Asobi.

Okuda:
From here onwards, it is hypothesis that I think there is a part that reflects the importance of training in the work, but I think that one who thinks and thinks about management is good for management. I think that such things will appear, such as how to select works and promotions. From what time teaching position director to young people are making in back-to-back or in a room, what time are they coming together? Even this is not very protected, so even if you are working in the same place, the time is scattered. But at Animation Mirai it is supposed not to work on other jobs. Instead, if you can not afford it, your income will fall, so we are raising the unit price.

Yoshida:
Indeed, as you acquire skills, your life should not collapse.

Okuda:
People in the teaching position will also spend time and income will fall, so I am paying guidance fee. It will be around 3 and a half months, so it may not be realistic to put one skin and two skin in between.

Yoshida:
Some people already have their jobs appointed, do not they?

Okuda:
Thanks to this, there are stories such as having work for the first time by nomination, or receiving painting director only half part. As an opportunity to be noticed, if you think that the shape of the animator, as well as the production company "This shape is not bad".

Yoshida:
It is the best thing to increase the number of young people who can use it from a production company. That is why you should make a big contribution. Efforts are quite funny, not only the jobs involved but also the assignments are sure to be homework, there are also cases where lawyers tell me that lawyers are welfare pension funds, such as copying a photo album in circles.

Okuda:
In the first place, he gave a lecture on how animation production is established, talking about contracts and social common sense, and talking to Mr. Noriro Kobayashi talking about what the background picture is like , I actually experienced acting guidance and realized what a play is.

Yoshida:
On that occasion, it seemed interesting, so I had no time to eat it (haha) Did you know that Animation Mirai is meaningful?
(Clapping at the venue)

Even though I could make such a good system, I think that it would be meaningless unless something I can do is boring, but I think that I have shown you eight good items, as an anime fan. While it is a slimy moving thing, there is no agency of Agency for Cultural Affairs, in a good sense. It also leads to industry support. If you are just watching as an anime fan, there is a feeling that you can not reduce it. Even if you buy a DVD you will feel like buying it as an offer even if it gets "stacking read". More than that, since this is the theater release, making it for those who made it directly, just going to see ... ... It is not money This work is.

I think that no one is watching animation because of this. I think that it is a nice place of animation unlike other hobbies. I just saw animation purely because I am enjoying it. But, it will be lonely if it can not be seen in the future. Ten years and twenty years, in order to keep looking at fun things, we simply "see". What I can do for the people gathering here.

Okuda:
This project is also small in the country, and if it does not see anyone, it will become a direction to stop as "I do not need it." But if this initiative is meaningful for the animation industry, I would like it to continue, and it will be easy for me to expand more widely if you support me for everyone.

Yoshida:
Even now, although it is a big challenge, the Agency for Cultural Affairs should continue this when it comes to a level where it becomes a social phenomenon further.

Okuda:
The persons in charge of the Agency for Cultural Affairs are thinking that they do not want to raise the social recognition of animation and make it Haiso, but I want you to recognize it as a matter of course without losing the feeling of losing it.

Yoshida:
Oh, those who are responsible for this in the Agency for Cultural Affairs are "we".

Okuda:
I think that I can almost say so.

Yoshida:
Because those people are doing their best to connect with the work of the table, it is a story about what we do with the locals do not get excited. For local people it might be busy with other things to see in the locals, maybe it was the movie version of Strike Witches as Animation Mirai 's release time, but looking at it also, That will be yourself in the future.

As a message, if you understand that it is such a thing, it means that everyone is planning to get it. I hope that it is transmitted. Then, I would like to receive one word at a time.

Iwakami:
In terms of the expression of animation, I think that it is not divided between the anime of culture agency and late night animation. For example, I think that everyone is continuous, wandering son, Tatami halo mythic race, Madoka dune curry times. From now on I also want you to see various animations.

Sato:
A new project "Animation Mirai" will stand up this year and I think that it is broadcasting around the next year's now. I'd like to encourage you to know about the project and support it. I think that animation itself is still not enough for cognition, so nowAnison Grand PrixWe also have an "Animation Singing Pro Debut" event, so if you subscribe by the end of May, you may be able to become a singer, so please keep in touch with Animax as well.

Animax's Anison Grand PrixShuhei KitaMr.,HIMEKAMr.,Sasaki SawaMr.,Kono MarinaMr.,Konomi SuzukiWe are producing.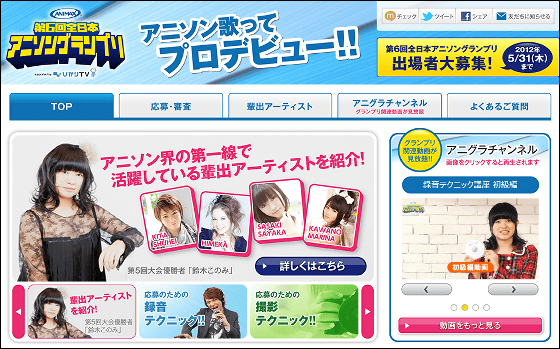 Okuda:
We invited ufotable CINEMA opening in Tokushima and asked him to do goby association in May. Now it is still in the recruitment period, so it seems to be tough if we gather 4 or more in this year properly, if you can do it properly, if you gather it will be repeated again various work, but those who will cooperate I feel like I can do my best as long as I can, so thank you for your continued patronage.

Yoshida:
It is a lawyer, so if you are working normally you are absolutely profitable, you are doing this work, it is an anime fans soul. Thank you for clapping the 3 people who entered. It seems like goblins, I think that these three people are also riverbed, so if you see them, please give it gently. As for the animation Mirai, it is very shortplease look"I think that I would like to see it in various forms by all means.

This time, at the booth selling was done because some DVD of PROJECT-A came out.Anime Mirai's DVD is pre-salePeople who missed the opportunity to see in the theater saying that it was, please obtain it at the time of official sales after this.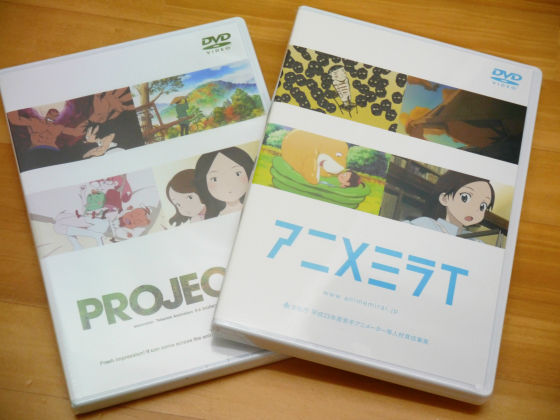 Although there is no chance to see the video until the package launch, Production I. G has published a preview video of "Forgiveness" at the site, so please refer to it.

Production I. G / Work introduction / Forgive throb / Preview video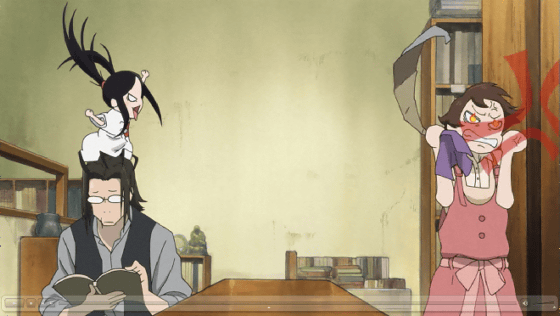 Preview video at the theatrical release is here.

Animation Mirai 2012 Theater Announcement - Nico Nico Video (Harajuku)