"WIWA TWIPASS" which can be found by one shot whether or not your Twitter's massive leaked password includes yourself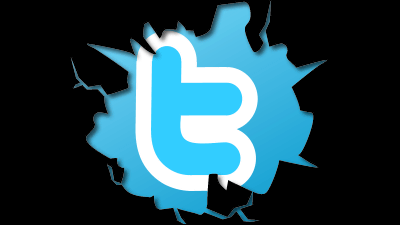 "I made a site to check if Twitter account PASS has leaked. In 30 minutesSo, as it became clear todayTwitter password mass leakage(A total of 55,000 cases, except for duplicatesApproximately 35,000), There is a site that lets you know if your Twitter account password has not leaked out.

Confirm that Twitter password is not leaked: WIWA TWIPASS
http://twipass.wiwa.jp/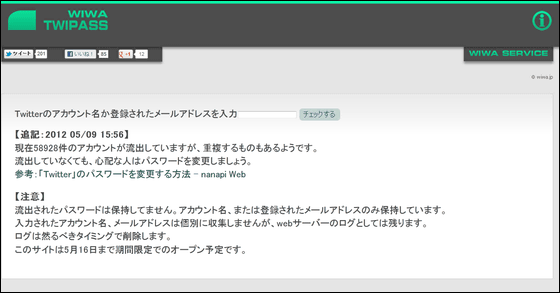 Easy to use, put your account name in the blank and click "Check"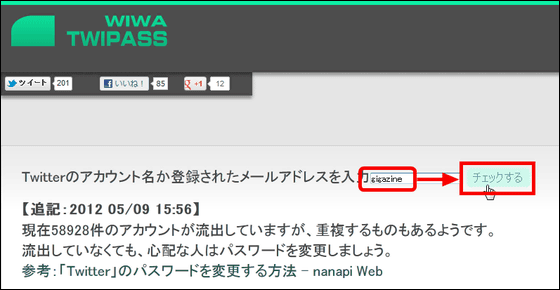 It will be like this if it is not leaking, okay.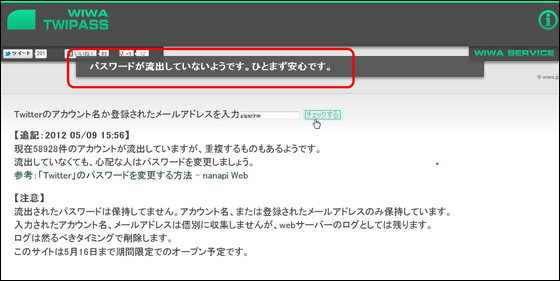 If it is leaking you will see this, out.Change passwordIf you have diverted the same password to another service or application, change it.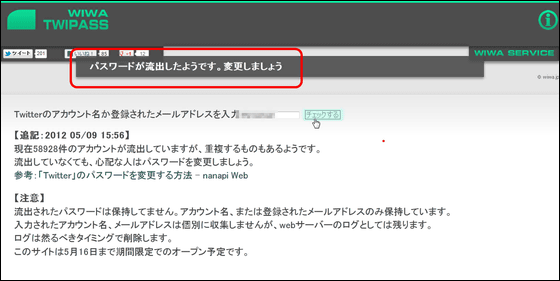 2012/05/10 9:40 Addendum

There is an announcement on Twitter's official blog, it does not leak from Twitter itself, most of the accounts listed are those of spam accounts, passwords are leaked from services other than Twitter, "On Twitter There is nothing from the site "" The accounts of people who are using Twitter as usual are not included in this list. "

Twitter blog: About yesterday's "password leakage" news
http://blog.jp.twitter.com/2012/05/blog-post.html

Yesterday, the information that Twitter ID and password leaked in Japan went around. We are sorry to cause you worry. When the related department verified it again, it was confirmed that no information was lost from Twitter.

We also requested a reset of the password from Twitter for accounts that were posted to external sites as being lost. These accounts are considered to have come from sites that are not Twitter. Most of them are suspended as spam accounts, and accounts of people who are using Twitter normally are not included in this list.

Please be aware of the following points so that things like this will not happen.

1) Please check if the logged-in site is a trusted site. Unfortunately, there are still many phishing sites on the Internet. Let's check the URL.

2) Let's make your password more secure. It is very important to make it a password that only you know, not your birth date or English words themselves. Also, avoid using one password for several services. Please refer to this article about the password.

Many Twitter engineers are making efforts so that users can use it with confidence. If you find something that seems to be in violation of Twitter rules,Please contact here.
In other words, Twitter's main body "from" has not leaked directly, but the Twitter password has leaked from another place.