"I want to die by leaving at least one piece of work" Interview with Cyber ​​Connect Two and President Matsuyama Full Version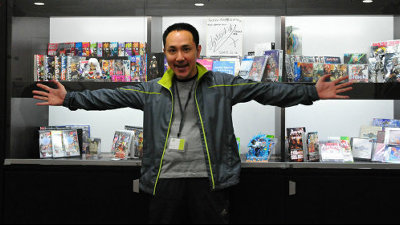 Series of weekly Shonen Jump series serial cartoon "NARUTO - Naruto"Game series and"Tail Concerto".hackOriginal game such as series, disaster prevention and safety image character of Fukuoka prefecture "Mamoru-kun"Illustration of the game production company widely active"Cyber ​​Connect toIn this interview with CEO Hiroshi Matsuyama, President and Representative Director, at Cyber ​​Connect Connect Fukuoka head office about the real form that has not been widely known so far and the dynamics of growing the company to this far scale I succeeded in doing.

◆ Cyber ​​Connect to Hiroshi Matsuyama Interview with President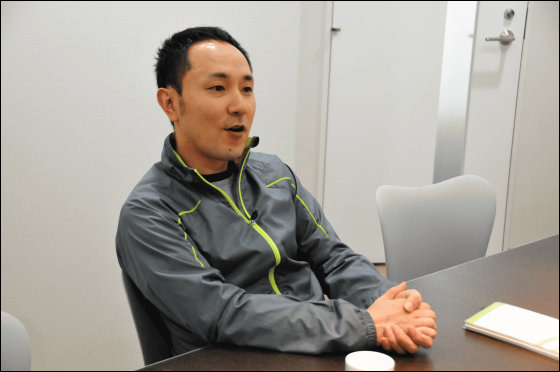 Cyber ​​Connect - 2 President Hiroshi Matsuyama (Matsuyama):
Well then, is it okay? It is from the company profile (turning over the material at hand). It is the former 'cyber connect' company that started from only 10 people 17 years ago from now. There is a head office in Fukuoka. I made a Tokyo studio two years ago. With contract employees and part-time workers, about 170 people currently engaged in development at Fukuoka headquarters and about 40 people at Tokyo studio. A total of 200 people in total, we are developing games, sometimes making movies. Well it means that we are doing various developments.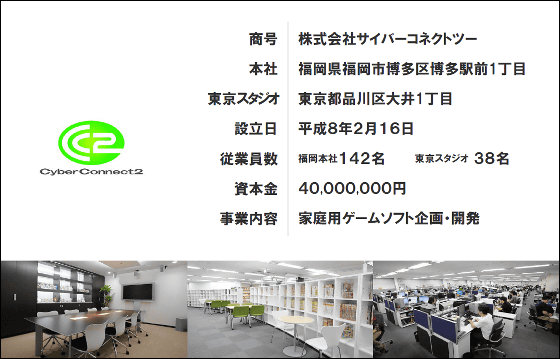 17 years ago, the first "Tail ConcertoI was in charge of developing game software for. Around this time, I am a graphic designer, artist, I am working on background graphics about 80% of this work. Tail Concerto is a project initially launched when 10 companies make a company. With this, I decided to work with Bandai (now Namco Bandai Games).

The second one is also PS1 (the first playstation), "Silent BomberIt's an action game. At this time I am an artist and I am working on more than 90% of the background. Because the number of people was small! It was like a one-person section. It was still PS1 so I could do such a development though. Since "Tail Concerto" was few people, it took about a year and a half to develop. In "Silent Bomber" there are 14 people with more people. Nevertheless, I also took development for around a year and a half.

Matsuyama:
Next,".hack (dot hack) series". It will be PS2 from here. The release of ". Hack // Infection Expansion Vol. 1 - Absolute Siege Vol. 4" (hereinafter ". Hack" series) of the first title of the ". Hack" series was from 2002 to 2003. It was three months span, and it was composed of all four volumes.




Matsuyama:
It is a project that broadcasted TV animation, developed manga, novels, and various media at the same time. I was making a background graphic of ". Hack" as an artist. Until this time.

GIGAZINE (hereinafter, G):
Really.

Matsuyama:
That's right. At the timing I began making, my former president is my classmate, but he went out. Usually, it is not easy to get the president disappearing (haha)

G:
It is not (laugh)

Matsuyama:
At this time, it was a company of 18 people in all. Let's increase the number of people because it becomes PS2! Tell me. Still, there were only 18 people, but I called plus 7 part-time jobs, then Rookie Seven, but with a total of 25 development staff. As the former president ceased to exist, I decided to talk to the staff and act as representative. As a result, at that time "Cyber ​​Connect toWe also changed the company name to. So, my director's work is from the ". Hack" series.

The next series is ".hack // G.U."is. This is a three-volume project from 2006 to 2007. The following year, ".hack // G.U. TRILOGYThis is a full CG original video animation.Bandai VisualWith,NAMCO BANDAI GamesTogether with you. It is this ".hack // G.U. TRILOGY" that games creators can create, making things like CG movies, and so on. Back then, it was difficult to sell on the Blu-ray Disc · DVD, while the animation industry was told that it is tough now, as a result, it was a considerable sales record.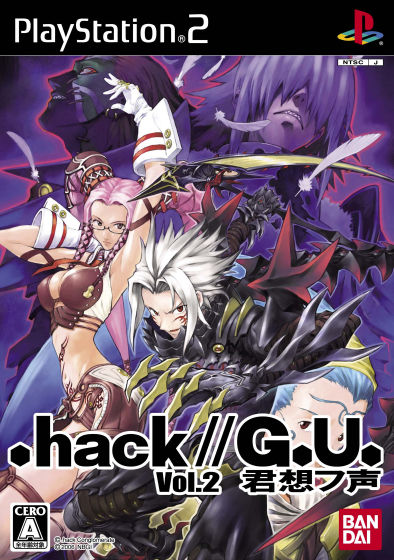 G:
Oh!

Matsuyama:
Thanks to you. There were also things that game fans of the ". Hack" series entered under the same trend. ".hack // G.U. TRILOGY" produced under the concept of ".hack // G.U." Another concept, I also directed. And since 2010, the ". Hack" series which we are still working on now is PSP's ".hack // Link"is not it. Even now I am doing various things. At the same time, it's about 2000 years old. Since I became president, I began to think that CyberConnect - 2 should be a developer that can sing and dance properly.

G:
I can sing and dance (lol)

Matsuyama:
Otherwise, I will not win, even if I can stay forever. So, let's do it properly. The production period of the ". Hack" series took about 3 and a half years. The ". Hack" series hit and fortunately hit and the number of customers who can support it also increased, but with thoughts that are often found in companies with few people, "If you make even good things by themselves, customers He comes with me later. " There is the idea that "the result is afterwards". First of all, trying to do what you can do. The idea had a sense of incongruity from that time. This industry is strange and there are no companies that do not work hard.

G:
Everyone is doing their best.

Matsuyama:
That's right! Nevertheless, it seems that "everyone" has succeeded, is not it? Well then, it's not enough to work hard for usual, right? We need a strategy to succeed. If you make good things, the results will not come later, you must turn around and make sure you get engrossed actively. Even though it is a development company, it is the publisher's job to sell it after making good ones, we do not know, is not it going to be fashionable from here onwards? When. The business of the game has grown steadily since becoming PS2. It began to be said from around this time that it seems like a movie. A movie is strange and our staff said before before, "There is no one who decides the movie seen by the distributor." Is not it that you can not decide the movie you see with "Wow Toho will deliver!"

G:
surely.

Matsuyama:
What to decide is, what kind of team is the director or the team that made the movie? For example, genre, cast, character designer and so on. The point is that everyone is going to compete with content. So, in the process of the game industry becoming bigger, like the movie, "Which production company are making it?", Looking at the back of the package, "Ah! That It is made by the production team that the game made, it is safe whether this person is a director, then. " I thought that probably the customer would decide the game to decide. To that end, it is not a story just before, but you must become a developer who can sing and dance after all. So, also to the publisher, say "Let's do such a project because we are working with cyber connects two". If anyone is a good subcontractor, I think that it is meaningless as a creator, so I tried to make such a company. That's because I succeeded in the original ".hack" series, but it's going to be one year after another three and a half years, your age will be a high target.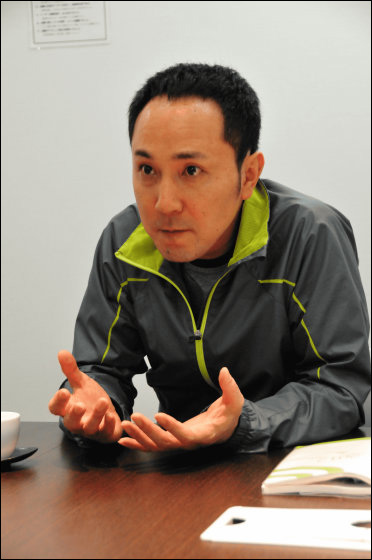 G:
before you could say Jack Robinson…….

Matsuyama:
As we did, three and a half years are not waiting for you, customers. I will find the next fun thing already. However, it takes time for production to make it, and it is difficult to say that it is time to make it in one third of the time. Because it does not become a good thing. Then it may take two years, so first try to make the development line two lines. Then, if you put out one in 2 years, you will cross, so we can publish our title once a year. First we have to make up that regime. Not a few people in a small number of people, there is a strategy to win. So, increase the team first. Even when making fighting games, for example, when you make fighting games, "I really want 25 characters, but since I am few of the people in my current business, I want to make 18 characters after all, so I do not have enough budget" is. But it is a story that the customer said "I knew it!" If you had 25 characters, if you had 25 characters, it was decided!



Matsuyama:
Not doing their circumstances first, it is absolutely impossible to win the idea that the happiest thing for the title is something that is the happiest thing for customers. Do not say things that have been crippled, such as few people or hands! When. Let's increase the number of people. The former president said that "If you increase the number of people, how about management?" "The result comes from behind, so let's do a few elite and ridiculous things". From that moment on, I thought it was quite a casual thing ... ... as a developer. "Winning" is not ordinary. Because it is to win more than people, we can not win unless it is special. I have to have a special strategy, so then doing something different from people properly, Cyber ​​Connect to do a major remodel from there. From whatever the rules of the company it seems to be all.

G:
How long have you done that major remodeling?

Matsuyama:
That is 2000 years. In 2001 I took office as the president, told the staff at that time, "The president has disappeared, and indeed the company called cyber connect has gone," I told him. Everyone has the ability ... Naturally the core member of the time was a former game companyarcade gameAnd video games, fighting games and shooting. It was a polygon made with a PS1 compatible board, so it was a team member who can develop PlayStation right now.

G:
Well, you had the ability. From that time.

Matsuyama:
That's right. Originally there were both abilities and dreams, so we all had a feeling that we wanted independent hits in titles that we envisioned. They were complaining about the company of my former employees. It did not make us compete with the things I wanted to make, but in essence the things that the management decided for selling things ... ... I felt that top down was tight. As long as I hear their bitches. Although I do not like love, although I do not like it, "I make a soccer game because football will become a pro and I will start a J-League". "Even though we love soccer, nothing ... ...."

Fairly rough instructions ... .... Well, after listening to it, "While it certainly is not," while it is just somewhere, it sounds like an excuse. Did not you blame the manager for the reason why they could not result? When. I wonder if we could have said that they had a strategy to make them hit absolutely as they got paid and worked. I just said that I want to do what I want to do and with my circle activities, I thought that was not a business. I myself, when I was producing "Tail Concerto" and "Silent Bomar", is this really a good project? Is not there more possibilities? Because I was thinking. "Are not you satisfied if you do not do so far?" While feeling on the skin, there were only 10 people, there were various circumstances ... .... Since I am convinced and put out on title, I do not regret it though.

◆ Original Prohibition Order and ".hack" Project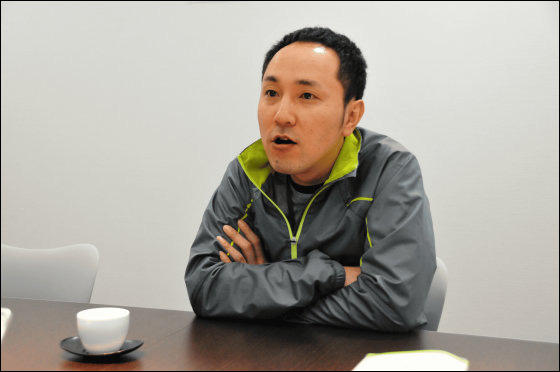 Matsuyama:
When becoming CyberConnect-to, "Because everyone has the ability, I think that I can re-enter the company of the original company or the whole country in Japan and I think that I can also be active, but I still have not made cyber and I can not get results, Concerto ", and including this time" silent bomar "and the next". Hack ", Bandai still has not been able to return properly to the company yet" to the staff at the time. I want to do this ". Hack" to the end.

It was also the year when Mr. Unozawa Shin (now Vice President, NAMCO BANDAI Games Inc.) appointed manager of the video game business newly. Uzunazawa, who was newly appointed, was able to alter the way it was done. We gathered about 50 people in Bandai's video game business division and asked them, "Can we make objects of polygon, can you paint and write programs, is not it?" To the development company, to face each other properly. He said that he has succeeded with animation. Mr. Unozawa himself has been able to succeed as an animation business. Then, various things have changed a lot. I myself was called to Mr. Unoyazawa. At that time, it was when I was promoting the project ". Hack". Telling Unozawa to say "Stop it." "I've been looking at various project teams so far and I have heard stories from my subordinates so I know that you are excellent.While" Tail Concerto "and" Silent Bomar "can be done well, but it did not sell, it was successful I will not say that. "

G:
Is that in front of you?

Matsuyama:
Yes. I was just inside of Bandai, I am. It was quite good from that time that he was on good terms with a producer in Bandai, so I silently listened to it, but what did he say! When. But it is a just argument.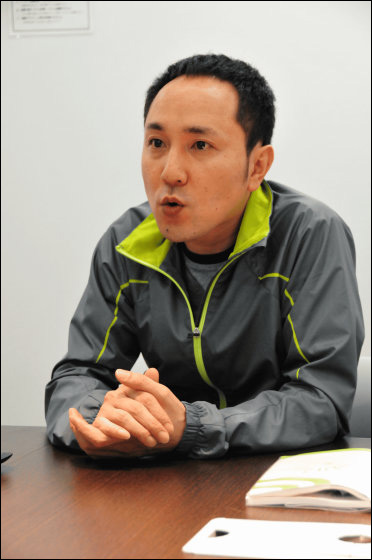 G:
(Lol)

Matsuyama:
At that time, manga serialized in a certain juvenile magazine will be animated next year, so if you produce this game you and you first sell it. "Even if I say that you want to do that next time you sell, no one complains, I will also push a stamp." After all I came to the meeting of ". Hack", but it is said that virtually another title is done! (Lol)

I also liked that manga, but please wait for a moment, I returned to Hakata saying that I will consult with the staff. After a couple of weeks I went to Mr. Unozawa and I understood the story well and I think that it is exactly the case, but I want you to make a nerve here for a moment. I can not do it with the title I told you, I want you to do it with the original ".hack". Because it becomes the third game in my house, even if I make a game of that manga greatly, I can not understand whether it is thanks to the original work owing to our ability or not. As a developer I'm thinking about giving up on my life, and in Bandai I will continue a new 10 yearsIPI will make it, so I want you to do it. I made a story of Umizawa-san that I am willing to have my neck cut if it's useless. Well, I wonder if I can yell at ease, "I understand, then I will do it" then it is a story called "that?" I understand now, but he is also passionate personality.

G:
Passion got through.

Matsuyama:
Yes. That is why I decided to prepare and talk. Instead of life, make it absolutely successful. But this does not only mean that you do your best. Both character designers and screenwriters must pull the people who can sell absolutely. It is not such a sweet world. so,Mr. SadamotoYaIto-san,Mr. MasashiWe were able to participate in it, so we saw the whole of ".hack". One year passed since development began, when Mr. Unozawa came over again when I started taking a lot of orbit in the second year or so, "It is not enough". You should not just play games. It is the title of PS 2, it has been decided to attach OVA to all four volumes and OVA, and I was making animation. But "It is not enough". "It can not be hit, probably it can not be hit, it's just a fun game in a game, it is not just a matter of making a movement." That said, "I've decided on TV animation. TV Animation 2 Cool Since it broadcasts, do what you can enjoy in parallel as ". Hack" project. Then we will give out "I was preparing such a plan whether there is such a thing!" (Laugh)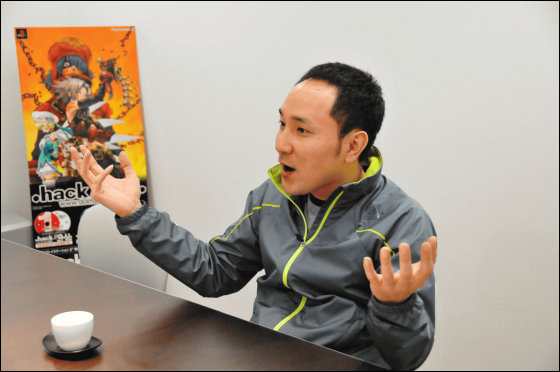 G:
I was waiting (lol)

Matsuyama:
I was on top of my life, so I assumed everything. I can not absolutely say I was in trouble. So with TV TOKYOBandai VisualMr.,Yomiko AdvertisementMr..hack // SIGN"The plan of the movement began to move, but later Unozawa came another time and said" it is not enough ". With comic strips. Besides the game, it is to hold down all manga, anime and novels. I went to Kadokawa Shoten and decided to comic, so I made you planning. There is a plan of manga so that "There might be such a thing!" There is a manga plan, if you do it in manga, let's do this kind of way, if you do it in a novel, let 's talk with Kadokawa Shoten thing to do this. ". Hack" is honest, after all, the influence of Mr. Unoyazawa is big. Hit on various things. But, thanks to that I came up with that, thanks to the decision, we also decided, ".hack" stood up and resulted in a worldwide hit of 1.9 million books, which was really good.

◆ NARUTO - Narutimate Hero's Production Secrets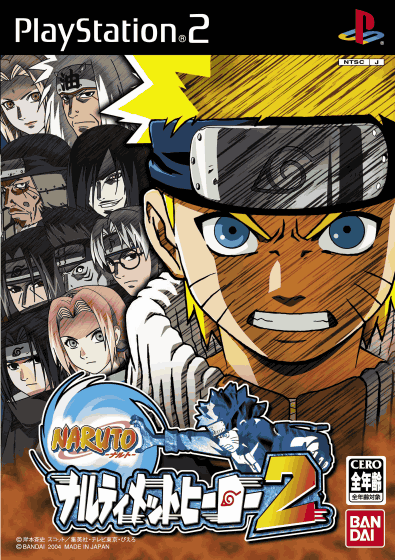 Matsuyama:
After that, I was about to start another line. I myself love character things and I love manga, so just after about a year of serialization the "NARUTO - NarutoI wrote a proposal of the project without permission and made a prototype image as well. In the general public it was a recognition that "character game = kusoge", so trying to make something that will be a model that is said to be fun even in "character game". I understand from doing the original ". Hack", but it is very difficult thing that you do not have customers anywhere from scratch. But to use copyright, there are customers who have already read comics. Because you can tell the tendencies of those people by watching animation, you have to make a title that makes the fans more satisfied. I think that hurdles that must pass over are original titles. Because they have an image of "my Naruto" and "my spiral circle".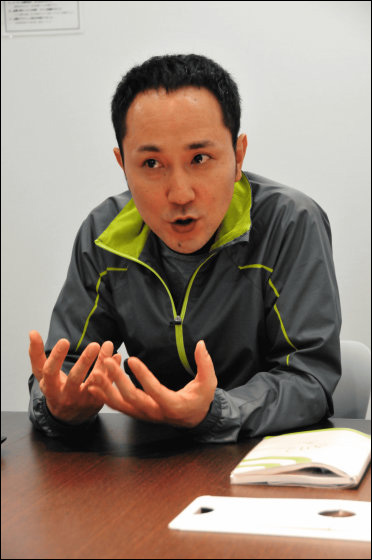 G:
Every manga has it for everyone.

Matsuyama:
That's why I have to overcome that the expectation is over the original. Because it is because I have to create a title that can say "this!" Beyond the image of a person who reads a novel or a manga reader. I need to have that kind of spirit. That's how it was completed, the first of the "Narutimet" series, "NARUTO - Naruto Narutimate Hero"is. And at "NARUTO - Naruto Narutimate Hero 2", Mr. Famitsu's "New Game Cross Review" entered the Gold Hall of Fame.

G:
That's great!

Matsuyama:
With this you will not say "character game = kusoge". It is said that good ones are evaluated properly. After that, "NARUTO - Narutimate Storm" developed by the Agency for Cultural AffairsMedia Arts FestivalBut I got an award. Good ones are definitely evaluated and you can produce results. To do that, we need a strategy, and we also have to do promotional activities to get to know if it is okay or not. To do that, we have to increase the number of people and raise our skills, and we will compete with our best skill. As a result, it is a story that the "NARUTO - Naruto Narutimet" series actually became a representative work out of 10 years, in parallel with the ". Hack" series. "Narutimetto" series,acceleratorIn the series, gold continues all the time, and after that, "NARUTO - Narutimate Storm" evolves into the Platinum Hall of Fame, but in the case of Storm 2, 10 points, 10 points, 10 points, 9 points So, my highest score is 39 points and I am one full score. I got a really great evaluation. However, from the "NARUTO-Naruto Narutimate Storm" series it will be developed in PS3 ... PS3 takes more people and cost than ever. However, because it is an HD machine such as PS3, we were able to produce a video director whose evaluation was received both domestically and abroad.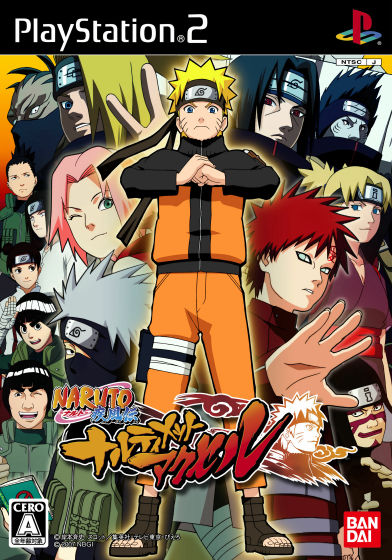 Matsuyama:
Because it is something that ourselves gave themselves, so if you say which one you can sell 300,000 in Japan and sell one million in the world, which one is decided to one million! That 's right. Since it was made with great care, there was a feeling that as many people as possible to enjoy it, so that if it were to become a company that could make things that could be sold worldwide properly. From the gaming fans all over the world, I wanted to think that "the title made by CyberConnect 2 is a necessity check", and there was a feeling that I want you to look forward beyond language barriers. With a spirit of as many as one, more than one, I made a worldwide strategy, so I decided to go overseas for business trips without title release.E3,Games Convention,Japan Expo, Firstly, he / she learns about the local area, centering on events held abroad. And I have communication anyway with BANDAI NAMCO Europe which sells our products locally, BANDAI NAMCO AMERICA or such people. "What kind of title is difficult to sell in Japanese style" or "What kind of things do you like in the United States?" "Of course, it is said to be like a game shoots the head with a handgun!"

G:
It is easy to understand.

Matsuyama:
The head shot is cool, it does not make me feel a bit of a feeling. War is not good in Japan, so it is incompatible there. I do not think it would be good to kill people in the war, education is not so. But in some countries it is a profession. We do not know the wonderfulness of war. But then if Japanese people say they can not make things in the world, there is not such a thing, "Princess MononokeBecause it is "Spirited AwayThere are also works that are valued in the world by making it to ". "Neon Genesis EVANGELIONEven so. If you make even a genuine article you can make a work that turns everyone around regardless of the West.

Utilizing the strengths of the Japanese, I tried to "Naruto" by doing how to make such things that I can not imitate in the United States and Europe. The ". Hack" seriesJRPGWhy, in the West it was starting to be avoided. So, rather than unreasonably deploying in the West, let 's make something that foreigners are surprised at genuine animation with "NARUTO - Naruto", saying "Oh my god!" It started with the concept of "NARUTO - Naruto Narutimate Storm" series. As a result, it was literally said that "Oh my god!" When actually presenting to the Americans! From now on I will tell you "Oh my God!" Talk with a presentation, show me a boss battle, and so on. That way you say "Oh my god!"

both:
(Big laugh)

Matsuyama:
I also practiced a lot of presentations. If the presentation is bad, this is not a disadvantage, go to various worlds and study. It is not good even if I look at other company 's presentation, I'm not good at seeing from me All this people are sleeping, this guy is good, everyone is feeling good with guy. Absolutely the latter person wants to cheer and you will want to write articles too! So thinking that it is fatal if you are poor presenter. Even if I tell our staff, I do not understand easily, but I may be able to see people like to speak fluently and fluently, but it was originally awesome and I could not do it tremendously I try hard to explain it. Really, it is really hard to get out for presents and people, but I am doing my best with a lot of effort. There are also worthy of such a presentation, please write lots of articles over there. "NARUTO - Naruto Narutimate Storm" series was the title that got me to know the name Cyber ​​Connect - to - 2 in the world.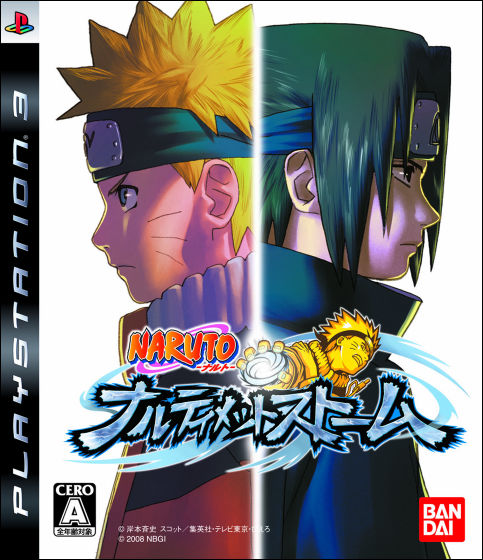 Matsuyama:
I also like manga, but I also like animation. So it's on the Euphor tableKondo HikaruI am also making friends. I respect the animator from the bottom of my heart.GainaxThe creative of the team named "Wings of HonneamiseI knew from the time it was only called "Royal Space Army", but I like their creatives very much, and still I am still a bible in me. What they made. I still think that it is not an enemy to the animator's idea power. Our title is comparable to God drawing of animation, and aiming at image production unique to the game, thanks to the worldwide evaluation also obtained thanks.

G:
It is amazing.

Matsuyama:
It says something like "Your game is beyond animation", but do not say stupid. Hey, do not sacrifice the animator 's idea power. We have not yet reached the feet. Are people who make moves with brain miso and are competing with paper and pen alone? It's because we do it in CG, we can do it in a world like that, as soon as you think it's strange. I do not think animation is still very much, but I think that it does not exceed it at all. That's why we think we can still go up. Because there is Goman what you can do still more. As I thought, my goal is my favorite animator, I'm thinking of going through more of it as an animation action. Anime expressions are one of our favorite skills, and it was "NARUTO - NARUTO - NARUTEMETT STOM" series that made it possible to clear one. Then, next. Original title in Nintendo DS. A title which is not "NARUTO - Naruto Narutimet" series or ". Hack" series was released in 2010. This is a title made with the same world line as "Tail Concerto" which we made right after the company established the company 17 years ago. Sales of "Tail Concerto" were not satisfactory, but naturally there were fantastic enthusiastic fans, and I was cheering for them. Even now there are visitors who would like us to make a sequel of "Tail Concerto". With the thought of 10 years it is an extraordinary length in the title of DS, but I made a long and thin work over 3 years of production, and this "From Solatorobo to CODA".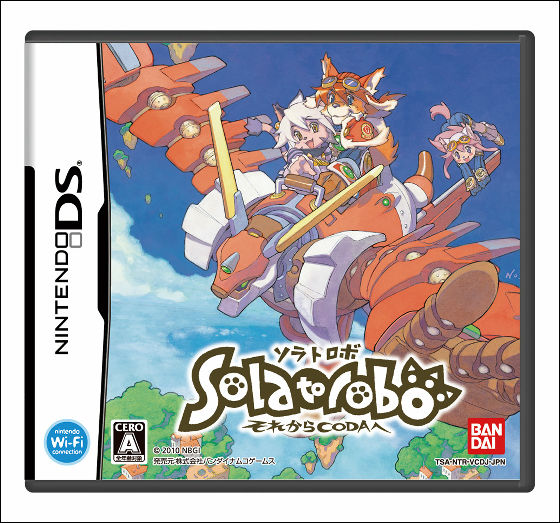 Matsuyama:
We hosted an event organized by our company. It is the title that I think that we would like to make such things as we are still excited with customers who like me while making complete setting materials collections, various related goods, fan books and so on. I would like to connect to the next project as well.

Next is a new series of PSP, but "NARUTO - Naruto - Shippuden Narutimate Impact"This is the title released last October. This is also got Platinum Hall of Fame ... PSP, it is! Yet Namco Bandai said, "Although Storm 2 was 39 points, the impact was 35 points, it was just a burning platinum, but Cyber-san is not doing a bit of luck."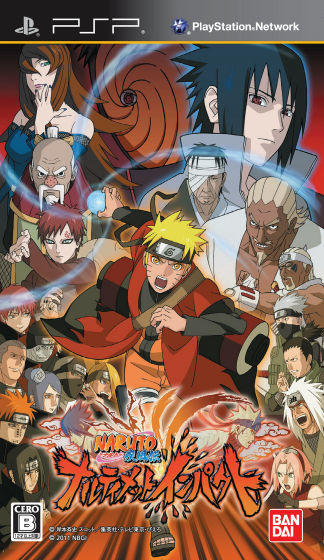 G:
Something like that (lol)

Matsuyama:
What! When. It's super good, this one! Well, it was also the most battles I have ever had, but I did not give up to the end, I tried to do everything I did to make it a super luxury title though it was a PSP. Because Storm 2 was being evaluated, you can enjoy drama and boss battle with superanimation, enjoying animation action from omnidirectional type, saying that you can also play communication play that you can enjoy drama, it is all over! I did everything ... (lol)

◆ Visual work and community activities

Matsuyama:
Then, next. Four years have passed since the previous work, but in January of this year, I was allowed to oversee by myself, as a project of the ". Hack" series, 3D animation for theater which I made a nationwide release from January 2012Beyond the dot hack sekai"is not it.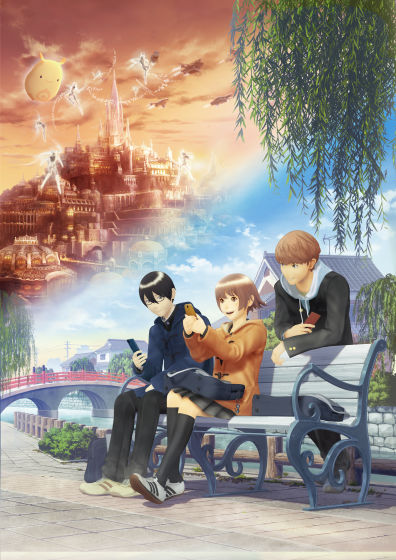 Matsuyama:
Since stereoscopic view was originally studied for the game originally, I made use of the technology of the game shop and stuck to the expression of CG and stereoscopic vision. Thanks to everyone who gave us a high evaluation.

Then, next. Next was a discussion with Capcom 'ASURA'S WRATH (Asurazurasu)"is.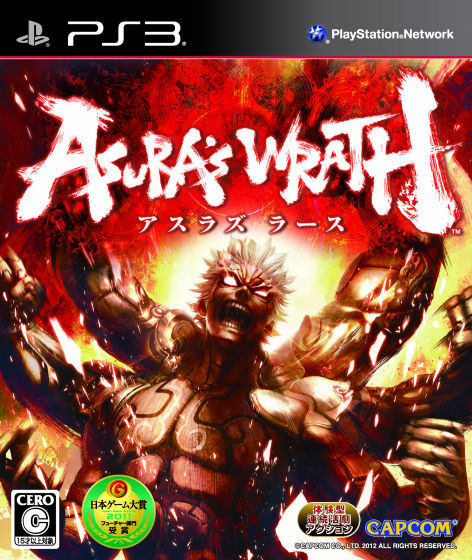 Matsuyama:
It is a company that horses match, Mr. Capcom. This is also the thing we started about three years ago. And I think that the original concept of Capcom and CyberConnect - 2 stupid, which is stupid, that we can make something that no one can imitate could be expressed properly. It is a title that had a very high calorific value, and it is on sale simultaneously in the world in February. Also, in Japan it strangely strayed, but a new title for the "Narutimate Storm" series, "NARUTO - Naruto Shippuden Narutimate Storm Generation"The old and new worlds have met together and created the latest character as a specialized battle type Naruti as a concept. It does not mean that the boss battle is in large quantities such as the numbering title of this series, or the drama is expressed precisely like RPG from the head to the end, rather than specializing in the battle, improving the system of the battle, various I am doing the title.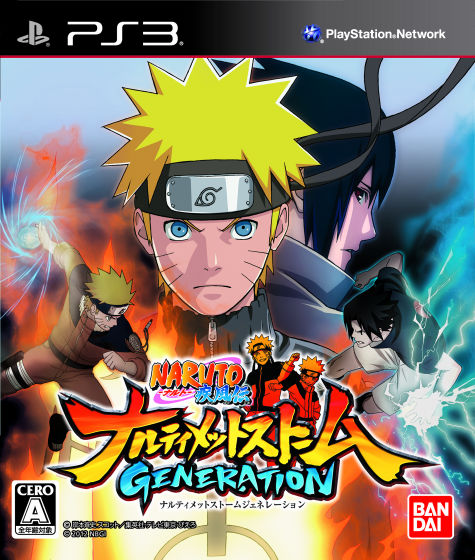 Matsuyama:
And the latest work of our company was released on June 28 "Beyond the dot hack sekai, + Versus Hybrid Pack"is. It is released in the form that both images and games can be enjoyed. The game is not a bonus but it is content that can be enjoyed firmly as one of ".hack" series.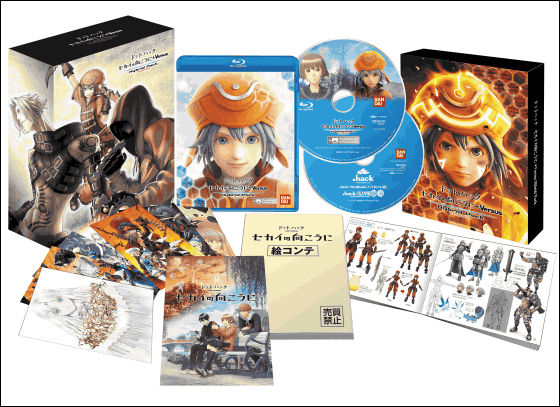 Matsuyama:
Also, this is an unusual story, but we deal with "Mamoru-kun" of disaster prevention character in Fukuoka prefecture. I do not quite get a job of character design though. There is some thought in Fukuoka Prefecture. It is a short story before, but FukuokaSeiyo Oki earthquakeIn the event of the earthquake damage, some people died. Naturally, our company also suffered damage. So, as a company in Fukuoka, I wonder if I can help you to raise awareness of disaster. For a moment, because I want to launch a nonstandard character, the company in Fukuoka called Game Company CyberConnect - 2 is not just character design, just like a gaming world view and setting "Mamoru-kun" is what. We are making disaster prevention posters of Mamoru in Fukuoka prefecture.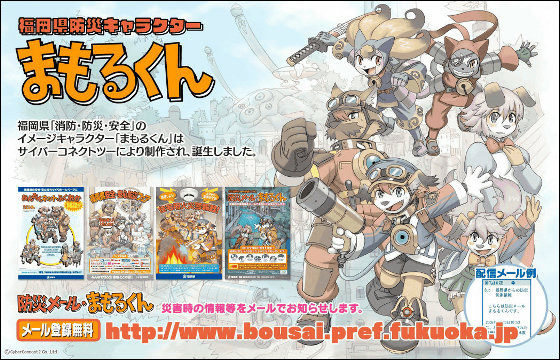 Matsuyama:
Also, in the game company in Kyushu and Fukuoka,Level 5AndGambaryThere are some game companies, such as Mr. At that time, in order to raise the game and entertainment industry together with game companies and game affiliates, with industry, academia and government collaboration with Fukuoka city, Fukuoka prefecture, Kyushu Bureau of Economy, Trade and Industry, Kyushu University,GFFWe are doing an activity to create an arbitrary organization called "Fukuoka" as a game industry city together with strategy. I had a meeting yesterday as well.◆ Cyber ​​connect as an organization

Matsuyama:
From here we will introduce that game company CyberConnectTo is a bit different from other games. Since it is also posted on the homepage, I will briefly explain it. There are more than 200 staff right now, but one staff is acting on the basis of Three Munsell (3 people 1 pair) instead of a way of bundling several staff members. Each team has a table named Tri Factor. As for information, we go down in a top-down way and bottom up for ideas on making things. Three people consult. When I've got an idea and it is "that's it!", I go up and I will consult the idea with the top three next time. If it is okay go up and decide. It says it will disappear as soon as it goes bored. When one staff member has to see dozens of people, "There is a place where the administrator wanted to do it and did not enter the game company". We are running this system since I became president. Although Three Munsell is the basis, there are departments sometimes like a group of four people or a group of two people, but basically I do so.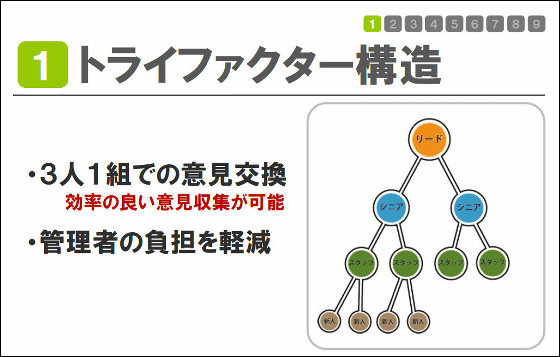 Matsuyama:
And we are tobacco all night. I think it is natural as a company. Game development takes a long time for 1 year 2 years 3 years. Someday I do not have any good projects that someone collapsed. If you work without rest, you will also break your body. So just stay up all night. However, I have overtime work, and I also have holiday work. However, it is a rule to work at 9 o'clock the following morning. It is obvious that you will be late, but you will get angry. It makes me angry. You may as well go for a drink on the previous day, but instead you come at 9 o'clock the next day. You can work overtime, but you have to come around at 9 o'clock the next day. You should not stay up all night. I say that I definitely will leave. Let's do it slowly, plan it and do it properly. That is how I think.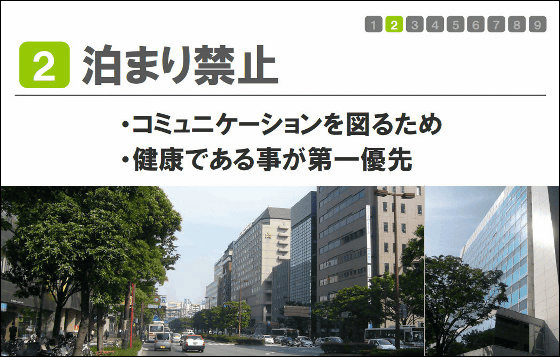 Matsuyama:
Next, once a year, to all the staff, I'm planning to organize ideas I'd like to organize ...... I like something like a plan of a project, everyone makes a score like a Famitsu cross review. Everyone's plan is 100 points, because I make planning thinking that I am the strongest. However, when you show it to customers, "many people do not understand the meaning" are many. Even if I show it to 1 person, 2 people, 3 people, it does not come with a pin. At that time I'm going to blame others for "I do not know for you." It is such a plan. So, we will do it with all staff. Do not know who is wearing to whom, point it, point it from 200 people, say 0 and say that you are not planning for yourself as expected.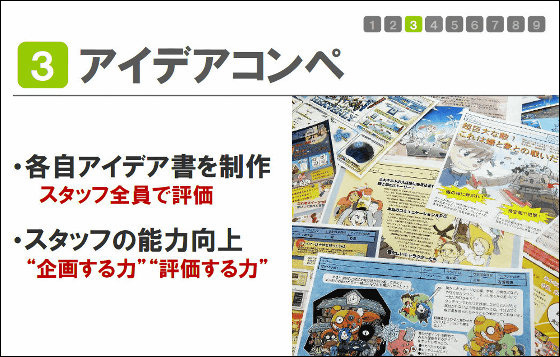 G:
You will notice.

Matsuyama:
It seems that customers probably think that it is (laugh). More than half of the staff who has nearly 200 people think that "this is something interesting?" Customers surely think so. Why, I am trying my own idea in the same way, both newcomers and veterans, including the meaning of training, do the same.

Also, I am talking about my own rules. It depends on game companies, but our company has 4 sections, plan ... ... so called game design section. It is project, artist, program, sound. There are leaders who are told to lead in each of these teams, and there is a director who further bundles the team. Apart from that, another person has chosen a director called a special direction. As the tendency of roughly choosing rules, people who have just joined the company are often chosen. Is not it a veteran again like a lead? Then, the more it will be in the latter half of development, the more you have to handle it, "No, there is no change in specifications from now on", or if you do this in such a way that it will not be completed. Because dozens of teams are leading the team. Why is it only for those who have just joined the company, do you somewhat like things like "Do not like this?" In this second half of the term. Because I do not have knowledge and experience. That's why I frozen every time. Each director tells me to stop this system every time (laugh)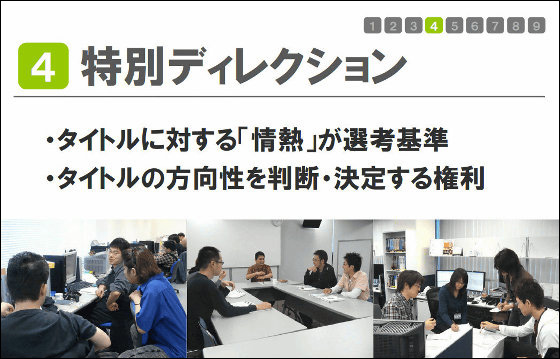 G:
(Lol)

Matsuyama:
Among me, it is a measure to nurture a new director. I do not really know how things are decided, such as the young staff who draws pictures at the production site. So when you join such a place the field of vision will also expand and there are things you can see. When I get back to the scene, I can talk to other staff like that. My boss has a responsibility of the boss, but I put a young person into my eyes in the sense that I can give you a chance as soon as possible. Whether to wake up or not depends on the staff. I choose a rookie who does not understand roughly. There are conditions. Mental is strong. I guess I do not hold back. So even in the latter half it says strange things. I do not have any obligation. Say something like "Is not it fun to do this?" And you know what it takes from now to add it. Everybody says the director is disagreeable because it becomes a deadlock every time. If you have any other good idea to nurture the director, bring it. For now it has not been such an idea, it has been ongoing for years.

G:
I see.

Matsuyama:
People who have experienced such a thing in many cases do the director of a new project. "AsurazurasuBecause it was the director Shimoda Hoshi who made it. Then you are active many times by people. Many people put their heads in the neck and the exchanges also get quarrels, but that is why it's included. When such a guy plays the director of a new project, the surrounding people also say, "Oh yeah, it would be done if it was this guy." Because there are places like that that the presentation is over, including that kind of thing.

As another rule, there is "GAME YOU CORE CC 2".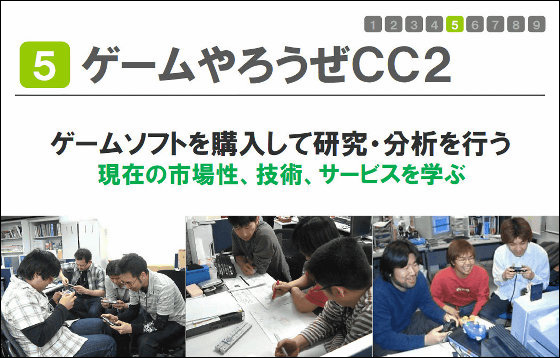 Matsuyama:
We buy game software for each project. By saying that it is necessary expenses. Waste is useless though. "Monster Hunter"When waiting a while told me to buy four, please say" a little. " It's not research! What. It is not the best and I disliked it mostly in animators and game creators, but it seems like "I have not played games compared to the past" or "I have not seen animation". If I were a consumer or a child, I liked animation, I love the game, I constantly watch movies, works like those that are stupid, and the game is divided as a job, and it is in the work of another company I am not interested, and I wonder which one of the games that human being made that I am making with such a stance is definitely the former. I think that creators want to be stupid. I think there are various companies in the world, but we are angry if we do not read the Weekly Shonen Jump. Because I'm so angry if I do not read manga. I!

G:
Like a fiery fire ... ....

Matsuyama:
I will talk about what we are serializing this week on the premise of reading this week's issue and talking to the premise that we are watching movies too. I'm sorry I did not see it yet, so I told you "You are not watching right?" It's polite to watch movies in the first week of publication. You understand, if you do this business. Everyone in the industry is concerned about the mobilization number of the first week! Well then what we mean to cheer it is to go see it in the first week. I'm buying game software on release date. Because all the makers and the creators are concerned about it. Because that is already obvious.

Two weeks after publication, after eating lunch and talking about the movie with the staff, there is a guy saying "Wait a minute, I have not seen it yet!" Why are you talking to someone you have not seen yet? I have to match! What. That's why it's NG words that are strange. I wonder how many weeks it has been published! I do not care with that degree of love. I am not interested in other things, so it's okay to be stuttering. If you really are interested in going to see it in the first week? Is that way of thinking. I regularly subscribe to cartoon magazines about 60 books a month, basically it reads them all, so I will talk about it assuming that I am reading everything. It is the same with movies and animation as well. So I get angry when I say I do not know or do not know. Everyone is obviously not such a staff. Staff not like that is of course in the middle. However, since we talk about what we are watching, when everyone is explaining something I'm taking notes (a bitter smile)

G:
I see.

Matsuyama:
If you are talking about unknown titles, there is always a gap in generations. In short, when you talk about directing, "I want to do is to say,Wing man"ofDelta endI'm talking about it. "Then, like that," Sorry, I do not mind letting you say again ". So, you became an adult without knowing Wingmann! For me,Tezuka OsamuThat's why I am talking about who I am! So, it does not mean that everyone knows everything, but you can get angry to say it clearly. Do not tell me "What are you waiting for?"

G:
It is a lack of study.

Matsuyama:
So, I borrowed 4000 DVDs from my company's library and learn from meetings in the database. Because you have to see things everyone knows. Game creator is strange to say, but as I say, I do not see such a work. My respected animator is a monster of knowledge, Sadamoto andTsurumakiAnd not only the people of Gainax but it is touched a lot of amusement. I do not even see it, and I do not know, "I'm afraid that I can not do it" absolutely. I have been seeing that, I'm also watching this, I know everything and I think I've eaten it. People like real people who are truly knowledgeable. I guess it is typical of those people who can not produce without absorbing so much. "GANTZI'm drawing a workHiroya OkuAlso said the same thing, but I said that I wanted to make a picture that no one saw, so I saw a lot of movies. Do not mimic one. Then I can make something that no one has seen. I think it is exactly the same. It is a cyber connect to library for that.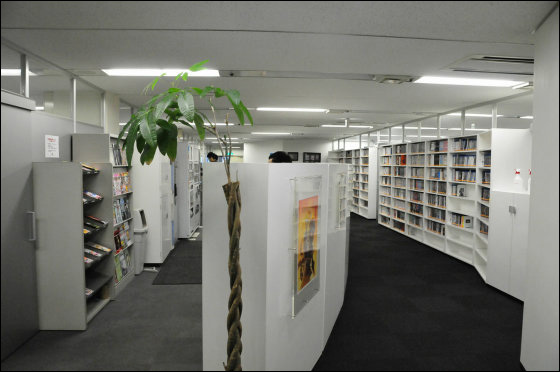 Matsuyama:
Still, it can not be helped to become a picture surface that I have seen somewhere. It overlaps with some idea, because it is also subconsciously. But that attitude is important first. Even though I did not even know it very much I made something original like something, ne. It's easy to say, but I think it is bad. Anyway it is a posture that we share information about everything interesting. To that end, I am buying games at a company. If you buy with your own pocket money, do not clear until the end, or sleep on the way. I bought it with the company's money, so take responsibility and go to the end! Look closely! Or, some people share it with RPG, clear it, clear all the movies to unlock!

G:
That is amazing.

Matsuyama:
After that, I think that it is also another game company, but, if the company makes profits, I get a lot of bonuses.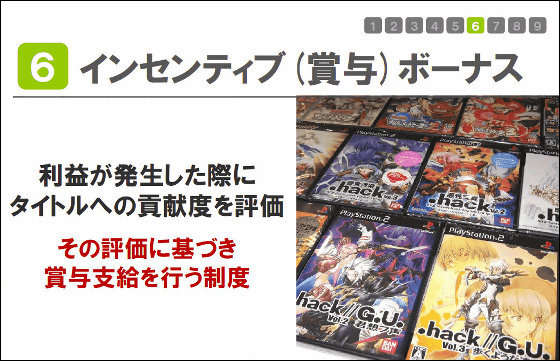 Matsuyama:
I am not a listed company and I am a company of ownership, so people who gave them all the bonuses to the staff will feel like "Let's do our best" rather than being taxpayed leaving profits in the company Is it? I guess that is better decided.

Another difference with other game companies is that you are actively taking internship.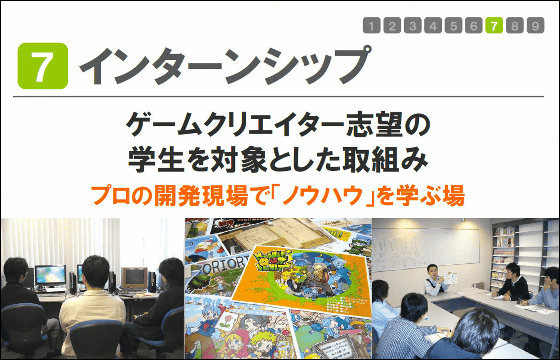 Matsuyama:
Fukuoka, the land pattern, people do not grow up easily even if they wait, and if they do, they do it with the idea of ​​raising up. Because the required skill goes up year by year, it is quite difficult to accept new graduates. So, we have four kinds of internships, we are doing all year long. Because I am doing my best to raise. I will return it to school when I finish, but wait a bit for prospective people. I'm telling you that I can aim at employees within a few months by doing the work from an assistant on site. That's why every year a new graduate has joined the company. There are quite a lot of such human beings, are not they? I'm doing it from scratch. Education is tough because it is tough.

G:
Even if I say an intern, it seems like a doctor.

Matsuyama:
It is a perfect athletic system, yes. Because it is not a footstool. I'll do it pretty well with Sparta. However, since we are a professional site with a well-established environment, we call this a chance and what we call! Because it is not motivated if it can not produce results. I can not give children what they made.

Also, although it is only once a month, I am doing a company tour.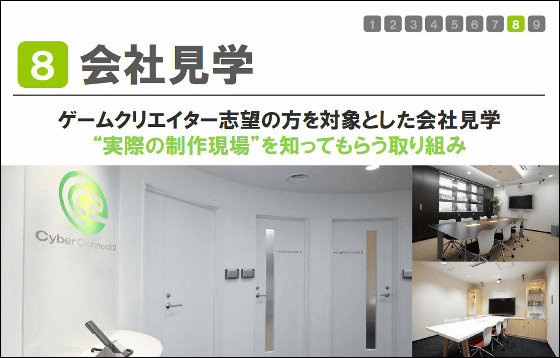 Matsuyama:
Below are elementary school students to junior high school students, high school students, vocational college students, university students, university graduates, and social workers. Various people come. Recently there are many foreigners. I would like to guide about 20 people because I would like to learn Japanese game industry from abroad. I am going to give an interpreter. Another embassy of Canada and Embassy of the Netherlands. There are many countries where the so-called game industry is popular. At a game production company, I can hardly accept company visits. Nonetheless, we are able to show you what kind of environment this kind of workplace is for such children aiming for game creators. There are parts that can not be shown, but there are parts that can be shown. I hope you saw the face of the staff you are developing. I do not need to hide here! That's why such a human being is making games, "It will not change with you" against the children. I am convinced by seeing such a thing. Anyway, it is confidential secret and hidden all, anyhow, the game industry. There are reasons why I have to hide it, but there are things that I can show. According to this company tour, the vision becomes clearer, and if there are children to aim for the game industry, that is not good. It is a long story of thought. So it would be nice to beat the gate for 10 years later! And (haha)

both:
(Lol)

Matsuyama:
Actually he is (he / she shows the employee next door).

G:
Really!

Matsuyama:
I ran from ten to eight years or so, I gave a lecture at a junior high school in Fukuoka. It is a junior high school student at that time. So, I am doing an interview this year and I am newly hired and I am in the company.

G:
A variety of seeds grew up.

Matsuyama:
Thanks to you! With the feeling that such a generation will finally come. I'm glad - do it over 10 years ago (laugh)

both:
(Big laugh)

Matsuyama:
Next time we introduce things that the production company does not do much. It is a product of the CC 2 store doing it for a while.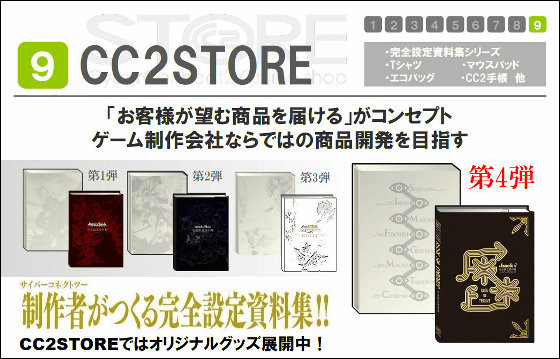 Matsuyama:
A complete set of information on ". Hack" which is one of the main products is produced with the perspective that I think that I want it. I, I buy original collection collection of animation of various companies in setting information collection mania. After all I am worried about the draft proposal leading up to the decision draft and what kind of transition has it made me into this decision draft. But it is not really a complete guy, is not it?EnterbrainAnd the books published byASCII Media WorksThe books published by Ms. Tanaka have something a bit different inside! After all, I have to buy them separately. Since there are many common items, I want them all in one volume! It is! I think. So if myself were a fan of the ". Hack" series, cyber connect to two created something on their own, from a piece of graffiti on site to the thought that the producer was at that time, complete setup I thought you would definitely buy it if there was any material. I also want myself. So I made this complete set of information materials.

Thanks to you, we have received quite a lot of popularity among our fans. The core business is a game production to the last, basically it was made by me and the design room staff together, two people. In the state of composing it and releasing it when it is completed. Since my main business is game development, I can not quite get ponpons, but I think I will continue to do it properly.

Next, it is inside our company. I will show you this later, but our development room is a one floor.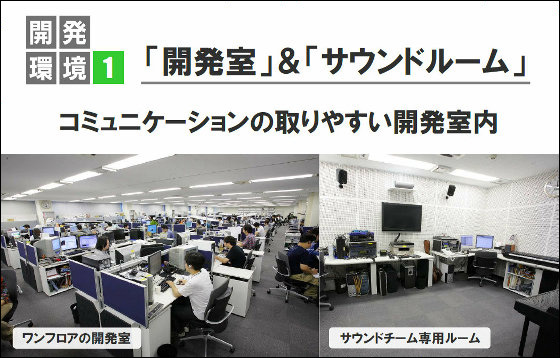 Matsuyama:
Sound room is different. There is a shared section and there is a conference room below, but we always make a square where all the staff gather.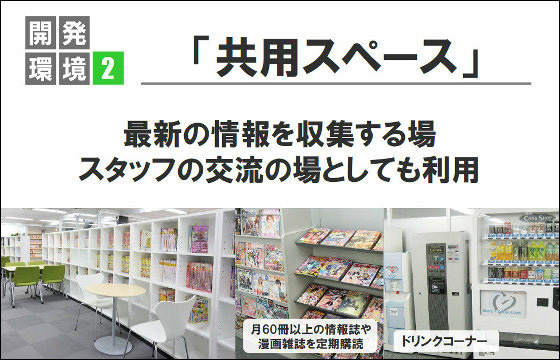 Matsuyama:
Depending on the company, there are many places where everyone gathers, but our company is meeting every Monday, with all staff connected with TV conference system both in Tokyo and Fukuoka. Progress report is about 1 hour. We will make it possible for any room to be connected to a video conference so communication with the Tokyo studio is perfect. Because it is not possible for a company in Tokyo to have a business trip to Pompon Hakata, I came to Tokyo Studio in Oimachi to have a meeting with us in Fukuoka using a video conference system. It is connected by HD picture quality so it looks like it is beyond the window! Today, I was on a videoconference with staff in Tokyo until a while ago, but it is super good. Technology is progressing day after day.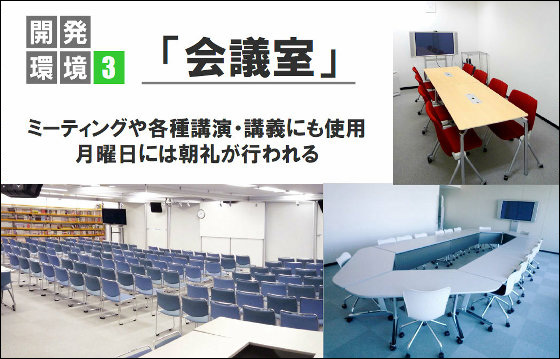 Matsuyama:
Next is the library. Although it is placed on the lower floor, the manga is 2000 or so ... ... now it is about 3000 volumes. I feel like saying "Matsuyama Bunko" which I brought from my house little by little. Although it looks like a comic cafe. This is also in Tokyo, but there are over 4000 Blu - ray Discs and DVDs. Recently there are many Blu - ray Discs. I also put the same thing in Tokyo. From what I can not talk if I do not see this, for each production company, the shelf of Gainax. I also do ULTRAMAN, Kamen Rider, Sentai series and so on. I love special effects, so I have all of them in stock. It covers animation, drama, movies. Of course, the jump system is also put in one place though.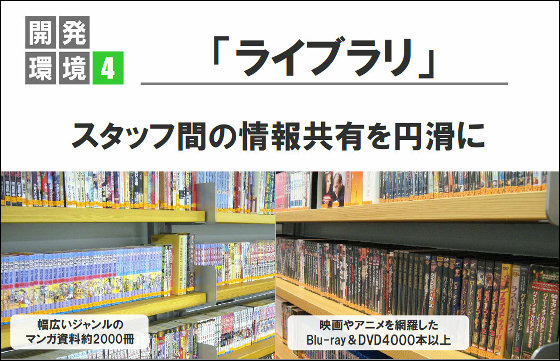 Matsuyama:
Then, next. It is Tokyo Studio. I made it two years ago, but the environment is exactly the same. The desks are all together.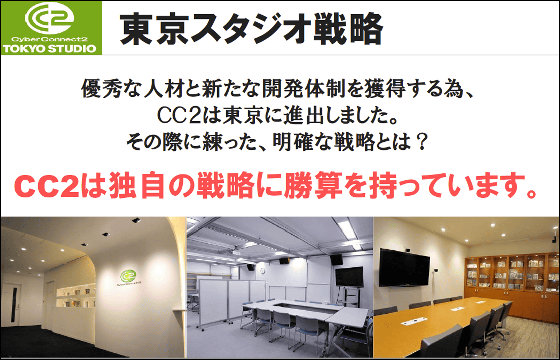 Matsuyama:
I think it is unusual as a production company, but I do not make separate things at Tokyo Studio and Fukuoka head office. I do not need other people in cyber connect - to.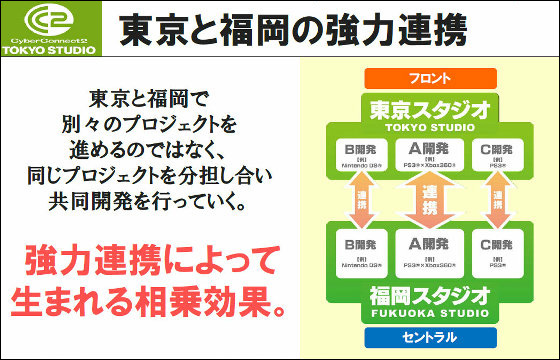 Matsuyama:
Because it does not matter if Fukuoka does not matter if "I am making something at Tokyo studio." If you are making different things in Tokyo and Fukuoka, they are the same as each other in the same place. Because it is not so. To make things, try to develop the same thing in cooperation. There is another role of Tokyo. That's why we are having meetings everyday, everyone.

Fukuoka is a place pattern, those who bother to come and go like Mr. GIGAZINE are hardly coming. It is true that there are many publishers and production companies in Tokyo, so you can not say "I came because I came close to you." To the contrary it is commonplace in Tokyo. I can do a little greeting. That's the Tokyo studio for that. A place to communicate with various companies. Even if I develop in Fukuoka, the same things as Tokyo studio are seen, so the meeting room is not enough every day. There are visitors including interviews, and it is the role of Tokyo Studio to feed back the information gained there to Fukuoka.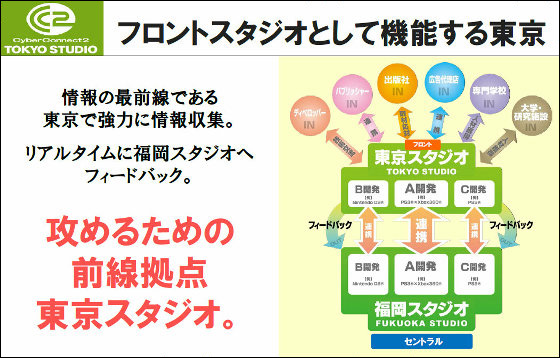 Matsuyama:
Next, we have monitors in each development room in Tokyo and Fukuoka, and we are relaying each other from morning till night. So the bottom right is Tokyo Studio, this screen. The top and the bottom left are Fukuoka. There are cameras in three places.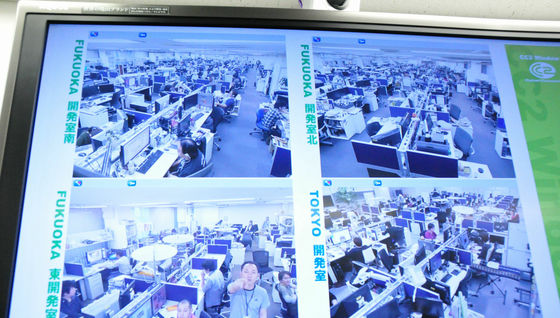 Matsuyama:
Then, next. The rules are exactly the same.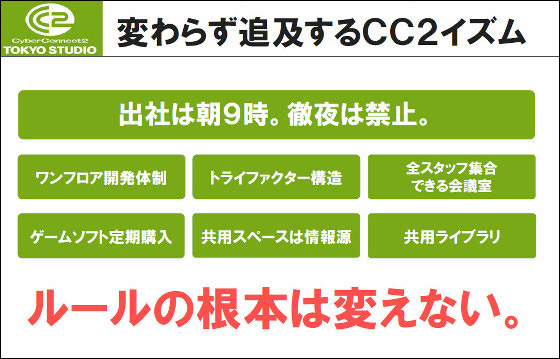 Matsuyama:
Since I am in Tokyo, I will drop in at the interview if I say that you should start at 10 o'clock. It's not a foreign country ... ... What is that time difference? Hey (laugh) I do not need a person who can not come at 9 o'clock in the morning. You can not keep the rules. I think that you know what kind of company it is.

G:
Please explain to me anything.

Matsuyama:
No problem. For those who are new to the company for the first time, I usually prepare such a slide, and I will explain the difference between these companies and other companies in such a company. Without knowing anything about each other it is difficult to say "Do anything cyber-san! Actually when I started my work, my house might be pretty annoying. I will present a presentation using a slide so that we can know each other properly first, including the place called. Even Capcom and the start were from there. Therefore, depending on the maker, "Cyber ​​is busy, is not it? When will it be free?" I will tell you something like that, but someday there will be days when the line is available, but when I say if I can make a drink suddenly at that time It is quite difficult. If you are partnering with us, for example, if you are going to work with Capcom, I think that we should do what we can do because we formed Capcom with us. We must make people happy with Capcom 's strength, a title that combines the strengths of CyberConnect - 2. There are still all the strengths of each company. So, let's keep that kind of relationship. I often get the story and often get in touch with you, but when I start with that kind of story, it seems like "Wow, cyber troubles!" But I do not think it would be quite possible to do a good job if it is not so.

◆ until cyber connect to two

G:
So, CyberConnect - 2 had cyber - connect before that, Mr. Matsuyama took over as president of CyberConnect - 2, but at that time I thought that 'I have to do' the biggest What is the reason?

Matsuyama:
One thing is that I was one of the members myself started the company. At that time, with ten people, I made a company by sharing money. Bukkake capital was 3 million, so I made 300 thousand one by one. At that time I was a president who was a college classmate. After graduating from the university, he got a job at a famous game company. All nine people except me are from the game company. But I worked at a concrete company for 3 years since I graduated from college (laugh)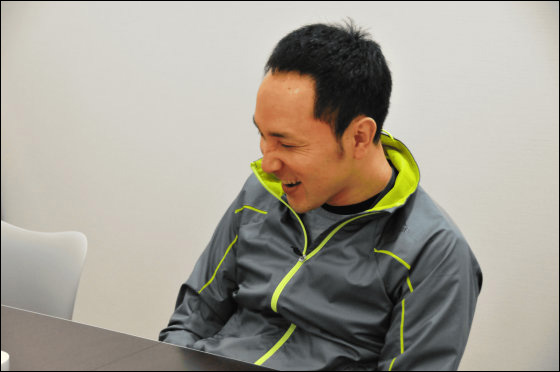 G:
It was a company that had nothing to do with it.

Matsuyama:
Well, I was working hard. After a year at Fukuoka head office, I was able to do Kansai Division afterwards, in Osaka for a couple of years. I was involved in the construction of the Osaka Dome. At that time I had already exchanged with the classmate who worked at the gaming company by telephone or fax, but as I was in various consultations, it was a story to do it at the same timing. I originally thought that I wanted to work in the entertainment industry. I do not draw comics by myself, do I do it for myself independently, or go somewhere to make things. I think that coming into the publisher and becoming the editorial staff is also making manga. I want to do also in the anime industry, I want to do in movies, I want to do various things. But in that, I first entered a concrete company to know the world properly. Moreover, it is a company of 1000 or more as much as possible. College students do not know about the world, is it natural? So, trying to find out about the world first. That's why a big company is good for that. "Island farming"But it is not. What is a salaried worker, what is a company, and what is work. There are things that can not be managed by personal efforts, corporate efforts, or anything unavailable. Because I wanted to know the limit wall. Public works are orders from the country, so there are absolutely no walls that can not do anything. So, there were administrative authorities, design consultants, general contractors, and it was a maker that started sales, but I worked a lot in the company and learned various things like "I see! Actually, the game was not special for myself. Priority in myself is manga first. Next, animation and movies, the next one like games. I knew that the friend entered the game company, but when I told you not to play the game company together, "Game Oh ~". However, of course, I was playing games, "Dragon Quest"Or"FF". To the beginning of Shonen JumpFinal Fantasy VII"It's a PlayStation" because it was listed as a scoop article, "Hahaha, is that Nintendo's Super Nintendo's PlayStation will become mainstream?", "Well, the game industry also moves greatly It was about a feeling. I was not deciding to do business in the game but one of my entertainment to play.

Nonetheless, since friends are not saying with a light feeling, I thought about examining the game industry properly, I went to a library or a book store while doing a salaryman. Since I do not know about the game industry in the first place, I try to learn from the history of the game industry. After examining, it is still shallow history. At that time, even when counting from Nintendo's NES, the history of the game industry was still 15 years ago. It is still 30 years now. Honest game boom is not from NES boom? Before thatCassette visionThere was, but if it says whether it is a boom, I think that it was part of an old toy. Well, where did the computer start, a long time ago,Atari shockKnown byAtariEra. Originally born in a laboratory in the United States was a computer game, from there to the invader. I saw himself as a child, "Xevius"And"Pacman"And. Is not it that I do not understand the boy of Fukuoka saying that such things look like this in the world?

I think that all of them are like kids, but I think that the things that are popular in the class are things popular in the world. Apparently it is popular only in my class, and I do not know if it was not popular in the world at all. in class"Labyrinthine suite"It is a trendy and popular trend, it is a level that sells 1 million books in a sensible manner (lol) But reading the book does not make it a topic at all, it is not such a thing at all. You learned that the world and the district are completely different. PlayStation is released,Sega SaturnCame out, the most surprised is the speed of this evolution. Game technology, computer speed too fast, there is not anything that ends with this. Techniques of manga and animation are also evolving day by day, basically I draw a picture with a pen on paper and shoot it, the tool is convenient, but the basic does not change . I am loading it on a computer for now. I think that having a storyboard does not change at all.

The way to make games is completely different. It changes from 2D to 3D, it becomes 3D from 3D, and it is changing variously. Or getting into HD. This is an unexpected speed industry. There is no so-called fixed form. That means you can do anything if you enter later at a later time. In the days of large capacity now, the media is getting bigger, it is not a cassette. Well, I want to do manga, I want to do movies, I also want to do animation! All that kind of thing is good luck! When. I thought that the game would be a comprehensive entertainment. Well then it's February 26, I decided that I can live my life and learn to live this job.

I took the procedure to quit the company from there, and I came back to Fukuoka to see my friends around May. Cyber ​​Connect at the time was the sixth person I was. Start with the members who quit the previous game company gather in order little by little. It took ten more years for 10 people to gather, but that was the starting point in the first place. So 17 years ago from my friend's invitation was the trigger, but not because I heard it from a person, but the answer to the game I got when I analyzed the game industry is comprehensive entertainment. I can do whatever I want to do. So, it is the entrance to decide to live a lifetime in this work.

G:
I think even if I look at the presentation, but I am pretty much focused on organizing the company, why is this?

Matsuyama:
After creating CyberConnect, through the development of "Tail Concerto" and "Silent Bomar", I had been making art as one artist until just before becoming president, so it is natural, but I do not have experience. In the game industry. Because I have only the knowledge I read in books. But there are nine seniors in the immediate vicinity. So I have to learn from them what they felt in the game industry, such as technology and history, absorbing them from them. After joining the company, I was originally in the school and I had an image, so I told you to do graphics. But, I never touched my computer first. Because the concrete company at that time is a handwritten carbon paper. Because computers use only the design team.

At that time, I made an explosion when I mistook the button on my computer, so my smoke came out of my head, I thought that it would be "drifting" from the mouth. If everyone treats it sloppily, is it okay to make such a rough? I'll explode! What. It was an image of an old computer.

In the first place what is computer? There is a huge box on the monitor, or CRT liquid crystal in the old days. I thought that was "computer". Well then, what is this box next to me? There is a keyboard and a mouse, and although the personal computer is in front of me, why is this box connected with cable, apparently what I thought this was a personal computer on the monitor is a monitor. "Wow with a monitor!" (Laugh) I do not know about that. So what is PC and Windows? When. Is Windows a personal computer? I heard "different". Windows says something and it is OS. I do not understand anything from what OS OS is doing! From the operation of the mouse really state of zero knowledge. I've already told you how to touch and use the computer, or not to explode.architectureRemember from the place like personal computer introduction, with a structure like this in the first place, the personal computer in the first place. It is a terrible story, but when I touch this with a mouse the cursor moves like this on the screen, so "hahaha!" If it ticks and the execution is click. One click two click, "No, it is a different double click" or "Either way eh?" (Laugh) I think "Two clicks by eh!" But I told you a double click. I see. I would like to bring the cursor to the bottom of the screen, but this does not go down any further, so it was like this.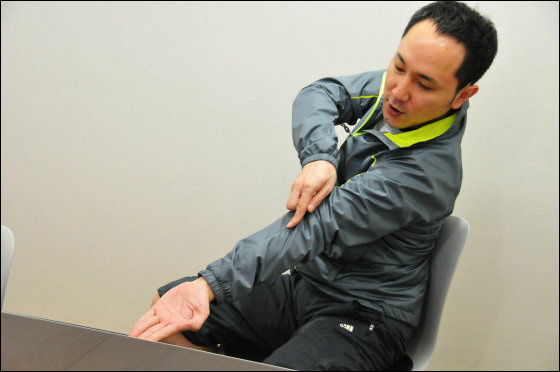 G:
It was good. Such a person (lol)

Matsuyama:
This is how I did it like this. Then "What are you doing?" You know, I will not go down any further. I told you that it is! Really like that. I wrote the same texts the same sentences over and over again, then I told you to copy and paste. What is copy & paste? When. If you select with Ctrl + C and place it with Ctrl + V, you can copy the same sentences on any number of lines by just selecting the one you've written so far! Great. I am told that the sentence "I am indebted to you always" can also be copied from this e-mail, what are you striking at all?

I see Naruto's awesome computer. But I do not understand the mechanism of the computer at all. Development has started and there are multiple machines, but then after doing Ctrl + C and keeping the shape of the finger, when you press Ctrl + V on a different computer ..., that is not what it is. Are you playing seniors? As I was told that you told me that I can copy it by pressing Ctrl + C (between two fingers that press the Ctrl key and the C key) as I was told (laugh) What ?! Because I do not know the mechanism of the PC, I thought that I was temporarily stored here. I do not know the technology. Unfortunately this is a fact. I am doing the president of the game company.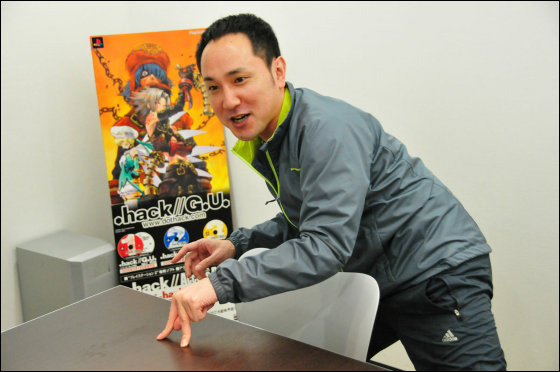 Matsuyama:
There is really no knowledge of personal computers, or even knowledge of game development, there is no way of making it, so how do you make games? I heard that there is no theory. It is said that the way you make changes according to the concept you make. Then, even if you ask how many people plan to make with theory, it does not have a theory either. So what about membership of our company? Normally, there are some people in the factory, how many sales, how many people are propaganda, organization charts? Because it is a feeling of a concrete company that was working until then. I have to build things with management vision. So, what happens to the organization chart of the company? When asked, "It will change depending on what you make". Will the company change depending on what you make? It is! What. Then say what you make, "It will decide from now." Then, when you ask that work begins, "When you decide what to make and make a contract,". Well then, when you ask me when I get my salary, "When I decide my work".

Well, everyone got a lot of retirement money from my former job, maybe I have a lot of money, but the concrete company I worked at that time had a starting salary of 170,000 yen, there is no savings and no retirement money, and as soon as I get it I will go and go play and I can not live like everyone else! What. Let's work! When.

I will say I do work when I have members, so when I hear that members will meet, six months later. Wait. I will die! I can not live for half a year, I can not pay rent, it is impossible, let's work right now! I said (laugh) I made a company and I borrowed an office with the president of Cyber ​​Connect in those days, but I did not intend to work for half a year without making a joke. I can not do without members. I can not make a project. It seems like it is not good for clerical work if all members do not arrive. That may be true, but there are only six people yet!

There is only one table. Because I ask you to do the work. Let's make a plan, explain to the human who came later, I hope! What. As long as I heard it, you can make it today and you can not do it tomorrow! I can not earn money without working, so let's do everything! But they have savings, and it seems funny to make things by being chased by something. It's like "I do not understand". Oh yes you do not understand! I do not know! But I know that I can not get paid if I do not work. Anyway I have to make a plan. But they say they have no points, they say. That's right, because the members developing at the development company have become independent. Then, when you make a plan, you ask me what to do, bring a project to some manufacturer. Well, then, since you are the president, you say you are going to do something like a pipe in the previous work place, you do not know what a producer is. Well then, what do I do if I tell you what to do. Well! What.

Anyway, independent, everyone thinking about something to make things, that alone. If you say what is clear, if you stay as it is, please do not salary. Thinking I had to work, forcibly make a plan and put out ideas like every day. Everyone has to take a job. Anyway, I got a phone book sent from Tokyo, but as you can see, I do not see it, the number of the game company. There is only user support! Still I called from one end. No company still has a website yet at that time. Even if there is it, the telephone number of the outside line is not listed. It's user support it is on! So, there I was calling from one end. Because there is only me who has sales experience. If it is not, there are no game makers who will automatically look for us. I called, I made a list of various manufacturers, I called nearly 20 companies from one end, "I'm sorry, this is called user support I understand, but your company does not have the phone number of the outside line, so please tell me the appropriate number so you can call back to the appropriate department so please tell me the phone number. How do we work? When. It really is. The old game industry is closed. Since it is written in the business card, I can contact you if there is a person there, but I did not open it for general users to prevent mischief or something. After all, the place you taught me and the place you do not tell me is clear, the company that does not tell me is completely isolated. It's like "I can not teach". Then, when you ask the partner company who wants to work with your company, what do you say "I am sure it is not here". I see, bad places in the game industry have come to light a lot. I still think that it is absolutely wrong!

G:
It is amazing.

Matsuyama:
Then we have to make a plan and then create a member list. We were originally in such a company and we have such achievements. If not, there is no corporate overview, is not it? I do not have a track record. Before I was a concrete company. Why, "I used to belong to such a game company before and this kind of title was made and members with such ability independently became a company in Fukuoka so I want to do something like this and listen to the story I am searching for a company so please join us together to build a new era? "Please write a guidance statement and hand it over to the appropriate person in charge and send it to user support or contact us I got taught and sent it, I did various things.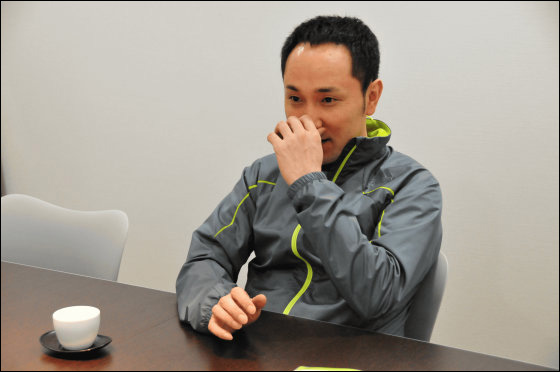 Matsuyama:
From there I am an artist for four years, learning from them the knowledge of personal computers, how to make game software for the game industry, how to make graphics or how to acquire skills. You have to memorize from scratch, so the more you know it is the endless end. I have to do it. Moreover, it continues to evolve today and tomorrow, technology. This is twice as many people do not catch up with it. I started up my company at twice as many people as possible, but it is impossible to double it. Far away rather than overtaking if you do not do three times. So I will not go home "Triple strategyI called it "I did it. 24 hours a day if you triple 8 hours a day 8 hours. You do not have to go home. Learning by zeroing other time · Growing · It is possible to do it by making 3 times as many times as making a work that customers will receive, so I have been living in the company for a long time. I continued paying only the rent I did not live. Take a bath in the company's hot water supply room. Sleeping on the beach mat without going home. From the seniors at the time "your way of working is strange". I have seen such a bastard in the gaming industry many times, but you are advised that you are going to be disappointed because you are someday falling down, but I do not want to be daunted much more than I do. It is a downside in the artist's team and I do not think that he can paint a good picture without knowing anything right or left. With this I can not convince if I was a customer, if I also make this again. After all, I remade the first stage of "Tail Concerto" 4 times.

I threw out three things I made. I put it on the actual machine and gave me okay from Ms. Bandai but threw it away. Because I can not convince him. This is not the level of the item. Because I was a consumer until I joined the company. Even if the leader gave OK, I could not accept it, eventually I made it from scratch. If you make a leader you can make the best one. Just because the number of people is small, each person shares a role. But it is not the role of the leader to recreate what I made. After all it was because I wanted to make something good for them to leave with me. I was told not to do a bad job but I would like to do a good job and I want to make good things, so let me leave it alone. I honestly plan to make you worry about physical strength or body. I work properly at 9 o'clock and I am trying to sleep for dawn at dawn. I brush my teeth well before everyone comes. It is troublesome to pull out the air from the beach mat every time, so I will lean it against the wall, but please let me have it already. From absolutely surely. Actually I did not worry so much.

As a result, I was able to leave the majority of graphics. It was not a tough effort, but more passionate than that ... .... Also, I had biases against making things, works and entertainment. I used to be a child, though. Manga serialized in Shonen Jump, too, TV animation that is broadcasting, and Famicom Soft that is releasing released movies are all art works and entertainment. So the money is inexhaustible and time is infinite, the best creators are supposed to be making such things. No one thought that it was releasing it, and I thought that the product appeared when the developer gave a satisfactory answer. Because there are works to release, it is said that they draw manga. Since I have to draw it, I was disliked to draw it up in a tie-up, I thought that it would not exist until then. Everyone is an artist. Because it is making a work, I was convinced that everyone wanted to do it. So listening that there is a deadline, deadline ...? When. When I was a child, I did not understand it. Because, if you make a good thing, it will make a profit, so you may use it indefinitely. That is how things are made. So I thought that everyone in the world has no talent. There are lots of real, stupid works as well, as a child, "I thought that this is good and I sold it." I guess children are happy with this, so these guys are stupid. I thought that I could win these guys absolutely when I was a creator. I never thought of dreaming that he was making it because of circumstances.

But is not that the whole thing so? As I grew up I became aware of the circumstances, so I learned there was no work without circumstances. With all restrictions. I am short of money and manpower. Tools are not enough, not enough time. Something is missing in all. There will never come the day when everything is in order. I say "I can do it if I can do it" is an incomplete excuse, I knew those circumstances, how do I win. It is an idea, it is wisdom and it is proficient. That is not ordinary It is doing while thinking that you have to do something but in the first four years from my eyes they seem to be doing ordinary things at the time I am bad.

Extreme story, since everyone is young, alchemy that tripled maneuver by 3 times as much as everyone else, time is tripled ... It is not alchemy. But I wonder if I do not want to make good things. I want to make good things, come here and make a life, why are they going home? I did not know that much. Although I succeeded as a result of doing it well, I did not do my best even after all, but the title was not that big hit. A fan was born, but after all it is not enough to step on the accelerator. I do not have any viewpoint of producing from anything. The publisher will do something if you make good things, our work ends with this, it is not so. If you are even watching a publisher, producers who are the same age as us are suffering with the same feeling. There, for example, from us we propose suggestions for promotion, CM proposals, and in some cases painting storyboards, etc. As a result, if the title can be sold, what we did eventually comes back, so how about the contract Somewhat better than that, that is not the end. There was such a feeling, but behaved well in half way ... .... I wonder what, I thought this aloof ... .... Sure enough, it was not a huge hit, and in the meantime the former president came to be interested in the game development of so-called portable applications at that time and filled up the story. No wonder it is different. Everyone should work together, the next time you have to make ".hack" a huge hit, when you disperse your power and do what you do. As other members had the same opinion, let's stop talking about it. But the former president inevitably said that he would like to do it with it and regrettably got out.

From "Cyber ​​Connect" to "Cyber ​​Connect Two"

Matsuyama:
It is a big deal, in fact. I am speaking brightly at the moment, but in fact, once the company is gone. To collect honest staff and talk and to be honest Everyone can do with other companies, but I want you to let me president. I think I will be born again. I change all the way beyond what I do. Everyone brought out 300,000 capital at a time, they were friends with democracy, did not do an impeachment society, everybody failed, so it was useless to say that it was useless. I think that absence of responsible person is fatal. The president is an ornament and every 10 people is democratic, so it can not be a business as that. Resolutions are not born in a place without responsibility, and there is no winning if there is no preparation. So, when I buy the capital of everyone. Tell me I will be a one man company. My responsible person is me. Everything, once I decide. That change will absolutely succeed, so trust me to deposit it. When I told that I do not mind if I do not mind going to my favorite company, they all remained. Other than the former president (laugh) Then there was also a lot of aggression, but I changed all the rules from the next day. It's a funny story, but came at 9 o'clock in the morning! When.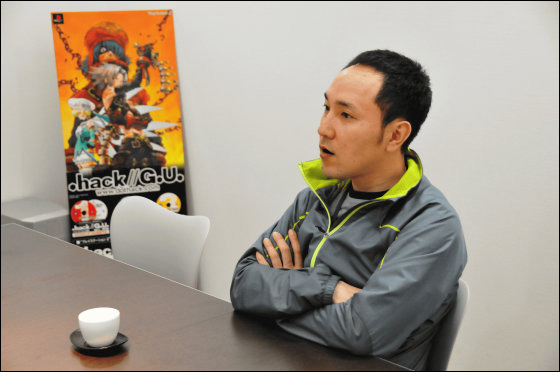 G:
From that time on.

Matsuyama:
Yes, from that time. Everyone has a discretionary labor system, is not it? So I wish there was no need to say that I should come at 9 o'clock in the morning. Because we are in charge of discretion, there is no legal reason why we have to come at 9 o'clock. It is strange that it comes at 9 o'clock. When I start talking, I do not have dust. You will be told quibble (laugh) Then tell me why it must be 9 o'clock. I will come at 9 o'clock if I agree with that. I wish it would be nine o'clock but ten o'clock. I want to sleep in the morning. I've been watching the game industry for 4 years already, including inside and outside, but I thought that our company is just like this and I tried communicating with various places. Because I was the only business, when I went to Tokyo I met lots of people regretly while I was asleep. So, if you let me know, everyone seems to be like that. Game industry. Everyone has such a personality.

G:
I often hear about that.

Matsuyama:
So think that this game industry is not good. The reason why it must be 9 o'clock is not so, actually. So I tried it at 8 o'clock.

G:
(Lol)

Matsuyama:
why? It is! Even if it is told, I will not explain any reason at all. Adults do not have to explain the reason. Because I am the president I am 9 o'clock when I say 9 o'clock, 8 o'clock saying 8 o'clock. If you do not want it, you can not do it together. I am talking with a winning count and I will not explain it to tell a child every detail. Listen to what you say because you are saying with beliefs. If I do not like 9 o'clock If you say I'm going to have it at 8 o'clock, 'I'm fine with 9 o'clock' (laugh).

It may be that there is such a tendency in this world. I did not seem to have time as a child. What the father decided, what the teacher of the school said, absolutely not explaining the reasons, and the useless things are useless, the so-called father's right ... ... the fatherhood, was not that strength? Well, it is unreasonable in a sense. But is not it honest what I learned from that reason? I guess it is the present era, but it is said to be soft. I do not understand it, so tell me why please explain why, are not you? I tell my staff sour mouth, but I think that it is up to such compulsory education that every adult should explain the reason. To say that going to society is absolutely what the boss says, what the client says is absolute, and sometimes it is not absolute. Whether you can overturn it or not depends on techniques and passion, like that. Still clearly, I hear everything the man who gave the results, but I do not ask anybody what people say that they have not come out yet. So, with a result. In such a way ... ....

After that, stay up all night. I experienced this by myself, but as the power witnessed, my strength is falling out. I was fine at about 1st, 2nd, 3rd on the day, but on the 4th and 5th day, obviously my concentration was obviously interrupted and I was not doing anything but my throat was stingy you know! Always. Obviously no force is applied to the core part. I will fall asleep to fall about the 6th day.

G:
It is tremendous to say that we can endure until the sixth day.

Matsuyama:
It was so at that time. Indeed it is not a Saiyan, so I do not think that the way of this work will not be suitable for earthling people. In terms of long developments such as 1 year, 2 years, 3 years, I have to limit it in order to keep showing its strength constantly Become. In a company with fewer people, it happened every year that a motorcycle accident happened and hospitalization. So we are prohibited from commuting to motorcycle. Then, it is said that they tell me the meaning of banning commuting on motorcycles, but "Because it's an accident". "An accident is broken and you are hospitalized for 2 weeks, 3 weeks, 2 months, 3 months, etc. So then, who do you think will fill that 3 month hole?" You and your colleagues are next to you. Commuting is only for public transportation. Prohibited if prohibited. Permanently prohibited. Car commuting is prohibited. You learned the rule of coming by public transport in the first 4 years. Every year strange enough everyone accident. I do not think it will be a long time to avoid traffic accidents ... .... I think there are no accidents such as accidents in public transportation. But because accident rate is very high with car and motorbike. So forbidden for no reason. I think that it will not be lifted in the future.

◆ Development Department and Non-Development Department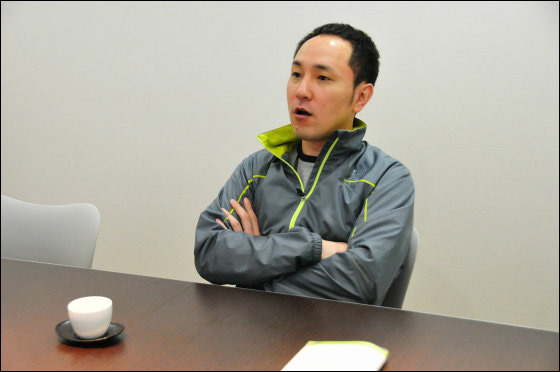 G:
Although it seems like there is no relationship like a relationship, if you say a company to play games like programmers and designers, only works like sunshine on the table are often noticed, but when you actually do a company you do accounting and Is not it necessary to have administrators or such people to back up? How big was it around then that you felt the necessity and began to make it?

Matsuyama:
It is from about 40 people. When 50 people are visible, it is impossible for accounting alone. Although I was doing it together, it was impossible for me to be alone, and my general affairs, personnel affairs and I also served concurrently with the president industry. I was doing school briefing sessions and talking with the people at the employment office, and if the sales man could come in, let me go and see what it is. I was doing all of them alone, including publicity, but I guess this is impossible alone. And, as the site of development also has to be concentrated little by little on the scene, staff that supports it is necessary .... It is in turn. Spreading a baton little by little spreading a department to support one such as one person who added general affairs about over 50 people, personnel affairs with the role of general affairs, public relations with the role of general affairs, and such development ... .... I call it a non-development strategy planning department, but it is about 30 people, personnel, accounting, advertisement publicity, design room, development support room, debugging, quality assurance, and sound localization, all add up. Including Tokyo and Fukuoka.

G:
About 30 people out of about 200 people are back offices.

Matsuyama:
Still, sound staff, localization staff are development, quality assurance is also. So, now it is about 10 people who are advertising publicity and design office if it is a department that does not engage in development, about 20 people together with Tokyo when adding personnel affairs and general affairs.

G:
It is a story that about 200 people are included in every company now, but did you have the direction from the beginning to increase the number of people and increase the company organization?

Matsuyama:
No problem. It is not the purpose to make it big. First of all I am a developer, a development company. Trying to become a developer who can become a fan for customers. It is not a story of the movie the moment ago, but there will be fans against an animation production company such as Mr. Gainax and Euphor table. So, trying to like a company called CyberConnect - Two. That's why I have to stop doing things that is not normal, and I must be a developer who can sing and dance, for that I have to have a title constantly. Because the number of people is small, only the development of DS can only be done, if it is impossible for a PS3 100-sized fighter, the choice will be fewer for the company. We are the side that chooses that choice, and it is inconvenience that we can not choose. Well, I guess I have to make it over a certain size. I decide what I want to do by themselves, and the company that decides by themselves what I do not do is cool. Belief goes through. Since we have only a few people, we can only make this, so it seems they are going to work if it is good, even if you can subcontract us forever. Then it can not be a creative creative person who will become a longing for children. As much as possible understandable, as myself as a creator, standing on the table also as a promotional advertisement and so on, let many customers know about the company as a cyber connect to say that they will become fans It was the first 10 years.

PS3 andXbox 360, I am working on a company organization that can now make the current generation aircraft properly and can handle even the development of handheld gaming machines, but for that reason I have to add a few more in addition to the current number of people. It still takes 2 years, 2 and a half years for the scale of PS3 and so on, even if it takes as long as a year and a half. Because it will make you wait for two years if it is such title. When you turn two PS3 lines, it will be a team of 100 people at peak time. Everything is not PS3, but I am moving 7 lines with over 200 people including my part-time job now. So there are times when it is just making peaks as it is almost finished when the production just started and the development is already late in the second half. Peaks are staggered. Because the plan for two years and three years later is also moving. The 7 line is a few people at the game company.

G:
Well!

Matsuyama:
My company is few people, so I say you can work more (haha). Just whatever it is not good in any way. A work proposal came while we were doing it, but I am also a manufacturer who is also doing game development, but I was talking about making 30 titles for 50 game companies. Oh, tell me that it is an excellent company.

G:
Were there elements like pulling legs as bottlenecks at some stage as we made it to a company of the scale like this?

Matsuyama:
Oh, there is, it is mine.

G:
What is it?

Matsuyama:
This is because it exceeds 120 people. When we saw 150 more people by 20 people, my limit was the limit of the company. All titles are waiting for the president's check. In short, since there was only director Hiroshi Matsuyama, I absolutely do not pass unless I check it and give out OK, so I said that it would not be delivered to the client. Because it involves a relationship of trust if it is a halfway thing. I will also keep the deadline. I also report. Even if it says "I do not need a report until the next milestone", it is OK, because this is a necessary report, it is letting out to our staff. My limit is to wait for the president's check. Since my body is one body, I go to Tokyo every week to do publicity and human resources activities, so this is not enough for me. As people started to put people in the personnel and non-development department, I gave baton little by little, but as for development I should not be watching from 1 to 10.

In the first decade I made a company fan called Cyber ​​Connect Two. Fans of the "NARUTO - Naruto Narutimet" series and fans of the ". Hack" series. I have talked to the staff five or six years ago, but now Cyber ​​Connect to enter the second stage. I will hand the baton I have to the staff. It would be a problem if you have to be a creator that you can sing and dance. You can not use "Matsuyama shop", you must be a cyber connect to two shop. That's why there is my director's work, and that's why I have to create something like that directed by a creator who can sing and dance CyberConnect to. Such a movement has existed for several years. That's what I was born with "Asurazurasu". Shingo Shimoda is the director and project leader, and myself as a producer producer. Although I will participate naturally when I make big decisions, basically I made it in the form of believing in your creative, so I gradually are entering the next stage. But there are still parts that I still have to enter. My checks will be entered at the stage of the script and the stage of the image production. 100% There is no item that is out there in the world unspoiled. Since I am the president, I will check everything. To be honest I'm still watching the "NARUTO - Narutimetto" series yet, so the staff has told me "Over looking!" Even though it has a problem of personal feelings, it is a title that I see. It's my long-standing dream title.

◆ Game Production Communication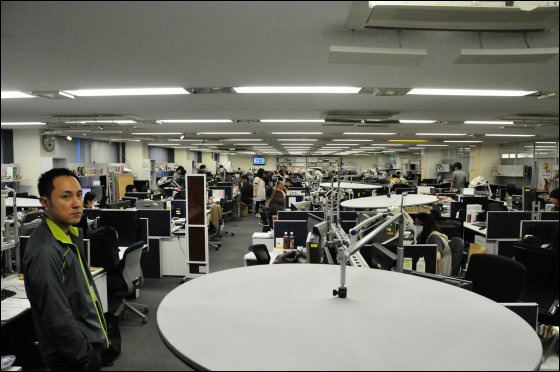 G:
I see. It was also my presentation, but there are some rules. One floor development system ...... It is like putting developers together on one floor.

Matsuyama:
Because game production is communication.

G:
What kind of merit is there by combining it in one floor?

Matsuyama:
There is only merit. It is five or six years ago that I moved to my present place. Until then, I was in the building I was using since the early 10 people. I first borrowed a small place and I gradually borrowed the second floor because more people grew and I could not go beyond 30 people. So, I decided not to enter again, borrow the third floor. Borrow the 4th floor. In the meantime, it was 120 people. It is divided into 3 floors and it feels like 40 people, 40 people, 40 people. I made a ". Hack" series and made "NARUTO-NARUTO-NARUTEMET" series, and when I was newly developing the next title with the team above that I did not take any communication, because the floor is divided. "I, this upper story" Narutimet "team last week talked about this story, why have not you heard that?" Even if you say it on the third floor, "Because I have not heard" No. I heard that because I was in a one floor. Something like "That was what the president said a while ago." The information gets stuck just because the floor is different. I was on the same floor a while ago and everyone was communicating. I got a share of information. Why does the floor change, it will not take communication, do not run - do run! Tell me. I was going to run the stairs even if there was no need, but running at the game company, letting out the voice, it is not the baseball club!

You can make a voice at the game company, and you do not run. It seems a bit bad for the environment, so I'm looking for properties in various places, but in Hakata it is few, but find a place like 300 ft. Of one floor. It would be nice to have a one-floor. We are going to change the seats every month. When I put 7 lines, there are a variety of things that only peaks have started, peaks are coming to an end. At that time, the first team will start with 3 people, then 5 and 10 people, 20 people in the following month, 40 people in half a year and will do with 100 people for the remaining six months . After that, suddenly it will be 30 people and I want to finish with the last 15 people. In that way, I am doing OK at home, changing the teams freely and steadily.

The staff of the team says that the team of "narutimet" should be fixed with the "narutimet" team and "hack" has knowhow in ". Hack" so that we will keep this team. But I am doing it wrong. For example, when one title is completed, the team is dissolved. You enter from various teams that produce the next title and make new teams in mixed form. I can not become a new team if I am not prepared to overcome human relationships, and at the same time I can not do new things, I do with that kind of thinking. Every month, when it is awful, I change the seat several times a month. If you do so, there are people's movements, and while you are making DS games, you can also see the screens making PS3 games. Within the same company, there is nothing to hide. I do not know what this is, or even the DS team as well as the team of PS 3, why are you inside the company and you seem to be like a customer? Say something like that. Since I can walk in 5 seconds, I can go and show it. What are you doing inside yourself? I do it at ease. If you do not see it you will get angry. You can easily go and watch it on your own. If the floor is different, it is also troublesome to open the door, and you are always in your seat. But, if it is a one floor, what would it be like to make a noise when over there? I go to the development room when I check, but I praise you exaggeratingly for praise. I am angryly angry when I get angry. Then you can see that "Hahahah, you do not do that," and if you complain about it, you can not praise it for that team or just show me what it is like to show it for a moment you know. As I go, indeed this is certainly ... ... I do not want to lose. Then competition will be born properly next time. Our team is ours, so we will win it. It is born properly. Game production is communication!

G:
Relating to communication. It is as much as I have examined, but it seems there was a drinking party of CyberConnect to somewhere in Tokyo around July 2010 and I am writing about itblogThere was. "Cyber ​​connects two's unique structure and its core culture" is titled. Among them, I was touched about the tri-factor structure, but "There seems to be a weak point in the system of Tri-Factor that seems to be versatile as above, so stop using it once in a new project now running, It seems that he is building a structure, although he could not listen to specific stories, it was a unit system that gained inspiration from the Cabal ceremony (probably, if information comes out somewhere in the future I want to expect because I think so.) "It was written. What does this mean?

Matsuyama:
That is "Asurazurasu". At that time the development of "Asurazurasu" started, the development scale is 120 people. At that time, even artists alone have the top of the artist, there are a lot of Three Munsells underneath, and indeed the trifactor is heavy. Because there are 80 artists. As expected it is this tree too much? What. So, the vertical movement goes great under, and it spreads quite a lot, so it is a bit different. Asura is a story number format like animation, all 18 episodes. So I will roll a cycle like a TV animation by dividing the group with the unit in the form of C group of 3 talks with the A group playing 1 talk, the 2 talking stuff C group. When I finished one story the next team had to switch to that type of way to do 4 episodes. Just the game industryAgile developmentAndScrumIt was an era when review of the development system was taken. If we do a new project with Capcom, at that time Project leader Shimoda says "I will do it in a unit system, I think that I will do something new", so "Ouch better for that, try challenging new things". I actually tried it. I gathered teams at the stage of January 2011 and did that unit system for about a year. By calling Shimoda, "You who failed unit system" and ... .... There is no result. Because it does not appear, I admit it. Unit system failed. So, change your way now, not trying to get back to trifactor, think about that hybrid type yourself. So, when I go out, it will not change as "Matsuyama group" after all, so that you should think about it. Then you put out the answer properly and the result "Asurazurasu" was finished with the hybrid of unit and trifactor. Basically it's a tri-factor. Even if it takes time to keep this pyramid. There are three people on a small scale. However, there is another face group with its face facing upwards and the other side called unit.

PS3 / Xbox 360 "Asurazurasu" 30 seconds CM movie [with narration sample] - YouTube


G:
Indeed, that's hybrid.

Matsuyama:
The weakness of the unit system is whether the team is divided and the competitive consciousness is born. That part is definitely there. A team making 1 episode, a team making 2 episodes, a team making 3 episodes are born, but a team of 3 stories makes the same thing as the tool which the team making a basic story basically makes Or do it. So, because there are not enough programmers, I'm telling you to ask someone. "You guys, look here." But that will eventually result in the pyramid growing bigger and information not being able to proceed smoothly. Units are not universal only with units, the result has not come out alone with units, people are missing anyway and they have to increase indefinitely and things did not rise by the due date. If you can not produce results, say it now. Result I changed various places, but Ashira managed to finish it safely.

◆ Cyber ​​Connect Two's own system

G:
I see. Although the story changes afterwards, although it is said that the shared space is the information source, since it is said that it is a periodical subscription of game software and weekly monthly manga magazine · industry information magazine · all subscriptions, if there is a shared library Is not it? Basically, what standards are chosen as the standard library, especially Blu - ray Disc / DVD covering film animation and drama?

Matsuyama:
I am picking it with my favorite things.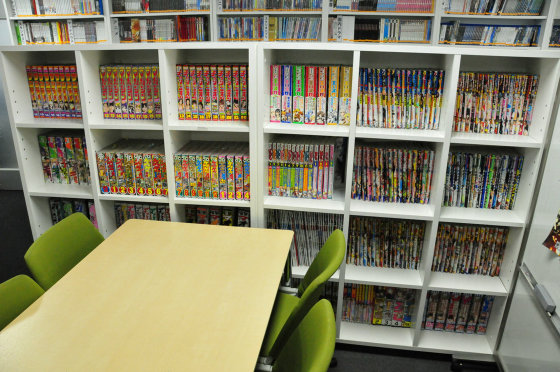 G:
So what does it mean to see all the items lined up there?

Matsuyama:
I am watching you. It is not the story of the previous wingman, but it is impossible inside me. I do not see wing man. Nonetheless, since I am 41 years old now and will be 42 years old this year, I am different from new graduates this year over 20 years old. Then, you are poor, they are parents and children! It certainly did not have a wing man when he was born. I had watched a wing man at middle school. "Electricgirl girlIt is generation of. But now,Katsura Katsura……Ah,"ZETMAN","TIGER & BUNNYIt is a person! That's what I mean. No, it is a wingerman (lol), but the things I am looking at are also different, it is certainly unreasonable to get angry at a midrange. At least prepare the tools and if you do not know, you can see it now. I will tell stories about things I like and things I like. That is why I do not know if I can not put it down. So, other creators' buddies also bring "Mr. Matsuyama, please put my work in the library" too. This is my favorite and recommend it. I have something like that. I am trying to paste materials on the back of many people 's favorites like this person' s favorite. Because some of them are included.

G:
Indeed it's interesting, is not it? Also, although I can not talk again, Cyber ​​Connect to the official online shop,CC 2 storeThere are, but what is the background behind such things? Where did you decide to make things like that? There was a story like "I'm short of hands" before, so I'd like to see how I made it in a situation where I was short of hands.

Matsuyama:
It was Mr. Bandai Namco Games who gave me the chance, in 2008. When I made ".hack // G.U. TRILOGY", I decided to screen the event in Osaka and Tokyo. When OVA is released as a theatrical release work. But since Fukuoka is the scene of the event, even if I do a movie in Tokyo or Osaka, I can not see our staff. If I say so, "I will someday release the video gram, please look at that time". 'Is such a fool! '(Laugh) Well then, I understand. Because I collect fans for our staff, I borrow a theater in Hakata and do screenings. I borrowed a hall of 400 people and screened the event using their own money, so let me lend the films we delivered. So in the end I did a screening event of ".hack // G.U. TRILOGY" of 400 people in Fukuoka. Also collect fans. At that time, if a lot of people gathered so much, trying to do something that makes fans happy. It was originally a trigger to start product development after consulting with the rights department of NAMCO BANDAI Games.

So if Bandai Namco Games is doing screening in Fukuoka as it is, it may not have been doing the sale now. Since there were no plans in Fukuoka, then let's get screened by ourselves and get permission, not only screening but also to do sales. If you want to make a suitable product, not a suitable product, CyberConnectTracky, as I mentioned earlier, it is the result of considering such a setting material collection that I want. Now that there are more than 200 employees, there are ten publicity advertisements and design teams. Because you are 5% of the total, say 5% annual sales aim. Since annual sales are now a little 2 billion, 5% of it is 100 million yen. It is their task now that they make goals that they can earn within three years. Last year it is 40 million and this year is 60 million ... ... next year, 100 million! (Lol)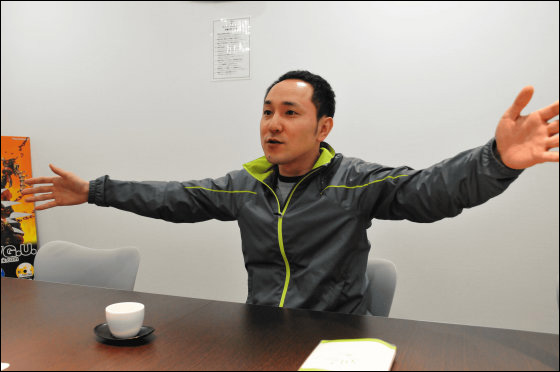 G:
(Lol)

Matsuyama:
It is not the number of people I am currently telling you that I can do it with just the existing ball. If you need a person at that time you should hire it. Increase your friends. I think that you should think about that strategy and propose it yourself. I can not hear it is impossible. I should say what I can do.

G:
When and how do you think about thinking about such a unique system? It is a very fundamental, abstract question.

Matsuyama:
After all, it pierces the neck, faces anyway at the scene where you can talk about failure cases and success stories from industry seniors.

G:
Listening to various stories at the main person.

Matsuyama:
Yes, the one who has the most information is a person. Information that is on the internet or a magazine is all junior high school students if they want to know ... Information that is dead. And it was manga that made my character. Many comic raised me.

G:
By the way, I feel like I already understand the answer, but what is your favorite manga?

Matsuyama:
I want to arrange about 100 pieces from the top. But 1st ... .... "NARUTO - Naruto" is an exception.

Amazon.co.jp: NARUTO - Naruto 60 (Jump Comics): Masashi Kishimoto: Books
http://www.amazon.co.jp/dp/4088704177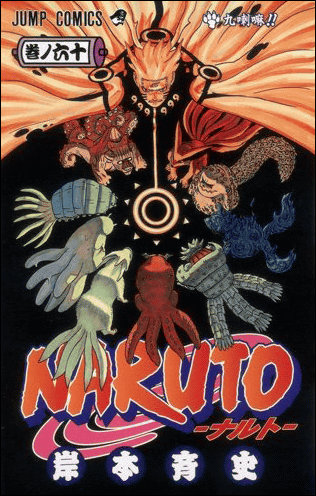 G:
What do you think about the top ten?

Matsuyama:
No doubt the first placeHirohiko ArakiI am a writer, writer. "JoJo's Bizarre AdventureMr. Araki, as typified by ...... It's all. People who say that JoJo likes in an interview, people who listen and do not see all parts like they may be difficult at us. Because I can not say that I like it. Jojo likes to like it "Gorgeous ☆ Eirin"I do not read it,"Bao visitors"I do not read it,"Devil boy BeattyI misunderstand what I like when I'm saying you are not reading. If I like the artist 's work, I'm wondering what the person drew before.

G:
Normally it is.

Matsuyama:
Perhaps it might be relaxing to people, for example, I think that I am with a woman who likes it and I am interested in what kind of person I used to be with before! There may be dry people who do not mind, but I'm a type that pretty much fucks ... ... It's not a gender, it's a matter of manga (laugh) That's what the teacher drew before People can produce such a wonderful work so this is the origin of this person! What. I wonder what kind of movie this person took before. I do not care about it and I'm pretty much at ease.

G:
I see. So, it is the next question, but if you had a knowledge experience that you had now, as if you returned like "Back to the Future" once the company was founded you could have done better at that time! Is there something like that? In short, it says that I was able to shorten the time a bit further here, or I should have done a bit more like this. I want to teach myself in the past.

Matsuyama:
I do not think there is anything. Is not it possible that I am 26 years old at the time with knowledge now with SF together with existence there? Since 17 years have passed since that, 17 years' worth of blood and meat are all mine. If I met the young Hiroshi who was 26 years old at the time travel now and explained it in detail, probably I can not understand the youth Hiroshi. I have not experienced it. There may be some information obtained as knowledge, but I think that it is only my experience to know the true meaning. I myself wish to return to the past, I have never thought that I should have done ah. I think that's because he does not live like that. Perhaps if I think that such people are good, I am doing it right now, there is a reason why I can not do it right now, I do not do anything if I regret it then one by one. I will reflect on you. Because there is obviously something that did or did not go well, I will reflect on it, but I will reflect on myself. My failure is mine, so I do not want to give it to anyone. That experience is only what I have. I think that I think that it is better for people around me that this is not the case, so I will tell people to experience as experienced things. But I can not understand. Because they do not have the same experience as me. We have to grow it including it. I think that such a meddle is an obligation of the old people. Like our fathers, mothers, grandparents and grandmothers, learning from our predecessors is not fundamental, because it is an animal. I think so.◆ Encounter with games and boyhood

G:
Mr. Matsuyama encountered the game when I was in elementary school 6th grade, what kind of child was it until I met the game?

Matsuyama:
I was drawing only manga. Draw a picture. Also I play with my friends when I was in elementary school. I did not have a PC or Nintendo in those days. Because I am supposed to have released a family computer when I am junior high school student. It was truly an ordinary child in the country. It was a nice place in an idyllic location, so we played for granted.

G:
Is it outside play?

Matsuyama:
I was playing outside. When I was playing inside I was playing with paper and a pen and since the house was never wealthy, I could not have bought a robot toy that a child wanted. What I gave youLegoIt was a block. For example "YattermanAppeared in "YttarburuI want to make it if you want it. As I told you so, you can combine a blue block, a white block and a black block on your own to make 'Yatterbull'YutaddziraI was doing that at the time like you made it. From that time on certainly I was doing making things, I like to imitate quite a bit. "Hit the ringI was doing it at the then Weekly Shonen Jump then I like it a lot, I made Kaiser knuckle with paper, stapler and cellophane by myselfRailwayHow about doing this one turn, it is impossible to put one finger and turn it. So how did you get on? It is impossible physically ... .... I actually made these toys by themselves. "Fuma no Kojiro"Feng Shui Volcano (legendary dragon sword), etc., I was cutting wood and making it. Make it by ourselves and get a toy. You made anything on paper. Even now I make it well. It was good at work and because drawing artwork art was all 5 until the time of primary school junior high school.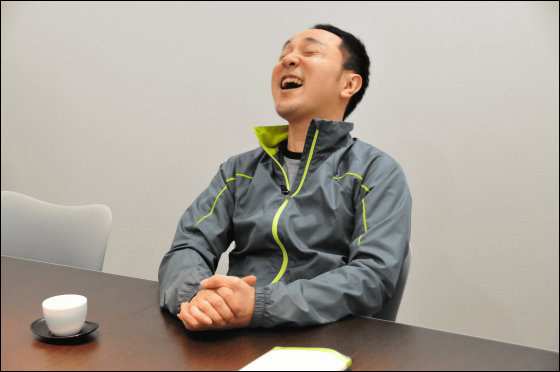 G:
It is amazing.

Matsuyama:
I think that it was because the hand was dexterous, because there was an idea. I made various playings by myself. Also, sports. Movement of the body was a natural child. Since rugby was popular in class, why do you play rugby? But since I have only a soccer ball, I will slide when I play with a soccer ball instead of a rugby ball. (Laugh) That was fun with that, though. I was really playing a lot. I draw such a work and a picture until I am addicted to a computer. Another wing man thought of himself as a child. Trying to draw Wingman's new girder (a protector to protect injured areas etc.) on a ring note. You did that kind of thing.

G:
In such a situation "Mario BrothersWhat was the encounter with '? Was it shocking after all? .

Matsuyama:
When I was in elementary school 6th grade, I moved to Tsushima in Fukuoka. It is an island between Hakata Bay and the Korean Peninsula in Fukuoka, but there is no such thing. Even now still remember clearly, there are only two supermarkets in town. So we all buy ingredients. All the ingredients come by boat from Fukuoka. So Yamazaki pan or somethingRyo YupangYou have it. Such bread is entering vinyl and it is closed on top. The bread at the time, there is a retail price written in vinyl form printed there, 140 yen or 170 yen. How much do you need a koa? A sticker is stuck on it, and it is sold at a price higher than the retail price desired throughout the country like 190 yen or 230 yen. On a small island there is not enough land to make rice, so the price is all expensive, only fish was cheap. That's why I lived in a very mysterious town. There was only fishing pole for entertainment. Because it is an island, the fish you catch is a gomerset. Meanwhile, the only entertainment is a toy shop in town. So the dream game machine waiting in turn is a family computer. Everyone wanted it, I was waiting for the reservation. So, waiting for nearly two years, my family's turn finally came. Family computers first came to our house because they were sorry to have come to places where there was no amusement due to the circumstances of their parents. But there is no software choice. At that time, only the Mario Brothers had a shop. So there was only one choice for Mario Brothers.

G:
I did not choose Mario in various ways, but only Mario.

Matsuyama:
That is the first game software I mentioned. After all, for about 2 years, there were only that game software at home, I only did play against my brothers. Mario Brothers is not a supermarket, so it's one screen instead of side scrolling. After all it is the last entertainment to fight with 1P and 2P, so they interfere with each other. I learned about the fun of playing matches at that time. I had to borrow and play because I did not buy a friend unless I borrowed game software.

G:
When I meet games, they all say that I wanted Mario and I got to buy it. There was no room for choice.

Matsuyama:
After that I bought Nintendo's "Football"is. Then, after a long time has opened. Actually I wanted you there. At that time "Captain TsubasaAlthough it was popular, there was no game of "Captain Tsubasa".

G:
I talk about it for a while but ... Do you have something like Fukuoka's recommended gourmet? I am eating well and this is becoming power.

Matsuyama:
You talk about broke and eat ramen. Perhaps, it's a ramen when it comes to people in Tokyo and it feasts. Because it costs 1000 yen. Is it 1200 yen or 1500 yen in all? Unthinkable. It's 1500 yen for dinner, Hakata!

G:
It is also a dinner class in Osaka.

Matsuyama:
Is not it? Famous in the nationwide TokyoIppudoOr, a ramen with a cup of 650 yen also became famous in Hakata, but it is ramen if you try it for human in Hakata. With rice Ramen 's position to eat, drink and drink, I am tired today, so maybe I'd like to have a ramen! It's ramen to eat at last and go home. So you like thick noodles, Champon? Waved noodles, or heavy! Hakata ramen is a noodle ramen, I think that it is delicious. And onion and thin meat. Because it is not even a barbecue. Depending on your preference sesame and red ginger and some stores have some taka. That's why I'm replacing a man. It is not good unless it can be eaten lightly. It is whether eggs are semi-mature or like noisy. I ate it at a ramen, which looks like horse chestnuts, or in Akihabara in Tokyo, I took it to a ramen where I mentioned the original Fukuoka Noda, but I do not have such a shop in Hakata (lol), Ice Scooter. That's why I'm carrying Mentaiko. I have never seen such a ramen, and I will not eat it as a human being in Hakata! Hakata no ramen has nothing to do and there are no other vegetables. If you order it, you can say that sprouts are optional, but basically nothing is on it. When I was a student there was a Gulf war, the price of wheat came up and the ramen became high. It's been 400 yen since then. It will be 20 years ago, but I was 200 yen or 250 yen when I was a student. If you eat at the school cafeteria it costs 170 yen. That is normal ramen. At last it gently breaks and leaves home. That's why the delicious ramen restaurant in Tokyo does not understand. Since it is ramen noodles, it is not a feast. It is rice cake. That's it, I guess a little.

G:
Do you usually ramen about 400 yen?

Matsuyama:
Normally.

G:
I heard that they are quite eaten around here.

Matsuyama:
I will eat even around here, there are ramen shops on the back of the company. I often go to have lunch. It is slightly higher recently. It has become 500 yen or so. Ramen is definitely famous, but more than that, Hakata can eat anything. It's cheap and delicious is Hakata's food. What is famous in other places is a pot, such as Mentaiko. In addition, it is famous in Fukuoka, such as water cooking. Because there is a long history. It's white muddy soup. There is water cooking to eat with chicken, but it is certainly delicious.

G:
I will eat it by all means.

◆ Cyber ​​Connect to Future

G:
By the way, although the story is going to fly a lot again, in the previous explanation "Solatorobo then to CODA" was popular, so the next project was also like a story, but the third work, Is there planning to do the project of?

Matsuyama:
There is. There is, but the schedule is not decided. It is not decided when you will be able to see your customers in any way, including where it is a game. "StrelkaIncluding "Solatorobo" and "Tail Concerto" can be based on the concept of the world map I made, Little Tail Bronx.

G:
Does that mean that it is not limited to games?

Matsuyama:
I agree. It is not limited to games.

G:
I heard that there are many fans, or speaking of the Kemono system seems to have an image called cyber connect to two.

Matsuyama:
Since when was cyber connect to spread chemonar (laugh) "hack // G.U." Seems to be the reason ... ....

G:
It is quite connected as an image, but do you like kenbonos after all?

Matsuyama:
I love it. I like it as long as it comes out here (showing from nose to mouth). I hate cat ears. That is why somehow my ears are growing up here at the cute little girl (on the head). It is different. Where is the hair going? Without hair there is no beast. A beastman has a nose here. My ears are not here (side of the face), here! So there is no ear in the animal's place. If cat ears are headphones like a human being, their ears are over here (overhead)! Then what is this ear! I mean. Anyway, I can not forgive you. I do not think about why.

G:
indeed. If there is no particular preference, it is appropriate to do it on an extension line with people.

Matsuyama:
Because it is a chemono, it is interesting because it is different from people. Especially the most sticking to "Soratoribo" is that it is a dog hut and cat ears. It is such a personality because it is a dog hit, there is such a habit, and such a civilization culture is born. "When it comes to saying" This is not a dog cat but a person, you can also be a person, "there is no reason to draw the Kemono world. I do not think so what I'm enjoying making things without thinking. I have not been satisfied with consumers as I have seen many of these works and why they will make no such idea. I thought from the time of my child that I absolutely think about making it when I make it.

G:
Did you like kemono since childhood?

Matsuyama:
I liked it.

G:
Relatively this year, according to the definition of now, there may be something close to anthropomorphization, but "Alright then"And,"Shirokuma cafeBecause there are a lot of animation of Kemono, I thought what it is, but if you say so, it would be anthropomorphic.

Matsuyama:
Well it is. But evenly, I like what I like. As a matter of fact, there is sticking, nothing. In short, do not you tell a story in the world of fiction if those animals have a drama? It leads to a dream of a boys and girls, so I like it. I wish that the meaning of being an animal beast and its drama nature should be properly drawn in some way, but it is only design that I listen to a human girl here.

G:
It is strong commitment.

Matsuyama:
whyHosodaThinks "Wolf and children's rain and snowI am really looking forward to it. I am going to look at the first week.

G:
It was a bit talky when gore ★ Asobi, so I'd like to ask you a question. One that is unconditionally declining development is a pachislot. In that it will not lead to a dream. Also, there was a mobile application as well ... ....

Matsuyama:
I do not like mobile apps to dislike what I dislike, but I do not like social games that are now being managed.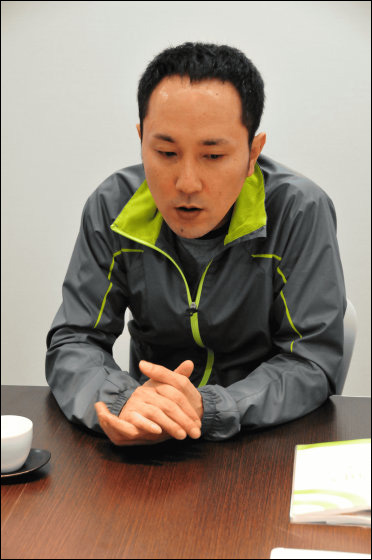 G:
After all the games are like children can do and their dreams will spread, or they can enjoy it.

Matsuyama:
Well, being a boys and girls dream is a major premise. However, if there are many customers who are thinking of having fun there now, we are creators, so it is not a mistake to provide entertainment there wherever you are. I think that I want to compete properly with amusement as a game creator.

G:
I think that the video production team "sai-sa -" was created at the time of ".hack // GU TRILOGY", but after the movie is complete, the project will be disbanded once, Are you planning to make it?

Matsuyama:
Yes. Just because nothing is okay, now I have broken up, there is only one person currently in the video production team "sai - Sa -".

G:
To one person.

Matsuyama:
That staff was a team leader for the previous work "Beyond the Dot Hack Sekai". Let's make such a video work, if it is time to work with such people, then it will be a story of what team members will do.

G:
It is not limited to ".hack", but if you are going to make this, you will make it.

Matsuyama:
That's right.

G:
I went to the Osaka screening when ". Hack // G.U. TRILOGY" ... ....

Matsuyama:
Is it true? Thank you very much.

G:
I just had my friends show the game at that time, so I thought that that would be the case ... .... Certainly, as I entered chapter 2, I felt that a lot of inscriptions that I did not know came out (lol), so I felt that the game is coming so far, so I'm looking forward to the next video work .

Matsuyama:
Next time I will do something completely different.

◆ I was born to make as many pieces as possible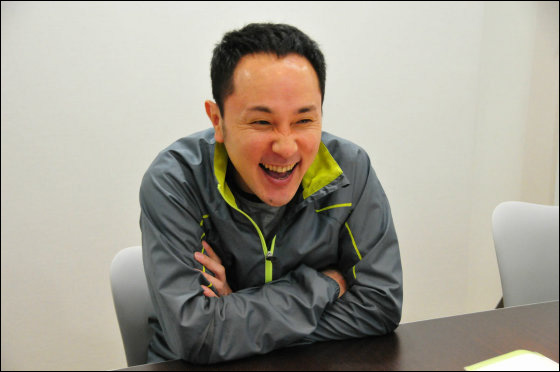 G:
That is the last question. It was said in Machi ★ Asobi etc, but the most cruel thing for creators is that they are not interested, indifferent.

Matsuyama:
That is the most scary.

G:
Do you have anything to keep in mind to have interest?

Matsuyama:
Do not do the same thing with people. On top of that, there is no point that it is not only that it is not only necessary to differ from a person but that such a thought has never been thought that it certainly seems to be interesting. It has few numbers and choices. Everyone is thinking about the same thing. But then, is there no answer? That is, there is. What is missing is a person of thought. Just thinking and thinking will come out. To think about it, I do not think about it by myself, the better the number of possible brain miso is, the better. Consult with various people. To express opinions, to collide. If their idea got rendered obscene, inject them from the outside. See the work of others. Meet various people. I think that it will run out to it. I have never thought that I would like to go on vacation or to have a break. I do not want to go to the south island. If there are events and you have customers, I will go. Go to the beach and leisurely. I do not want to leisurely and I would like to live more live. It is still inefficient. I would like to work on more projects, and if I die, I would like to die by leaving as many pieces as possible. It might be possible to devise it if we devise it, but we have to leave it to biotechnology.

There is no such technique, so we are. Anyway, I want to work full of eyes while I live. I think that it is the meaning that I was born. I think that each and every one has a role and is living. If you do not do your job thinking so, it will not be interesting. I'm doing it because I have to do it, because I will be with work. Is not it my job?

G:
Do you mean leaving your name somewhere?

Matsuyama:
I agree. Rather than my own name ... ... It is "work" that we made. I like "hanging on the ring" if it is "hanging on the ring" and "teacher Masami Masuda", and if it is "Jiko's novelty adventure" and "JoJo's bizarre adventure" then JoJo's I like strange adventures. Of course it is a person who created the work, so I like Prof. Araki. I respect you, though. But I like the work. So even if someone who plays games hates me, if it likes the work it is OK. I do not mind at all for saying "Piro is disgusting ~". I will get hurt, but (laugh) I hope you enjoy the work with it. Both games and animation will not necessarily be necessary in order to survive. Even if I do not see it I will not die. But on the other hand there is the power to blow off the dark feelings of people, and the ability to cure such diseases. I think that it is such a wonderful thing that such things that human beings produce have such power. In the end people are supposed to live by being helped by people. Is the work left for eternity? So, I want to burn a lot of such works. At least I am deciding whether to say it as our staff later, but I think that we were born for that purpose, CyberConnectTo. Because I was born for that. I have to work this.

G:
I see, thank you for your precious story today.

So, next time I decided to explore everything inside the CyberConnect - 2 Fukuoka headquarters that was created by these ideas and experiences. As you can see from an enormous amount of interview with the president, the temperament that sticks to thoroughly is reflected here and there, and completely differentiates it from mostly companies.

· Continued
Cyber ​​Connect - Two Fukuoka Head Office Tours Tour - GIGAZINE - a series of unknown ideas accumulated to make the company work well