I tried eating salsa sauce "Daniels fire roast" which can choose the 3 kinds of hotness that is getting like challenge menu to various cuisines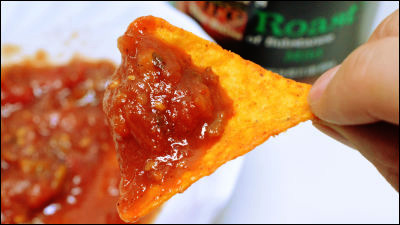 Salsa sauceThere are many kinds, one of themSalsa · RojaThe sauce called is made mainly of tomato with spices such as chilli and it is commonly used in Mexican and American cuisine. "Daniels Fire Roast"Is a proven Salsa · Loha awarded 37 times in the convention awarded in the United States, but I tried eating it with various dishes actually how it fits.

Daniel's Fire Roast | The Salsa of Substance
http://www.fireroast.com/

"Daniels fire roast" is from spicy things to "mild"medium"hotThere are three kinds, "Trying each one by the same dish and eating while comparing it" this time.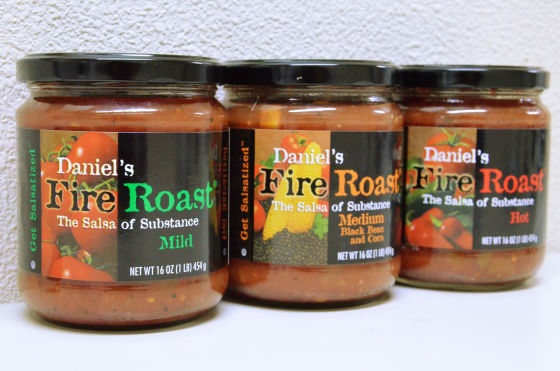 The mild with the most restrained spirit is 454 g of a bottle containing "Roast" and "Mild" printed in green.



In addition to high-quality tomato fire-roasted on raw materials, onion,jalapeno pepper,coriander, Dried garlic is contained.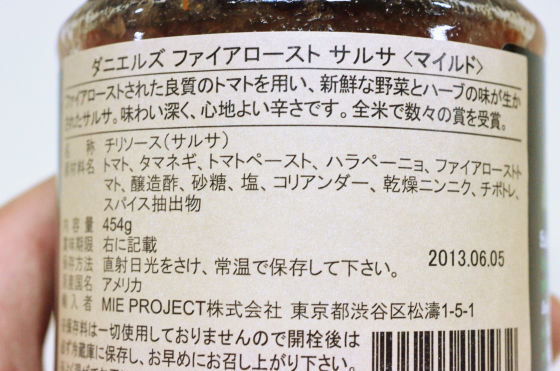 Medium shows "Roast" and "Medium" in orange color.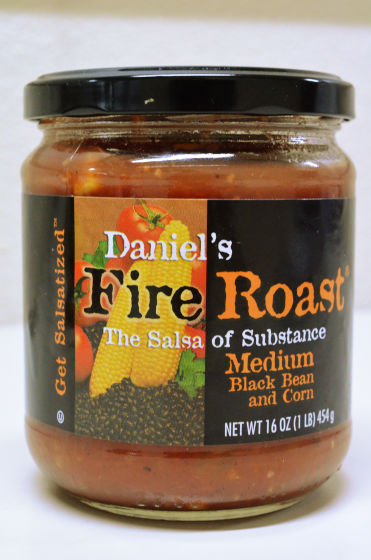 Medium is the only raw material among the three types including black bean and corn.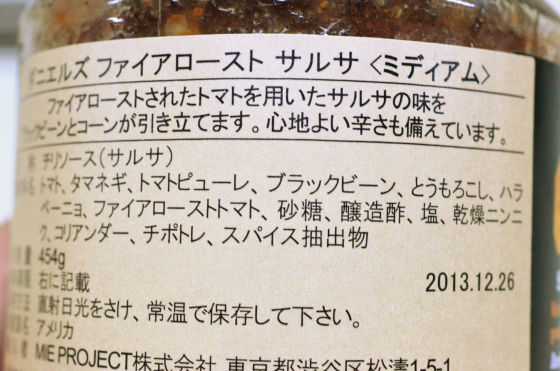 Hot "Roast" and "Hot" parts are printed in red letters, it seems to be the most painful from the label.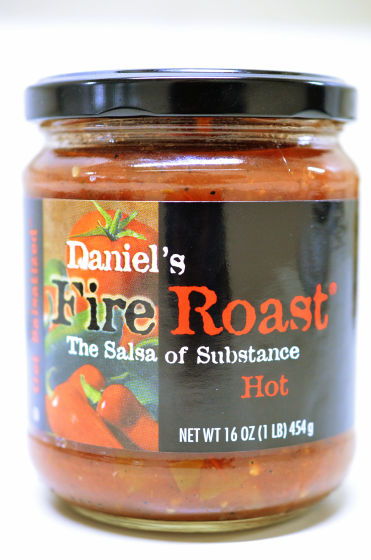 Raw materials are used exactly the same as Mild, but it is said to be the hardest, so it may be that many peppers, Jalapeno, are used.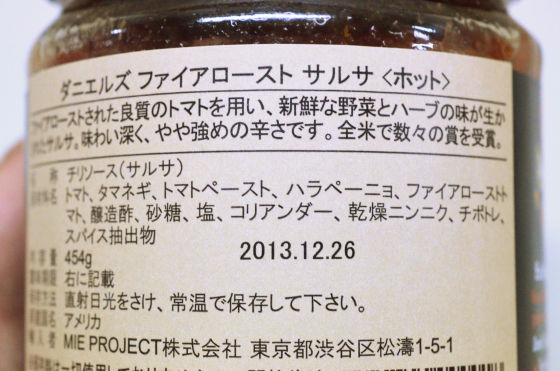 First of all, we open three kinds of sources and check the appearance.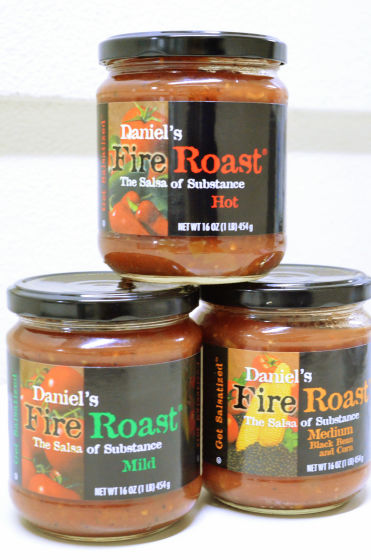 Mild is contained in a large amount of moisture as smooth.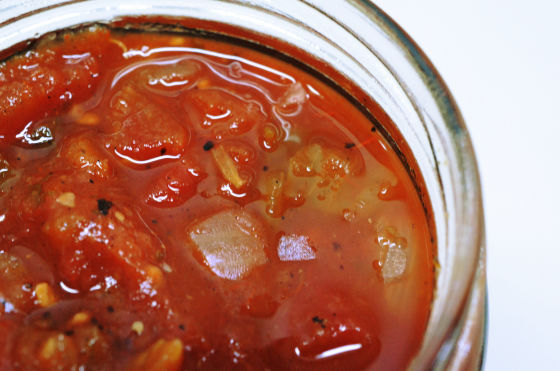 Medium is full of corn and it looks brilliant.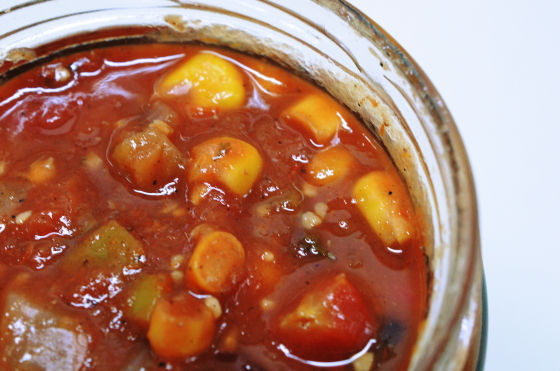 Hot is slightly darker in color than the other two types and seems to have less moisture.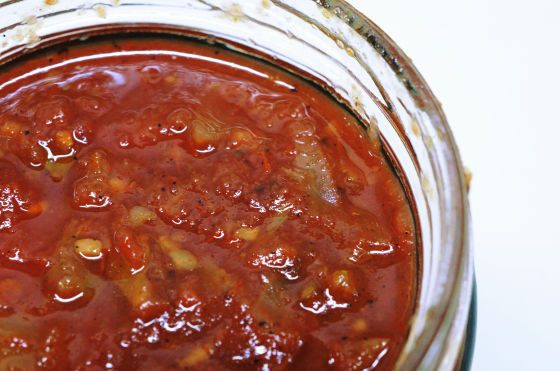 Tasting by saying that. "Doritos Mexican tacos taste"In order of" Mild "" Medium "" Hot "try to eat.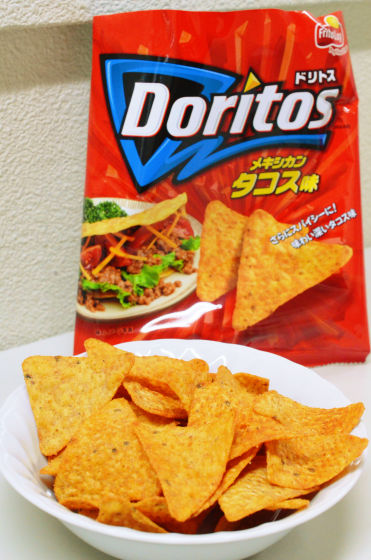 Mild is exquisitely matched with doritos with the texture and acidity of tomatoes and onions contained in sauces. The taste of the sauce itself is not only the tomatoes being pushed forward, but also the flavor of garlic and the sweetness of onion are felt and it is good. People who do not like being spicy with a feeling that they feel a bit spicy in their mouth seem to be OK.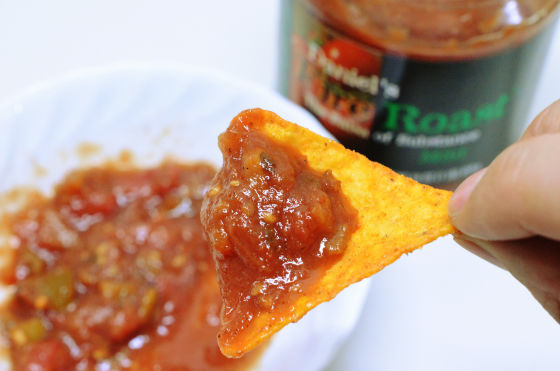 Medium is more hot at a stroke than mild, and the inside of the mouth turns after eating. It is a nice feeling that the texture of the corn in the sauce increases the feeling of shakiaki more than mild. Although compatibility with Doritos is good, people who are not good at painfully may prefer to choose "mild".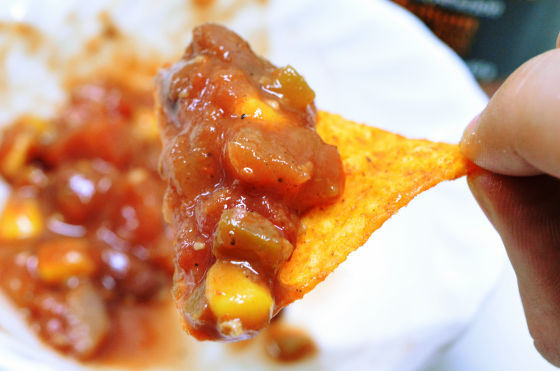 Hot is the same mild and taste bases, but the level of hotness is totally different, it is hard to eat without water and the mouth is tingling for a while after eating. However, it is felt that the acidity of tomatoes and the sweetness of onions are also among intense hotness. The compatibility with Doritosu is good, but the person who loves to spice because the tremendous spirit attacks the mouth is worth the challenge.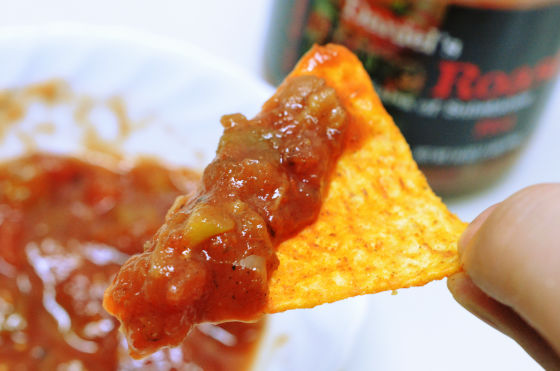 Next I will eat salad with sauce.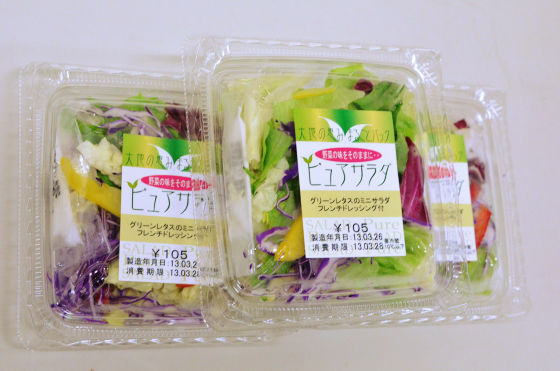 First we apply mild to the salad.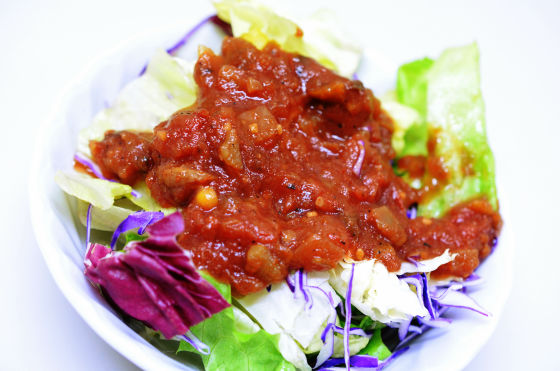 It seems to be very spicy because the sauce of the sauce is red, but the moisture of the vegetables is suppressing the spiciness. Salad has a shaky rustic texture intertwined with the acidity of the sauce and a refreshing mouth feel.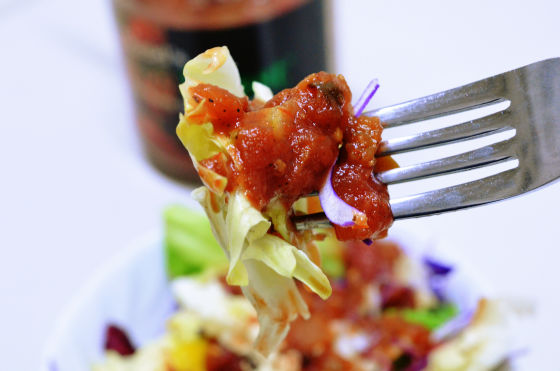 Next we will eat salad under the medium.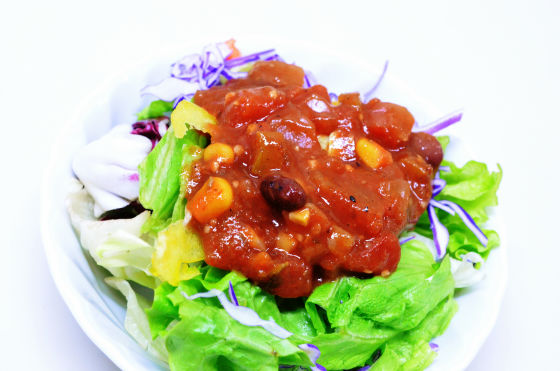 Eating a little bit of spicy chili sauce and eating with salad containing water, the spicyness becomes a little mild, and the corn in the sauce further emphasizes the sweetness. However, since hotness comes later, it may be better to have a drink ready when you eat a lot.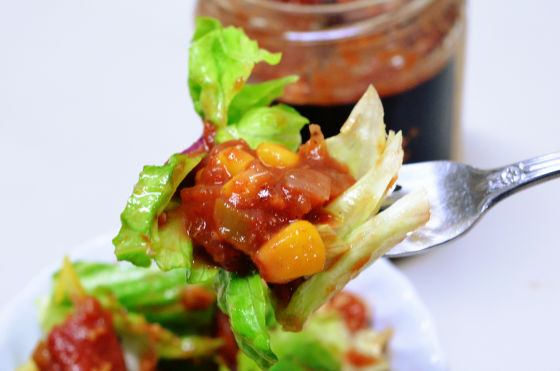 Finally I will eat hot salad with it.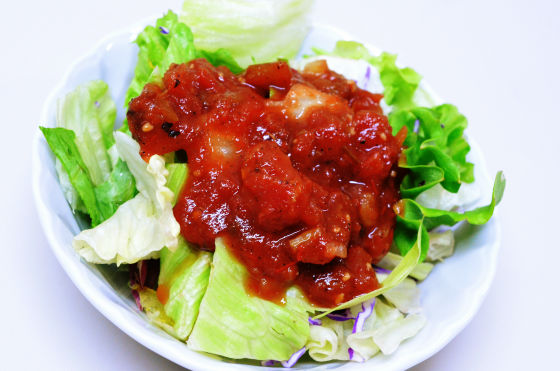 As I was eating with salad, I was expecting that "hot" would be easier to eat as the spicyness of "mild" "medium" was suppressed considerably, but the pain coming later remained unchanged Even though it ended my mouth felt sorely and painful.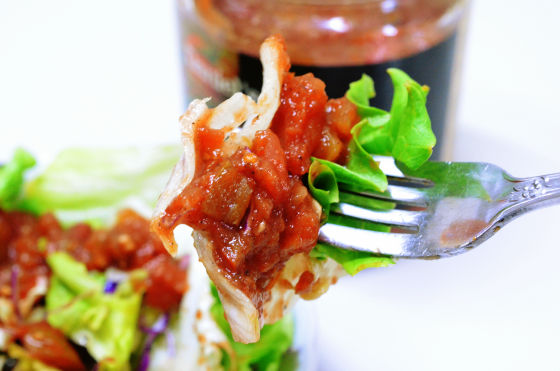 Next I paint Daniels fire roast on bread, put the cheese on it, bake it in the oven toaster and try it. It is a bit rich pizza toast.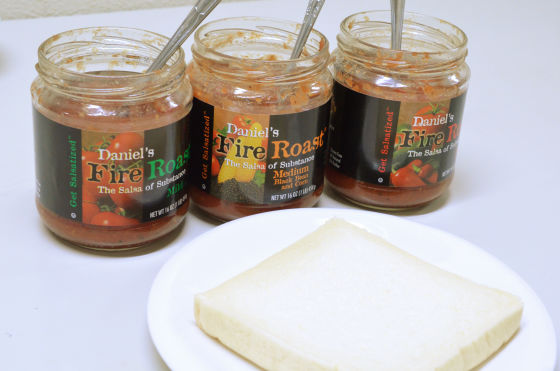 Firstly from mild. I paint Daniels fire roast on one side of bread ... ...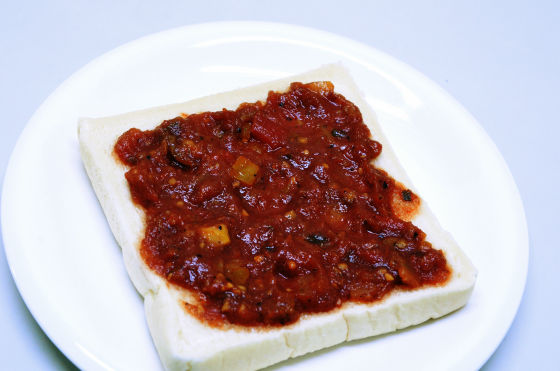 Place sliced ​​cheese on top of it.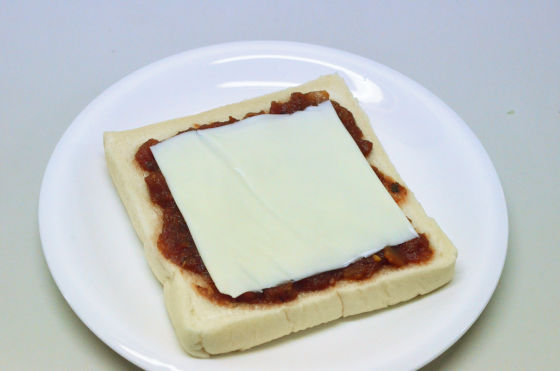 After heating in the oven toaster for 2 minutes ... ....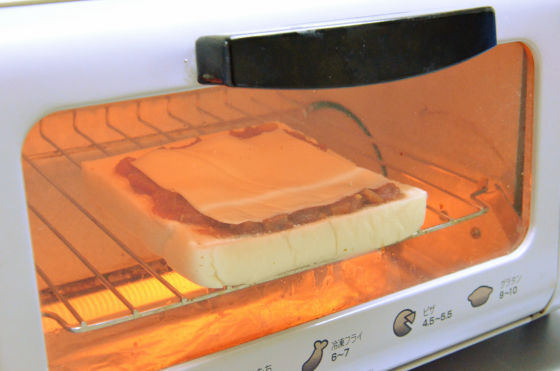 Pizza toast is complete.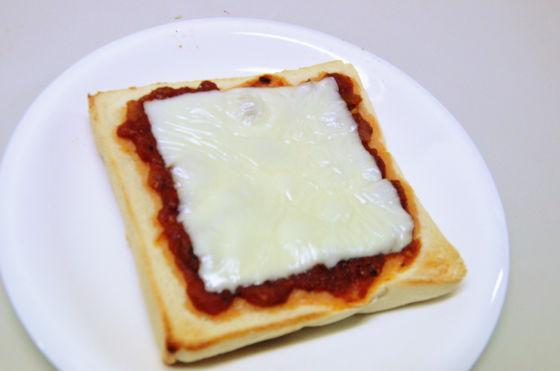 Pizza toast made with mild is also well compatible with cheese, it seems that the hotness is even worse than when you ate salad by eating it. However, because it is more acidic than sweetness, it is slightly different from pizza toast made with common tomato ketchup.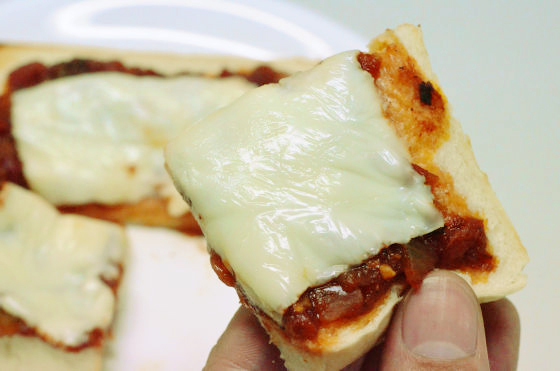 Next, I will also cook a medium-hot pizza toast in the same way as a pizza toast made with mild.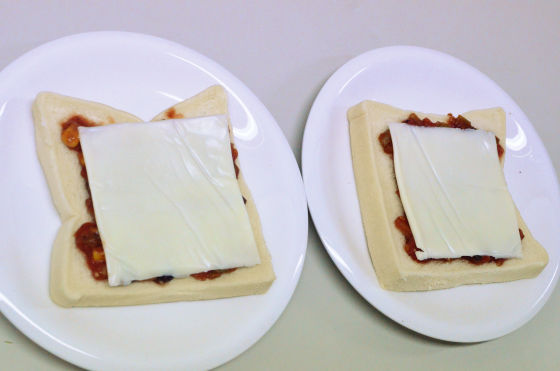 This is a pizza toast cooked with medium.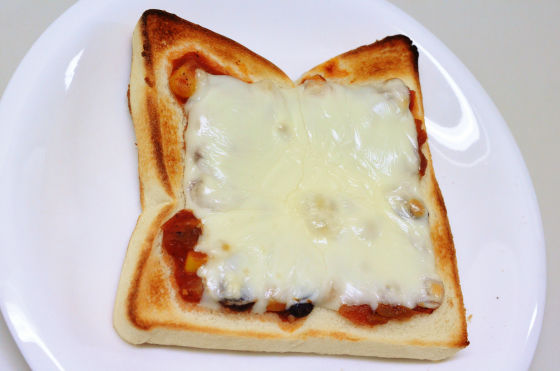 The pizza toast with medium was also less restrained than when I ate without warming the sauce. As with salad, sweetness of corn is added plus, it seems that it is suitable for pizza toast rather than mild. However, it is not painful at all, and a little bit of mouth is spicy.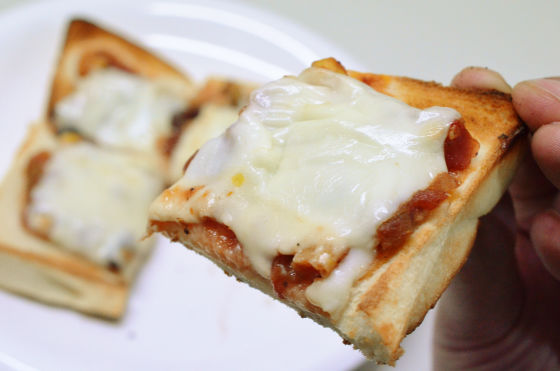 The hot-painted pizza toast is also completed.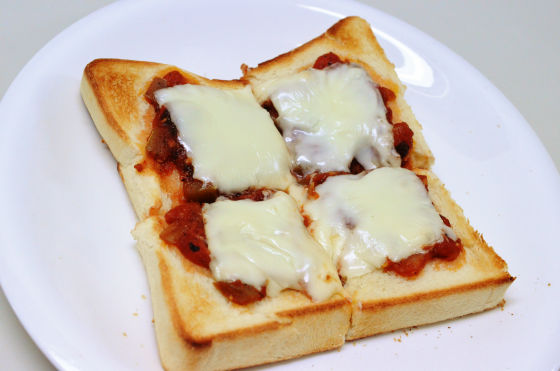 Pizza toast with hot potatoes is better than eating without cooking, but in spite of being painful it has not changed and pizza toast which is hard to eat has been completed. Even if it is pizza toast it is a pain that seems to be okay for anyone who eats Tabasco etc etc.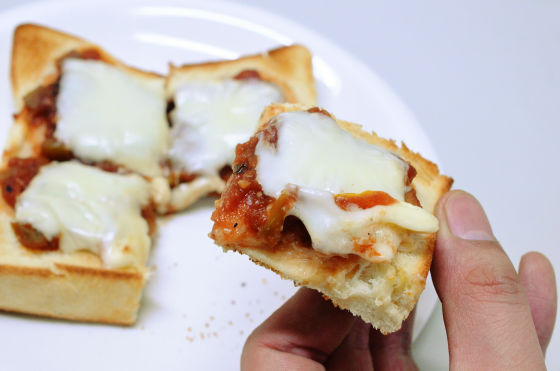 Next, stir-fried the pork with salt and pepper and try to eat it with Daniels fire roast.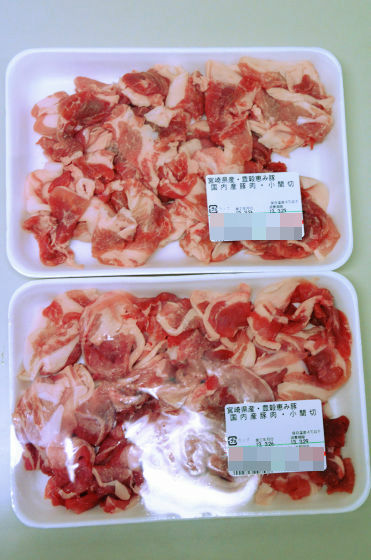 I will salt and pepper the pork and fry it with medium heat.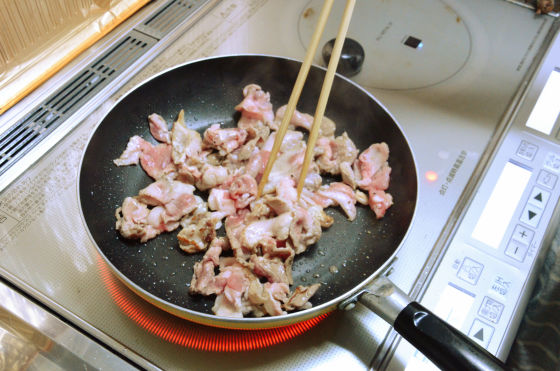 Fry until the red color of the meat disappears ... ...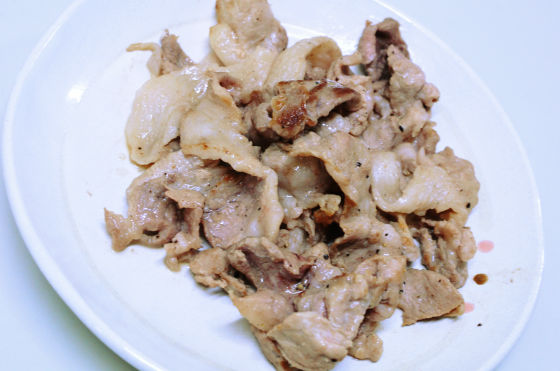 Completed Daniels fire roast from above.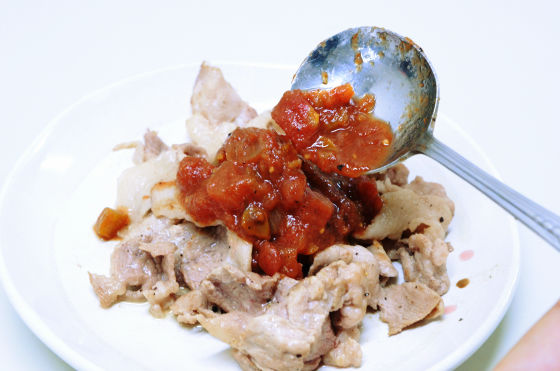 First of all, it receives from mild. Good taste and pork taste and oil are exquisitely intertwined with sour sauce and it is pretty good. The bitterness is almost gone and easy to eat. Among the trials I have done so far, I have a good compatibility with the 1st source, so if you eat it with rice, it will be OK.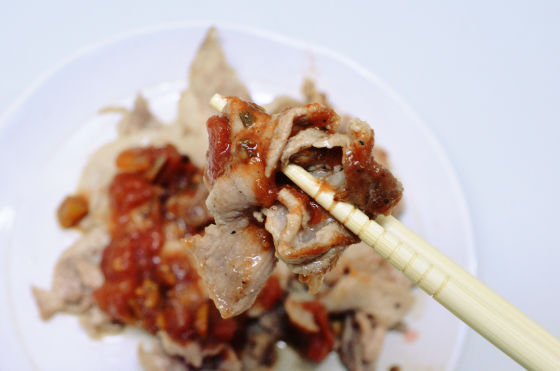 Next I will eat it by stirring the stir-fried pork with medium.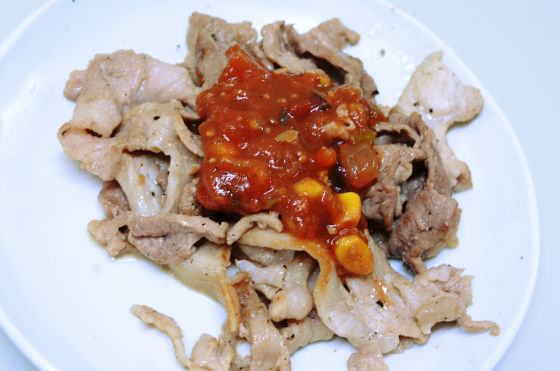 The spicyness that is more tangy than the previous mild is accented, and the sweetness of the corn occasionally present stands out. It might be just right for those who like to hurt.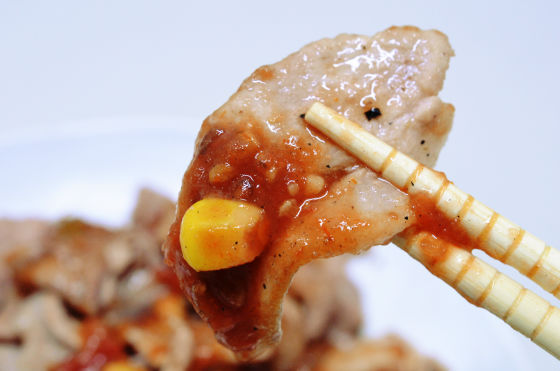 Finally we eat it by pork which stirs hot.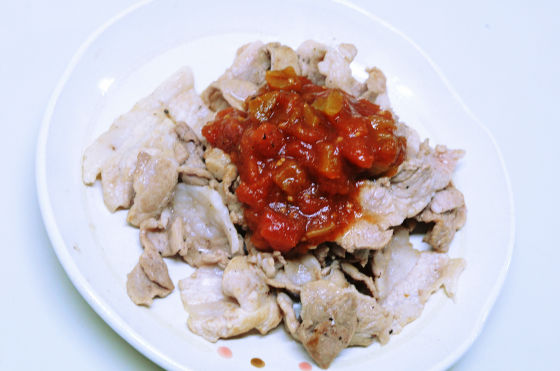 The taste of sauce itself and fried pork are right, but the pain that attacks after eating is still severe, and the two previous items were not that much, but I would like a drink.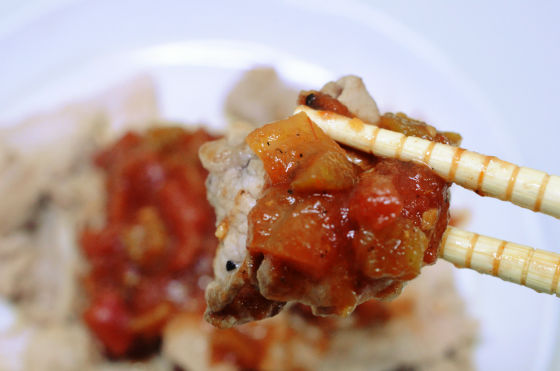 I felt it might also fit rice when stirring pork and daniels fire roast, so decided to eat directly at the end by eating. When it puts on mild rice, it seems that it looks red red and hot.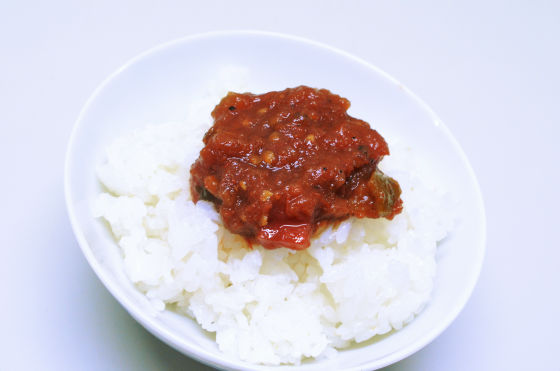 When I eat a mildly cooked rice, the acidity and rice of the sauce feel fresh, and as I advance the eating, the taste of the sauce prevails over the rice and I get bored in the middle.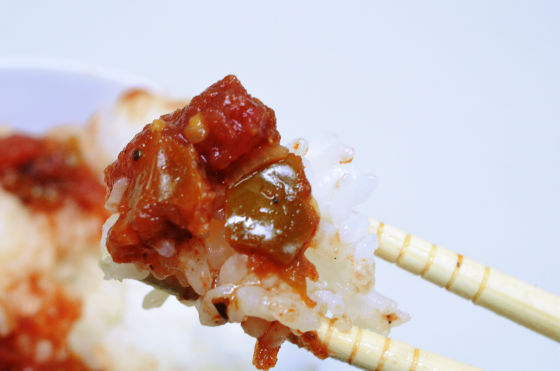 Next I will eat with medium rice.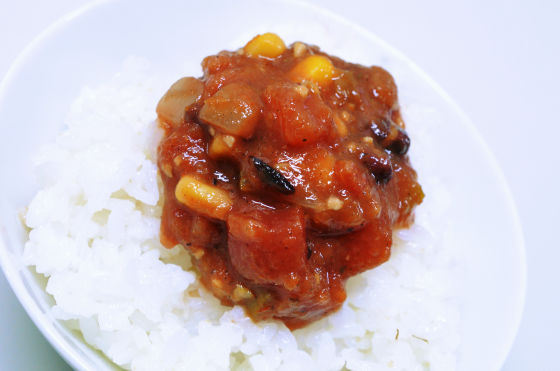 Because the texture of corn does not match rice more than imagined, but the taste of the sauce can be felt direct, so after spit it has become more spicy and spicy without drinks.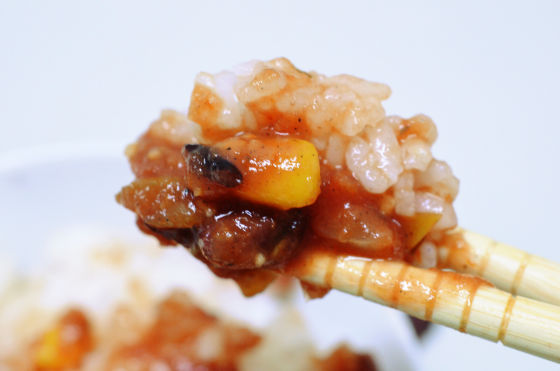 I thought that Daniels Fire Roast alone might not suit rice, but try hot challenge.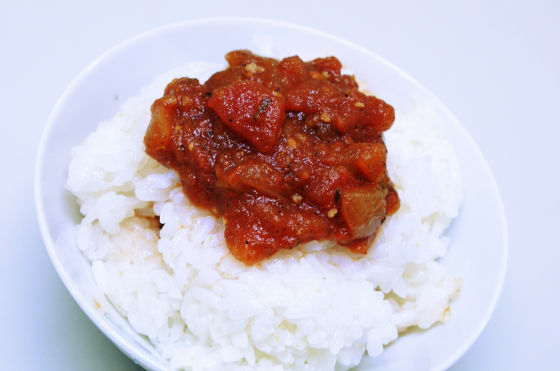 I should have eaten deliciously, I eat a mouth while wondering what it is like a challenge. It seems that the first few mouths of the source taste and rice seem to match, but it is difficult to continue to eat because the taste is monotonous, only the burning heat in the mouth increases, eat without a drink I could not cut it.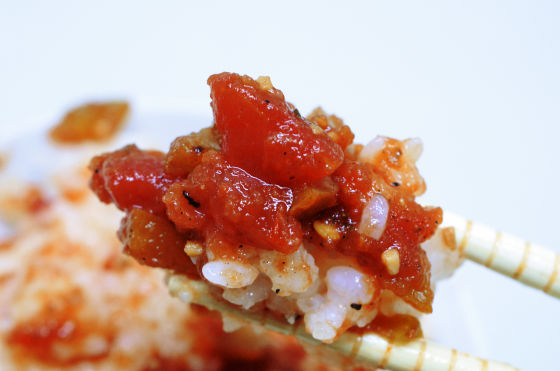 So, Daniels Fire Roast is good enough to have a lot of ingredients and a solid taste, it is good enough to try and eat anything that a tomato is likely to meet, such as salad and meat, but usually There was a tendency not to match the dish which does not eat tomato together. Also, the point that you can choose 3 levels of spicy is convenient, but eating a lot of "hot" is quite severe unless you like so much hot things, it will be like a challenge menu or something from the way For those who want to eat delicious food deliciously, it is recommended to choose "mild" or "medium".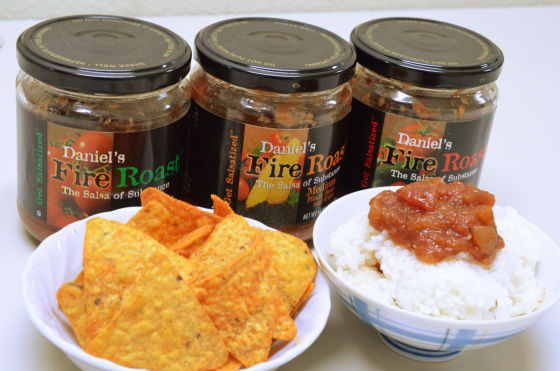 In addition, the selling price at Amazon was 698 yen (including tax).

Amazon.co.jp: Daniels Fire Roast Salsa Mild 454 g: Food & amp; Beverages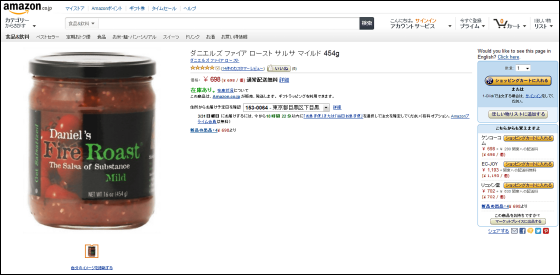 Amazon.co.jp: Daniels Fire Roast Salsa Medium 454 g: Food & amp; Beverages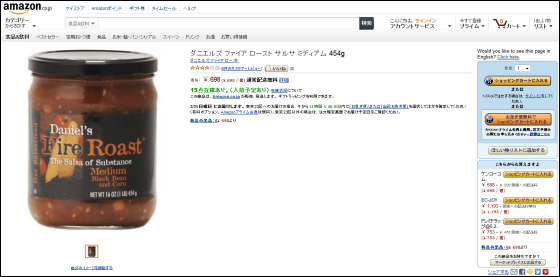 Amazon.co.jp: Daniel's Fire Roast Salsa Hot 454 g: Food & amp; Beverages