Toshinori Nishikawa "I want to pass on what I enjoyed next" Special Talk Show Report on Animation Mirai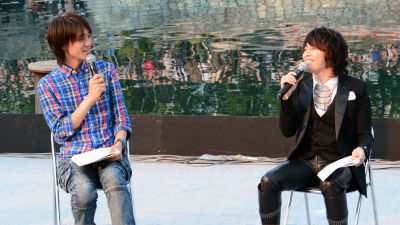 T. M. Revolution,Abingdon boys schoolI am active asNishikawa TakanoriIs also known as a large anime lover, not only singing the theme song of animation, but also acting as a voice actor, and now, the Agency for Cultural Affairs provides support to foster young animators Projects to be done ·Anime MiraiI am also serving as a public relations ambassador.

It was held at Tokushima from 3rd to 5th MayMachi ★ Asobi vol. 10In "Anime Mirai PR Ambassador Takashi Nishikawa Special Talk Show"Was held to unleash freaky talk about recently interesting animation etc. not limited to animation Mirai.

Anime Mirai Public Relations Ambassador Nishikawa Takashi Special Talk Show Machi ★ Assobi vol.10 2013.05.03 ~ 05.05 Held
http://www.machiasobi.com/events/nishikawa.html

The name value of "Nishikawa Takanobu" is terrible, many people of a wide range of people of all ages gathered together to form a standby queue regardless of age and sex.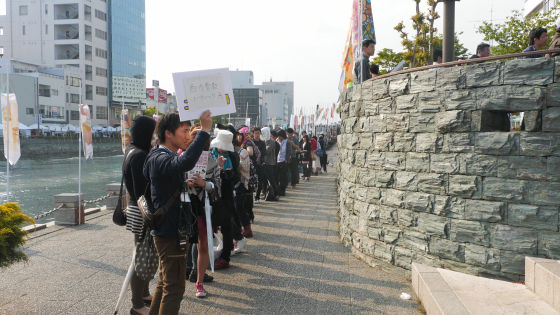 This matrix made along the river, what is going on ......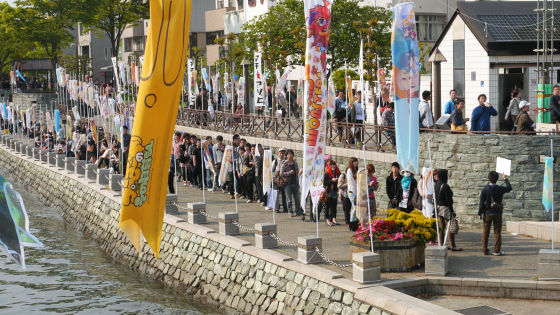 Like this. There is a person who is still lined up a little before the part that says "the front side", and there is a gusset and a matrix continuing to the left end in the passage of the river, where there is a turn back, the last tail of the upper passage It is continued until. There was another one similar to this one.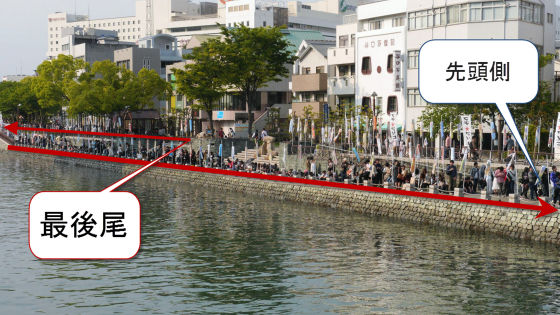 The turning point is just across the river of Shinchochabashi East Park.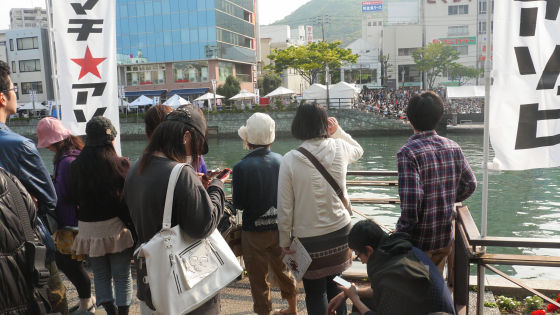 Those who wait for the start of the talk show while watching the previous event.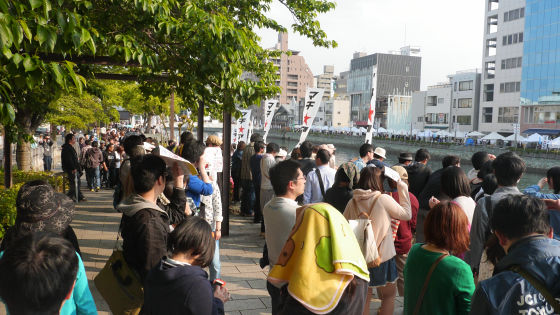 Then, the ship where Mr. Nishikawa got on passed the eyes.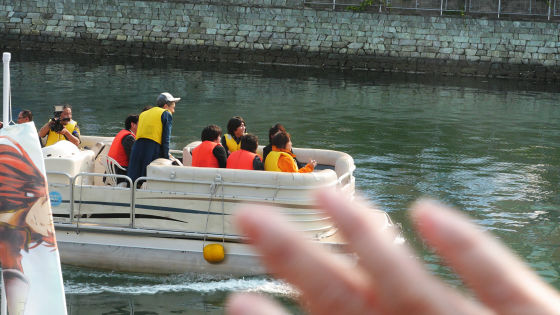 As the cheers of cheers rose,Onozaka · Konishi "O + K"We had a charity portrait eventMasaya OnosakaWithKatsuyuki KonishiHe responded unexpectedly.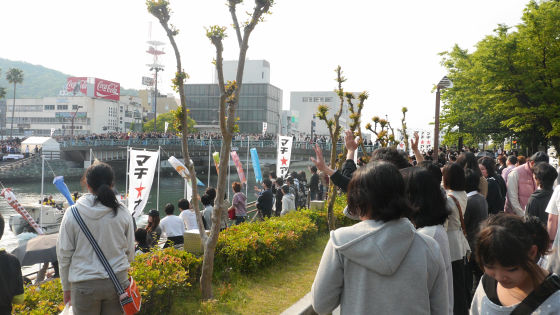 After the previous event was over, total replacement of customers was done before the stage. It is also unusual for gusset ashbi to be replaced in this way.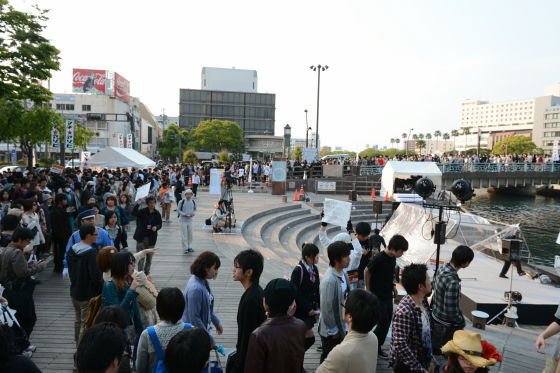 After the customer completely exits, the stage setting is done ......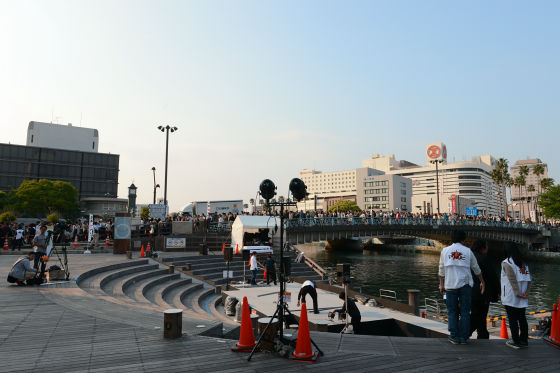 The guests who were lined up in the previous line entered.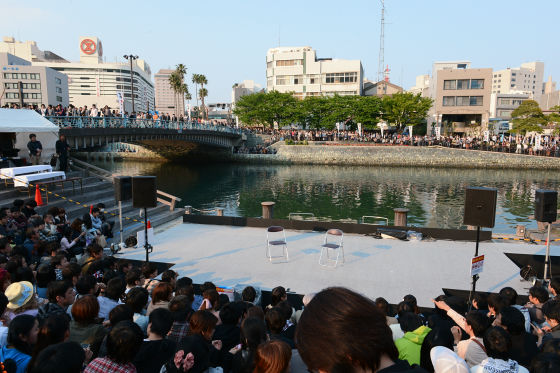 Gissiri and people were filled up on the bridge overlooking the park and across the street.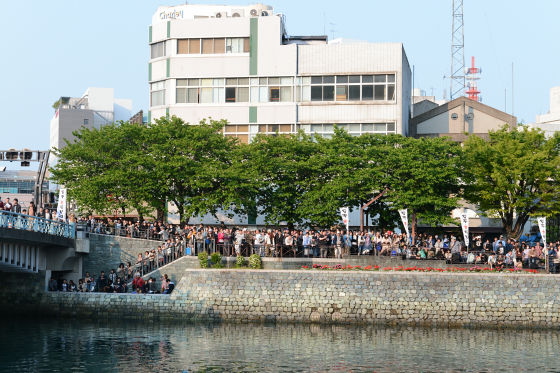 It is the Nippon BroadcastingYoshida Naotohiannouncer.

Yoshida Naoji (Yoshida):
That's amazing, this ... .... I think that it is various, and those who are surprised when a rough colored man comes out when I am attracted to Mr. Nishikawa attracted to those who understand.Nishikawa Takanori All Night NipponBureau announcer who had been bad at doing something unreasonableBureau servantsIt is Yoshida Naoji. While some people were transmitted, I was able to grasp the situation that people on the bridge are refreshed. Originally I love animation, it is about bicycling to this gore ★ Assoby ... ... It is a bicycle from the air to the airport from Tokyo by airplane. I am planning to talk with Mr. Nishikawa who is an anxious guy with a lot of troubles today.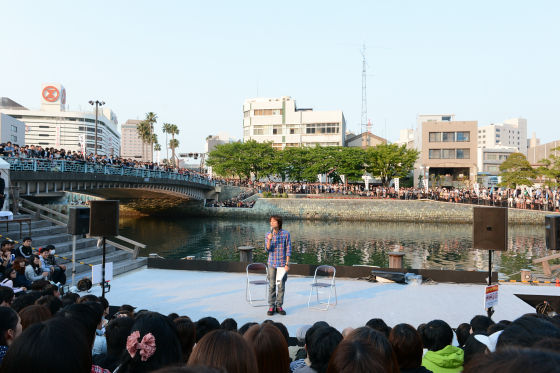 Yoshida:
Finally, that person appears in Asobi. Because of this position I was able to come alone. Mr. Animation Mirai PR ambassador, Nishikawa Takao.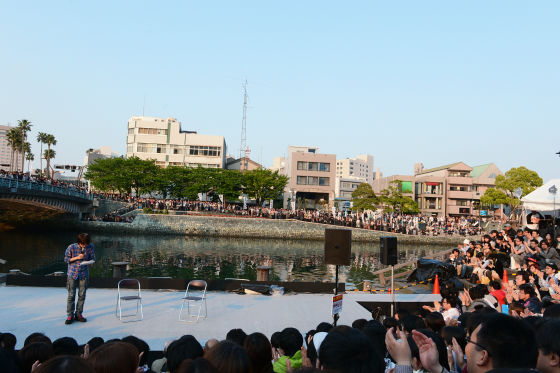 A cheerful cheer cheeked up before Mr. Nishikawa's appearance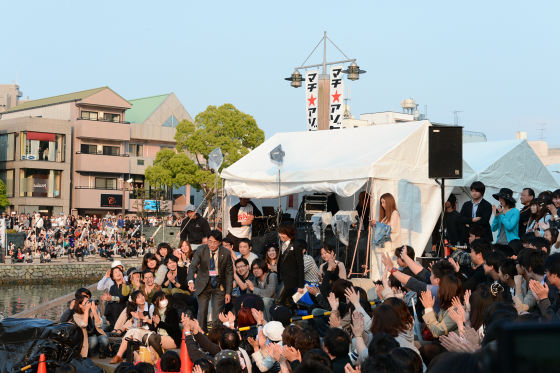 Toshinori Nishikawa (Nishikawa):
What's wrong (ha ha) Somehow, everyone, that's amazing ... ... If you ran for Tokushima, you can win, do not you think? Thank you. Thank you, Nishikawa.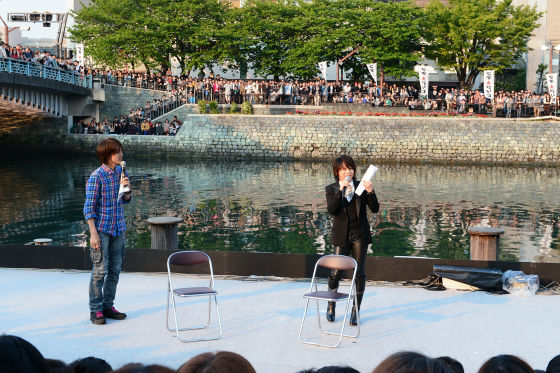 Yoshida:
It seems like a campaign of Prime Minister who has a high support rate.

Nishikawa:
It is supposed to be told by the executive officers "getting a little exciting". Nice to meet you.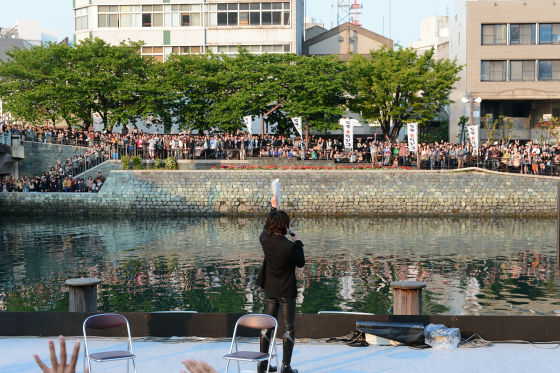 Yoshida:
Since it seems that the story will be long, I will sit down.

Nishikawa:
There is a person behind, I am sorry in the form of sitting in front but sorry.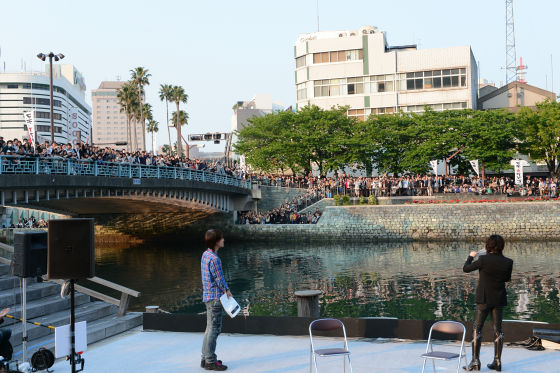 Nishikawa:
The setting sun is out and I will talk about it in an amazing place. There is nothing to talk about in a place without a roof.

Yoshida:
How much is Nishikawa, is not it?

Nishikawa:
Because it is fielding (laugh) I can have a false talk show.

Yoshida:
I think that this is unique to gusset ★.

Nishikawa:
Actually, I had a live in Tokushima last January.

(Reaction with "I went from the audience!")

Nishikawa:
I was coming. At that time, since the live is overUfotable cafeWhen I went to, it was closed.

Yoshida:
It's after live concert.

Nishikawa:
I thought "It's serious!" It's January so I was shivering cold and bursting, I took only the picture of the exterior and went home. It's just an anta situation (lol)

Yoshida:
My thought came true, finally I came to Asobi.

Nishikawa:
Thank you very much, I finally came.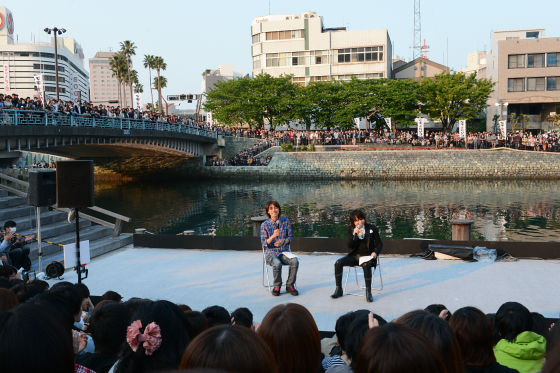 Yoshida:
Those who were lined up for the event earlier seemed to have seen, Nishikawa passed by ship.

Nishikawa:
You saw that ah, are not you? I feel like Tom Cruise did in Dotonbori.

Yoshida:
It looks like Japan's motion.

Nishikawa:
It looks like "Nijonominasan, Konnichiwa". Have you all taken a boat? The museum under the bridge. ...... Oh, quite a few people are going. It's amazing, you heard songs from ClariS, watching the picture of Imas at such a close distance. "Oh, I'm signed in!" I do notice.

Yoshida:
It is said to listen to "Ready !!" with looking up.

Nishikawa:
"Clash with two people together ..." ... Yes, Ms. Maruyama says, "Have you ever seen the face of ClariS?" "Please come and pick me up", "I can see" Ah! (Haha) Otaku I was doing conversation.

Yoshida:
No wayValve raveIt is said that people making such a talk are doing such a talk.

Nishikawa:
"Exposing the world"!

Yoshida:
Is not it just that I want to expose ClariS rather than the world?

Nishikawa:
No, it's a long story, I told you absolutely this way! (Lol)

Yoshida:
But today,ChamberYou want to talk about that, too?

Nishikawa:
I see, because the head of the chain bar is decorated at the Awaodori Kaikan, it is already scattered and it is said "Yeah yeah !! ??".

Yoshida:
Just like the producer of Production IG, he said "I will make it in 5 minutes", but as I started making people, people from the fans gathered together and it seems like just the ship of Gargantia .

Nishikawa:
Yes, like gathering around the world, the story gets longer!

Yoshida:
That's why Mr. Nishikawa came to the ufotable cafe all the way to come, but at last she admitted to Asobi. Perhaps, it is the event that people are gathered even in the history of gore ★ Asobi?

Nishikawa:
That's amazing, I want to do a wave or something .... Do it.

Yoshida:
Would you please join us so that you can start from the stakeholders and go as far as possible?

(Great cheers)

Nishikawa:
Let's be one. Whoops ...

"Machi ★ Asobi vol.10" Nishikawa Takanobu special talk show in Wave great success - YouTube


Nishikawa:
great!

Yoshida:
What kind of story you would like to talk to Mr. Nishikawa today if you gathered by so many people ... I wonder 'What is funny in April animation'? (Laugh) First of all,Gargantia on the Verdurous PlanetIt is certain that you are watching.

Nishikawa:
That's right, first of all ...I'm ready, Azazel. Z".

Yoshida:
There!?

Nishikawa:
15 minutes work is easy to see.

Yoshida:
15 minutes When we say things, "Mamori at the time of wavingThere is also it.

Nishikawa:
Mr. Murumi, Yeti came out in four episodes. later"Uta no Prince-sama Maji Love 2000%I am also watching.

(Reaction from "customer" "Eh" "Hu")

Yoshida:
This season is a good harvest while harvesting.

Nishikawa:
I am watching from what I am recording. The problem I am having recently is that when I join a cable TV, I will record the broadcasts in BS 11 and Animax in turn, so that, for example, the fourth episode has entered three times or four times ... .... "Love, Chunibyo & Other Delusions!Even when three stories alone, there are about five or so much accumulated when it was around. There is a broadcast by TOKYO MX or tvk, and further MX runs on the chase broadcast once more, it is too hard for the recorder to pick it up.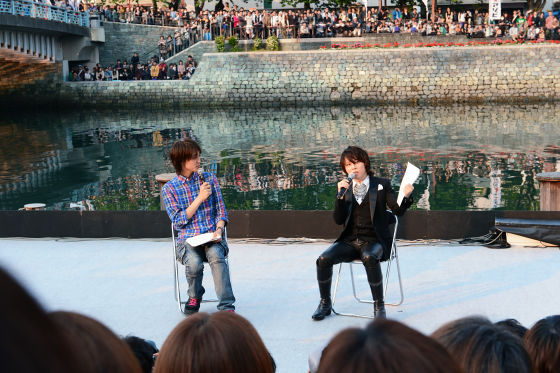 Yoshida:
There is a person watching Kanto UHF station broadcasting. "The Flowers of EvilDo not you see or something?

Nishikawa:
I am watching it, it is innovative. I like animation, but I do bands and do music, too ....

Yoshida:
I am attached but is it okay?

Nishikawa:
To seniorsBUCK-TICKThere is a band called "hit song"Evil FlowerThere is a thing called "It is. There is such a thing, though it is not Uta Puri But I think I think that the boy comes out I'm excited and seeing it and seeing "What if this is a pants!?" ... It is not pants, It was physical exercise, the delusion swelled without permission and it made a leap jumping too much (laugh)

Yoshida:
Today there are hands to do 40 minutes like this story though.

Nishikawa:
after,"Samurai BrideI am also watching. After all, it is a big tits ...... Because I am interested only in breast swaying.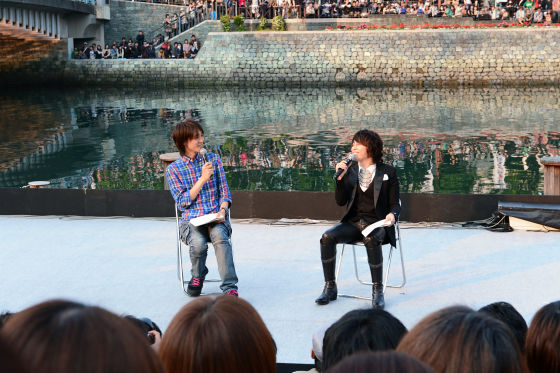 Yoshida:
I wonder how many videos are being used ... ... and when I'm talking about that, I realized that there is a little baby in front of me. I am sorry.

Nishikawa:
Sorry, brother, I grew up in such places.

Yoshida:
Because there are jobs that you can not ask if you are not such a brother.

Nishikawa:
The country admits properly. It is a job as a public information ambassador commissioned by the Agency for Cultural Affairs. "Aniota acknowledged to the country" So it is.

Yoshida:
I feel like a national alchemist, national ani Ota.

Nishikawa:
This is enough for me to talk to great people in the country.

Yoshida:
Nishikawa's position today is "Ambassador Mirai PR Ambassador". Those who know about this project ... ... More than half?

Nishikawa:
I also raised my hand on the other side, thank you.

Yoshida:
Animation Mirai is better for animators ......

Mr. Yoshida and Mr. Nishikawa who passed the ship behind and became disappointed to see it.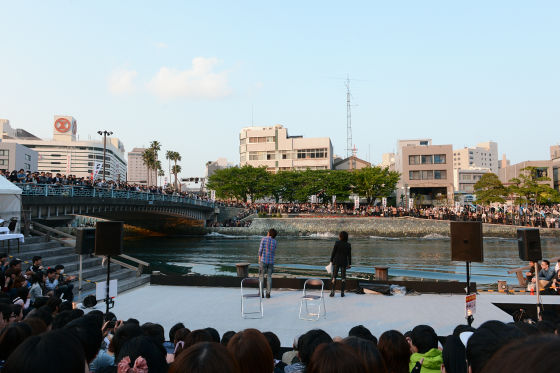 Nishikawa:
Amazing! It is not easy for ships to pass while talking.

Yoshida:
Uncle is not moving at all, Captain Herlock.

Nishikawa:
It will be released this autumn.

Yoshida:
I saw the scene of the present time saying "Yamato is doing that, if you talk to that father, it is Ono Daisuke". Well, I wonder how far I talked ... ....

Nishikawa:
This is how important story goes on steadily (laugh)

Yoshida:
2199 ...... Different, Anime Mirai is 2013, is not it? The animator people have the feeling of being "happy being able to see the work", but if you can not keep going properly you can not master the technology, and now the concern that work will go out overseas There is. So, it is a project that the country is doing by raising an animator.

Nishikawa:
In fact, the newcomer enters the production site, the technology is handed down in the form of "seeing and remembering", but now the computer is used for the drawing work, there are studio in the district, working, We are speeding up by division of labor and reducing costs, so the chance of "doing guidance properly" is quite lost. The animation which everyone now likes and supports is also advancing the aging of the director, and we can firmly support it, growing young and talented people, everyone including the country and enjoying it Let's make it, the purpose of Animation Mirai.

Yoshida:
As the official name "Heisei 20 years agency entrusted young animator etc. human resource development business" is named, and not only the alchemist but also the animator has to be raised by the country.

Nishikawa:
Is not it necessary to train?

Yoshida:
Because it can not be done naturally.

Nishikawa:
Because it is an equivalent exchange, the country will issue money. ...... It is not good to broaden the story with this extra part (laugh)

Yoshida:
Do you remember Mr. Nishikawa, we were almost doing it nationwide for almost two hours every week.

Nishikawa:
Nobody should come with me ......

Yoshida:
It can not be helped. But there are people who gathered to expect it.

(Clapping at the venue)

Yoshida:
Anime is entertainment, it is established only by being seen by people, but in the first year there was no PR ambassador. While I was doing as a project, I thought about what to do in order to get to know widely, and in the second year I decided to attach a public relations ambassador. I already talked about several times, but the lawyer named Daisuke Okuda who is a project manager of Animation Mirai was my classmate of a high school student.

Nishikawa:
That's amazing.

Yoshida:
When I met for about the first time in 18 years and talked about it, I met each other with an anime related person. "Well, I will help someday" so I misunderstood at the moment when I was told that "Who is a famous person and I like animation?" But I wonder if I can ask for such a thing.

Nishikawa:
Oh well.

Yoshida:
Does Nishikawa remember that time?

Nishikawa:
It was a light feeling.

Yoshida:
I will call you directly, "What are you watching in recent animation?" That's just such a thing.

Nishikawa:
That's right. Only the first story of our recorder, Gargantia was not recorded. But I received a Blu - ray ...

Yoshida:
It is the one who was distributing at animation content expo.

Nishikawa:
"Oh, good, I do not have to miss it." That work, there are too many flags ... is this flow again!

Yoshida:
Even if we are talking about it, it will be like this, so it was easy to talk about animation Mirai. "I am looking for a public relations ambassador because of this kind of business, which is a national seal, but Ms. Nishikawa, would you please accept if you do not mind?", Ask them to give me OK as soon as possible.

Nishikawa:
"Ooooo."

Yoshida:
After that, Ms. Nishikawa told me how difficult the scene of animation is, I was wondering when I should give back, when I was thinking about when to start providing the theme songs You remembered, do you remember?

Nishikawa:
I remember. If you can share the same feeling that they will grow up together as a result of this, you may like it more or may be different viewpoints. For example, like a high school baseball game, I thought that it would be nice to support the players who were watching it in the professional, so that they would feel like that.

Yoshida:
Hideki Matsui went to the point of receiving the National Honor Award, but I am watching from the time of Seolin High School. There must be pleasure to keep watching the same for a long time and animation Mirai should become its first step.

Nishikawa:
I wish I could be such a project.

Yoshida:
I got such a word from Ms. Nishikawa and thought, "How much do you like animation?" At the same time as feeling that "thankful" is about 5%, I feel like I'm doing a bit too much "(laugh)

Nishikawa:
That's why I think I'm useless, because it's the most fun time, darkening the room and watching animation forever (laugh)

Yoshida:
And when the work which I did not expect so much was interesting, "Oh!?" And, because it was a government and public office project, you can have everyone cooperate, and Mr. Nishikawa told me "Ooooo", it also leads to the fact that we are talking with gore ★ Asobi in this way It is.

Nishikawa:
Indeed, I saw everyone in this way and felt it with my skin, I thought that it is wonderful that the gore ★ Asobi is not only an animation event but also a local festival. I am also in the local Shiga prefectureInazuma Rock FestivalIt is a dream that it is going to become a local one, and I understand the difficulty. I have to get better from such a place, even if only Tokyo is fine it can not be helped.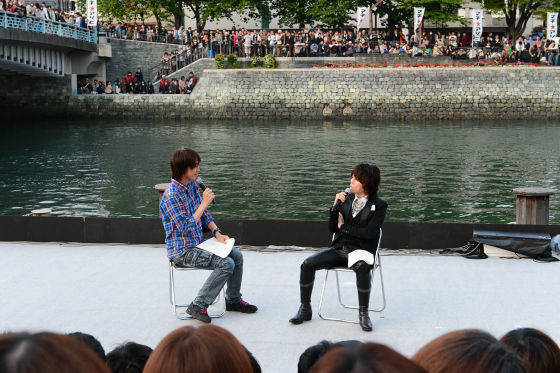 Yoshida:
When I go to Shiga prefecture around the time of fest, there are "Inazuma Rock Festival set meals" at the rice store in front of the station. That is not official, is it?

Nishikawa:
There is a set meal. But I have no idea at all (lol)

Yoshida:
I do not do it officially, but I do it on my own.

Nishikawa:
My aunt sells underwear, too. "Where is Inazuma!" Looks like (laugh)

Yoshida:
Today as I come to the river here as well, I feel like "do something" from the entire Tokushima.

Nishikawa:
There were lots of people saying "This will surely come to Asobi ___ ___ ___ ___ 0" at the time of the flight, equipped with a one-shoulder bag.

Yoshida:
Right! Anime fans like one shoulder for some reason.

Nishikawa:
And even though he is a boy, everyone has a little boobs.

Yoshida:
A diagonal cliff and a bitΠ / (Pi-slash)It is said that it is made.

Nishikawa:
Pieslash (lol)

Yoshida:
Although animation is fun to see alone, it is fun to see and talk with everyone.

Nishikawa:
Nowadays,RDGThere are many animations on stage as localities like ne. There is motif of Kyoto animation work in our Shiga prefecture.

Yoshida:
K-ON!is not it.

Nishikawa:
It will become a place where people gather together with animation as a trigger.

Yoshida:
There is a possibility to save Japan in animation.

Nishikawa:
But since the people on the top are looking with a light feeling, there are comments that I do not understand why they are like former governor.

Yoshida:
Even though I write a novel like Lanube.

Nishikawa:
What are you talking about putting yourself on the shelf? I think.

Yoshida:
Yukio Qingdao, Shintaro Ishihara, Naoki Inose, are Tokyo made of Ranobet writers?

Nishikawa:
"The mean bad guyThat's it!

Yoshida:
Because it is a person who came out.

Nishikawa:
Because there is a temperature difference with those above such people, I think that it will have to fill up there.

Yoshida:
I think that he is a public relations ambassador who is mainly engaged in artistic activities but I think that Mr. Nishikawa would like to undertake this ambassador for animation Mirai as a good sense. I wonder if I can only know the situation of what the young people are seeing.

Nishikawa:
However, although I do not get in for a while, (laugh)

Yoshida:
Instead of that, I can see 4 original animations that I got overwhelming every year.

Nishikawa:
I thought that making a chance to enjoy everyone is something we have to do. It is the same with local things, and if we were thinking about ourselves, it would be small. I feel again that it is a phase that we have to do to what we have taken care of and what we enjoy delivering to the next generation.



Looking back on the achievements of Animation Mirai, it is not yet animation Mirai "PROJECT AIn 2011, it was called "Kizuna One Stroke" "Oiyan's Lamp" "All-purpose Vegetable Ninin Man" "Tansu Warashi." 4 works. "Tanzawa Warashi" is a work that Kazuya Kazuya was in charge of producing Production I. G. As this wasGhost in the Shell ARISEWas not the "first director's work" by Mr. Kanase. By the way, the young animator who received guidance in the first year is supposed to be in charge of drawing director and opening original drawing.

In the second year, "BUTA", "Forgiveness", "Shiruburu", "Pukaka Juju" are four works. Yoshida Ana seems to have felt a posture to make what they want to make without swaying the tail to the Agency for Cultural Affairs, because there was a line called "This lolicon!" In "Forgiveness".

Mr. Nishikawa participates as a voice actor in animation Mirai 2013, "RYO - Dragon" which became the third year. Although few spoken words, he said that he could actually be involved in the worksite, and that many things could be obtained. "Little Witch Academia"The full story published on YouTube · Nico Nico videoAnd the number of views on YouTube exceeded 440,000. Because it is with English subtitles, because overseas fans can also enjoy it, "Is this work not continued?" "A quick sequel is made for me" rushed to the voice.

This is "Little Witch Accademia" goods.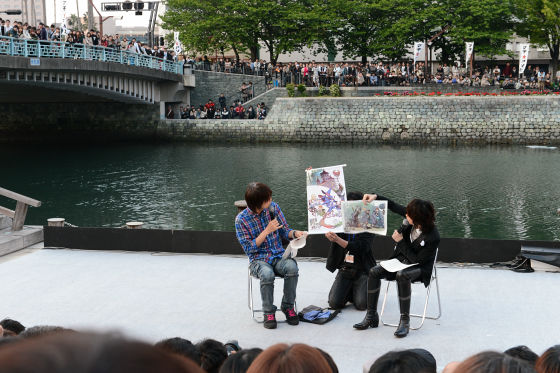 In animation Mirai, "Maintaining animators" is the main objective, so the right of the work completed as a by-product is handed over to the company that produced it, and how to operate it is free. So it is no problem developing the goods.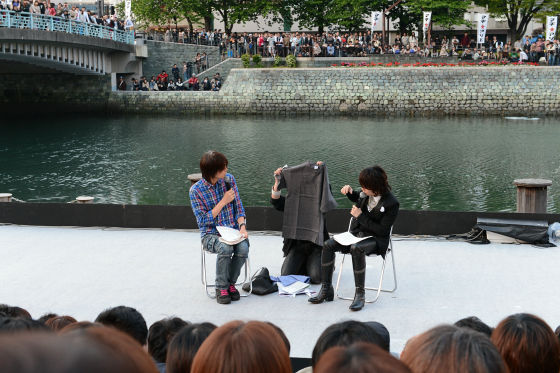 Therefore, "Arve · Rizzl"Special Edition with DVD containing this volumeHas been published. Both Nishikawa and Yoshida says "Death billyards" are acclaimed "It was a madhouse without any effort". Animation Mirai has decided that the project will continue after next year, and the application was closed on May 1st. There were 17 entries this year, and it was said that 4 works will be carefully selected from here.

Mr. Nishikawa is currently in charge of OP of the Revolutionary Valve Rave with "Mr. Kondo of Ehime" and Ms. Mizuki Mizuki but decided that the CD will be released on May 15. Although the length of the song itself is 3 minutes 30 seconds, the video clip is said to have 10 minutes. That CD has not been circulated yet, but one of the discs "Currently only two in Kansai" is handed to Ms. Yoshida by Ms. Nishikawa.



"We will pass valuable CDs to Yoshida announcer from now on," while appealing to customers over the river ......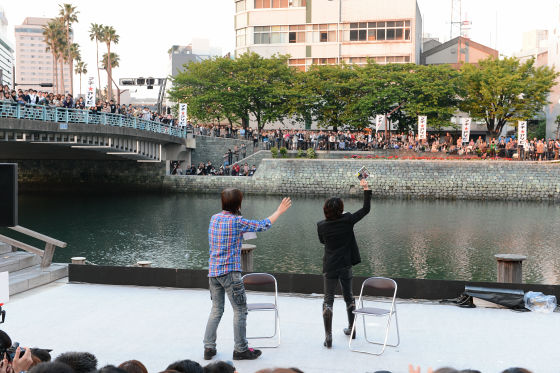 Mr. Nishikawa hands the disc. "Yoshida Ana is going to the airport by bicycle ... is that ... ...?" And dangerous netafuri.



"Everyone is serious and dangerous so stop tackling, it's not pretty!" Yoshida Ana. In the past, Yoshida Anna has broken after receiving fans' tackle.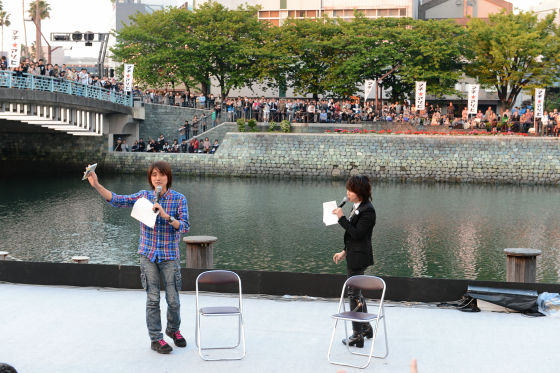 Such a talk event of 40 minutes ends like a big excitement.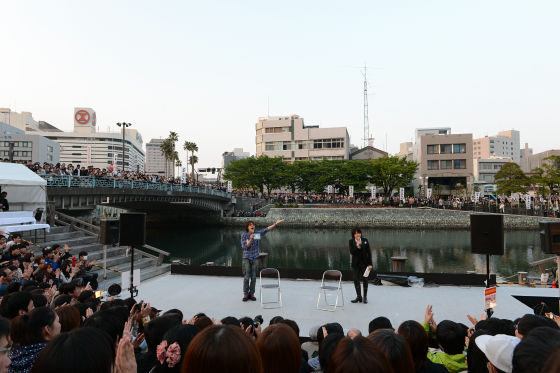 Before leaving Nishikawa was a big service to sing "deodorizing power ~".