Gundam fighting animation new series "Gundam build fighters trie" October 2014 broadcast started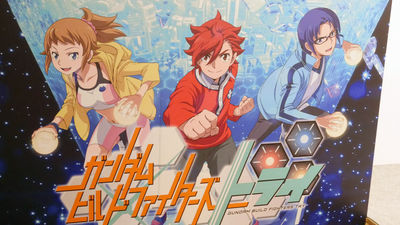 It was announced that the new series of TV anime "Gundam Build Fighters" "Gundam Build Fighter's Try" which customized and created your own customized Gundam Modeling Gunpla Battle started broadcasting from October 2014.

Gundam Build Fighters Try
http://gundam-bf.net/
© Sobo, Sunrise, TV Tokyo

This was revealed at BANDAI's "New Gundam Business Talks" held on Thursday, July 17. It is obvious that PV started flowing in October 2014.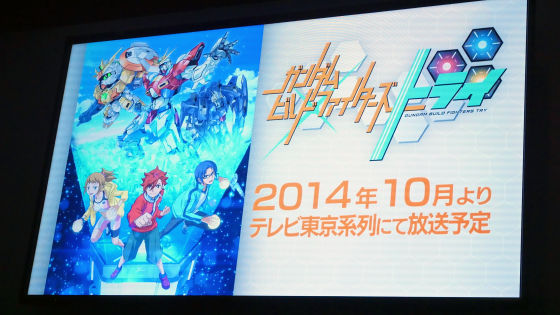 Sei, Rage pair world championship seven years after the championship is one stage transfer students appear at the Gundam Model Battle Department just before the departed Shenfeng Gakuen Gundam Model Battle Department team - the trial fighters' challenge begins!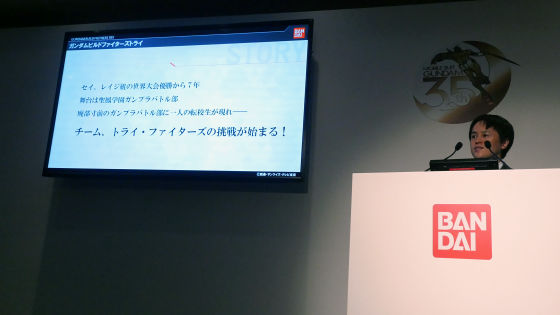 This time the battle is a 3: 3 team battle.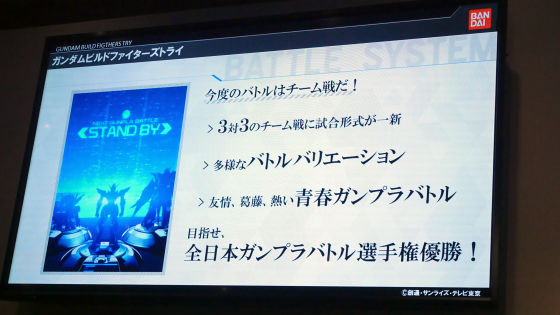 The main characters are Kousaka Yuma, Kamiki · Sekai, Hoshino · Fumina.



The gundams they use are Lightning Gundam, Build Burning Gundam, Winning Gundam.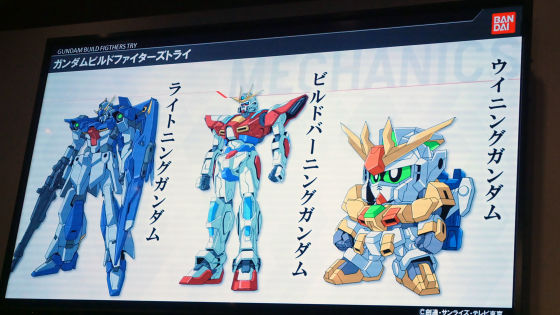 Director Shinya Shinkawa, series composition Yousuke Kuroda, character design Kenichi Onuki, character design cooperation Yasudasu Hito.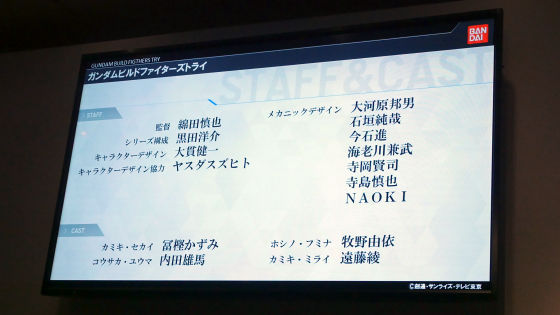 Key visual is like this.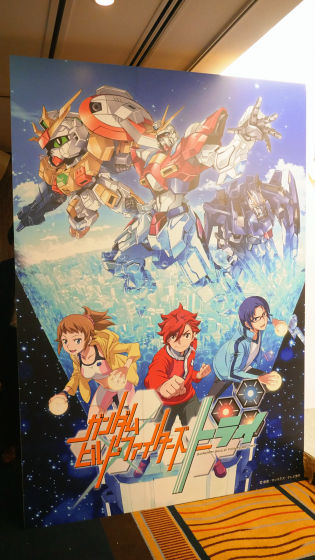 In addition, "New Gundam Business Opportunities" also introduced "Gundam G's RECONGISTA" which is scheduled to be broadcasted from October.

Mr. Katsuhiko Sasaki, General Manager, Hobby Division, Executive Officer of Bandai Co., Ltd., made the speech by the organizer. This year of the 35th anniversary of the Gundam, this year, the new work of Gundam series by the director Yoshiyuki Tomino "RECONGISTA of GUNDAM G", and the new series "GUNDAM Build Fighters Try" of the "Gundam Build Fighters" which ended broadcasting well in March 2014 He said he hoped that he could send him out and decorate his auniversal year.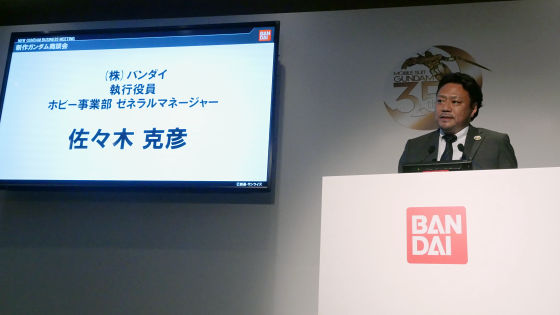 Next was Mr. Shin Sasaki, General Manager, High-end Works Division Director, Sunrise Co., Ltd.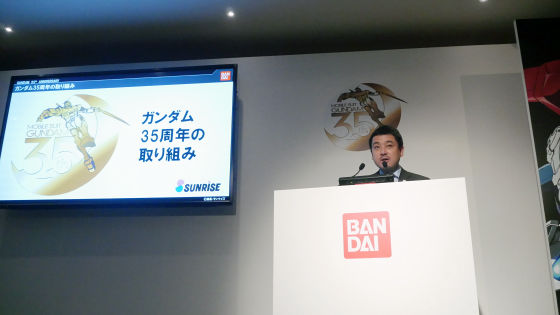 "Efforts of the 35th anniversary of GundamOne thing that we are going to do is to move the 18-meter Gundam in 2019, which will be the 40th anniversary of Gundam's "Gundam GLOBAL CHALLENGE". There are two types of real entertainment division that physically moves and virtual entertainment department that moves with visual reality using virtual reality, and we are recruiting from ideas about ideas from all over the world.



The other is "Osaka currently being held"Mobile Suit Gundam Exhibition THE ART OF GUNDAM".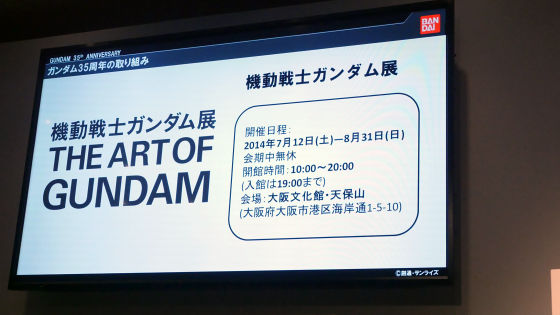 In addition, these three are produced as a 35th anniversary work. The left end was an event screening at the theater in May "Mobile Suit Gundam UC (Unicorn) episode 7 Over the Rainbow", BD has sold 250,000 books, and the number of views of pay delivery has also increased to a considerable number. The right end is "Mobile Suit Gundam THE ORIGIN" scheduled for the event in the spring of 2015. And the middle ...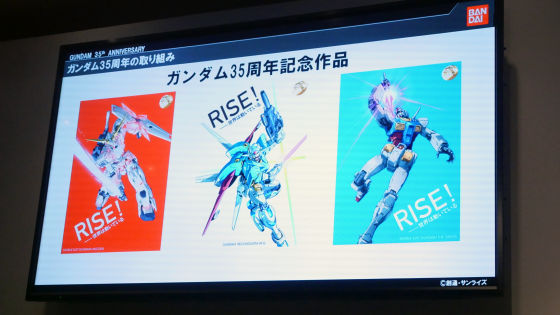 It is "Rakon gista of Gundam G".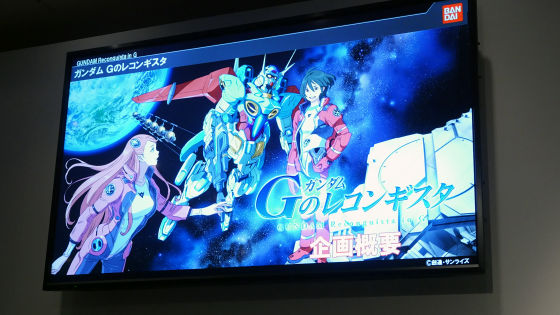 Gundam G's Reconquista
http://www.g-reco.net/

Firstly the latest PV was swept away.

http://www.b-ch.com/ttl/index.php?ttl_c=929&mvc=3_30872_0_0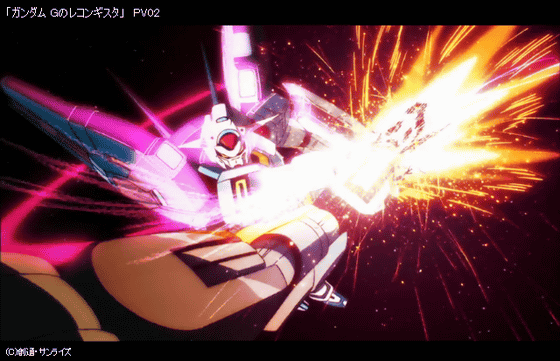 The era setting of "G's Rikon gista" is the next century Riggildo Century (R.C.) after the Universe Century (U.C.) where Amuro and Char has fought over. The stage of the story is the orbital elevator "Capital Tower" connecting the universe and the earth.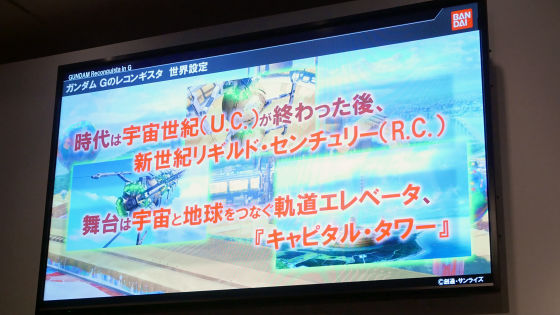 The main characters. Her main character Berry will face the secret of her birth as a result of encountering with Gundam.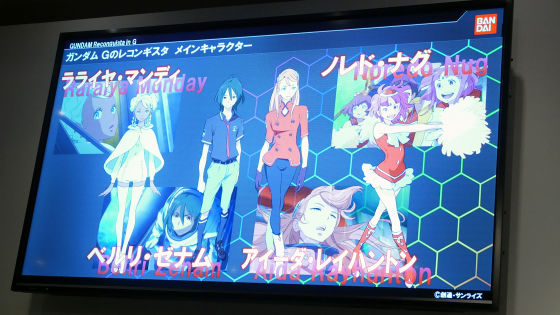 G - self who Berry boards. Seven types of backpacks, such as atmospheric packs and space packs.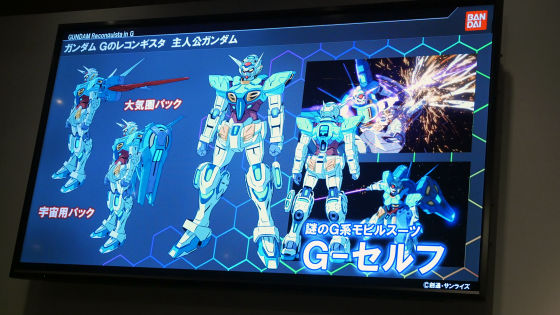 Mass production MS of ally, cut sea and lectene.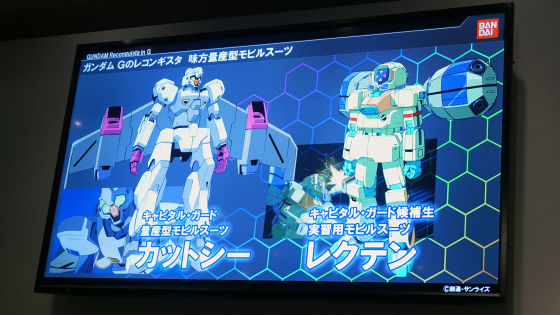 Pirate troops MS Montero and pirate troops mass-produced MS Grimoire.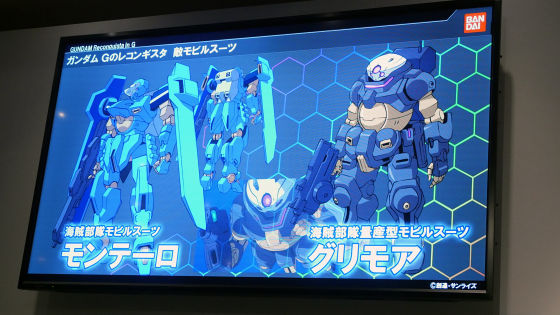 The director is Yoshiyuki Tomino who handles the Gundam series for the first time in 15 years, the character design is Kenichi Yoshida, the mechanical design is Atsuro Yasuda, Ippei Shikibu, Kimita Yamane.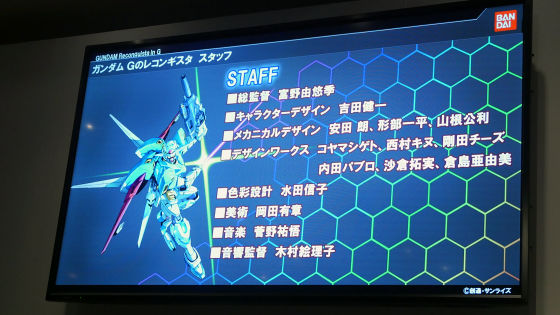 First of all, for the two weeks from August 23, the special preliminary version of the event was screened at 13 movie theaters edited from the first episode to the third episode. Next, from 8th September to 30th September special exclusive version will be exclusively distributed at the d animation store. From October, TV broadcasting will be done with the animation frame of the MBS series.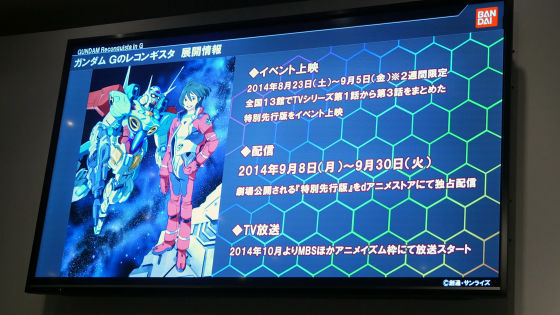 An exhibition hall was set up next to the presentation hall, and a new gundam was displayed at once.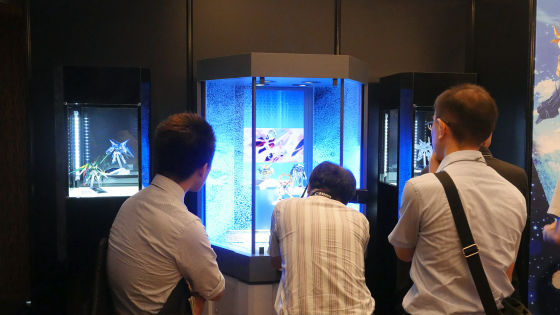 Main characters of "G's RECONGISTA"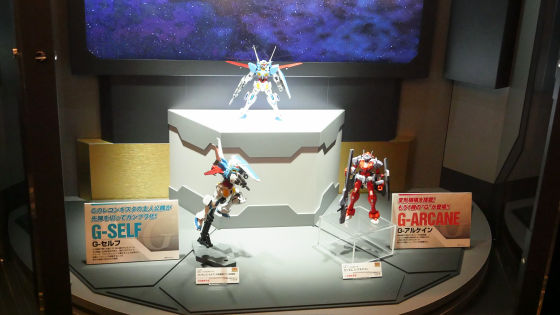 "HG 1/144 Scale Gundam G - Self (Packed Equipment Type for Atmosphere)" to be released in September, including tax 1728 yen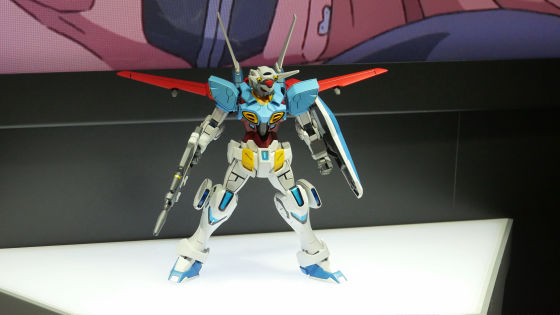 The constriction from the chest to the waist is large and the pose with dynamic feeling becomes like.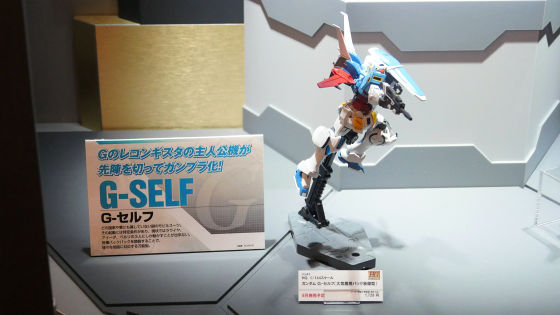 "HG 1/144 Scale Gundam G - Alkane" scheduled to be released in November, 1728 yen including tax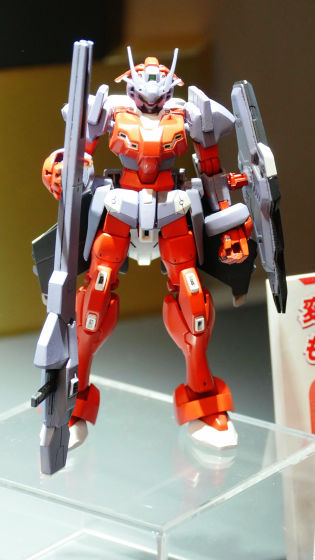 Equipped with high power anti-ship beam rifle. It seems to have a deformation mechanism.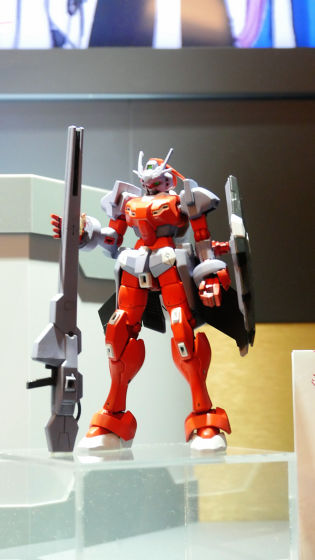 This is MS of pirate troops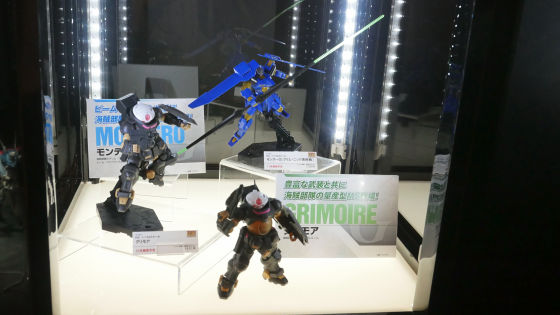 "HG 1/144 scale Montero (Crim Nick special machine)" scheduled to be released in November, 1728 yen including tax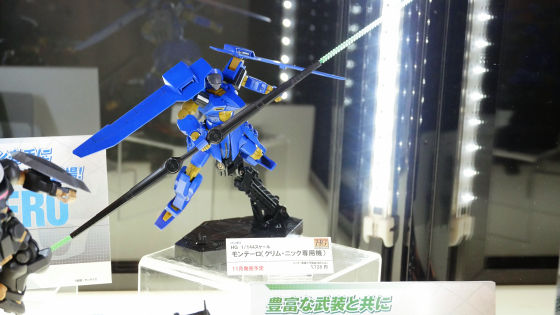 "HG 1/144 scale Grimoire" to be released in October, tax included 1512 yen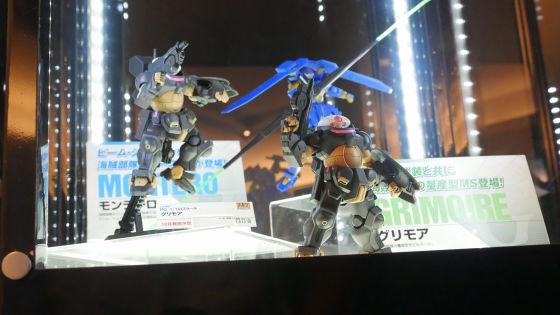 This is MS of "Gundam Build Fighters Try".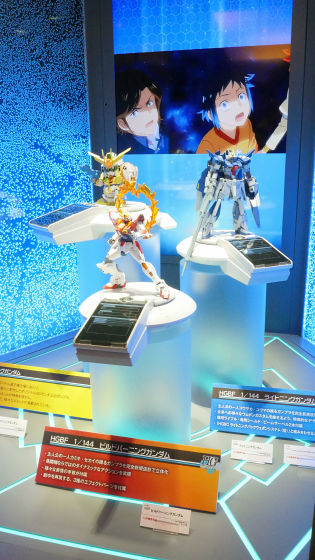 "HGBF 1/144 Build Burning Gundam" which three-dimensionalized the Gundam that the main character Kamiki · Sekai manipulates with a completely new modeling. Scheduled to be released in October, tax included 1512 yen.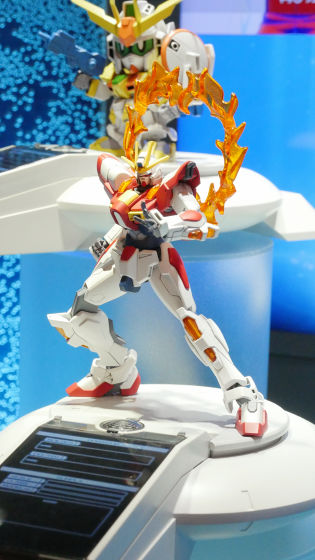 Dynamic action unique to fighter aircraft has been realized, wrist of various facial attachment. Three kinds of effect parts for reproducing in the play are also included.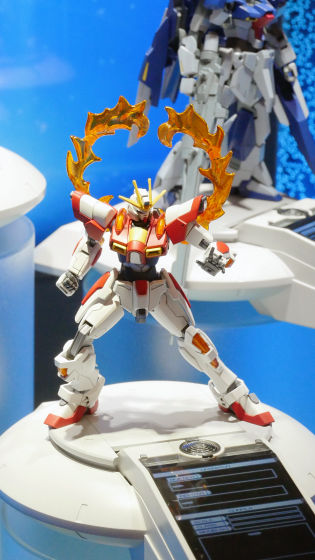 Gunpla operated by Kousaka Yuma "HGBF 1/144 Lightning Gundam" scheduled to be released in November, 1728 yen including tax. "Pack Weapon System (Tentative)" will be released in November, including 864 yen including tax. It adopts a characteristic design so that various weapon customs can be applied, and comes with 2 special rifles / exclusive shield / beam saber. Combined with back Weapon system will be in flight form.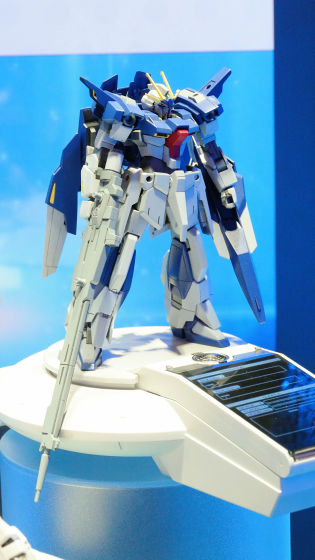 Hoshino · Fumina releases the original SD Gundam "Winning Gundam" newly created at the All-Japan Gundam championship appearance undecided · Price to be determined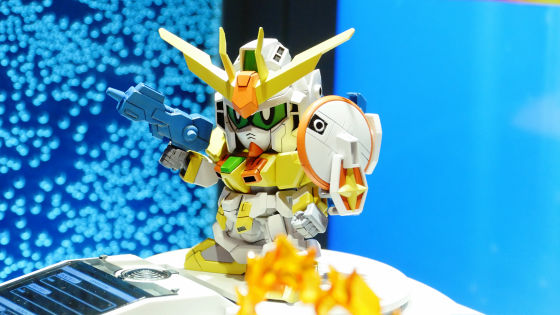 Utilizing the features of being SD Gundam, gimmicks such as transformation deformation are packed.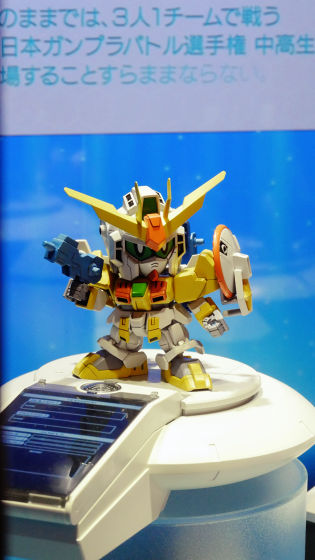 "HGBF Gundam Amazing Excia" scheduled for release on August 9 Tax included 1944 yen



"HGBF Gundam Fenice Liner Shita" to be released in September 1944 yen including tax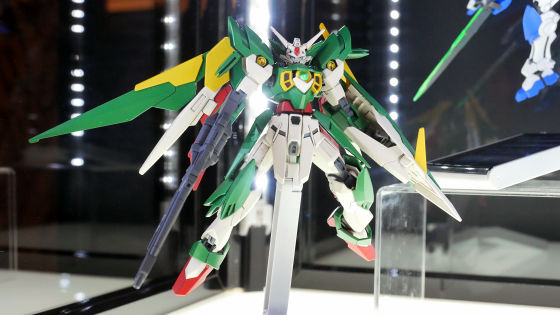 "HGBF powered gym cardigan" scheduled for release in October 1944 yen including tax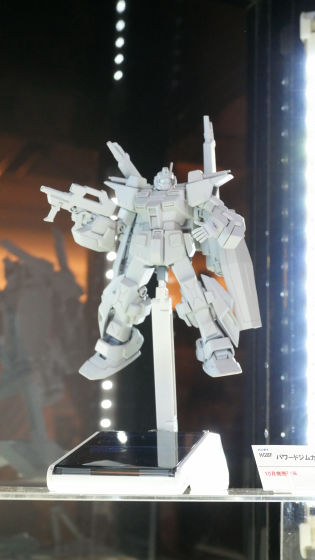 "HG BUILD CUSTOM POWERED ARMS POWDER" will be released in October 648 yen including tax