Fate / stay night animated Rin Route & "Heaven's Feel" Movie & "Fate / Grand Order" Started this winter etc. "Fate Project Latest Information Presentation" Report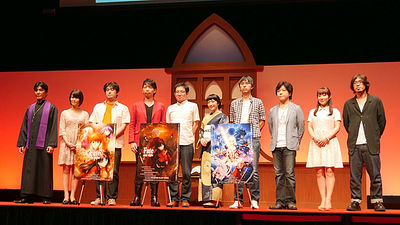 "Fate / stay night" is animated again by ufotable which made "Fate / Zero"About one year has passed since it was announced today Today · July 27, "Fate / stay night" and information on Fate related work will be released earlier than anywhereFate Project latest information presentation"Was held, and a lot of new information such as" Route of Fate / stay night "is" Unlimited Blade Works ", common name · Rin root is revealed.

"Fate / stay night" TV anime official website
http://www.fate-sn.com/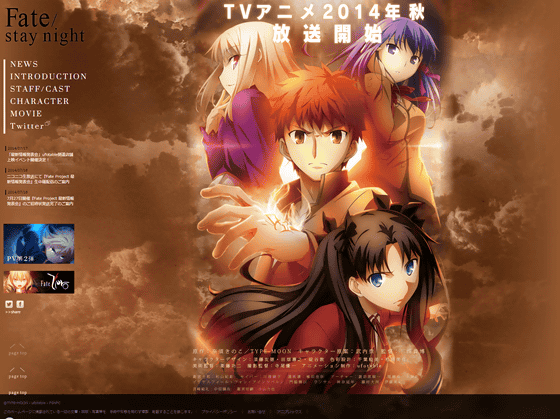 Fate Project latest information presentation broadcast live broadcast - 2014/07/27 18:00 start - NicoNico Live broadcast
http://live.nicovideo.jp/gate/lv185409408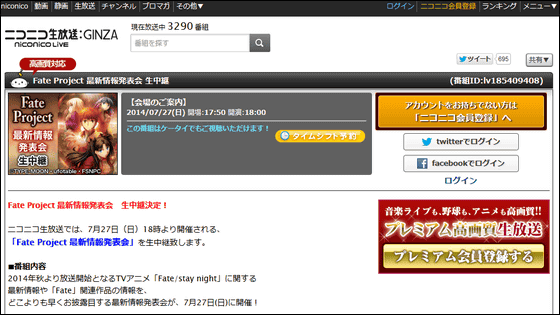 The place that became the venueShinagawa Intercity Hall.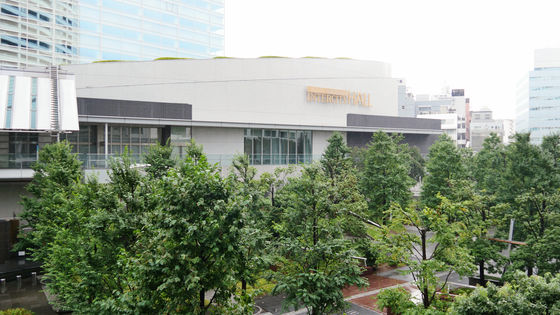 Inside the hall is the decoration of Kanpo church style, the magic team is being lightly flashed, the cursed emperor is emerging. 500 masters chosen by lottery out of over 5000 people filled the venue. By the way, this was the state before the person came right after the opening, at the time of the event the second floor seat was buried.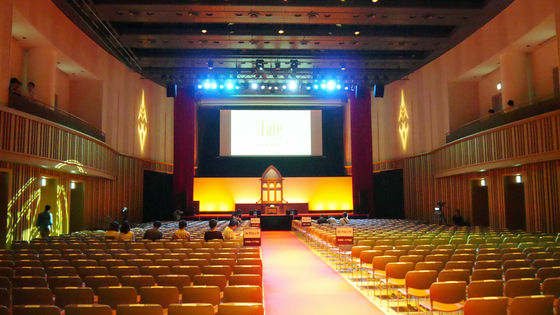 Three major projects were announced on this day.

◆ 1: Fate / stay night
The first one is a new "Fate / stay nightDirector Mr. Takahiro Miura, character designer Yukinori Sudo, Mr. Toshiyuki Tabata, producer Mitsuteru Kondo talked about sights and the like. Incidentally, progress was made by Joji Nakada who did the style of Shimonomi Father style, and Aniplex Yuuma Takahashi as Father Assistant. The event starts from Mr. Nakata's prayer.

The reanimation of "Fate / stay night" was revealed in July 2013, and it has been for a long while about what the content will be, but in today's event,The route is "Unlimited Blade Works" (Rin Route)Was announced.

BroadcastingOctober 4 (Saturday) 24 o'clockFrom TOKYO MX, Tochigi TV, Gunma TV, BS11 started. Distribution will start from 25 o'clock on the same 4th in niconico. By the way, with 2 cool works,Season 2 will be broadcast from April 2015 will be broadcastIt was also revealed.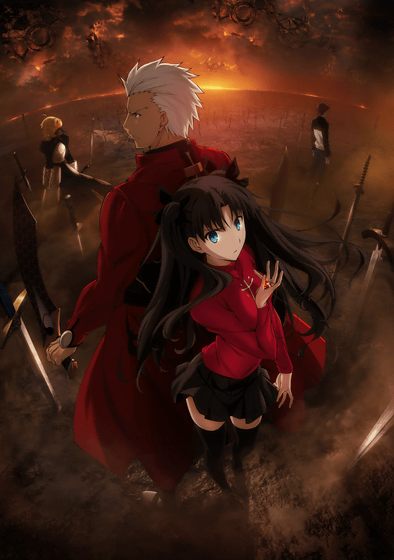 © TYPE-MOON · ufotable · FSNPC

In this presentation Noriaki Sugiyama, Mr. Noriyasu Shiroyama, Ms. Ayako Kawasumi as a role of Saber, Mr. Kana Ueda as Rin Tohsaka, Junichi Suwabe as Archer role, Noriko Shimoya as Mr. Tsugumura. Suwabe wore a bright red jacket like Archer conscious, it looked like he liked this new key visual.

This time, I have tried various stories about ufotable Kondo Hikari who is in charge of producing Fate / stay night. Since I have heard a story beforehand, information on PV etc has not been revealed.

GIGAZINE (hereinafter, G):
In ufotable it is "Sky boundary"Fate / Zero"We are in charge of animating TYPE-MOON original work, but how did you decide to take charge of" Fate / stay night "in the background?

Kondo Producer (hereinafter, near):
At the time of making "Fate / Zero" it was not decided to do "Fate / stay night" and I thought that "Zero is Zero". However, I felt that the expectation voice from users increased as I was making it. Just at that timing, Takeo Takeuchi of TYPE-MOON said "I want to see the image of stay night as the other side of Zero"PS VITA software "Fate / stay night [Realta Nua]"I was asked that I wanted to make an opening video of. The production period overlapped with the end of Zero, I thought "Impossible!" For a moment, but "TYPE-MOON 10th anniversaryI'd like to do it ", but it is no more saying" I will try hard to make it "(laugh)

When I looked out at the festival of the 10th anniversary, I had a terrible cheers and reactions. Actually, I did not have the story of "Do not make stay night" before, but while seeing the reaction at the festival, "If you can ask so far, let's do it." I felt obediently grateful. There are often opportunities for Mr. Takeuchi and I and Mr. Iwakamo of Aniplex to gather and talk with three people, but I told my feelings at that time. This is what happened as a result of the accumulation of everyone, including staff and fans, which I did not predict at the time of Zero.

G:
Although it was Fate / stay night of the ufotable version that was announced so, the PV of the first bulletin was about 3 minutes and received a long impression. When making PV, did you decide to make a long one from the beginning or did you need to lengthen it while making it?

Near
PV is premised on making it for seeing the main part or making it interesting. While clearing it, I also wanted to incorporate our process leading to "Fate / stay night". It is the back side theme. Although it is not directly related to the person who is watching, by connecting Zero → Realta Nua → stay night and the image, the background until the animation is decided is a picture.

The PV that will be released at the 27th event is a completely different thing from the 1st and 2nd bullets, so that you can see that "When you see this, it will become this route" in this way.

G:
There are things like "lie PV" and "lie trailer" that occasionally use pictures that do not come out in this volume, but what about PV this time?

Near
Basically I do not draw pictures for PV, I use the cut that comes out in the main part.

G:
It is this work that is told that "It's already working" and "Quality as a whole theatrical version" as gossip ★ Asobi etc, but is the material at the time of broadcasting a complete version? There is also a work that comparing the thing which was broadcasted with the video recorded with Blu-ray, there is a fixation ... ....

Near
It is not possible to say anything ...... We are trying to raise the quality as much as possible even just before delivering as a gender of the creator (laugh). That is the reason why the producer of the broadcasting station and the producer said "I'm OK", but I want to improve a little better here, because I think that I want to improve this.

G:
Is it a level that you can see and understand?

Near
It may be only places you do not notice by simply looking at it (laugh)

Q:
This time, while making "Fate / stay night", what was the point that was more difficult than expected in advance? Also, is there anything that worked out?

Near
By animating "Fate / stay night", what is the meaning to make "stay night" in this era, making "stay night of the present era". This was equivalent to the start, I thought about it. The staff members are accumulating experience steadily and I think that someone who entered at the "sky boundary", for example, became a drawing director, and I think that a better environment can be made. Also, as staff members continue to work on the work from Fate / Zero, the degree of comprehension to the work called Fate is steadily increasing. I think that it is where you are doing well.

G:
By the way, who is the most difficult struggling staff?

Near
Everyone has a hard time and I am doing my best. I truly think so. I think that it is approaching a good work.
Please look forward to the broadcast.

◆ 2: All AROUND Fate
The second project is "All Around Fate".

A story about the "fake" Holy Grail war that the artist Ryosuke Narita released as a story of April Fool's "Fate / strange fake」Was added to TYPE-MOON Ace Vol.2 as an official spin-off from its perfection, Novell was published from the Dengeki Bunko this winter, drew down by Shigeki Morii and commikalized simultaneously To do that.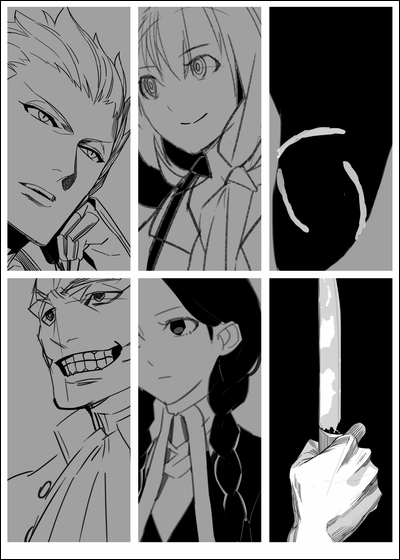 © TYPE-MOON

Also,Fate / kaleid liner Prisma ☆ Ilya Zwei!"BD / DVD Volume 1 released on September 26. Volume 5 of the original comic is also to be released on September 26, and there is a limited edition with original animation Blu-ray Disc in Volume 6 scheduled to be released on April 25, 2015.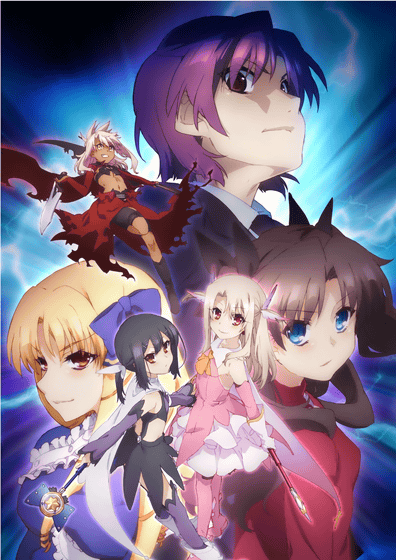 © 2014 Hiroyama Hiroshi · TYPE-MOON / KADOKAWA published by Kadokawa Shoten / "Prisma ☆ Ilya Zwei" Production Committee

"Fate / stay night" later on in the day, virtually the sequel "Fate / hollow ataraxia"PS Vita version will be released on 27th November. Among them, a completely new battle type tower defense game "Capsule Ban and" is recorded.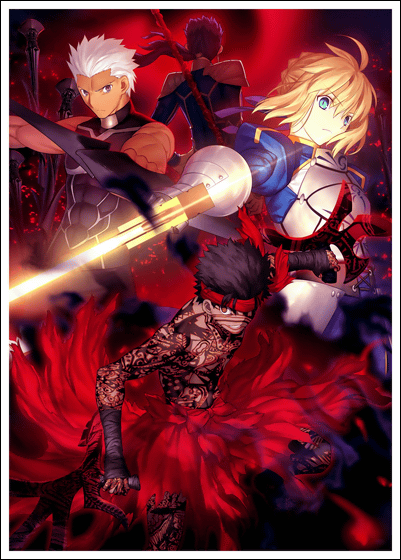 © TYPE-MOON / KADOKAWA

And the spin-off novel "Fate / Apocrypha" written by writer Tokuro Toje is scheduled to be released in the final volume of Volume 5 this winter. What kind of ending will the story end in a parallel world where the Third Grail War that was held more than 60 years ago of "Fate / stay night" was not performed as historically?


© TYPE-MOON

◆ 3: Fate / Grand Order
The last project announced is "Fate / Grand Order"is. There used to be a project that has been gone because of various circumstances such as "Fate Online Project" at Fate, but Fate / Grand Order is a project whose project rebooted. Inside is TYPE-MOON work as the biggest RPG for smartphones ever "It's a new" Fate "RPG".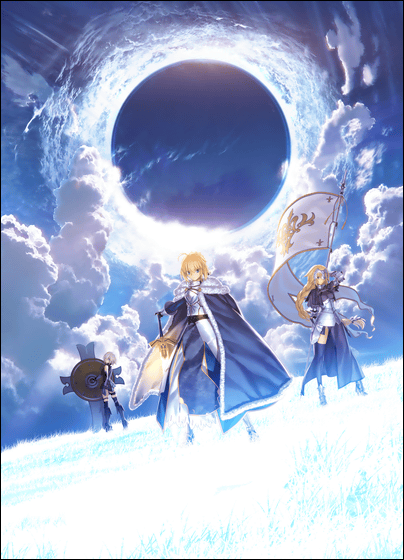 © TYPE-MOON / FGO PROJECT

Supported OS · Hardware is iOS 6 or later (iPhone 5 or later · iPad 3rd generation or later · iPad mini Retina or later · iPod touch fifth generation or later) and recommended terminals of Android 2.3 or later (※ compatible with 1 GB or more terminals and tablet terminals). DELiGHTWORKS is in charge of development, release will be scheduled this winter. Fee is basic free · In-app charges available.

◆ 4: Heaven's Feel
After the presentation of the three major projects, there was a message from Ms. Sugiyama and the event ended .... I thought again, again Mr. Nakata of the Father appeared, and for further desires master, I did it.

It became clear in the flowing movie"Heaven's Feel" (cherry blossom route) will be made into a theatrical animation. It was a video of an intro similar to Fate / stay night's PV 2nd bullet, so it was quiet at the beginning, but if you say "If I become a bad person, I can not forgive you" At the moment when it flowed, it became clear that Heaven's Feel sounded, a big applause sounded, and at the moment when it was revealed to be the theater version at the end, a cracking applause and cheering caught up.

"Fate / stay night" Heaven's Feel PV01 - YouTube


Although it has not been announced about the opening time etc, the 10th anniversary of Fate / stay night will be colored with TV animation "Unlimited Blade Works", theatrical version of animation "Heaven's Feel".

One piece of expert group. I can not keep an eye on the movement of Fate from here.