People making 'Fate / stay night' are staff talk events · Part 1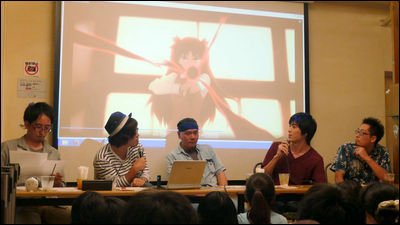 "July 27 held"Fate Project latest information presentationIn "Fate / stay night" which starts from the fall of 2014, it is planned to draw Unlimited Blade Works (Rin Route), that Heaven's Feel (cherry route) is going to be a movie, Fate (Saber Route) was announced that it will be free-of-charge for free for a limited time in accordance with TV broadcasting in the application game.

Then on the evening of August 9th for two weeks, the ufotable animation production staff talked about making a work was done for the first time after the announcement. From the director to director, movie inspection, photography, art and color design, people in the field who just produce animation. I was able to hear the raw voice.

Fate / Zero ~ stay night Cafe 【4th term】 summer vacation event 3 Fate / stay night TV animation production staff talk event
http://www.ufotable.com/cafe/tokyo/gallery/fate_zerosn_cafe/event.html#event_talk

·table of contents
【Part 1】
◆ Part 1: Director · Takahiro Miura & Character Design · Director General Director · Yude Sudo
◆ Part 2: Director, Takashi Sushara & Director of Screening · Takuya Aoki
◆ Part 3: Original Picture, Mitsuru Funai & Original Picture, Masayuki Kunihiro & Director, Toshiyuki Shirai
【Part 2】
◆ Part 4: Original picture · Masaharu Oyama & original picture · Masashi Takeuchi & original picture · Takashi Umeda
◆ Part 5: Video inspection · Yoshika Kameya & video inspection · Moe Tsuzuki & video inspection · Shinya Shimomura
◆ Part 6: Director of Photography · Yuichi Terao & Photographer · Kazuki Nishiwaki & Photographer · Masato Takizawa
◆ Part 7: Art Director, Koji Eto and Color Design · Mika Matsuoka & Progressing · Ryo Kondo

The place is in Nakano-kuUfotable cafe. From April 29th "Fate / Zero ~ stay night cafe"Was held and it was held as one of the events in that.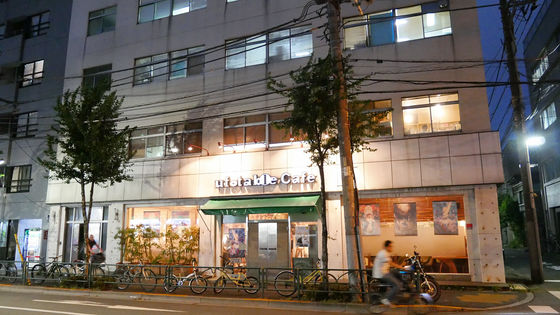 Talk space established in front of the screen of the cafe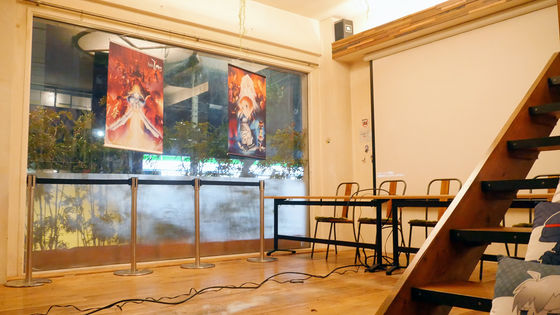 Also on the wall is a collaboration poster of 2014 Awaodori.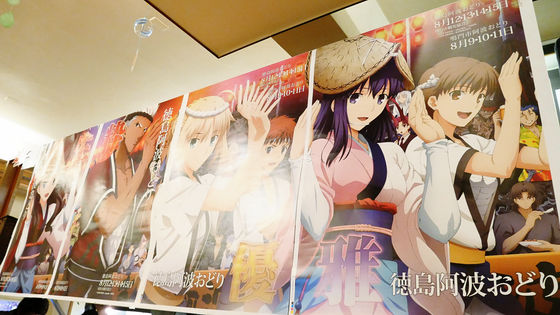 The inside became geezly, and the person of standing is also in a state so that it comes out.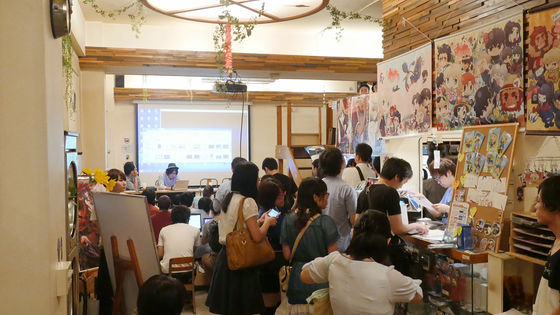 Yuuma Takahashi (Takahashi):
From now on I will start the talk event of "Fate / stay night" as a ufotable present. First of all, Mr. Kondo, can I ask you the reason for thinking about such an event and its feelings?

Kondo Hikari Producer (Kondo):
Whether the reputation of the presentation performed in July was good or not, the customers of ufotable cafe has increased very much. Although it is a very happy thing, it is not possible to bring the staff to the cafe of Kokura who was able to do this year very much, so this time we are conducting a talk event so that the situation is relayed by local cafes this time. With this, before I start the TV animation of "Fate / stay night", I hope to have someone know about us and look forward to October.

The state of the latest information presentation meeting held on July 27 was like this.

Fate / stay night animates Rin Route & "Heaven's Feel" Movie & "Fate / Grand Order" Started this winter etc. "Fate Project Latest Information Presentation" Report - GIGAZINE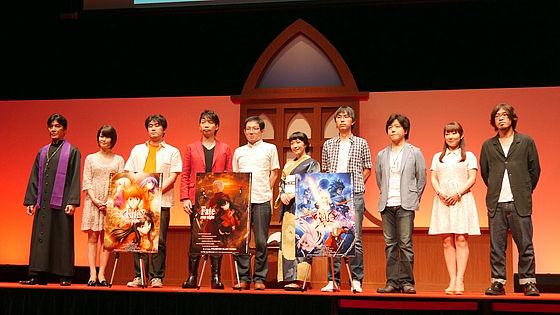 Takahashi:
Today I would like to ask you about what you are doing now by directing the staff to the staff including director, character design, original picture, photography, background, finishing etc. Everyone who just looks at the name in the ending, but actually you come here today.

Kondo:
Because they are doing the work one by one, it will become their power also to know that these people are making it, so that the quality of the broadcast from October will also rise I think that it is possible to do while hoping in expectation.

Takahashi:
After this, we will talk to the staff of seven sections for about ten minutes each. Even if each side talks for ten minutes each, it is scheduled to pass 23 o'clock (venue haha), but I think that we can go forward while considering that part. 1 Campaign, first of all, it is about the class that is quite strong Saber class.

Kondo:
It is so-called "main staff" that was also present at the recital.

Takahashi:
First of all, director Miura and character design Mr. Sudo, please.

◆ Part 1: Director · Takahiro Miura & Character Design · Director General Director · Yude Sudo
Director Miura Takahiro (Miura):
It is Miura who is doing the director of "Fate / stay night". Thank you.

Character design · Director general director Yude Sudo (hereinafter Sudo):
I am Mr. Sudo, character designer, thank you.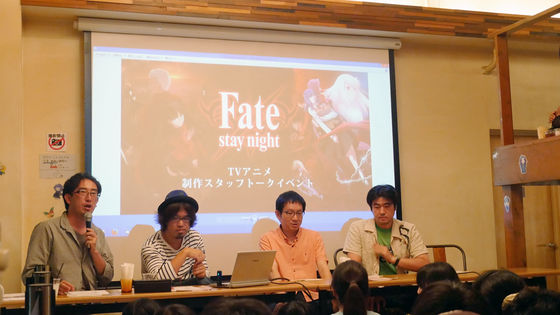 Takahashi:
Again, I think that you can remember everyone's face, name and position, and return. First of all, I would like to ask you what kind of work the two of you are doing.

Kondo:
Well, if you introduce me by myself because it 's hard to say that "I'm doing this kind of thing" by yourself, I'm director Miura. He works not only for the director but also for the storyboard. This time, stay night is also in charge of a story with a considerable number of stories by myself. Moreover, I think that he himself is the leading figure as a painter and it is reflected in the director check.

Miura:
Well, I do a lot of storyboards.

Kondo:
In "Realta Nua" announced in the game, since Miura himself cuts down the three routes, TV anime will go with that quality too! I believe.

Miura:
The work is much advanced from what I told at the July event. The opening is also full of work, the container has gone up and is in the drawing.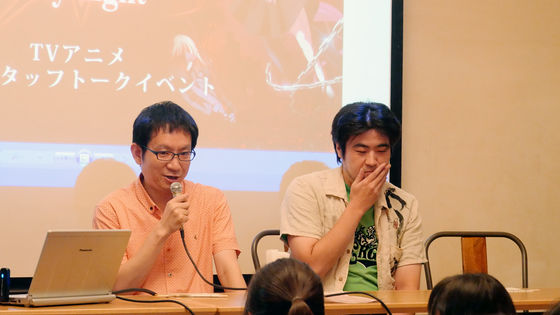 Sudo:
I am watching each story as a basic, drawing director. Since there were never many such stories going around this time, I hope the pace is good.

Kondo:
That's right, I am doing quite a bit now.

Sudo:
I'm working while consulting with Mr. Tabata "Do you want me to go here?"

Takahashi:
As the director's most recent work, are you doing the opening contest work?

Miura:
Well, the OP is also doing the production by myself. After that, it is a layout check of each story.

Kondo:
This time Miura-kun said "I want to see all cuts", so it's about doing "Total number of full-cut director checks" and checking all the stories, so a tremendous amount of cuts are coming.

Miura:
Depending on the number of talks, there are things that are being removed, but they are almost seen.

Takahashi:
Making Suto's work as a drawing manager as a matter of fact that production is progressing is also a matter of work, what kind of things are you doing now?

Sudo:
What I do is not changed everyday (laugh). I look at it, fix it, take out it, I do it every day. Because you can not animate without stacking ... .... It is one of the pleasure to see the amazing action cuts that come from time to time. "Oh, I'm going to do this kind of action! ... but, since the face is not similar, I will fix it" (laugh)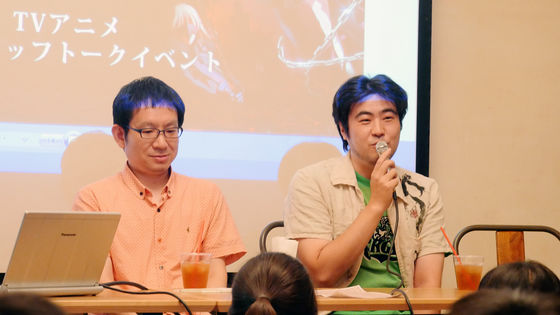 Kondo:
People who have good actions do not feel like copying their face much.

Sudo:
That's right ... why is not it? (Lol)

Kondo:
After this, there is also a block for that "person who is good at moving" next.

Takahashi:
I think that there are scenes, characters, cuts, etc. I would like you to expect from the fans you are seeing, but what point do you want to expect? First of all I need your help from the director.

Miura:
Well ... well, I think that you can look forward to being someone else who is spoiled because there are plenty of other things that seems to be spoiled.
As a little we can say that the handling of characters is quite different depending on the route "Fate / stay night". So, in Unlimited Blade Works, many characters that originally did not work so much are also given a number. ...... I can only say this for now (laugh)

Kondo:
Some directors take care of the scenario and the structure as a work, and some people take care of the character, either of which is Miura-kun's the latter. Character love is strong, so I am concerned about that place and "I want to put out as much as possible". That kind of interaction has been coming back and forth many times.

Miura:
I agree. Also, it is very helpful to have Nasu in the scenario strike (together), because I can ask you various things on the spot.

Takahashi:
For the scenario, is Mr. Nasu all attending? Do you have a discussion on the spot?

Kondo:
I have them attend all of them, discuss them, and have them self correct. Because it is the best walking dictionary about the work, I really appreciate it and I appreciate it.

Miura:
That's right. I think that with this original work this method is very good.

Takahashi:
From Sudo-san, what is the place that fans want to expect?

Sudo:
The directing surface is exactly what Miura said, but as a visual aspect, she tried to dress Shirou properly on her jacket (venue laugh). Since the time is February, it is indeed ... (laugh). I also give mufflers to uniforms.

Kondo:
You are wearing a lot of fancy.

Sudo:
I think that I want to give as much season as possible and as much as I can see from the picture.

Kondo:
Although the story is slightly misaligned, Archer that Mr. Sudo draws is awesome. I am watching the film far enough, but Archer is recommended.

Takahashi:
As Unlimied Blade Works, I'm looking forward to the activities of Rin and Archer, how about the actions of the servants?

Sudo:
Mr. Miura's way of making the action is Fate / Zero's method of "show workmanship", but in this stay night the contest is a flashy action, "it is flashy but shows workmanship" I aim for the expression above. Simply put, we do not rely on photography techniques, we aim to take action that kind of awkward way that makes momentum with actions properly, not momentuming by pulling the background quickly. In that case, the part that depends on the competence of a fine masterpiece is large, and I think that having staff who can draw this in the ufotable company leads to good things now.

Kondo:
In addition to the masterpiece man who has been active in the past work, young children have also grown up becoming a fighting force.

Takahashi:
In the part after this I will be looking forward to those young people who will also be at the stage. So, I think that two people from the director and character design main staff will give a word to the air again.

Miura:
Since I'll do my best I would like to thank everyone.

Sudo:
(At the time of the event) I am glad that these people are gathered in the work two months before broadcasting, I want to respond to expectations by all means. This time, the character design is done by Mr. Ikutani and Mr. Tabata, I work hard so I think that I would like to make a piece entertaining everyone.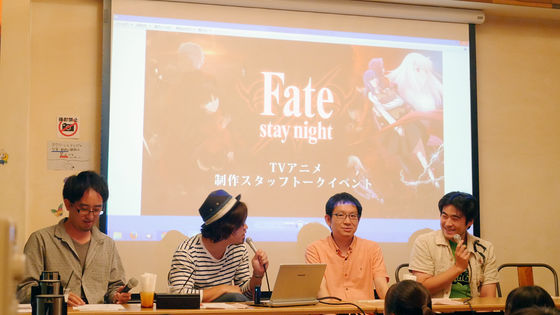 (applause)

Kondo:
Even if I was doing the work, I got a very reliable word and I thought that I was glad I was doing today.

◆ Part 2: Director, Takashi Sushara & Director of Screening · Takuya Aoki
Takahashi:
With such feeling, I think that you can go for each side, part or work. Next is Takashi Kushihara of the director and Takuya Aoki of the drawing director.

Director Takashi Kuwabara (hereinafter referred to as Suzuhara):
This time, I'm Mr. Suhara who will do some storyboards and directing with stay night. Thank you.

Kondo:
In supplementary explanation, it is 4 story, 9 story, 16 story, 18 story that Kushiro Kun had in charge of directing in Zero. It is a story that Lancer enters from the past, a story where Mr. Lancer goes to that side, and Kagitsugu's children's stories. This time, I entered a lot of stay night and I am working hard as Miura-kun's one arm.

Drawing director Takuya Aoki (Aoki):
I'm Mr. Aoki who is in charge of drawing director, thank you.

Kondo:
He is doing a section called video inspection for a long time. I thought that the movie was very important, I thought that the movie was very important, he supported it. We've done video tests of pretty heavy work so far. Which animation exam was heavy for Aoki-kun?

Aoki:
Personally I was the most heavilyGOD EATER BURSTSo, I was doing both animation inspection and original picture, after doing animation inspection after doing the original picture, it was almost simultaneous progress, so it was a short term, but it was tired.

Kondo:
This time, I am full of drawing director. In "Female / sister Yoyo and Nene," he also assisted me as a director of painting, and this time, "Fate / stay night" comes out right in front of me.

Takahashi:
To say very easily, the work "directing" is like a director for each of the stories. The drawing director is doing the quality control of the picture of each story, and it corrects the movement etc. including the expression. Miura - san and Mr. Sudo - san who have entered the event will see it further. It is the main staff for each number of stories.

Kondo:
In my opinion, they are middle-aged people. There is a main staff just before, and there are dark ments coming after this, so it's hard to get caught between them.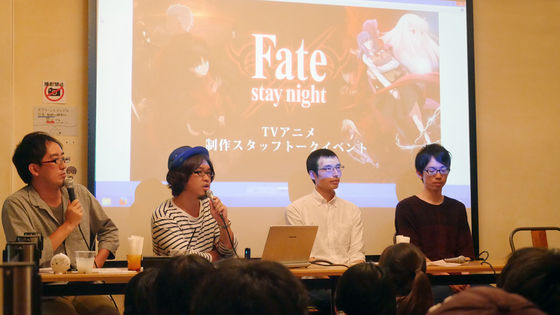 Takahashi:
Specifically, what kind of things are you doing on a daily basis?

Suhara:
Rough roughness of the layout which each manuscript drawn on the manga, something like the underlying drawing of the original picture is stacked in front of my eyes, checking it all and if there is something to fix it, If there is something to return as a retake, it is a task to return "please fix it". Speaking at a simple level, we will decide whether the front and back of the cut are connected, whether the character's play as a story is made as the personality whose character is properly living. After checking the items that came back from the rough and returning to the original picture, check the color when it comes to the image with the color, check it again ... After drawing the picture contest first and meeting with the original picture, just check it It is a work to do.

Takahashi:
In terms of the number of stories, there may be spoilers too, but how much are you in charge?

Kondo:
How many contests did you draw this time?

Suhara:
It is two and a half for now.

Kondo:
Two more will come in after this.

Suhara:
Since the seat is right behind Miura's director, if there is something, I will immediately ask Mr. Miura. Looking back and saying "Umm". However, since I hear it even if it is a bit small place, I think that there may be some inconvenience, but I have heard Mr. Miura thinking that it is better than not asking.

Takahashi:
Are there parts that you would like to have this scene look forward to by doing a storyboard staging and directing by yourself?

Suhara:
Er ... ... Is that where "that person" and "that person" fight?

(Venue lol)

Takahashi:
It's okay to say it in a safe range (laugh), are you in charge of the battle scene?

Suhara:
I am in charge when I am in charge. The rest is ... there is something I can not say (lol)

Kondo:
It is painful that you can not say the number of talks. So, how is Aoki-kun, who is drawing a word of excitement?

Aoki:
Yes, it is difficult. Rape is a character that is physically stifled differently from other characters in the first place and because it is not a character whose expression appears so much in the first half, as a picture, I should be able to express it with a little nuance etc. as a picture Although I am thinking about it, I am struggling hard.

Kondo:
What character are you drawing the most?

Aoki:
Shiro ... Is it ...?

Kondo:
What are you struggling hard?

Aoki:
Well struggling ... Well, Rin is not it ...? As far as Mr. Sudo came as a character daughter · samurai, this time Mr. Tabata can come in, so it is said that it is difficult to match at the beginning.

Takahashi:
As Mr. Aoki says that he is doing quality control of each story and being painted also as being a drawing director, is there anything that I would like you to look forward to in terms of pictures such as cuts and characters that I touched recently Is it?

Aoki:
I think that stay night is becoming a soft visual rather than the firm impression that seriousness at the time of "Fate / Zero" appears before.

Kondo:
Because Miura - kun likes that kind of thing, there are places like 'hot blood boy'. Today, I think that they are going to come here for this two people, I think that they are the two people who will support ufotable in the future, so I never thought that I wanted to remember my face and name.

Takahashi:
From now on I think that you can expect when Mr. Kuwabara or Mr. Aoki's name comes out in the ending of each number of stories. Then, please give me a message at the end.

Suhara:
By doing Unlimited Blade Works in 2014, is not it what you want to see at "Fare you make dare"? I am thinking on a daily basis. ...... so that you can look forward to it. Thank you.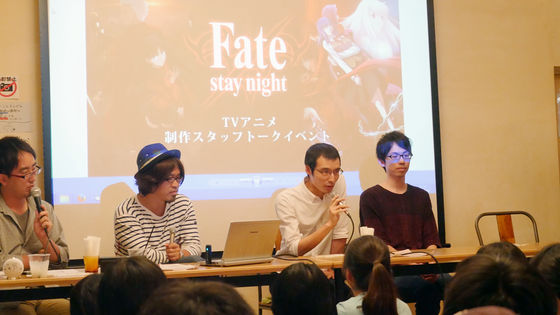 Aoki:
I firmly work hard to make the world view of "Fate / stay night" firmly by all the staff, so I hope you all look forward to it. Thank you very much.

(applause)

◆ Part 3: Original Picture, Mitsuru Funai & Original Picture, Masayuki Kunihiro & Director, Toshiyuki Shirai
Kondo:
Now, the strong camp will come next (lol)

Takahashi:
In the class, it is about Archer class. I would like to greet you, Mr. Funai Minoru, Mr. Kunihiro, and Mr. Shirai of the director.

Kondo:
This is a dense zone. Shiroi was introduced as a director, but I also do original drawings. First of all, please greet each other.

Original image Mitsuru Funai (hereinafter referred to as Funai):
It is small funai who is doing the original picture. Thank you.

Directed by Toshiyuki Shirai (Shirai):
This time, I am Toshiyuki Shirai who is doing directing and drawing director.

Original picture Masayuki Kunihiro (hereinafter, Kunihiro):
I am doing the original picture Kunihiro. Thank you.

Kondo:
Kunihiro-kun over there and Mr. Funai sitting here is the top member of the ufotable "moving shop". Let 's do what I did ... (While watching the movie) I'm Lancer who is spinning around and Kunihiro - kun.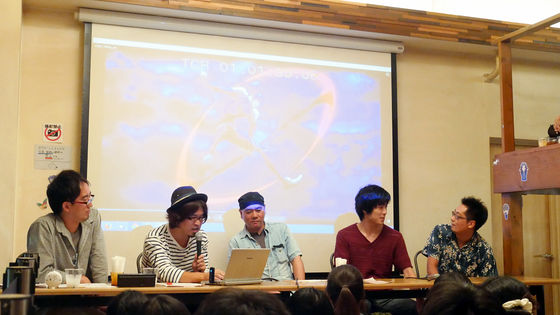 Kondo:
Kuniki - kun is the most troubling place here.

(applause)

In this part, I was able to actually show the movie using the OP with the time code on the site. The corresponding part is also included in the official promotion VTR published on YouTube so it can be checked with video. What is spoken here is the Lancer scene from 1 / 8th to 1 / 12sec ago of the following movie.

PS Vita 【Fate / staynight [Realta Nua]】 Promotion VTR - YouTube


Kondo:
So this continuing rider (promotion VTR 1 min 21 sec - 1 min 24 sec part) is Mr. Funai. Here also Mr. Funai, a promoter VTR 1 min 16 sec - 1 min 18 sec Rider VS Saber. Saber now (scene of Excalibur tightened OP # 1 not included in the promotion VTR) is also Mr. Funai.



Kondo:
Shiroi-kun, where did the layout do? Oh, I understand that it is a cherry tree root. (Playing the video while listening to the cut by Mr. Funai and Kunihiro) ... That ended.

Shirai:
It has already passed.

Kondo:
Say it.

Shirai:
It is a scene of a rider VS saber on the way. (Looking at the video) I do not know what it is (lol)

Kondo:
I brought a great team called that. As for the profile, Mr. Funai is the director of "The Third Chapter of the Sky Boundary". Also I am doing the director of "Toriko" made for the jump festa.

Funai:
Ah attrition ~, that.

Kondo:
Kunihiro kun did that character. So I am forming a combination once. Shiroi did this while "Fate / Zero Cafe"It was an animation director for me. Shiroi-kun is medium-sized, but these two are veterans. How about stay night, everyone?

Funai:
It is hard work to do.

Kondo:
It's okay, (everyone is watching these kind of things while running Realta Nua's cherry-blossom route OP) It makes me realize it's hard.

Funai:
This kind of cut is also serious.

Takahashi:
For example, what kind of character's action scenes and original drawings are being played in the latest? Although it may be difficult up to the number of stories.

Kondo:
You can not say much about Mr. Funai?

Funai:
There is such a problem such as spoileriness, so there is a place I can not say. That character gets awkward, like this, ah, it's like something like that (venue haha)

Kondo:
Mr. Funai has many scenes such as jumping and splashing.

Takahashi:
How about Kunihiro?

Kondo:
There is PV. (Watching PV) Here (Lancer vs. Archer) is so.

Kunihiro:
Well, this is not the case (as soon as Lancer switches to cutting from the side beneath it).

(Venue lol)

Funai:
I do not understand this, are not you?

Kondo:
No, no doubt, you will see "Oh, Oko Funai."

Funai:
so?

(Venue lol)

Takahashi:
While doing production as a TV anime, what kind of action scene would it be like to feel?

Kunihiro:
There was a place to worry about how to handle weapons and spears or dual-sword flowers. Because I am right-handed ...... I am left-handed and where I handle weapons I can not draw smoothly, there was difficulty.

Takahashi:
I see. What area do you work for Shirai-san?

Shirai:
My work is to check the action original paintings raised by Mr. Kunihiro and others according to the flow of the story whether the facial expression is correct or not. Kunihiro's something really only checks.

(Venue lol)

Kondo:
This Rin is in charge of Shirai-kun.

Shirai:
Well, Mr. Kunihiro is an original and I directed it.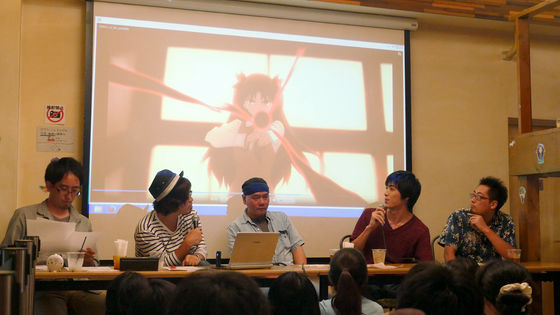 Scenes that come out in 6 to 7 seconds of the following movie.

"Fate / stay night" Character Another No. 1 CM "Tonzaka Rin ver." - YouTube


Kondo:
How is this cut?

Shirai:
It is difficult to handle Gand .... Although the screen shines when it glows, Gand is black, so I was troubled how to make it gorgeous when it glowed.

Kunihiro:
Well, I do not think much about processing (laugh), so please do it like Gando. Because I can not finish what I'm going through, I leave it to Shirai-kun.

Kondo:
How was it when drawing a container? If you are playing games, you know, but there are many.

Shirai:
Because the story itself was the first time, I was feeling for it. Almost, I do not remember that time.

Kondo:
But it was a Shiroi-kunishi-like story. Even at the Zero Cafe, I was doing only a little stuff.

Shirai:
Well, only the opening.

Kondo:
How about you, Shirai Funai's direction from Shirai-kun?

Funai:
I'm sorry, I do not know yet because I have not seen it yet (laugh)

Kondo:
I see, I have not yet. I have not written this number of stories, so I have not completed it yet. So, what is the original picture of Kunihiro when you look at Mr. Funai? A lot of my relationship has been getting longer, though.

Funai:
I am sure so, but because it is the way you do whatever you like, for the time being it is OK?

(Venue lol)

Kondo:
There is a magical relationship between the original man, man.

Kunihiro:
I, when I first met Mr. Funai, I still started playing paper, so I started from where there was a clear difference in power.

Kondo:
Can not you go and drink easily with Mr. Funai?

Kunihiro:
I can not do it, I am nervous.

Funai:
That is absolutely a lie (lol)

Kondo:
How about you, Shirai, sandwiched between these two people.

Shirai:
Will not you change your seat? (Lol)

Takahashi:
Thank you, as I said today, this member is playing the core role, such as action scenes and story effects.

Kondo:
As our company, we call a young team in front and behind, where there are no problems if these 3 people are in, but here is the Team Team. People who know that I do this work rather than "I am expecting", and if you do not do it, you are in trouble. Three people to have a winning number and a winning cut.

Takahashi:
If you see the name on broadcast from October, let's think "Oh, these three people."

Kondo:
Shiroi-kun is young, but he was engaged in 16 episodes of Fate / Zero.

Shirai:
I agree.

Kondo:
The place where Lancer 's eyes become black and tears flow, that is the number of stories that Shirai made a mission. Mr. Funai came out as a main staff. Kunihiro - kun 's typical work is the place where Kira Tung runs through the forest at "The Second Boundary of the Sky". Also, it is "representative manager" in the masterpiece whose name does not appear on the telop, although he got out of the way with CM, he did character design and drawing director. My manager is Miura-kun, so I think that you should remember. Well, finally one word at a time.

Funai:
All the staff are doing their best, so please take care.

Shirai:
This time, there is also the first contest, since I work myself staying every day, thank you.

Kunihiro:
I will try my best on a daily basis. Thank you.

· Continued
People who are making "Fate / stay night" such people, staff talk event · sequel - GIGAZINE