It turned out that Apple broke through Samsung and returned to No.1 in smartphone sales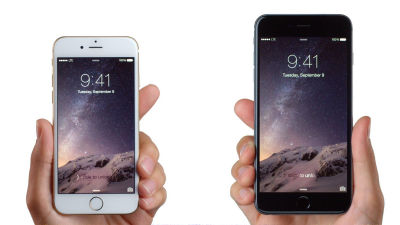 Research companyGartnerReleased the smartphone market research result of 2014. There, it is clear that in 2014 Apple had been recapturing Samsung 's No. 1 smartphone unit.

Gartner Says Smartphone Sales Surpassed One Billion Units in 2014
http://www.gartner.com/newsroom/id/2996817

This is statistics on smartphone sales volume and market share in 2014 and 2013. The No. 1 unit sold in 2014 for the full year is Samsung and Apple ranked second in Apple. However, from 2013 to 2014 Samsung has lost more than 6% market share, which shows that the difference with Apple has shrunk significantly.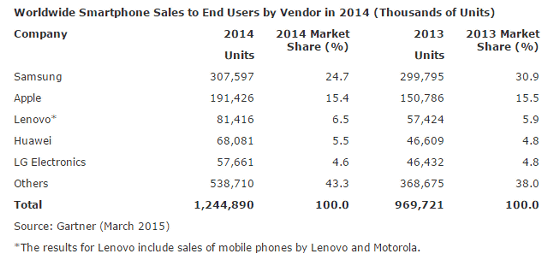 This shows the number of smartphone sales by manufacturer in the fourth quarter of 2014. In the fourth quarter of 2014, Apple finally caught Samsung and has become the top smartphone sales volume. The throne deprivation by Apple is the first in 2011 and beyond. It is clear that the cause of Apple 's big leap is in the great success of the iPhone 6/6 Plus, and the fall of Samsung lies in the slump of the Galaxy series.



The share by OS is like this. It is 80.7% and the second place on Android is iOS. Only Android expanded market share from 2013 to 2014. This is believed to be attributable to surely acquiring the low-priced smartphone market such as emerging countries.




According to Gartner, sales for Apple in the fourth quarter of 2014 rose by about 49%, while Samsung was in contrast to a decrease of about 12% in the fourth quarter of 2014. Samsung, which is perfectly defeated by Apple in the high-priced premium market, is currently undergoing a brutality by Chinese manufacturers such as Xiaomi (Shaomi) and Huawei even in the low-price market, and it seems that 2015 will be forced to face a tough fight as well.