When comparing the worldwide smartphone shipments of iPhone v. Android, each company, it becomes like this, where is the first place?

ByTsahi Levent-Levi

IDC of the survey company released results of survey of shipments of each smartphone and market share in the full year of 2015 and the fourth quarter of 2015. In the smartphone market, Apple and Samsung have long established a strong era, but new forces are growing greatly in 2015.

Apple, Huawei, and Xiaomi Finish 2015 with Above Average Year - Over - Year Growth, as Worldwide Smartphone Shipments Surpass 1.4 Billion for the Year, according to IDC - prUS 40980416
https://www.idc.com/getdoc.jsp?containerId=prUS40980416

According to a survey by IDC, shipments of smartphones for the full year of 2015 are 1,432.9 million units, an increase of 10.1% from 2014. In addition, shipments in the fourth quarter of 2015 amounted to 399.5 million units, which also increased by 5.7% from the same period of 2014.

The table below compares shipments and market share of smartphones by manufacturer during the fourth quarter of 2015 and the fourth quarter of 2014. Looking at "shipments (4Q15 Shipment Volumes)" and market share (4Q15 Market Share), Samsung and Apple are making a big difference below the third place as usual, but it is noteworthy that Huawei, third place and fourth place Looking at "Year-Over-Year Growth" at the far right of the table, Huawei is 37.0% and Lenovo is 43.6%, which shows that it has grown significantly from the same period last year . In addition, Apple has a growth rate of 0.4% compared with the previous year, and growth tends to be slower than other companies.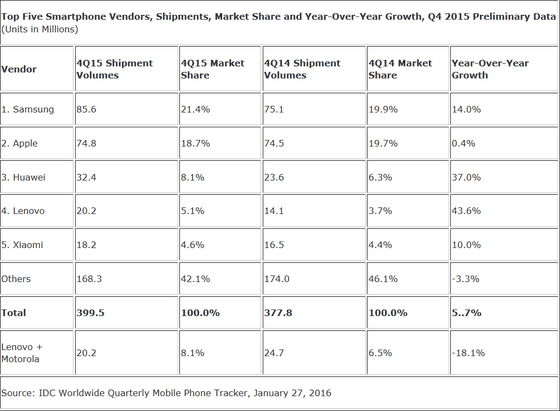 The table below shows the top five shipments of smartphones by manufacturer and market share for the full year of 2015. As in the fourth quarter of 2015, Samsung and Apple are two companies stronger than other companies in terms of shipments and market share, but Samsung recorded the lowest figure among the five companies with a year-on-year growth rate of 2.1% It is. Huawei showed the highest growth rate of 44.3% in the previous year. Lenovo is followed by 24.5%, Xiaomi by 22.8%, Apple by 20.2%.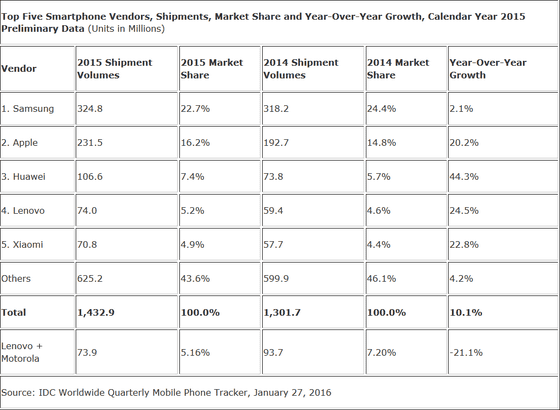 IDC's Worldwide Quarterly Mobile Phone Tracker (WQMPT) conducted the surveyMelissa Chau"Although the market share of smartphones is centered around Samsung and Apple, we see Huawei's significant growth in the fourth quarter and full year, we can see how much the company has grown as an international brand." did. Also, Anthony Scarsella of WQMPT said, "The fact that Apple recorded 231.5 million units in the full year of 2015 shows that demand for users' high-end smartphones is healthy.The company's 2015 Shipments in the fourth quarter were 74.8 million units, which is a record high, which means that the demand for Apple's latest technology-equipped hardware and software continues to be in great demand. " However,It is pointed out that the iPhone sales volume tends to slow downIt is also a fact that it is being done.

The following graph shows the market share of Samsung (red), Apple (Orange), Huawei (blue), Lenovo (purple), Xiaomi (green) from 2011 to 2015. Although Samsung will increase its share significantly from 2011 to 2012, it plunges from 2013. Apple will slightly lower its market share from 2012, but then it has remained flat and increased slightly from 2014 to 2015. In addition, Huawei and Xiaomi continue to expand their market share since 2011.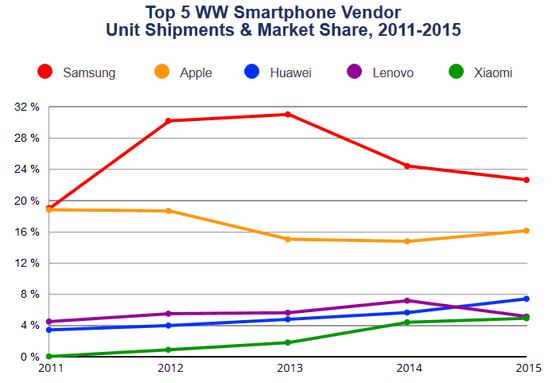 In addition, Silicon Valley venture capital "Andreessen Horowitz"ofBenedict EvansAccording to Mr. Graph published, the sales volume of Windows Phone is 11 million units in 2011 from 4 years to 2015. This is overwhelmingly small compared to iPhone and Android-equipped smartphones which sold approximately 4.5 billion units during the same period.

Sorry, Windows Phone. 110 m lifetime sales - 4.5 bn iOS & amp; Android phones sold in the same periodPic.twitter.com/CO03XWhYJg

- Benedict Evans (@ BenedictEvans)2016, January 28
in Mobile, Posted by darkhorse_log