YouTube starts streaming 360-degree movies that can be delivered by streaming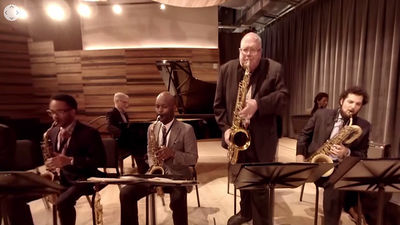 YouTube, which started supporting 360-degree movies from March 2015, is now available for live broadcast / live delivery "360 degree live streamingWe announced to implement.

Official YouTube Blog: One step closer to reality: introducing 360-degree live streaming and spatial audio on YouTube
https://youtube.googleblog.com/2016/04/one-step-closer-to-reality-introducing.html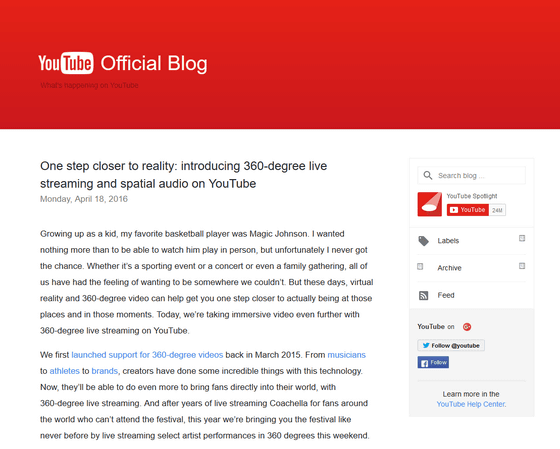 Now that anyone can easily deliver the video, it has become possible to feel the local atmosphere and excitement even if it is not there, but YouTube advances it further by 360 degrees I will carry out streaming with camera.

Already, the outdoor music festival "Coachella FestivalIn addition to being decided to distribute, YouTube and The Verge will join hands and the first 360 degree live streaming performance will be carried out on April 20, 2016.

The Verge will premiere YouTube's first Live 360-degree performance this Wednesday | The Verge
http://www.theverge.com/2016/4/18/11451170/first-youtube-360-video-live-stream-date-dawn-richard-verge

Please check the 360 ​​degree movie registered in the following playlist to see what kind of feeling it will be. YouTube recommends watching on smartphones.

Immersive Videos With Spatial Audio - YouTube


By the way, although it is easy to "record the recorded 360 ° movie", it is not easy to do "360 ° live streaming", but YouTube took six months to deal with this. However, in the 360 ​​degree movie, the corresponding spatial audio (spatial sound: the manner in which the sound is heard depending on the direction in which the image is viewed changes) is not supported at the current 360-degree live, 3D video Also not supported. Regarding this point, it seems that we plan to further support.

When viewing 360 degree live streaming, as with 360 degree movies, no special preparation is necessary for the user side, if you use the browser or YouTube application OK. Distribution side as equipmentRicoh · Theta, IC Real Tech'sALLie Cam, VideoStitch'sOrah 4iIt is said that.