YouTube will distribute warning text requesting suspension of service to video download site, considering legal measures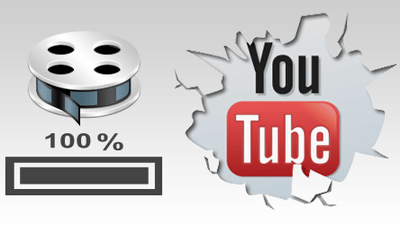 BySean MacEntee

YouTube, now a service that is indispensable to the field of music from music, is sending a warning to the third party video download site warning of cessation of the service offering legal measures in mind understood.

YouTube Threatens Legal Action Against Video Downloader - TorrentFreak
https://torrentfreak.com/youtube-threatens-legal-action-video-downloader-160530/

YouTube offers a wealth of free movie content, and over 1 billion users worldwide are watching it. There are many websites that can download such YouTube movies, "TubeNinjaOne of them is also. Although music labels are having problems storing content for free for a while, YouTube calls on third party download site to close the service in order to solve this problem.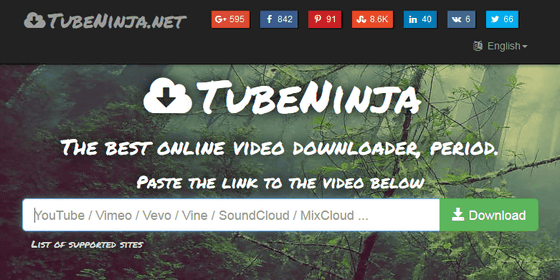 TubeNinja has received a warning from the legal department of YouTube, and the full text is published in TorrentFreak. The content is "TubeNinja has a function that allows users to download YouTube content, we will ask you to stop providing this feature." "On YouTubeTerms of serviceIt prohibits unauthorized download of movies, and the downloader function of the website (TubeNinja) violates the terms of use of YouTube and the API "is written.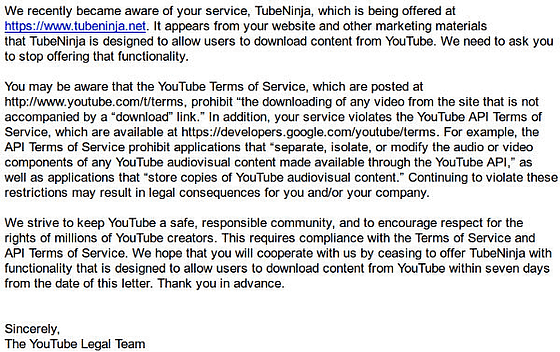 YouTube also requires that you stop providing the service within 7 days and also states that you may take legal action if you continue to violate the terms. Nathan, manager of TubeNinja, is not considering stopping the downloader function. Since TubeNinja does not use the YouTube API, I do not think that it is a violation of the contract. Also, Mr. Nathan stated "in our terms," ​​users are responsible for the legality of downloading content using the service. "

Also, Mr. Nathan mentioned that there are many things that have similar features in Chrome's extensions, and without addressing the extensions of Google's product Chrome at all, It is unbelievable to send a brute warning sentence. Also, since 2008 we have provided similar services "SaveFrom"KeepVid"ClipConverterMr. Nathan has confirmed that he has not done any action, "It is like if the manufacturer of the VHS recorder was sued by just recording the TV program on a video tape".

It is not the first time that YouTube did such an action, and also in 2012YouTube - mp3.orgAgainstI am sending a similar warning messageAlthough the service was not closed at the time of article creation, it seems that it did not do until legal measures.