I tried Nissin Chicken Ramen "Seafood BBQ" and "BBQ-style Curry Taste" that imaged the summer barbecue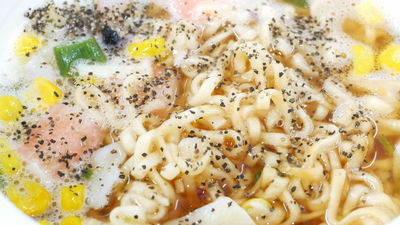 Nissin Chicken RamenAs a new product of the summer of the year, August 8, 2016 "Chicken ramen bowl BBQ style curry taste"From August 15, 2016"Chicken Ramen Big Cup with Seafood BBQ"Joined the lineup. Both are "outdoor style chicken noodles" concept, which is an image of a barbecue, but I tried it in indoor instead of outdoor.

"Chicken Ramen Bowl BBQ style curry taste" "Chicken Ramen Big Cup with Seafood BBQ" (August 8, August 15 Release) | Nissin Food Group
https://www.nissin.com/jp/news/5342

The left is "Chicken Ramen Big Cup with Seafood BBQ" (221 yen including tax), right is "Chicken Ramen Bowl BBQ Wind Curry Taste" (194 yen including tax).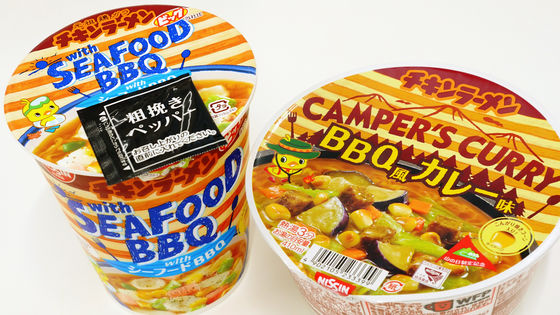 "Seafood BBQ" comes in a vertically long big cup, one cup 94 g. Energy is 403 kcal.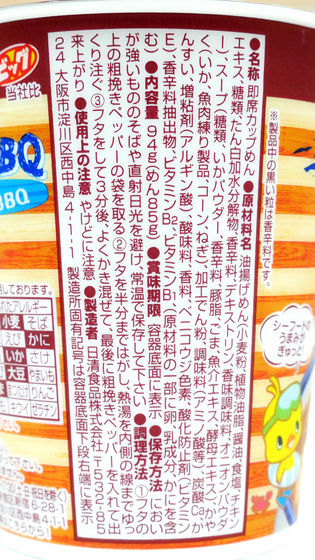 As a ingredient, squid, fish meat kneaded, breeze, corn, goat and etc are contained. Corn is characterized by a little "baked cone" like.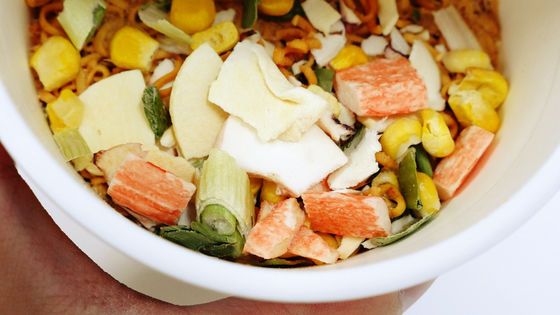 One "BBQ style curry taste" is 88 g and energy is 395 kcal.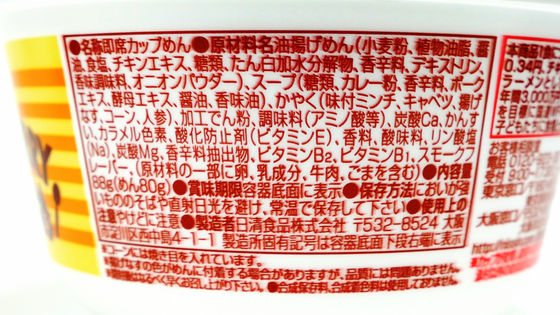 Because the powder soup and it is contained in another bag, it opens above the noodle before pouring the hot water.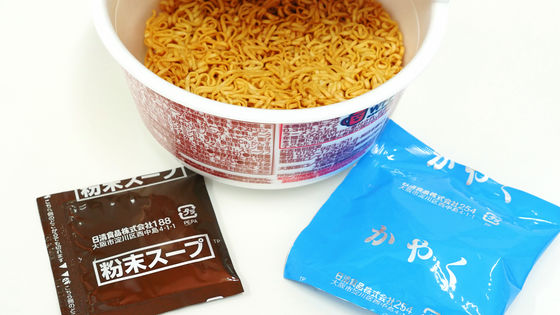 Ingredients that can be taken with minced flavors, cabbage, fried eggplants, corn, carrots, barbecues and curry are included.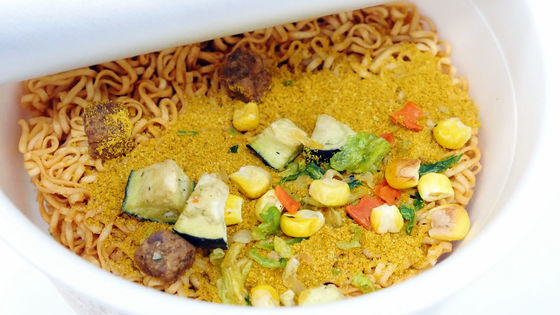 Pour about 410 ml each, and wait for 3 minutes.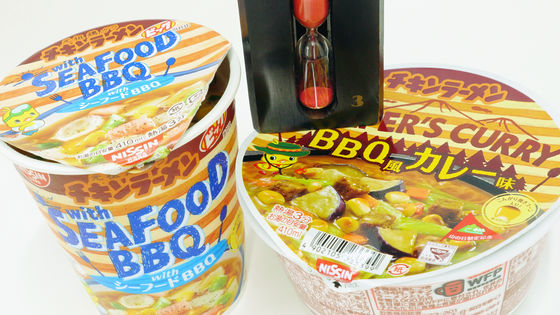 Seafood BBQ finally completed with coarse ground pepper attached. First of all, if you do not keep in mind that "It is irrelevant to seafood noodle", it will be surprised at the first mouth that "This is taste!" To the end this product is chicken noodles 'seafood BBQ' taste. If you dare to associate it, it seems like "It became like this when placing ingredients of seafood noodles on chicken noodles." Chicken ramen soup is a taste that will not change, but the soup that seemed to be slightly seafood is "a different from usual" taste clearly. To tell the desire, it would have been better if you had a scallopy umami, which is felt in a little seafood noodle soup.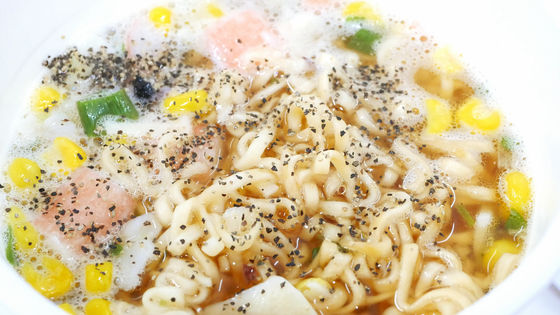 BBQ style curry taste is also irrelevant to "cup noodle curry". Speaking of cup noodle curry, although it should have poured a proper amount of hot water, it may have been raised from the soup after 3 minutes, but this item is not such a thing. Soup It is not a feeling like "curry" but a thin "curry-flavored soup", and if you expect something like "cup noodle curry" it may be beatiful. However, when I brought ramen to my mouth, there was a smell like burning, and it seemed like Barbecue likeness was certainly felt.