Twitter keyword mute on the timeline · Mute "egg icon" · harassed automatically by harassing tweets etc. harassed update tweets countermeasure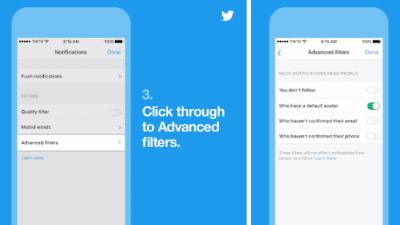 "To make users more secure," Twittter will update on a new safety aspect.

The latest improvements for safety | Twitter Blogs
https://blog.twitter.com/ja/2017/0302safety

◆ Automatic deletion of harassment tweets
Harassment Tweet The function to automatically detect harassment tweets and delete them without introducing damage to Twitter users will be introduced. According to Twitter an offensive tweetTwitter rulesBy an algorithm that automatically recognizes acts prohibited by, etc., The tweet which is being harassed makes it possible to view only followers and restrict the function of the account of the user who performs nuisance for a certain period of time. In addition, it is said that "the function restriction of the harassing account is done only when inappropriate behavior is clearly recognized", but "If there is a continuous violation of the rule, further measures may be taken It is said that account deletion andPrevent new account creation for BANed usersAnd other additional measures will be taken.

◆ Notification Filter
A filter is added that allows you to refuse to receive notifications from certain types of accounts, such as "egg icon" accounts that do not have images on their profile, accounts that have not been authenticated by email addresses or phone numbers.




◆ Keyword mute on timeline
Already,Ability to mute notifications of specific keywords such as words and phrases that you do not want to seeAlthough this keyword mute function was introduced to the timeline, it was introduced. Also, the mute period can be selected from "1 day", "1 week", "1 month" and "forever".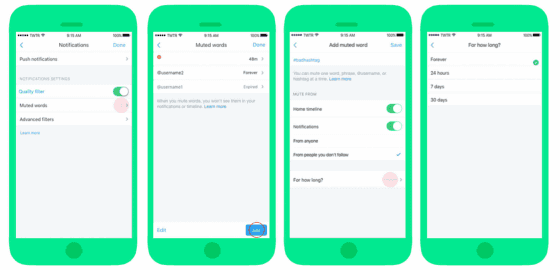 ◆ Contact from Twitter
The harassment tweets' automatic recognition & deletion function seems to reduce the opportunity for users to report harassment to Twitter from users, but it is said that Twitter will respond to reports received from users. In addition, it is said that even when Twitter is doing the necessary measures, it will be informed that "Does it report, but it is transmitted to Twitter?" "Anxiety that it corresponded? It is likely to become.



In addition, updates will be provided for each language in order for users to use Twitter with confidence. It will be introduced as early as several days to several weeks.