Warner Bros. is preparing a reboot of the movie "Matrix", Wachowski sisters are not involved at the moment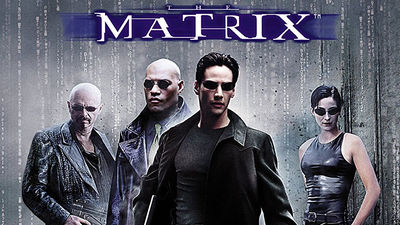 It has become clear that there is a talk to reboot (restart) the movie "Matrix" which was released in 1999 and called a topic in innovative visual expression. However, he served as a director / scriptwriter for "Matrix" "Matrix Reloaded" "Matrix Revolutions"Wachaw ski sisterHe seems not to be involved at the moment.

'The Matrix' Reboot in the Works at Warner Bros. (Exclusive) | Hollywood Reporter
http://www.hollywoodreporter.com/heat-vision/matrix-reboot-works-at-warner-bros-986292

Information sources tell the Hollywood Reporter that the reboot by Warner Brothers is "an early stage". The name of Michael B. Jordan who played the creed role of "Creed Champ's Man" and "Human Torch of" Fantastic Four "as a cast candidate were" Avengers "," Zakku of Incredibur Hulk "as a screenplay candidate The name of the pen is raised.

In addition to the "Matrix" series, "Matrix" is a new project planned by Joel Silver, a producer who worked on the "Sherlock Holmes" series, "Die Hard" and "Die Hard 2" for Warner. However, Mr. Silver said that he sold the rights of the "Matrix" series to Warner at 30 million dollars (about 3.4 billion yen) in 2012, and as a Warner, there is a difficulty in terms of budget management , Wachowski sister seems to be showing a difficulty in involving Mr. Silver who is not so good. Hollywood Reporter sought comment from Mr. Silver's agent, but he was not accepted.

Keanu Reeves, who played the leading role in Neo in the "Matrix" series, received a question about the sequel of "Matrix" in the interview of Yahoo! Movies UK in releasing the leading movie "John Wyk: Chapter 2" In a statement by Wachowski sisters who wrote a script and supervised it, why do you think "why do not do"? Although a person dies, a story does not die. People inside, "he says.

Keanu Reeves is up for The Matrix 4 (exclusive) [Video]
https://uk.movies.yahoo.com/keanu-reeves-is-up-for-the-matrix-4-exclusive-135415356.html

In addition, in "John Wyk: Chapter 2", Keanu Reeves and Carrie-Anne Moss who played the role of trinity in "Matrix" and Laurence Fishburnn who was role of Morpheus are co-starring. Is there a day to see these three people in some form in the "Matrix" again?


Neo. Trinity. Morpheus.# The MatrixReunites at the# JohnWick 2Premiere! (Photo by Todd Williamson for@ GettyImagesAnd Getty Entertainment)Pic.twitter.com/zdQJiAxug 5

- John Wick: Chapter 2 (@ John Wick Movie)January 31, 2017
in Movie, Posted by logc_nt