Summary of new functions of Google's next-generation mobile OS "Android O"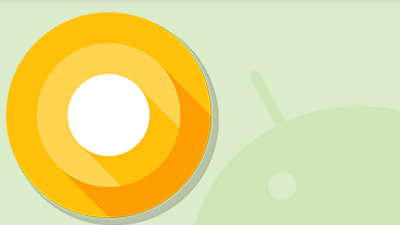 Google's developer conference "Google I / O 2017In the next Android OS will become "Android O"And the latest version of the preview version for developers"O Developer Preview 2"For entry terminals with an installed memory capacity of 1 GB or less"Android GoWe announced.

Android Developers Blog: What's New in Android: O Developer Preview 2 & amp; More
https://android-developers.googleblog.com/2017/05/whats-new-in-android-o-developer.html

◆ New in Android O
Android O seems to be developing with emphasis on evolving more powerful and easier to use than before.

# AndroidOWill bring more fluid experiences to mobile screens, along with improved "vitals" like battery life and security.# Io 17Pic.twitter.com/GdhPChWpAr

- Google (@ Google)May 17, 2017

The new functions revealed in Google I / O 2017 are as follows.

· Picture-in-picture
"Picture-in-picture" is a new function that is useful when doing two tasks at the same time, such as making a TV call to a friend while watching a recipe while watching a cooking movie while checking the calendar. It is designed to seamlessly perform multitasking on screens of all sizes.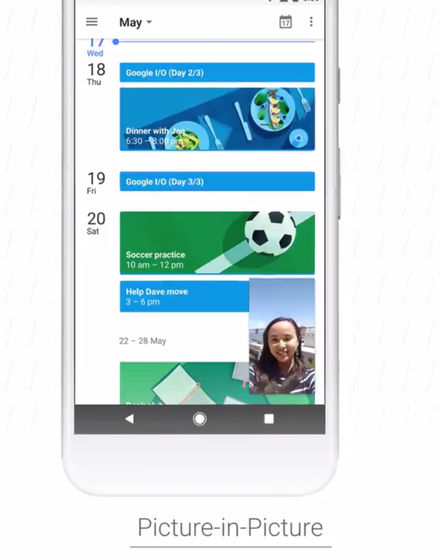 Like this, movies and TV calls are displayed on the lower right of the screen, so calledwipeThe same display method as called. It is in the state same as when the movie is displayed small on the bottom right of the screen with the smartphone version of YouTube application.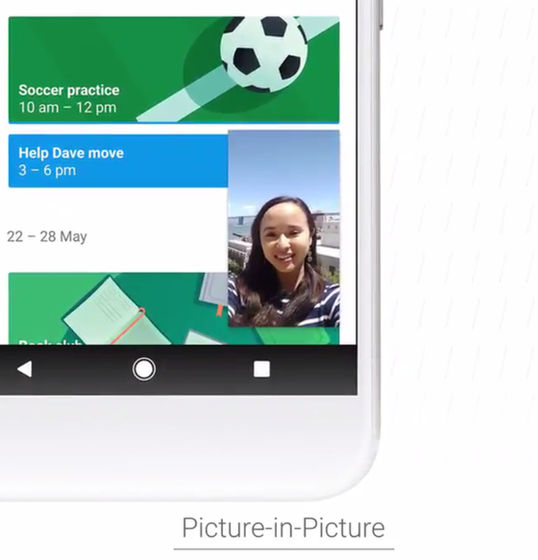 · Notification dots
"Notification dots" is a function to tell the user smarter notification of the application. When a dot appears on the application icon, hold down the application icon.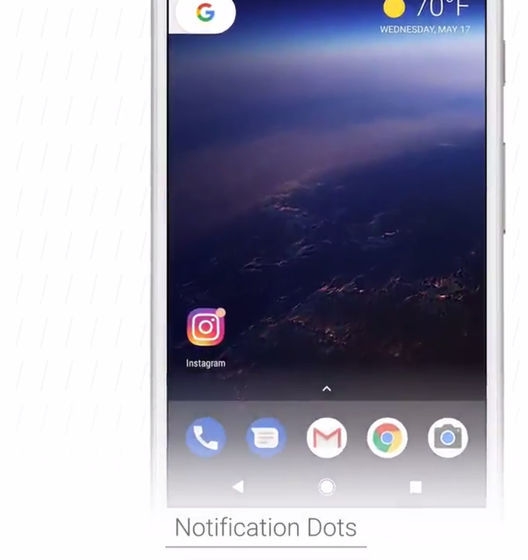 Then you can check the content of the notification without opening the application.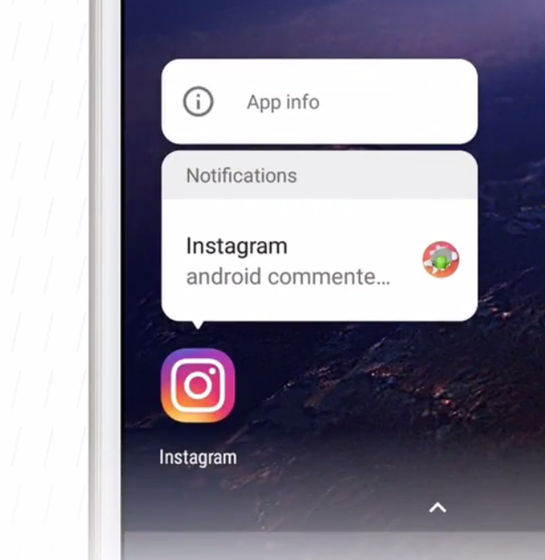 In most applications, the color of the dot will be extracted from the application icon.

· Autofill with Google
By incorporating Google Chrome's auto-fill feature (auto-input feature) into Android, "Autofill with Google" makes it easy to set passwords even when using a new terminal. With this function, AutoFill function will be available for most applications other than Google made apps.

· A new homescreen for Android TV
A new home screen screen is prepared for Android TV, which makes it easier for users to experience searching, previewing, and viewing content using applications. Multiple channels can be published with one application, and the user can manage which channel is displayed on the home screen.

You can see how the new home screen screen of Android TV looks by seeing the following movie.

New Android TV home screen - YouTube


· Smart Text Selection
Android O's "Smart Text Selection" is a function that makes it possible to copy and paste addresses, URLs, telephone numbers, e-mail addresses, etc. smarter. It is also possible to recommend actions appropriate for the selected character string, for example, if you select an address, it will display a button for searching on Google Maps. This will save you the trouble of opening Google Maps and pasting the copied address information and searching.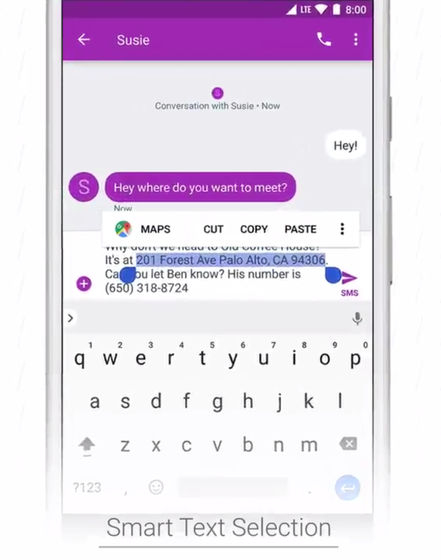 · TensorFlow Lite
Android uses machine learning to improve user experience, and developers also announced "TensorFlow Lite" to make machine learning available in the same way. It was designed to apply TensorFlow, an open source machine learning library by Google, to mobile application development and will be offered for developers with maintenance updates scheduled to be held in the second half of 2017.

· Others
In addition, the pictogram design is also new.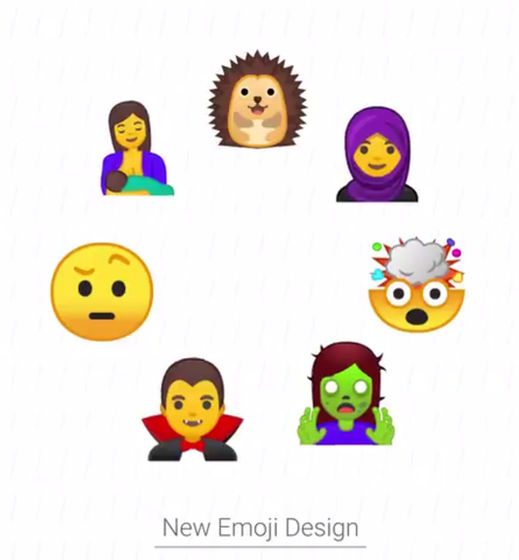 In addition, an Android Vitals project focusing on extension of battery duration, shortening start time / graphic rendering time, and optimization of stability is underway. In addition, Google announces support for the new programming language "Kotlin".

The overseas news media The Verge has released a movie that is touching a terminal equipped with Android O on site, and you can see how each function works by looking at this.

Android O first look - YouTube


◆ Android Go
In addition, Google also announces "Android Go" for low-cost devices with less than 1 GB of memory. Applications such as "YouTube GO", "Chrome" and "Gboard" are available, and each application is devised to reduce the amount of memory, storage and mobile data usage. Also, on Google Play, apps that match machine power will be highlighted, which means that you can improve the user experience. The concept of Android Go is clearly a terminal for emerging countries announced in 2014 "Android OneIt is the same as ", but what kind of terminal actually will be released is not disclosed at the moment.

In addition, in the Android One sold for about 10,000 yen, what kind of terminal was lineuped can be understood by seeing the following article.

The latest Android smartphone "Android One" of about 10,000 yen finally released - GIGAZINE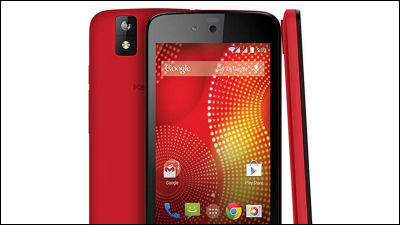 In addition, the Android Go terminal is scheduled to ship in 2018 with 1 GB or less memory.

◆ O Developer Preview 2
"O Developer Preview 2", which is the first public beta version of Android O, has also been released, and it can be experienced with devices such as Nexus 5X, Nexus 6P, Nexus Player, Pixel, Pixel XL, Pixel C.