The city of Ueno is full of pandas blessing the birth of "Shan Shan (Kaka)"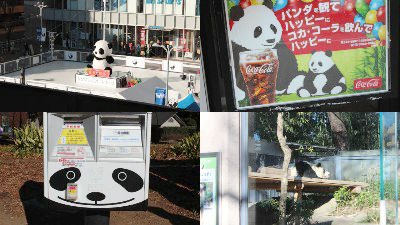 It was full of panda before that, but due to the birth of a baby panda "Shan Shan", panda was overflowing in Ueno. The unprecedented panda fever. To see Shan Shan in Ueno Zoo, you need a ticket, but you could see it if Lee Lee of a father Panda without disclosure restriction. It was the first panda in my life.

Hello,Takuya SAITO who did a round around the world by bicycle @ CharridermanBut, only Panda was surprised. In Chengdu (Chendu) of Sichuan Province, China there are facilities that can fully enjoy pandas, but unfortunately they have not visited. That's why I'm just recruiting my longing for Panda. But as early as the New Year, my panda fever is filled. I spent a whole day full of pandas.

◆ Town of Panda
October 2016, after the tripI gave my first lectureThere was Okachimachi next to Ueno. After that I stayed for several months in addition to the share house in Komagome, Minami senju near Ueno, so I often visited Ueno. When you walk through the streets you will see something striking of panda. Ueno was a city that loves panda. The panda I found at that time is here.

Yodobashi camera store entrance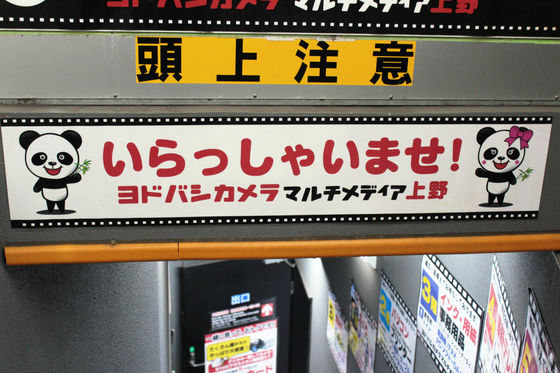 Store in shopping district



Announcement under construction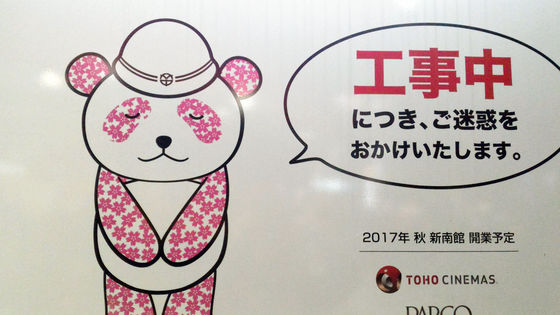 In the sidewalk tile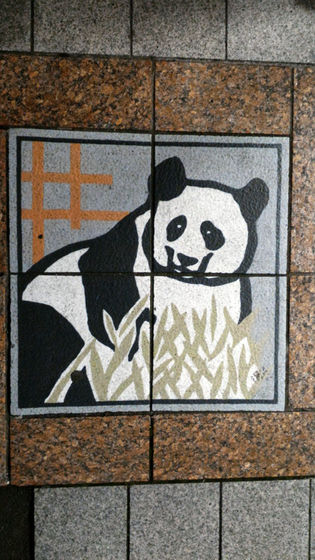 Subway's home door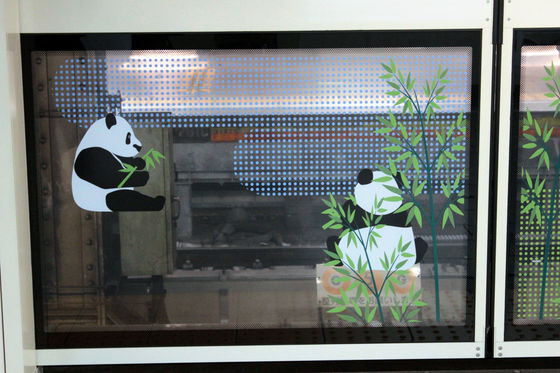 And, from December 2016 to March 2017 Panda Pepper had been installed at Ueno station of Tokyo Metro Ginza Line.Also at the end of 2017 tweetAlthough it became a topic, panda pepper is not installed after the birth of Shan Shan. The current Ginza Line Ueno station has been refurbished and the atmosphere has changed a lot.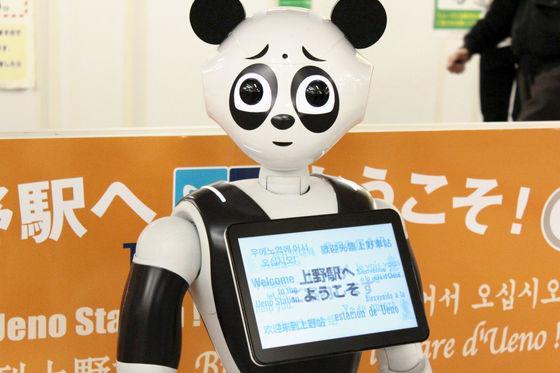 Here is an article where I visited Panda Pepper in December 2016.

I met "Pepper" of panda appearing at Ueno station of Tokyo Metro - GIGAZINE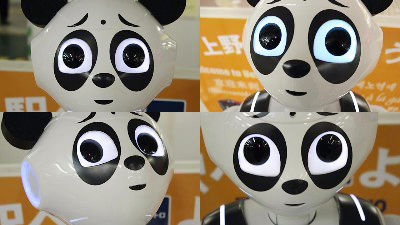 In order to unravel the history of Ueno and the panda, in 1972, "Kang Kang (Kang Kang)" "Lan Lan (Ran Lan)" came from China to mark the normalization of Japan-China diplomatic relations. As soon as it is released at the Ueno Zoo, Japanese get absorbed in the panda. Let's see the adorable appearance at first sight On the first day of public release a long line was made. Even so, it was only 50 seconds that I could see it for 2 hours. With such a panda boom, the panda becomes a symbol of Ueno.

The panda's baby will be released at Ueno Zoo in the same way as this time, the third example after "Tong Tong (Children)" in 1986, "Yu Yu (Yuyuu)" in 1988. "Lee Lei (power)" and "Shinshin (true truth)" who is the mother and father of "Shan Shan (Kaka)" are the baby given in 2012, but it was only 7 days to live.

◆ Panda Atsume
I knew that Ueno is a city of panda. Since baby panda Shangshan is born there, it is easier to imagine that it will be crowded with pandas, I thought I had to do someday.Chicken for Guatemala,If it is Thailand Elephant,If you are Taiwanese bear, Japan alsoKumamoto is KumamonsoMikan in EhimeAnd, I have been looking for to find the domestic and foreign matter without theme. If so, Ueno would be a panda. The traveler's blood made a fuss. No longer my life work. And travel around to walk the panda determined Ueno of the city, will be such a result. It was a visit on January 2nd soon after the opening of the New Year.

When I got off at Okachimachi station next to Ueno station, I confirmed a big panda from my home. I made a very good start.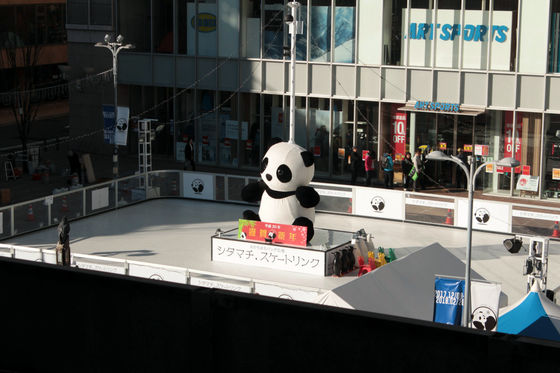 To JR Shogunate cho South entrance station square (Okayama Town Panda Square)Sitamachi. Skating rinkIceless skating rink appeared. Arrange a huge panda object in the center of the link. Children 's helmets who slide links are also handles of panda, and they are wrapped in a blissfully happy feeling.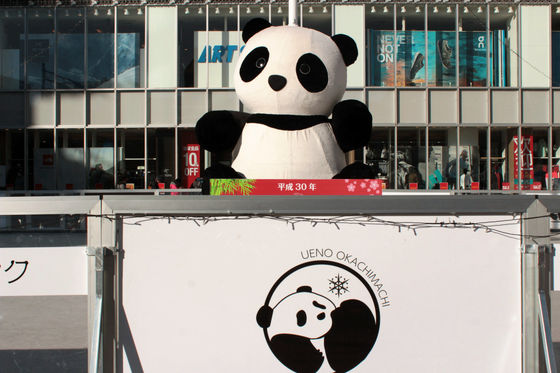 Two Panda statues like the Lords of this square were placing a Tuski blessing the baby panda.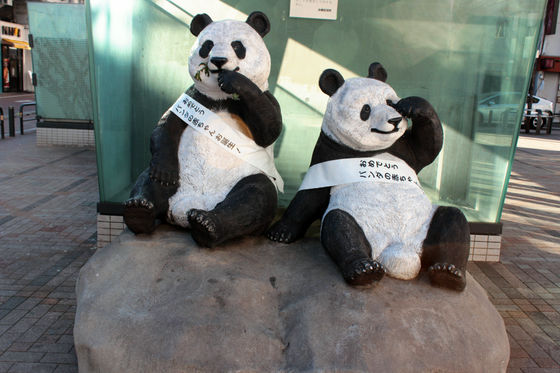 There is also a panda on the slope continuing to the bicycle parking space under the open space.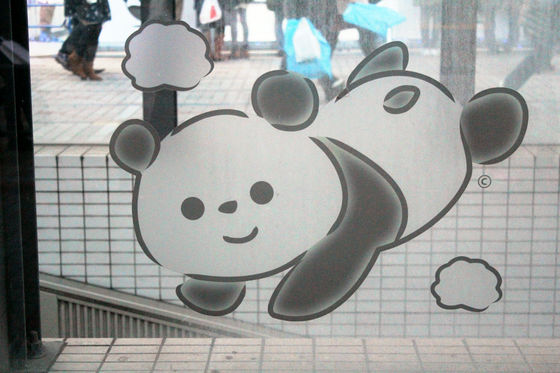 We had a panda gourd between JR Okachimachi station with this Panda Square and Ueno station.

Panda is also a greeting to the New Year. It looks like a zodiac of this year.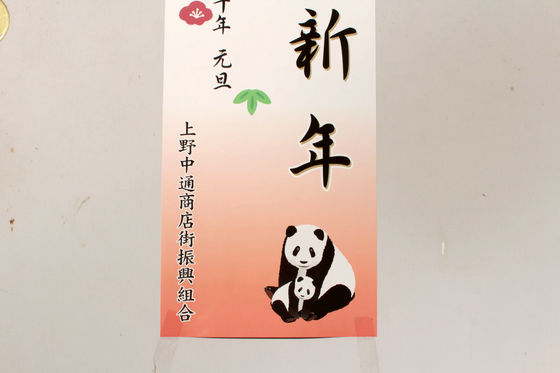 Panda'sTopiaryWestern style bonsai. There is also a baby panda Shan Shan.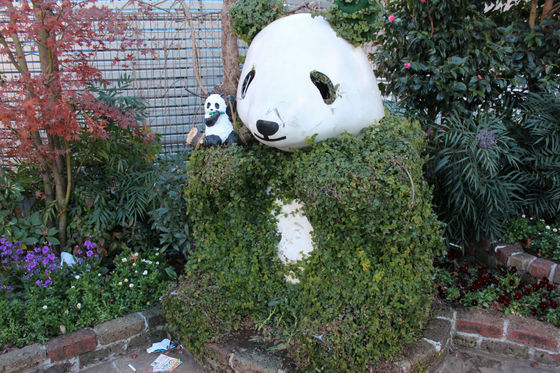 Information on the parking lot.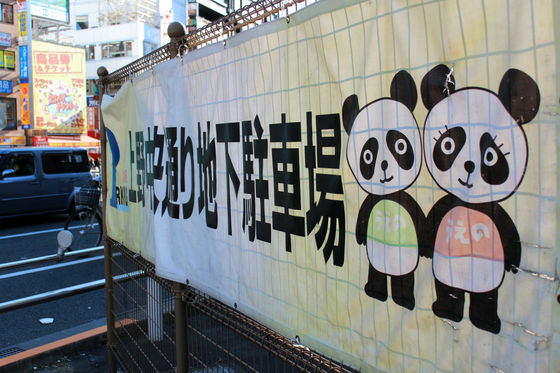 For vending machines, Taro Ward's character "Taito-kun"Panda version.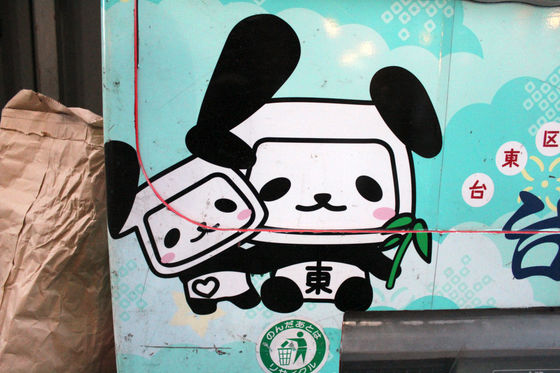 It is also found in the lantern of the shopping area.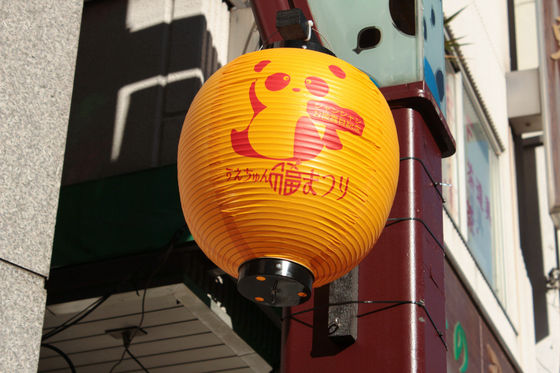 A handmade poster of a drug store.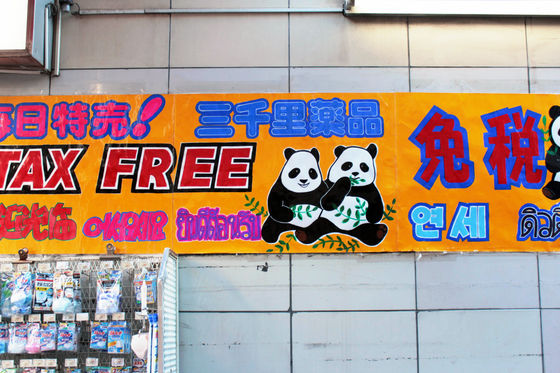 The notice board of the coffee chain store is chalk art.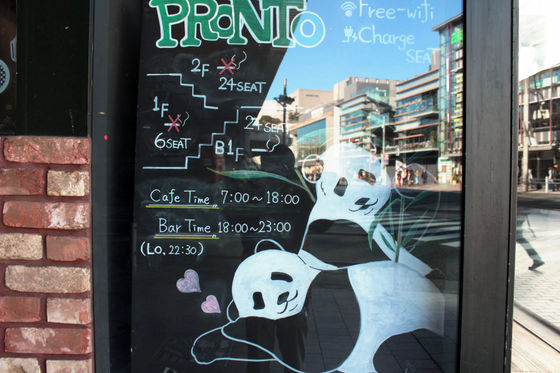 Panda that I like beer in the window of the bar.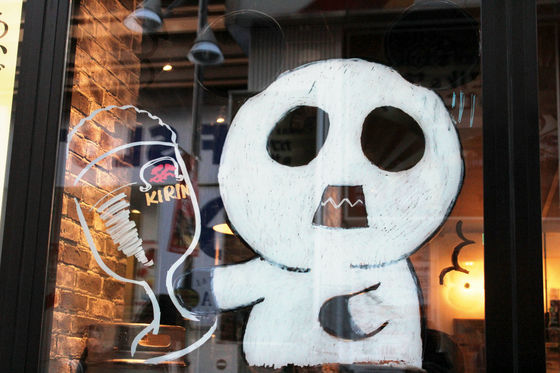 That Coca-Cola also advertised with a panda.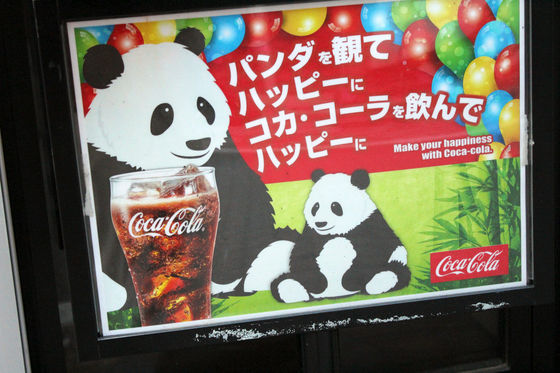 Panda stuffed animals are mixed also in sample shops at restaurants.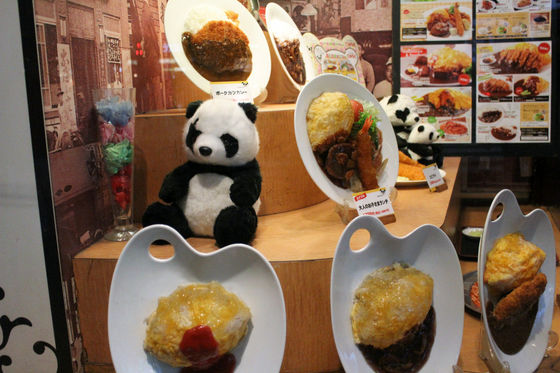 A lovely panda was a stronghold in the show window of a commercial facility called Atre.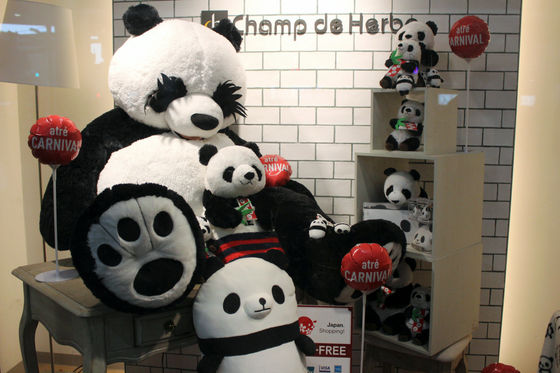 Tokyo Nana, a souvenir confectioner, also developed a new product using a panda.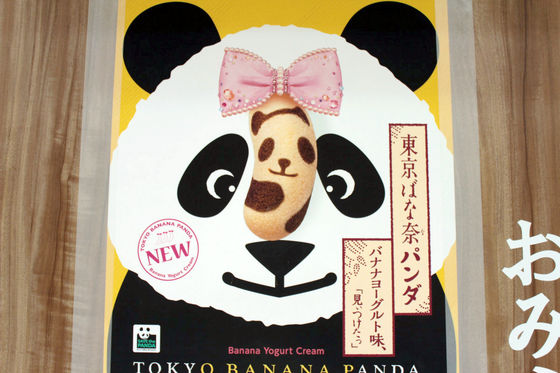 "Oh, bread?"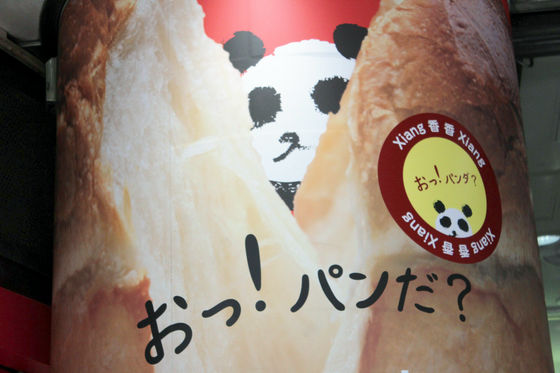 Marui holding a store in Ueno celebrated the birth of a baby panda.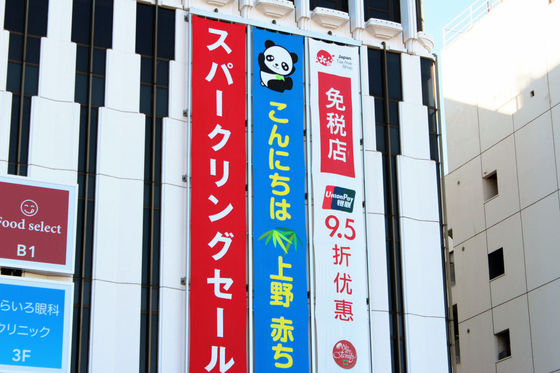 Marui's panda family.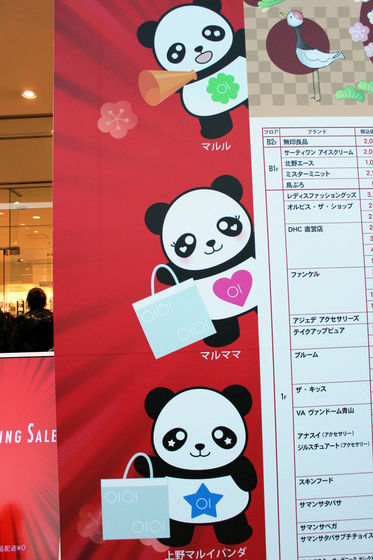 Urgent notice at JR Ueno station.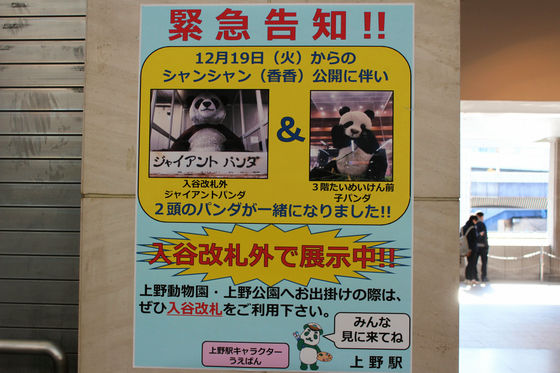 A child panda was added to the giant panda which is displayed outside the Iriya ticket gate. I did not know about the child panda, but inside the station premisesSpecial occasionIt is said that it was placed in front of a Western food shop called.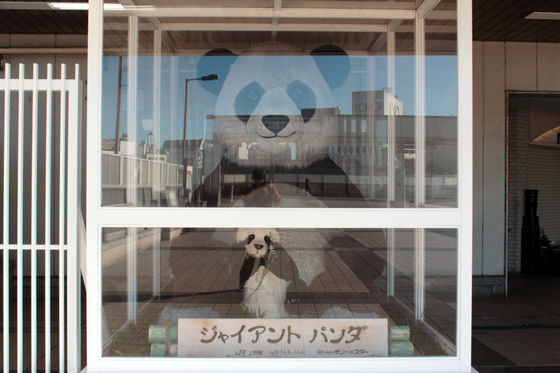 Change the angle. I am a parent and child panda.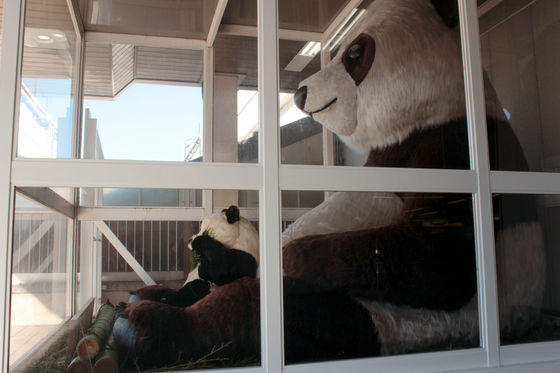 Panda a child with a brisk pose. It was lovely and it was crispy.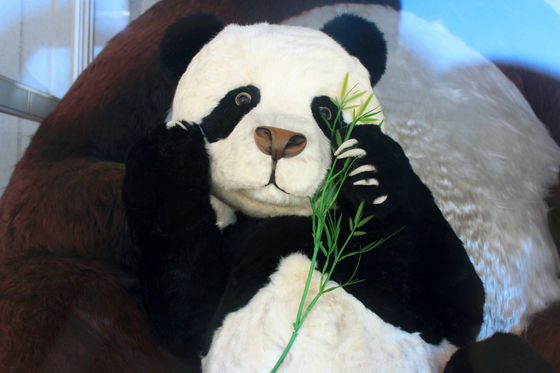 Panda is also drawn on the guide of the stairs going home from the ticket gates of JR Ueno station.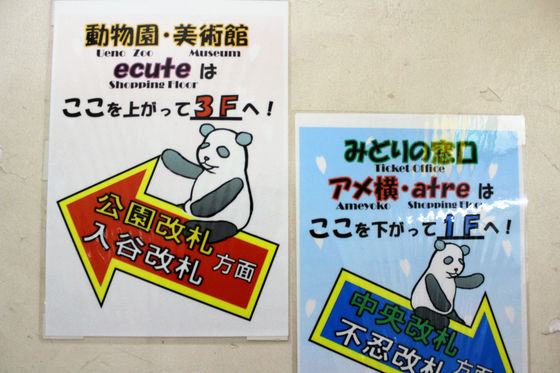 Also in Keisei Electric Railway in Ueno, there are puppy characters that are not cute and have a characteristic eye "Keisei Panda".



It is also a panda in the stained glass near the ticket gate of Tokyo Metro Ueno station.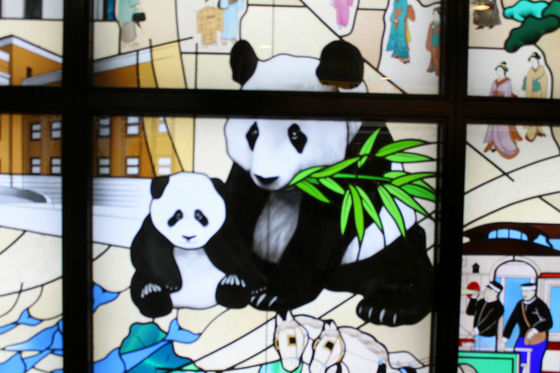 ◆ Ueno Zoo
I was looking for the appearance of Panda in Ueno Park as well, but I was surprised that the Ueno Zoo, which I thought was a holiday because it was a New Year 's holiday, is open. As for anything, if there was flower in the article where there was panda, it came smoothly, but looked inside. Personally I wanted to see panda, so it was a good opportunity. I will walk silently alone in the garden with love who walk with families and shoulders lining hands of small children.

· Lily
To see the baby panda's "Shan Shan (Kaka)" and the mother panda's "Shinshin (true genuine)", an observation ticket was necessary. Since it is a lottery system, you have to apply by internet or phone in advance. A narrow gate that only the elected person can view. One father Panda's "Lee Lei (power)" can be seen by anyone. A lot of people stood in front of the fence and watched Lilily 's all - in - one action.

But, I first jumped in this form that seemed to hear the voice "Oh, Dado". I thought where the old man is.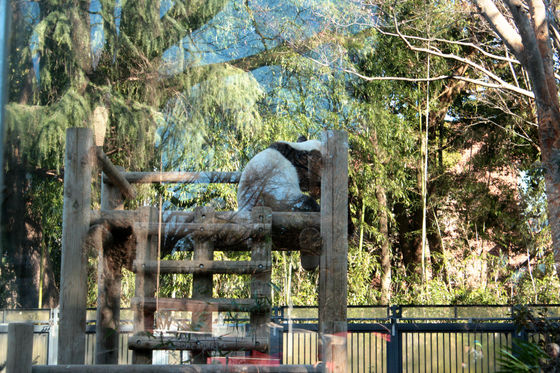 Panda is a stupid panda. Full body weakness as if it could fly to the soul. I'm pretty relaxed. But after a while it starts to move as if I remembered something. Move hands and feet like a dexterity like a person, descend the ladder to the ground. From there, when I went around the release place I was walking around. However, it does not readily come to the front where customers are. It was all around turning backwards.

Sometimes it will come to the front. That time is a shutter chance.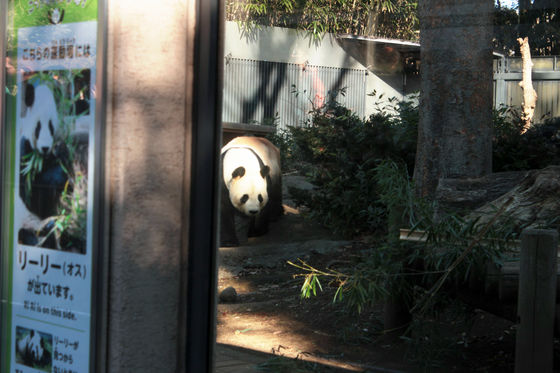 Animals walking with pandas crawling on their own.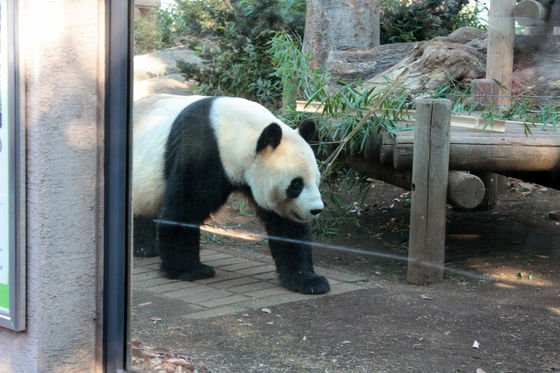 I was walking while swinging the butt with the prep. The appearance of baby 's hi - hi overlapped.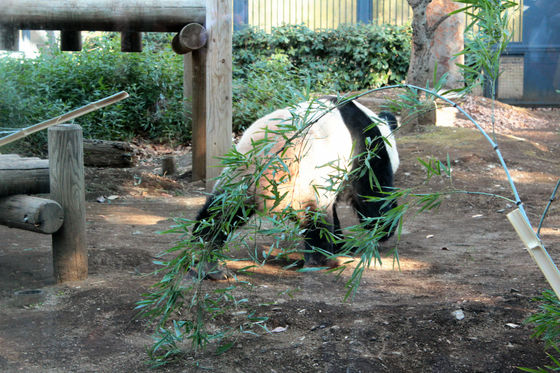 There are shutter opportunities several times, but satisfactory pictures can not be taken quite easily.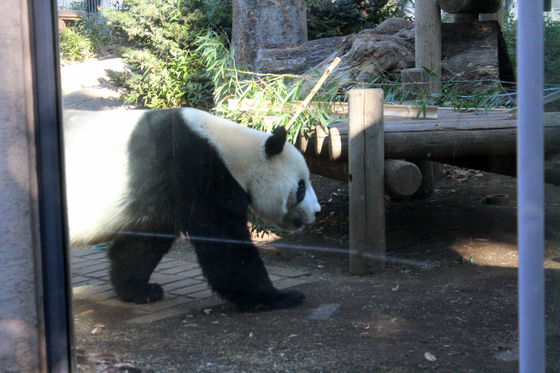 Will you sit on the ground or your butt is a bit dirty.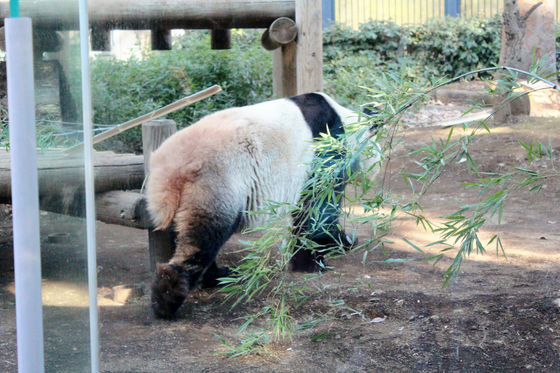 Were you satisfied with walking around for a while?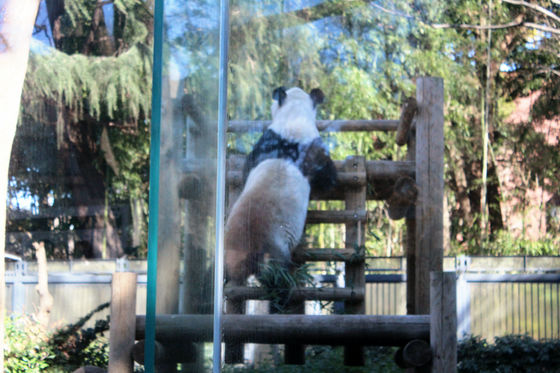 And, also an example pose. I guess I got tired after I was sweating.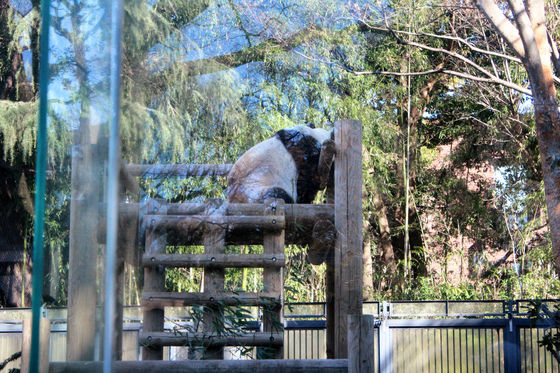 · Animals other than panda
Various animals around the worldAlthough I saw the environment, the environment of wild and breeding is different, it was shock that most animals are in Ueno Zoo. Besides, the entrance fee is 600 yen good cost performance. I never thought that the zoo is such a fun place.

A tiger with a stubborn face.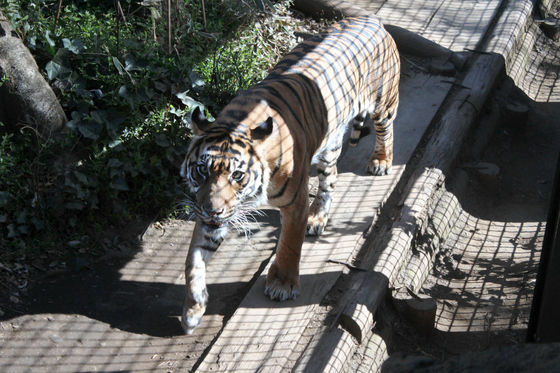 The gorilla whose body was made small will receive a nervous impression. It is a powerful gorilla that we expect as we spread limbs ... ....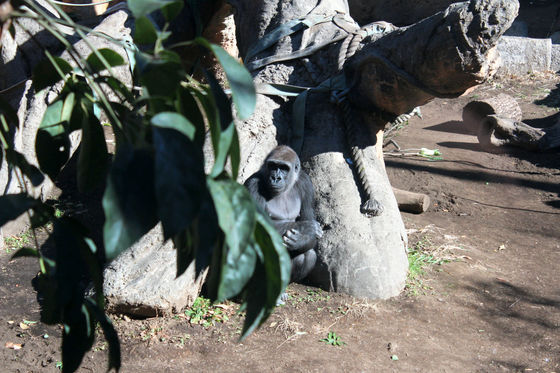 Polar bear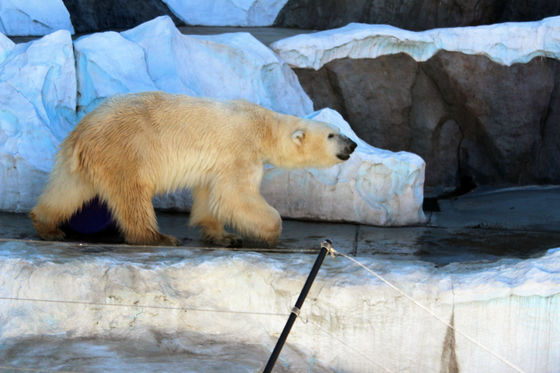 Somewhere lonely is the eyes of a bear looking at me.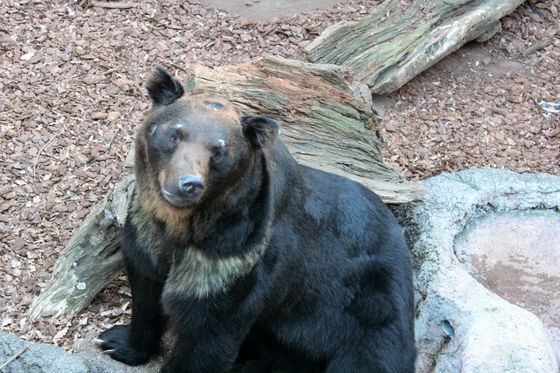 The elephant rocked his body like a rhythm by swinging his nose.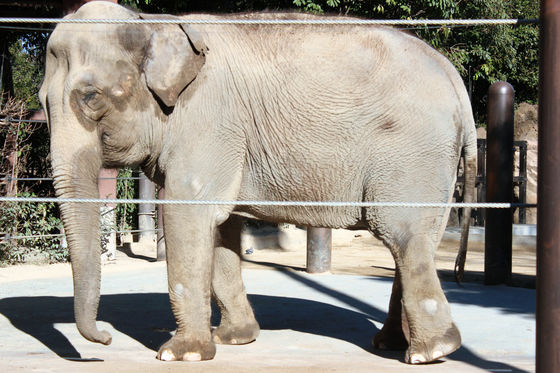 Monkey mountain and the blue sky.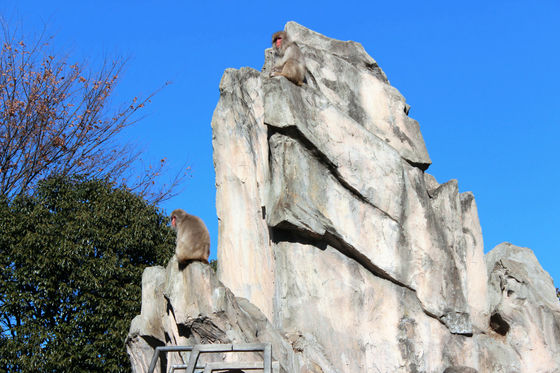 There was also a livestock section, and a pig was caught on the eagle and the bait. This is probably the wildest thing.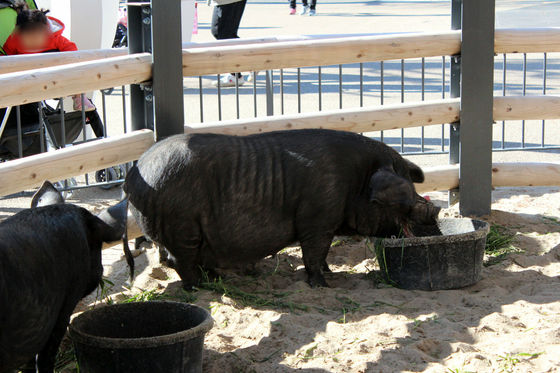 Emu was also in Australia, but it ran away soon, so it is fresh to observe it carefully in this way.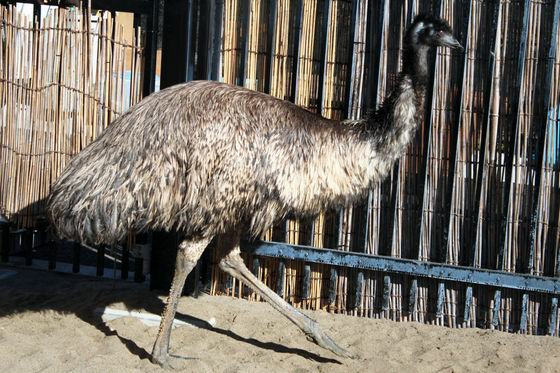 Galapagos Giant tortoise was big enough to hold a person.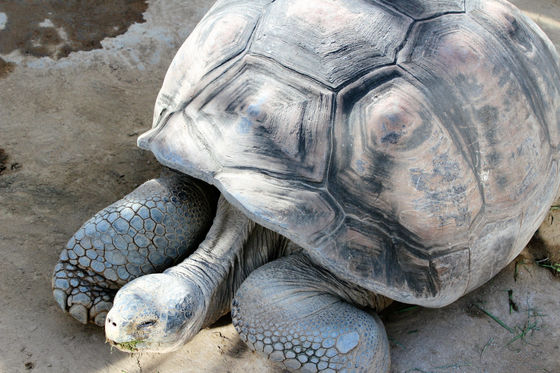 Snake crawling on the ground with Nyoronyo.



A rocky salamander that everyone murmured "Where? Where?", The mouth will move as long as you look at it for a while.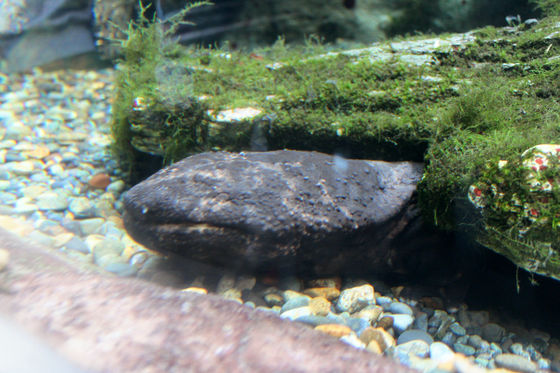 Reunion of penguins since Argentina.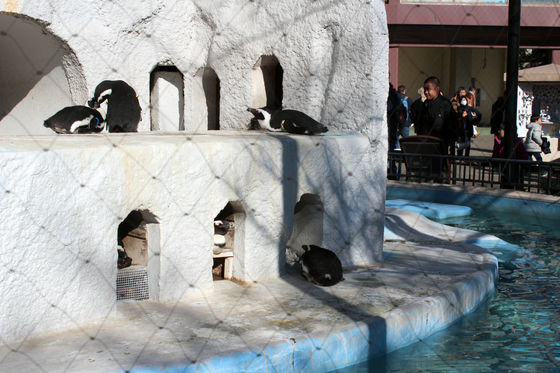 A flock of flamingos wearing vividness that makes you awake.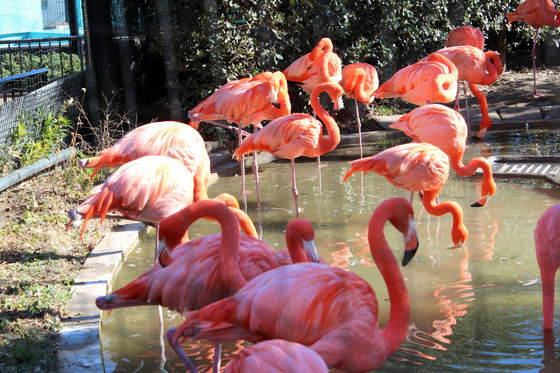 Kirin is owner of gentle eyes.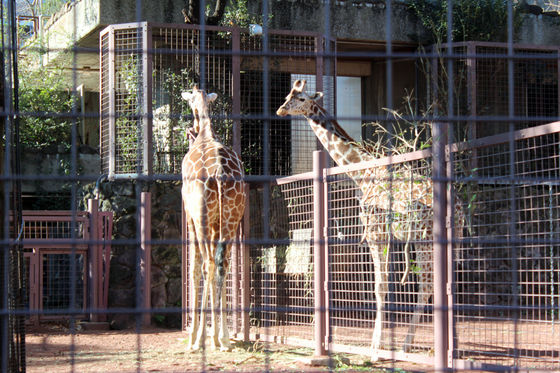 A rhinoceros that shows a solid thickness like a tank.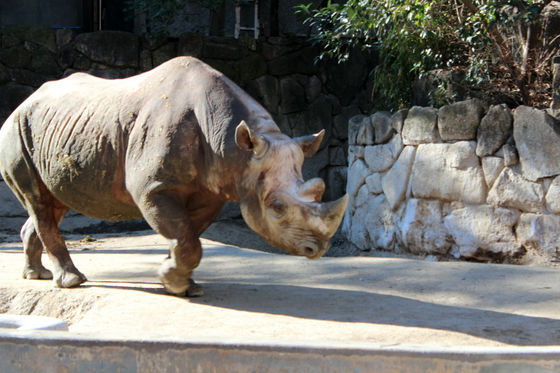 The eyes of the hippopotamus are sunbathing.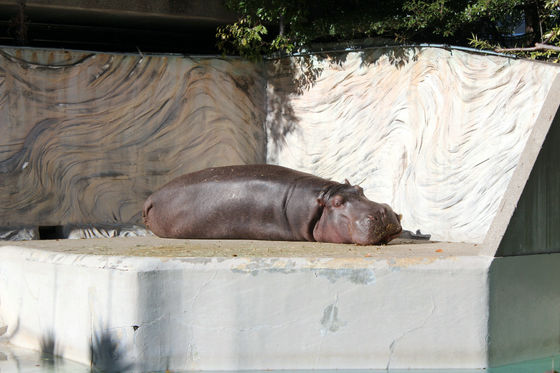 Cape Hilux seen in South Africa is very lovely face.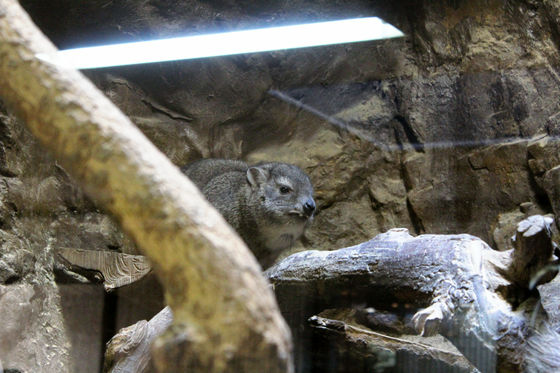 Kangaroo was relaxing in a living room looking like watching television.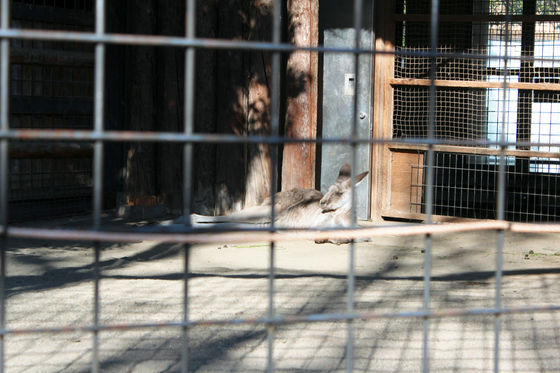 Not only animals, the Ueno Zoo was rich in sightseeing that the monorail is connecting the East Garden and the West garden, there is a large pond called Shinobazu Pond (Shinobazuke), and there is a five-storied pagod that is an important cultural property .

· Once again Lily
After a while around the zoo, we will visit Lee Lea of ​​the panda again.

It was a tired day off mode.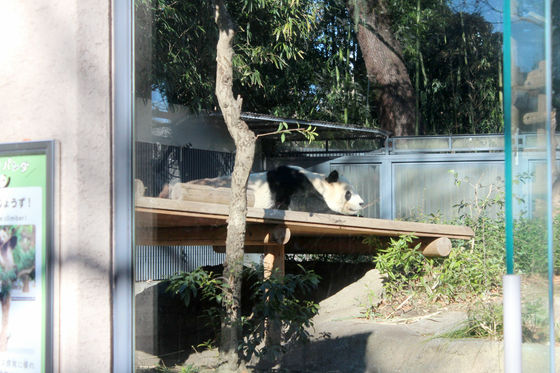 By the way, this is a panda house where Shanshan and Shinsin are.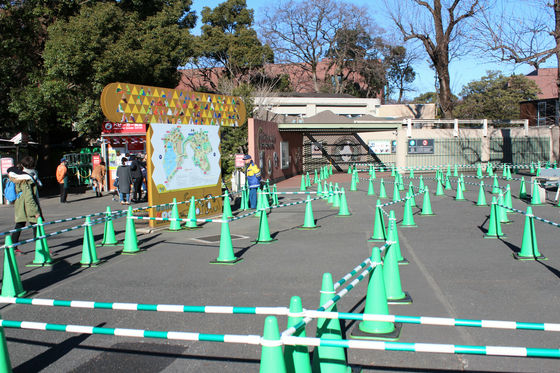 · Panda also in the zoo
As in the city of Ueno, the zoo was full of pandas. There may be unexpected discoveries when walking with attention inside the park.

Guide for lost child tickets for small children.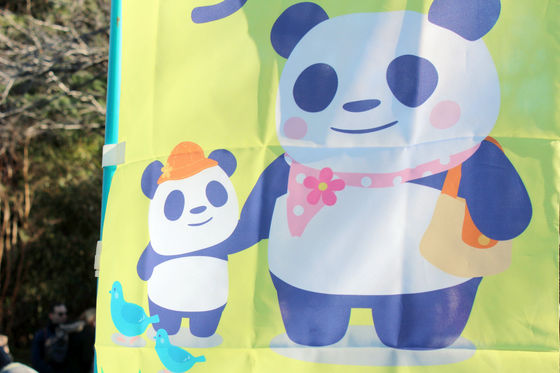 Even with a white fence it is strange that the panda will float up with one black spray.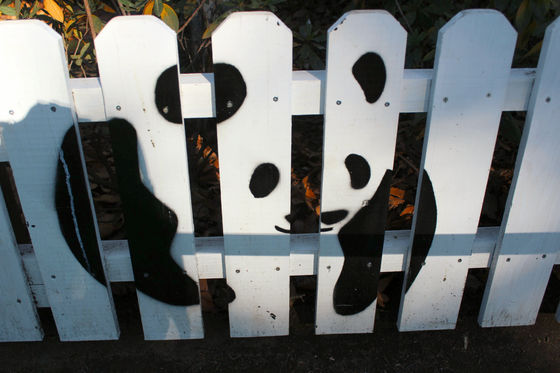 There was also in the triangular cone.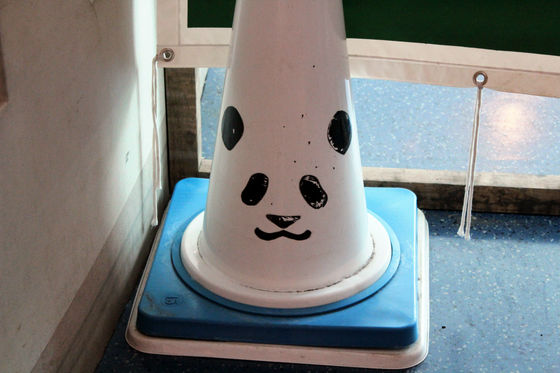 It is also a panda that closes the lever of a door that seems to have some switch on.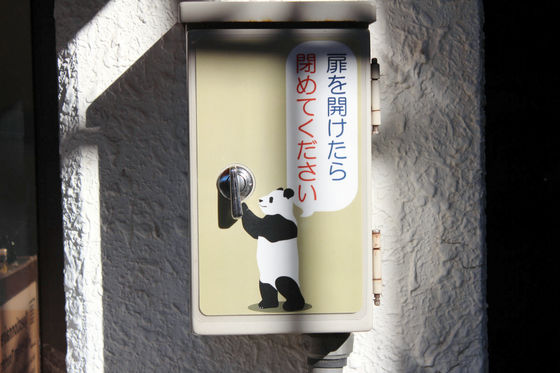 Do not forget the panda post at the entrance to the Ueno Zoo.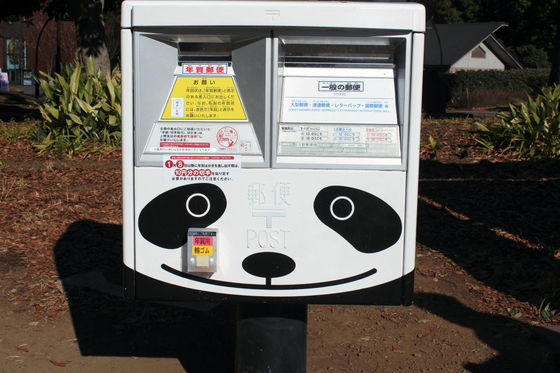 As you can see, the start of the panda coat starts in 2018. Ueno was a city of panda more than I thought. Because it is too full, it reacts to the two colors of white and black and it searches for the face of panda. When everyone visits Ueno, please try looking for a panda in the city. Also recommend Ueno Zoo where you can meet real pandas.

(Sentence / picture: Takuya SAITO @ Charriderman
Cycling around the world for a bicyclehttp://shuutak.com
Twitter@ shuutak
Facebook Pagehttps://www.facebook.com/chariderman/
DMM lecture requesthttps://kouenirai.dmm.com/speaker/takuya-shuto/)