Beautiful girl x Animation & games with race horse, Takefen also acts as a promoter "Uma daughter Pretty derby" Special stage just before broadcast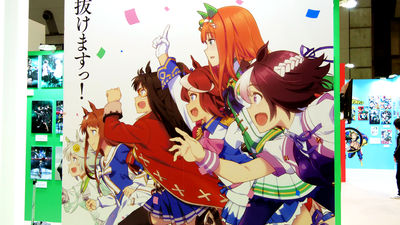 With a different color collaboration called beautiful girl x racehorse horse500,000 PV is playedA game of Sai games that gathered attention as much as "Umaessa Pretty DerbyHowever, the situation that the game is keenly developing at the time of article creation. Prior to such games, TV anime "Umaessa Pretty Derby"Started broadcasting from April 2018, as the special just before the broadcast"AnimeJapan 2018"Cast members who played characters appeared in the event and told us a lot about Uma girls.

TV anime "Umaja Pretty Derby" Official Website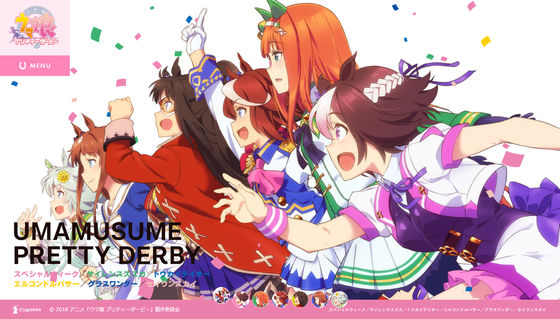 【AnimeJapan 2018】 The appearance of Yuiyo Fujii as a role playing Tsuzuka Surugawa on YELLOW stage is decided! - NEWS // TV anime "Umaja Pretty Derby" Official Site
http://anime-umamusume.jp/news/20180317_01.php

Animation "Umaja Pretty Derby" Just before broadcasting! Special stage was held at the YELLOW stage of the East 4 Hall. First I went to the stage was Yuiyo Fujii, moderator of the role of Tsuzuna Surugawa,GoldshipHisashi Ueda role,Daiwa ScarletKimura Chisaki of the role,Special WeekMr. Wakasuzu who is a role,Silence SuzukaMari Takano of the role,ToukaiteiMr. Machico,VodkaMr. Ayaka Ohashi of role,Mejiro McQueen8 people of the role of Saori Ohnishi. The following photographs are seven people from the left: Ueda-san, Kimura-san, Waki-san, Takano-san, Machico, Ohashi and Onishi.

【AnimeJapan 2018】 YELLOW stage, animation "Umaja Pretty Derby" Just before broadcasting! Thank you very much for everyone who participated in the special stage! In addition, special program and preliminary screening at AbemaTV also tonight! Please do enjoy the "Uma girl" day!https://t.co/JC5ybVhG4sUmama daughterpic.twitter.com/qdDA9y3CPu

- Animation "Umaessa Pretty Derby" (@uma_musu_anime)March 25, 2018

After having entered the stage, the video which will be released for the first time of AnimeJapan 2018 in a haste was screened. In the video, the animation that had been published so farFirst PV PVYaPV 2nd bullet,Borrowing CM 1Some characters that have not appeared have come out and the scenes where the horse girls are blown up also became more easy to imagine the main animated cartoons.

TV anime "Umaja Pretty Derby" book - YouTube


Next, TOHO animation Takayuki Ito who will be a producer at the animation "Umaja Pretty Derby" appeared. It briefly explained what kind of animation works. The content is roughly the same as the introduction part of the animation official website, and its introduction is as follows.

It has a brilliant name and race ability which inherited from the other world
The story of the world where "Uma tama" has coexisted with humanity from long ago.
Uma daughter who has been transferred from the country to the city's Tresden school ·
Special Week, while competing hard with his teammates, honoring the title of "Uma no Musume in Japan"
Aim for victory in !

Subsequently, "Aiming, the best Uma daughter in Japan! Character introduction race", a corner was given to cast everyone to introduce the fame that became the origin of the character that he plays. Sometimes I had a cute and sometimes funny presentation of characters funny at times from the experience that Cast played their own viewpoints and characters, but among them Chisaki Kimura, who is acting as Daiwa Scarlet, got the results of the racehorse · Daiwa Scarlet I inspected it firmly and I was inputting in my head, showing off perfect PR and it was able to be acclaimed by Ito producer who is a big horse racing fan.

In addition, Mr. Takano acted as "Do not remember ~" about Silence Suzuka played by himself, took out the collaborative booklet "Thoroughbred Uma Musume Version" with the horse racing information magazine "Sarabule" from the bosom, and the silence spa I read the introduction sentence.

This is that "Thoroughbred Horse Girl Version". Volume 2 has been published ... ...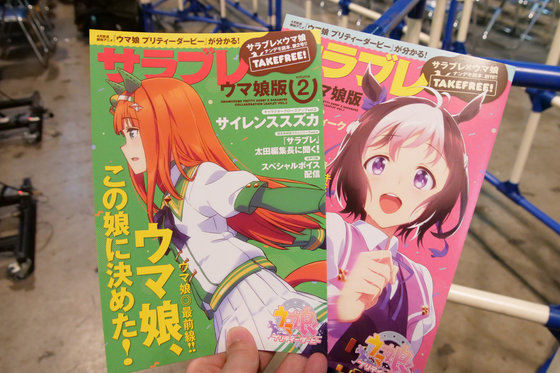 Inside is the information of the character and the name of the maid which became the origin is written like this.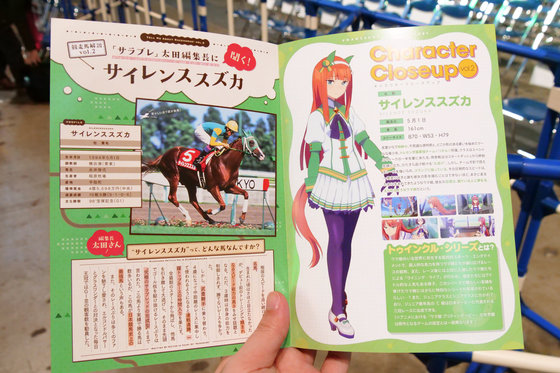 After that, Mr. Shohihiro Ishihara, a content producer of Cygames, attended. Notice of "Uma daughter Pretty derby Abema stakes 2nd R!" Live on AbemaTV at 18 o'clock on March 25 ....

【Live Broadcast Special】 Umasama Pretty Derby Abema Stakes 2nd R! | AbemaTV (Avema TV)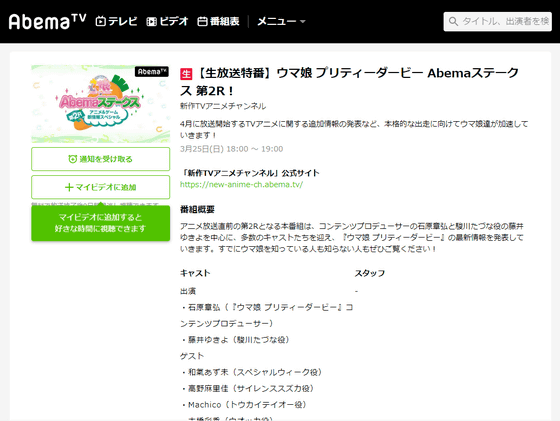 TV anime broadcast on March 31 The crown race "Uma Daughter Hit Prayer Race!" Held at the Saga Racecourse the day before, and J1 Section 5 Sagan Tosu scheduled to be held at the best amenity stadium that is the home stadium of Sagan Tosu the same day vs We were also informed about pre-game ceremonies at Nagoya Grampus. In addition, three events of main cast Mr. Kazu Azu, Mr. Mariko Takano and Machico are scheduled to appear as guests in two events.

In addition, it was revealed that the game version "Uma daughter Pretty derby", which was first announced at AnimeJapan 2016, will be pre-registered from March 25.

[Pre-registration starts from today! 】
Preliminary registration of game "Uma daughter Pretty derby" will start today! Details of pre-registration start time, campaign contents, etc. will be announced at the AbemaTV special program of broadcasting from 18:00 today! Please have a look ♪
Click here for viewing reservation!https://t.co/jmMNZtVUjIUmama daughterpic.twitter.com/70 kVjBGsxm

- Omaha Project Official Account (@uma_musu)March 25, 2018

As a further surprise, it is also announced that Takuto has decided to take office as the official promoter of Uma daughter. Taketoya commented on AnimeJapan 2018 and said that he wanted me to find my favorite Uma girl, not only the visitors at the venue but also the cast on the stage was surprised & delighted.

【Takeuto Jockey is appointed to Umaware Promoter! 】
Today we announced that Takeuto Jockey will be appointed as a promoter of Uma daughter! Through various activities in the future, I will tell you the charm of "Uma girl"! Detailed activities will be announced at the AbemaTV special program on broadcasting from 18:00 today!https://t.co/jmMNZtVUjIUmama daughterpic.twitter.com/TZCYWE 6 qIS

- Omaha Project Official Account (@uma_musu)March 25, 2018

So after the announcement of the shock, seven of the cast greeted each and the event ended successfully. Mr. Takano of Silence Suzuka's role as Mr. Taketoyo's name came out from the mouth of Mr. Taketoyo, he said that he did not call his name but he was shedding tears.

In addition, since the exhibition of such animation "Umaja Pretty Derby" was in the TOHO animation booth, I've been looking for them together.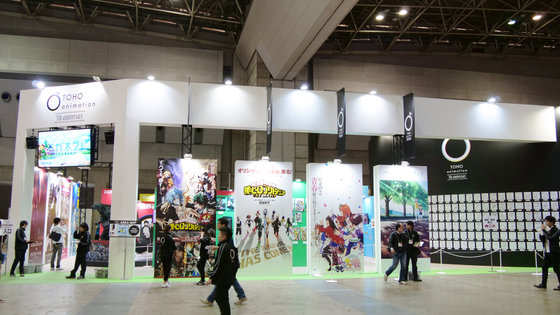 On the front of the booth is a huge standing signboard likely to be over 4 meters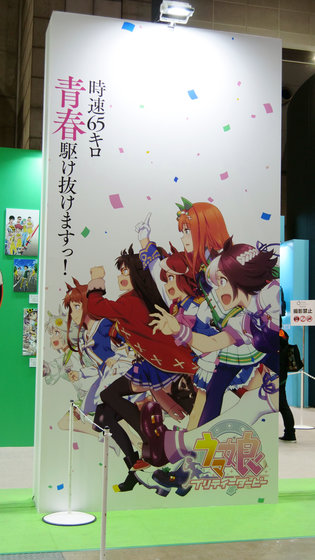 Inside the booth is a special illustration celebrating the 5th anniversary of TOHO animation ......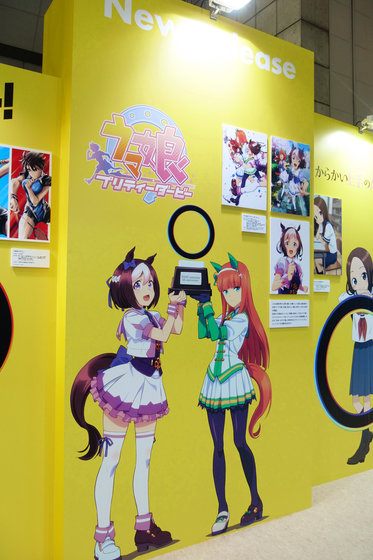 Work introduction & illustration was exhibited.