Investigation of influence on mental health of popular social media youth, the worst on YouTube is Instagram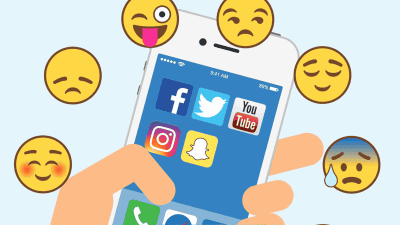 In order to investigate the influence of social media on youth's mental health (mental health), the British Royal Society for Public Health (RSPH) covers Facebook, Twitter, YouTube, Instagram, Snapchat of youth social media popular We conducted a questionnaire survey. As a result, the best result is YouTube, the worst being Instagram.

Social media and young people's mental health and wellbeing - #StatusOfMind
(PDF file)https://www.rsph.org.uk/uploads/assets/uploaded/62be270a-a55f-4719-ad668c2ec7a74c2a.pdf

The graph below shows social media utilization rates by age. There is a tendency that the utilization of social media is higher as for young people.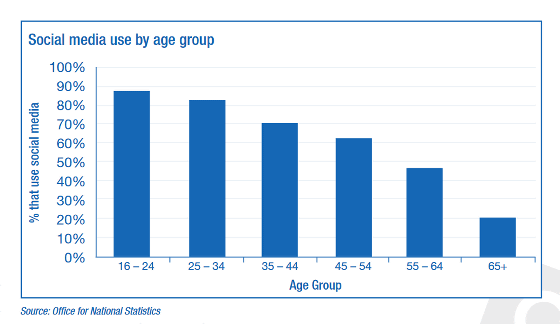 In order to investigate the influence of social media on young mental health, RSPH conducted a questionnaire survey on 1,479 young people aged 14 to 24 living in the UK.

The contents of the questionnaire are about the following 15 items such as sleep, anxiety, loneliness, empathy. I was asked whether affiliation or negation of the influence on each element about Facebook, Twiter, YouTube, Instagram, Snapchat of major social media was asked.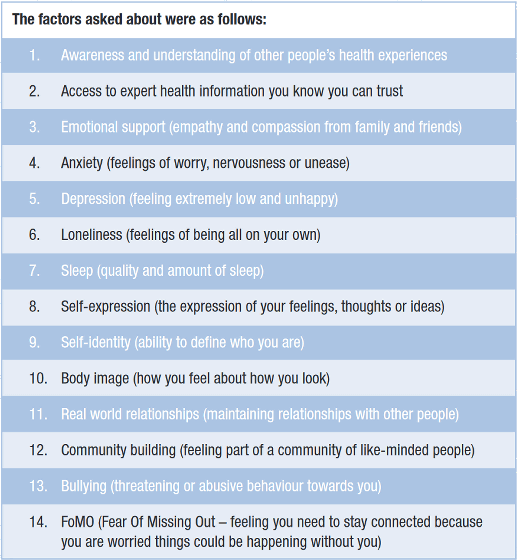 It is YouTube that the young people 's evaluation on mental health is considered to be the best. For YouTube, who got a high reputation in terms of disturbing anxiety, melancholy, loneliness, etc., it seems that it is very easy to cause sleep deprivation.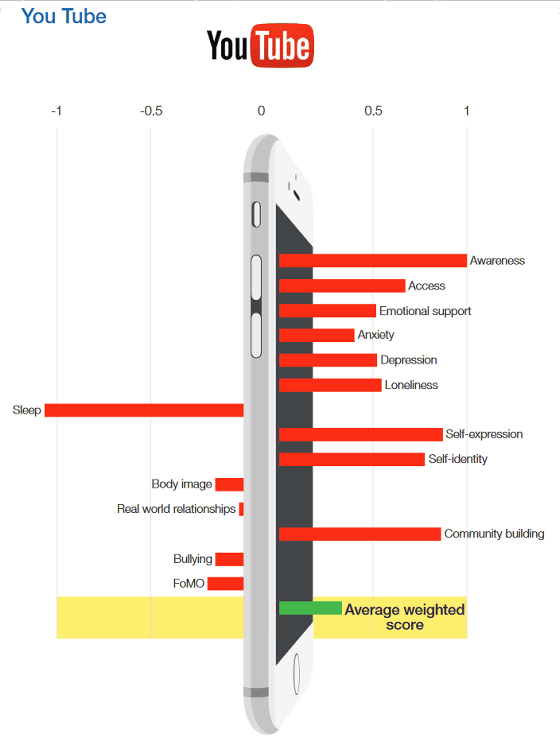 It was Twitter who received the second place evaluation. Although it was highly appreciated in terms of self-expression as well as identity establishment etc., you can see that it has an adverse effect such as "Bullying (bullying)" and "FoMO (emotion left behind)".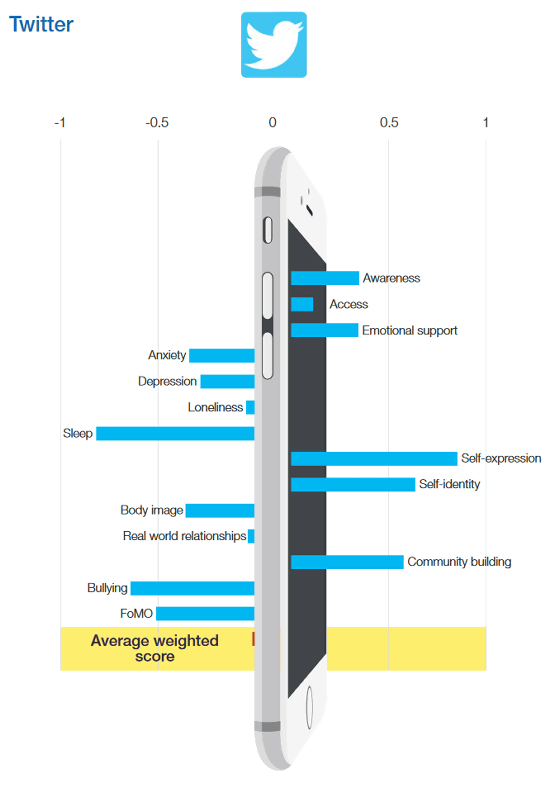 The third place is Facebook. The tendency of each item is similar to Twitter, but there are more clear differences in positive / negative ratio.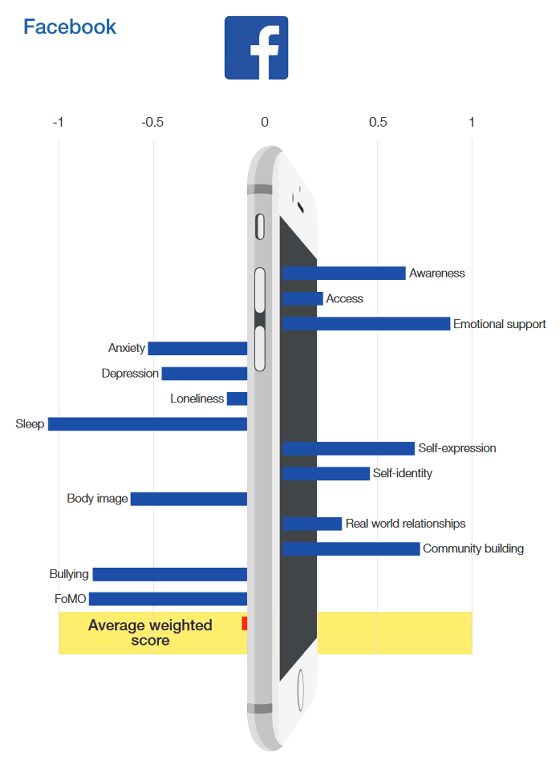 The fourth place is Snapchat. It is "FoMO" which was evaluated as having the worst influence on Snapchat, and it seems that it is the result that the characteristics of a different service are reflected from the share as a message which disappears immediately.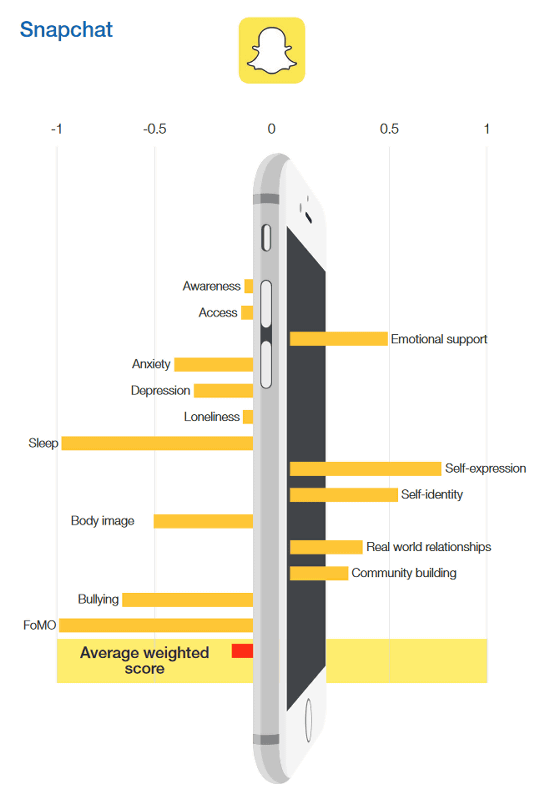 And it was Instagram that received the lowest evaluation. On the other hand, it seems that the element of "Body Image" has a negative effect on the mental health of young people, while it has very benefits for self expression and identity.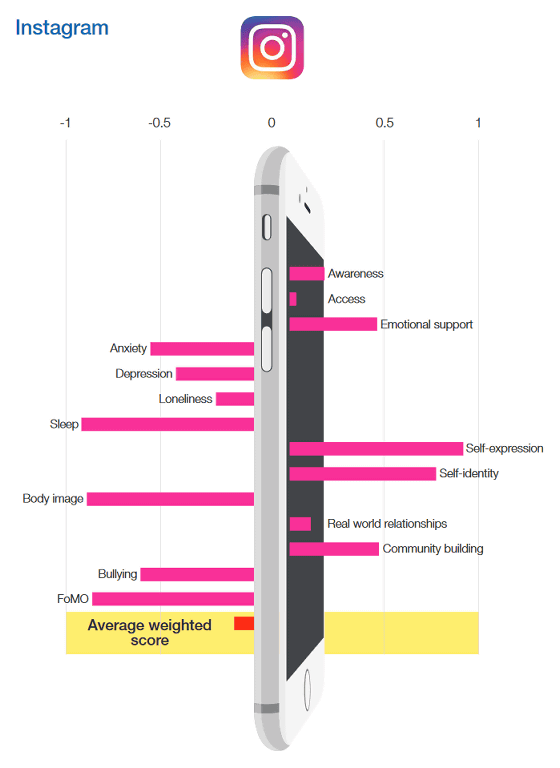 Although the above result was obtained, only YouTube was evaluated as having a comprehensive positive impact on the mental health of young people, the other four services outweigh the positive impact of mental health adverse effects It is the result.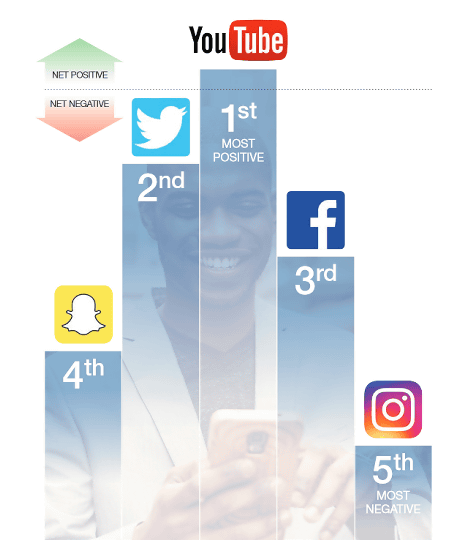 RSPH pointed out the sarcastic reality that Instagram, Snapchat 's low evaluation "The platform that should help young people connect each other may actually be spurring the mental health crisis" I will.