I tried drinking "I Lo · h · S Liche Tea" which added litchi & oolong tea transparently to natural water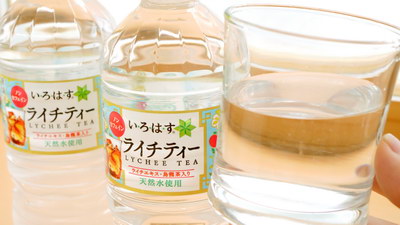 Coca-Cola's mineral water brand "I Lo Hara" is colorless and transparent to natural waterMandarin orangeYaMelon Cream SodaFlavor addedFlavor waterWe have developed a series of. "Tea" flavor which becomes the first in such a series of "I · R · H · ·", "I do not mind"Has appeared on June 4, 2018 (Monday). I drank a drink called "caffeine zero" with a combination of "Litchi" and "Oolong tea" that I do not hear much.

Deliciousness, surprise. Clear, gorgeous. I LO · H · LICHY Tee New Release! I LOHAS official site
https://www.i-lohas.jp/cp/lychee_tea_release/

"I · R · · · S. Lychee" New release in the whole country from June 4 (Monday): The Coca-Cola Company
https://www.cocacola.co.jp/press-center/news-20180529-11

This is "I Lo · H · Liche Tea" (140 yen including tax).websiteAccording to the use of lichi extract and oolong tea sticking to the material in natural water of Japan, you can enjoy a balanced flamboyant flavor and scent.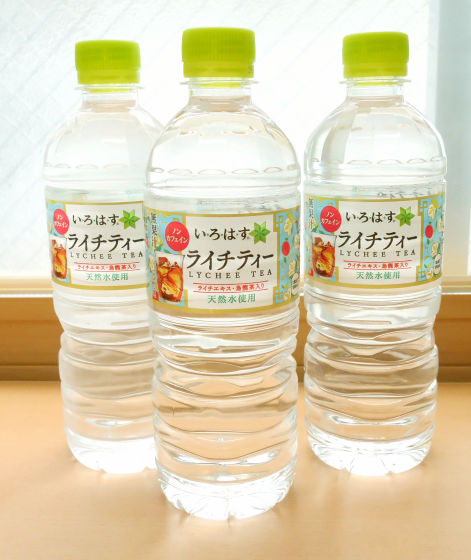 The label has a cool tea image illustration and the notation "non caffeine" and "fruit juice". It contains lychee extract, but since fruit juice is not fruit juice of litchi is not used.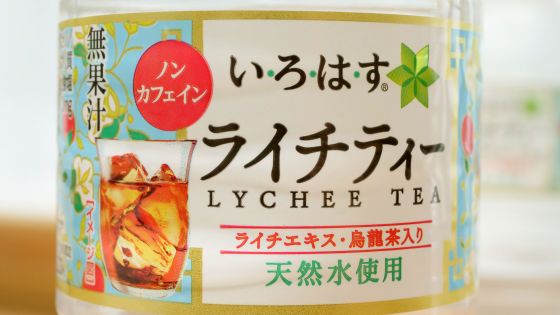 Along with Irohosu (555 ml), the bottles used are the same.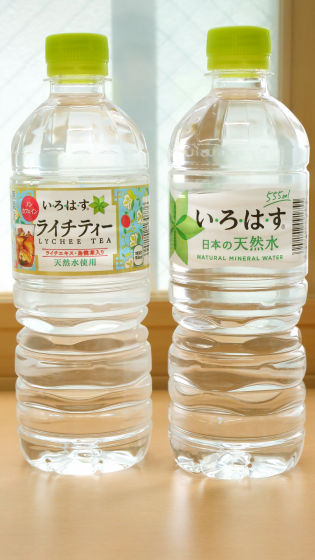 In addition to "Natural Mineral Water" showing mineral water, the content per one piece is "sugar (fructose, sugar)" "Oolong tea" "lychee extract" "acidulant" "fragrance" etc It is. In addition, it is said that we are using carefully selected Japanese natural water for water.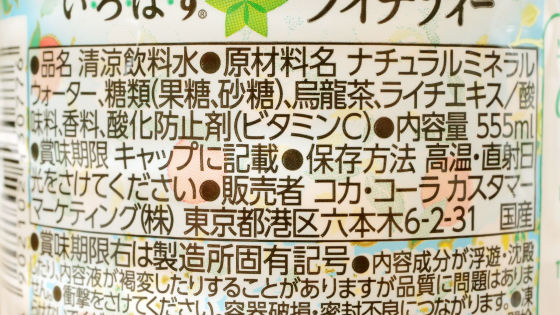 Since energy per 100 ml is 19 kcal, if it is per 555 ml, it will be about 105 kcal.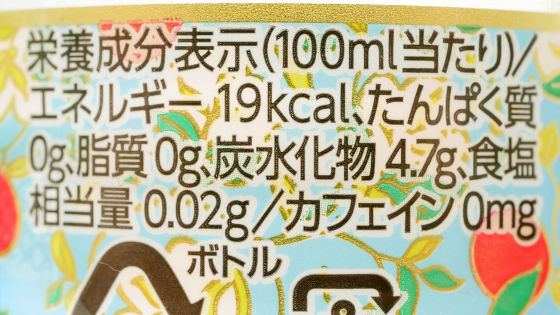 I will move it to a glass.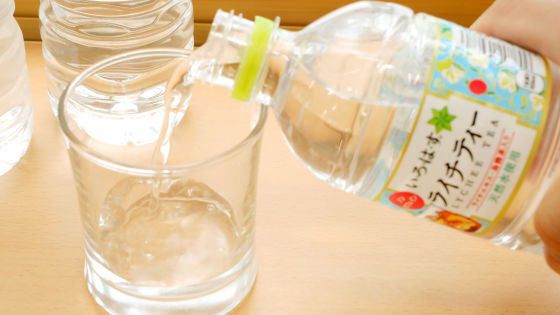 It is clear that it is colorless and transparent.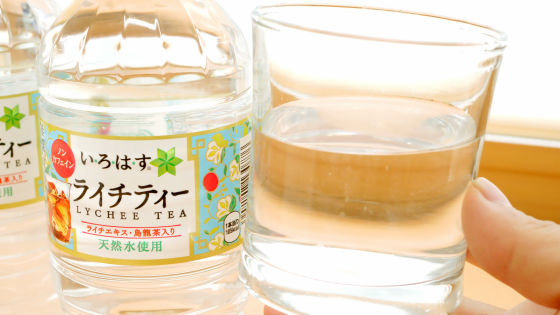 Approaching, the fragrance of fruity lychee drifts a little. I did not feel the intensity of the fragrance as unobtrusive as when I opened the lid of the bottle or moved to the cup.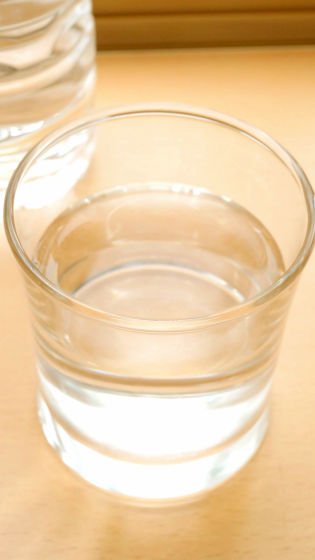 I tried drinking, it was slightly lyche taste. First, the refreshing sweetness and sour taste of lychee, then the fruity aroma unique to lychees spread. The taste and fragrance are modest, and although it is likely to feel unsatisfactory if it is another fruit, it is perfect for the elegant flavor of litchi. Before drinking I expected a habit of Oolong tea such as astringent, but the flavor of Oolong tea was united with the whole and the assertiveness was weakened. I feel like the oolong tea or aftertaste is refreshing. "I love you · lychee tea" is an elegant aftertaste, so I felt it would be nice to have the dryness of the nod while drinking a sweet drink.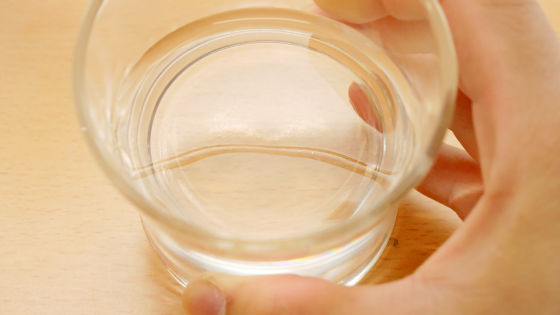 Coca-Cola carries out a campaign that allows you to draw 1 case of 24 lots of "I Lo Wa · S · Liche Tea" by lottery until June 17, 2018 (Sunday). Following the official Twitter account, follow the official Twitter account, tweet with the hash tag specified in the campaign from the following tweets, etc., and tweet it, you will be notified DM (direct mail) to the winner's account. Please check the details from the following tweets or links.


\# Irohosu Lychee New Release/
Deliciousness, surprise. Clear, gorgeous.
Based on lyche, the flavor of oolong tea becomes an exquisite accent New taste! Tweet the flavor that you care about from the bottom, a total of 100 people hit a product case ♪ Details?https://t.co/KSsHCQR60y

- Isao Hara (@ ILOHAS)June 3, 2018

Deliciousness, surprise. Clear, gorgeous. I LO · H · LICHY Tee New Release! I LOHAS official site
https://www.i-lohas.jp/cp/lychee_tea_release/