Parents are hiring a 'Fort Knight' professional gamer to hire a tutor to receive children's games lessons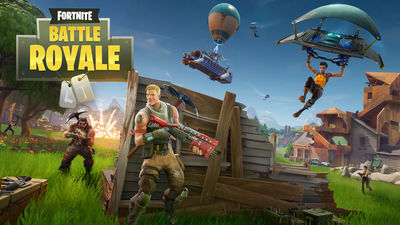 by BagoGames

Although it is a common talk that parents receive piano and football lessons for children, they will be able to play games and manners to receive their lessons of popular battle royal game " Fort Knight " for their children Wall Street Journal of the economic media (WSJ) reports that a parent who hires a tutor is continuing.

Ready, Aim, Hire a 'Fortnite' Coach: Parents Enlist Videogame Tutors for Their Children - WSJ
https://www.wsj.com/articles/ready-aim-hire-a-fortnite-coach-parents-enlist-videogame-tutors-for-their-children-1533046708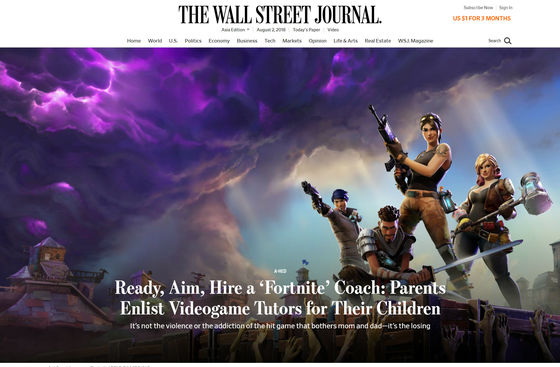 "Fort Knight" is a battle royal game distributed on various platforms such as PC · PlayStation 4 · Xbox one · Nintendo Switch · smartphone etc. As of May 2018 active users exceeded 40 million people, including the world It boasts a popular title. According to WSJ, although the game lesson service itself was used for adult gamers who aim for professional for a long time, recently hiring professional gamers so that their children can not be left from elementary and junior high school classmates, children It is said that parents who receive game lessons are increasing. Recently, a lesson coach intermediary service specializing in " Gamer Sensei " has appeared, and from the beginning of March there are over 1,400 "Fort Knight" tutor who are employed.

Mr. Euan Robertson promised his sons Alexander and Andrew to hire a "Fort Knight" tutor to take lessons unless the school's results are not compromised. Robertson commented, "In order to improve in basketball and chess, we are hiring professionals and train manners and techniques," he commented.

Just like eager dugout dads opening their wallets for pitching lessons, videogame parents are more than willing to pay for their offspring to gain an edge. Https://t.co/i321fdTAg9 pic.twitter.com/YFU9CnpPMX

- Sarah E. Needleman (@ saraheneedleman) July 31, 2018

Paul Lakovic secretly received an online lesson of "Fort Knight" to play games with his sons. However, because Mr. Laković 's skill improved suddenly, his son, who is 7 and 9 years old, turned his doubt on his father. As a result, Mr. Lakovic confesses that he took the lesson, and it seems that three people are now taking "Fort Knight" lessons separately.

Paul Rakovich's 7- and 9-year-old sons grew suspicious when their dad suddenly became a lot better "at Fortnite." Mr. Rakovich, of suburban Denver, copped to getting an online coach. Now all three take lessons separately. Https: //t.co/Pa5NUgvkqk pic.twitter.com/8rIDL54uNK

- Sarah E. Needleman (@ saraheneedleman) July 31, 2018

Mr. J · D · Giles hired professional gamer Convertible at Gamer Sensei as a birthday gift to his 10-year-old son's break, and he was awarded "Fort Knight" for 21 hours and 25 cents a hour (about 2370 yen) I asked for a tutor. Since then, Blake has received hands on the manners and techniques of "Fort Knight" every Sunday night

Mr. Giles initially sought lessons for Blake as a birthday gift. Then he got hooked. https://t.co/Pa5NUgvkqk #fortnite pic.twitter.com/dv2J1pgaKD

- Sarah E. Needleman (@ saraheneedleman) July 31, 2018

On the other hand, some professional gamers who wear coaches can not hide surprises in the trend that "parents pay money to pay for their children's gaming tutorial". Professional gamer Logan Werner who also carries out the "Fort Knight" coaching businessman said, "It is a really surreal situation for me, my father could not afford to pay the game lesson" I am talking.
in Game, Posted by log1i_yk