Uber and Lyft propose support of 1 million dollars to stop 'dispatch service regulation bill', but New York City refused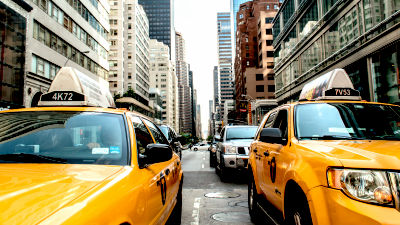 The dispatch service that can arrange taxis and hires from the application has increased rapidly in the past few years, and the number of cars has increased so much that the problem is that the traffic is overcrowded in New York City, USA. To support taxi drivers and alleviate congestion, New York City plans to regulate the dispatch service, whereas Uber and Lyft said "If you delete the key part of the bill, it will cost you about 1 million We support the yen) "proposal. However, it is happening that New York City refuses to do so.

Uber, ehail apps offer city council $ 100 million deal to drop regulation - NY Daily News
http://www.nydailynews.com/new-york/ny-metro-uber-lyft-medallion-fund-20180801-story.html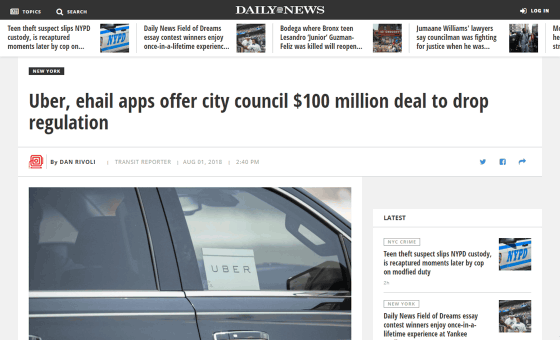 Uber and Lyft offered to bail out struggling taxi drivers, but New York City said no - The Verge
https://www.theverge.com/2018/8/1/17639656/uber-lyft-bailout-nyc-taxi-drivers-cap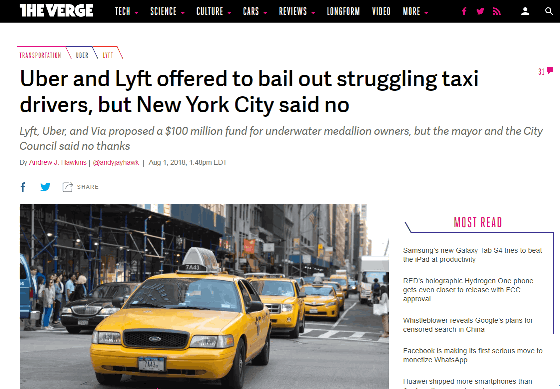 Apps and caps: The City Council's bid to rein in Uber and Lyft gets it mostly right - NY Daily News
http://www.nydailynews.com/opinion/ny-edit-ride-share-20180730-story.html

Opinion | Stop Uber From Flooding New York - The New York Times
https://www.nytimes.com/2018/08/01/opinion/stop-uber-from-flooding-new-york.html

In New York, a taxi called Yellow Cab is famous for being the "face" of the city, but in recent years the distribution service such as Uber and Lyft has grown rapidly, and the number of private cars running in the city is increasing in recent years. As a result, in addition to securing new revenue sources for drivers, users benefited from being able to cut off additional waiting time, but on the other hand, dispatching using apps even if the driver's earnings increased Problems such as the problem that the company providing the service takes the revenue of the driver and the problem that the traffic volume in the city increases too much is happening.

According to the New York Times, the Metropolitan Transportation Authority (MTA) statistics show that the number of passengers in the subway in 2017 decreased by 2% from 2015, and this trend has not changed even in 2018 It is said that it is continuing. Ms Joseph J. Lhota believes that the cause of the decrease in passengers is affected by the delivery service as well as the decline of services and the unauthorized ride. The city's income in 2018 combined with the subway and the bus is less than the estimated 54.8 million dollars (about 6.1 billion yen), and there is a possibility that the budget for the city transportation will be pressed in the future.

In the beginning of July 2018, The Taxi and Limousine Commission (TLC), an organization that regulates a taxi in New York City, set the minimum wage for drivers of the four Uber · Lyft · Juno · Via dispatch services to 17.22 dollars (About 1900 yen) to propose. This is due to the latest report that "each company reduces the number of drivers and reduces competition, raising wages for each driver". In order to raise the minimum wage, it is necessary to raise the usage fee of the dispatch service or to reduce the allocation of each company, and it seems that it is an approach which can simultaneously protect driver and alleviate traffic congestion. In addition, if the driver is a sole proprietor, the minimum wage after tax will be $ 15 (about 1700 yen).

NYC considers new pay rules for rideshare app drivers
https://nypost.com/2018/07/02/nyc-considers-new-pay-rules-for-rideshare-app-drivers/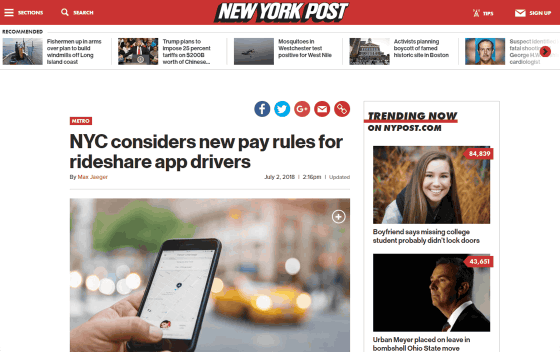 The city's efforts to reduce the competition brought by the dispatch service are not limited to just this, but the creation of a new category to register the application-based dispatch service and the approval of a car that can be registered for dispatch service for up to one year in principle TLC is considering that it will not be used.

On the other hand, companies such as Uber and Lyft, of course, rebounded as "too hasty". And, if the city council deletes the key part of the revision bill, it will provide 1 million dollars (about 110 million yen) of assistance to assist medallions and taxis operated under the license of TLC I proposed to do. However, the city council side refused this proposal.

Joseph Okpaku, vice president of Public Policy Division at Lyft said, "As the city leader repeatedly stated that assistance from struggling taxi drivers was a top priority, we had a direct $ 1 million direct aid for individual taxi drivers I am embarrassed by being rejected, they give priority to wealthy medallion owner. " Lyft's suggestion of 1 million dollars suggested that the medallion owner, who is working as a driver for individuals and families, not companies, can support 1,500 to 2,500 people, roughly calculated amounts.

"The authorities think that the city council approach solves town congestion and is the most holistic way of helping drivers to support their families," the city's public relations official said, , Congress has been working on issues with all stakeholders on the bill.The exchange of opinions is very productive and we are also aware of proposals to be implemented.We do not negotiate in public places I am confident that the legislation that is going to pass the bill will help the driver, solve the traffic jam and bring fairness to the industry. " Also, "It is greatly appreciated that companies that provide dispatch services such as Lyft create a non-profit foundation that supports drivers who are facing difficulties, and they do not need the city council's permission to do that." I am adding it.

The bill will be passed in the second week of August 2018.
in Ride, Posted by darkhorse_log