The problem that Kobe City staff 's 'missing' report has not properly been conveyed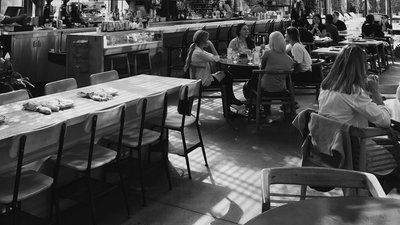 by kayleigh harrington

The officials in Kobe City "get through" the work and go out to ordered a box lunch to reduce the salary. There was this topic in June, 2018. However, since facts were not tightly conveyed, information was complicated and discussions based on misunderstanding were spreading. Because this is also in Japan, there was no reason to be correctly transmitted overseas.

Hello, this is Takuya Sudo @ Charriderman who toured the world by bicycle . While traveling overseas I was told that "There are a lot of Japanese working and it's hard work", but "I am disrespectful, please look at me, I am not working," I was confused locals It was. Apart from a joke, I can not deny that there is a problem with the Japanese work environment. But what is wrong reporting from such images?

◆ Initial coverage - The chance that this "incident" became a topic was Yahoo! It was coverage by ABC TV posted in the news.

Kobe municipal officials disposition (ABC TV) with lunch order during work - Yahoo! News
https://headlines.yahoo.co.jp/hl?a=20180615-00010007-asahibcv-l28 (publication deadline / Archive.is: http://archive.is/vv2X0 )

The officials in Kobe City were dismissed for reduction due to repeated order of "hollowing out" leaving the work place during work due to ordering of lunch.

A 64 - year - old male staff member at the Kobe City Waterworks Bureau has made 26 hollow omissions in about three minutes in order to order a box lunch from a restaurant nearby during the working hours from September last year to March this year As a result, it was reduced for half a day. I found out that the appearance of going out of the workplace was visible from the window of the director's room.

This is my tweet when I saw the news.

»I came across the appearance of going out of my workplace by seeing it from the window of the director's room.
From the report saying, I guess I headed to the store instead of phone order, but I do not have enough information.

- Chariderman @ Takuya Suto (@ shuutak) June 16, 2018

To be honest, riddles.

Since the original article was brief, I first thought that there was the possibility of going out to make a phone call (sluggish). The point that got me a hint was "I saw the appearance going out of the workplace from the window of the director's room" and I thought that if I saw it from the window, it went out of the building.

However, it says that it did not "buy" the box lunch but "ordered". So does that mean you will go back to pick up your lunch again at lunch break? ...... I did not know at the time of the initial report, but actually it was "that street". What a waste of double waste.

In the Nikkan Gendai three days after the ABC TV reported, the content is coming out in more detail.

Kobe city 64-year-old staff got reduced punishment punishment with "hollow" three minutes a day | Nikkan Gendai DIGITAL
https://www.nikkan-gendai.com/articles/view/news/231483

From September last year to March this year, the staff went out to a Western food shop about 3 minutes from the office, about 100 meters away from 11:30 am to 40 minutes during work time, ordering a box lunch totaling 26 times Was.

"The shop sells a box lunch at noon and ordered a box lunch of about 600 to 700 yen.The order can also be made by telephone, but the person himself said" I ordered in advance I can get it relatively smoothly. "It seems that it was about once or twice a week or so and the other day was going out to the station properly during the lunch break" (official of the city office)

The net, especially Yahoo! In the news, there were many opinions that "I will not dispose of this thing." For example, a voice saying "Let me lunch freely". Or you can say "I can not drink tea freely" "There is no toilet at all" is a voice.

Drinks and toilets should be solved within the building, so you do not have to bother to go out for work during the trouble. According to Nikkan Gendai, "Because I was able to make it by phone", I also ought not to be a valid reason just to go out by taking time during working hours.

There was also a voice saying "This is good, this much". However, one person is not treated as special. However, it will not be possible to admit to all civil servants.

◆ Coverage overseas "Going to a shop during work hours and returning after returning to a shop and going to a shop again at lunch break" to buy it is a behavior I do not know well, people from overseas were confused It is not impossible. In The Guardian and The New York Times, "It was" early rising "report that" I went to buy a box lunch three minutes early on lunch break ". As mentioned above, correctly, it is work → hollow omission (bento order) → work → lunch break (purchase of lunch box).

Japanese worker punished for starting lunch three minutes early | World news | The Guardian
https://www.theguardian.com/world/2018/jun/21/japanese-worker-punished-for-starting-lunch-three-minutes-early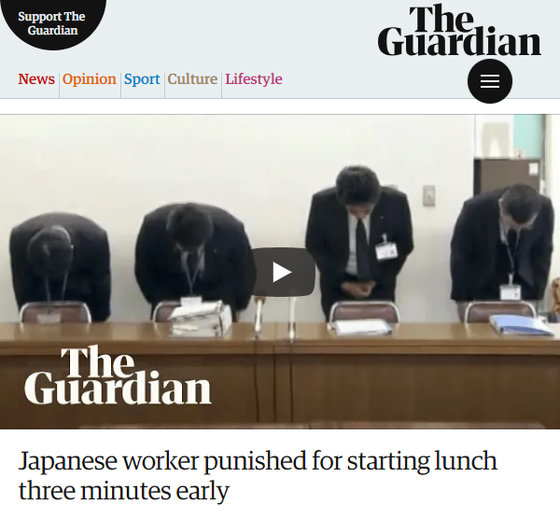 The 64-year-old, an employee of the waterworks bureau in the western city of Kobe, was fined and reprimanded after he was found to have left his desk just three minutes before the start of his designated lunch break on 26 occasions over a seven -month period.

He Left Work for 3 Minutes Before His Lunch Break. Now His Pay Is Docked. - The New York Times

He Left Work for 3 Minutes Before His Lunch Break. Now His Pay Is Docked. - The New York Times
https://www.nytimes.com/2018/06/22/world/asia/japan-bento-lunch-early.html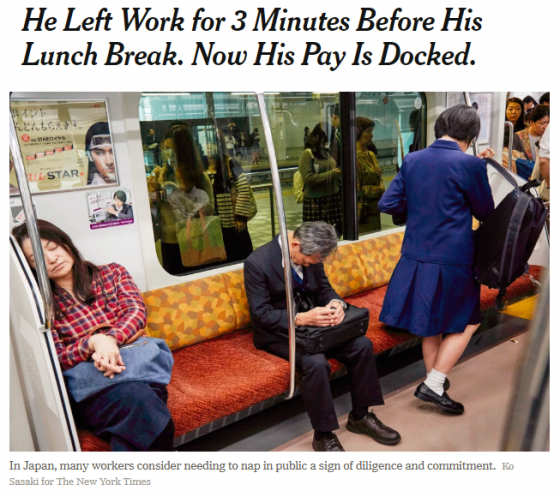 For a bento box, a Japanese worker who habitually left his desk three minutes before his official lunch break has been docked half a day's pay.
The unidentified 64-year-old employee was fined thousands of yen and reprimanded after fear of the investigation found that he had left the office to order a bento box ahead of his lunch break on 26 occasions over a seven-month period, an official said.

I also saw a lot of other news websites, but I saw a lot of being treated as "It was 3 minutes early for lunch."

Japanese officials issue apology on national TV over worker who left desk 3 minutes early to buy lunch | The Independent
https://www.independent.co.uk/news/world/asia/japan-officials-apologise-civil-servant-early-lunch-karoshi-death-overwork-a8410036.html

Believe it or not, Japanese man was fined for taking lunch break 3 minutes early | The Indian Express
https://indianexpress.com/article/trending/trending-globally/believe-it-or-not-japanese-man-was-fined-for-taking-lunch-break-3-minutes-early-5229064/

Going out 3 minutes Bell Purchasing day Public servant encounter firewood discipline│TVBS newspaper network
https://news.tvbs.com.tw/focus/942309

Middle age Flower 3 minutes Bell time Purchase flight, 竟 要 Necessary 扣 half heaven river water, Job launching crowd circumstances, Kobe 1 civil servant 天 時間 時間 時間 提 提 提 提 提 提 提 提 提 提 提 提 提 提 提 提 提 提 提 提 提 提 提 提 提,,,,,,,,,,,,,,,,,,,,,,,,,,,,,,,,,,,,,,,,,,,, 2, , Refund union 仗 仗 仗 仗 仗 記 記 鞠 鞠 鞠 鞠 鞠 鞠 鞠 鞠 鞠 鞠 鞠 鞠 鞠 鞠 鞠 鞠 論 論 論 論 論 論,

Of course, some media reported in the form of "hollow out".

Japanese water company docks worker's pay for leaving to buy lunch
https://www.news.com.au/finance/work/at-work/english-company-apologises-after-employee-caught-taking-threeminute-lunch-breaks/news-story/b28d43c3e4eef2ea304c98922a95f0a6

A JAPANESE company has issued a televised apology to customers for "scandal" in which an employee was caught taking three-minute lunch breaks on company time.

◆ Lawyers 'Views - Lawyers' views on this case are also articles, which will be helpful. Fuji News Network (Fuji News Network), which consists of 28 Fuji TV lines, is asking ALBA Law Firm, Ishibo Fumito Attorney.

Kobe municipal officials reduced their salary by lunch order during work. How much is "hollow out" allowed? I asked a lawyer - FNN.jp prime online
https://www.fnn.jp/posts/00326680HDK

Since the male staff of this case is considered to be obliged to engage in work in the workplace based on the employment relationship with Kobe City, contrary to this, "hollowing out" (departure from the workplace), so disciplinary action (Disciplinary reason) exists (local public servant law Article 29 paragraph 1).

In lawyer dot com, Seongbuk Law Firm and Yuusuke Tamura present their views.

Lunch order from work → reduction of city officials, citizen's report on the background ... Is this disciplinary action reasonable? - lawyer dot com
https://www.bengo4.com/c_5/n_8113/

Local public officials are obliged to devote themselves to their duties during work hours (Local Public Service Law Article 35). The agency was aware of the case of departing from the workplace for purposes other than official duties during business hours with a document or morning brief at every possible moment

◆ I asked the Kobe City Hall "I got up 3 minutes earlier for lunch" and "I ran out of order to order a lunch box that I can order by phone", I feel that the impression received by overseas people is different I will do. When the fact was properly revealed that the contents of the press might be corrected, I searched the information on the disposal in Kobe City 's press report , but since I could not find it, I tried to contact Kobe City Hall by e - mail It was. Then, I received the following answers.

First of all, about disposal.

The act performed by the staff who received the disposition was going to leave the work place and order a box lunch during working hours in order to receive a lunch box smoothly during the lunch break. Such behavior should be done during lunch break and there is no inevitable necessity to purposely go through the workplace while leaving work. While conducting cautionary guidance repeatedly so as not to conduct actions that can not obtain the understanding of the citizens of every citizen, this case resulted in the disposal as it repeated such acts without obtaining permission.

Below is the question with my circled number is a question from me, the bottom is the answer from the city office. Izumeph will also match with the press coverage of Nikkan Gendai.

蝀 h; Is it okay with the fact that I ordered my lunch box through the workplace and walked away from the building to the lunch boxer?
→ It is a fact.

蝁 h; Is it okay with the fact that there were actions such as work, ordering, work, lunch break from the report "hollow out"? In abroad, the wrong information of "premature rise" before the lunch break is flowing.
→ It is not "rising up", it will be hollow.

蝂 h; There is a report that the central omission is from 11:30 to 40 minutes and the lunch break is from 12 o'clock to 13 o'clock. Is this the right information?
→ It is correct information.

蝃 h; There is reporting that said staff is working four days a week. Is this the right information?
→ It is correct information.

蝄 h; There is an opinion on the Internet saying "How about a cigarette break?" However, it seems that the city hall is completely smoke - free. Will city employees recognize that cigarettes do not smoke in the city hall building regardless of whether they are on or off hours?
→ Within the government office it is non-smoking regardless of working hours.

And, as for the press conference, we received the following answers. It was because the four persons in charge were in a joint interview.

In Kobe City, in case there is a case of disciplinary punishment, we are in a press conference regardless of the case to inform you of citizens who are inconvenienced taxpayers. Concerning the press conference at the disposal, we held a press conference jointly with the department together with the case of disciplinary dismissal in other departments.

If these facts are communicated from the beginning, information will not be transmitted erroneously like "Apologies of four people owing to the staff going up 3 minutes early and having lunch," and the new "wrong Japanese statue "was never planted.

Although Kobe City publishes a summary of the mayor's interview on the official website , in the same way, should we also disclose information on the contents of a press conference like this one? I think that facts should be made widely public as facts by relaying the conference itself on the Internet. Discussions on the net can also be done based on the primary source.

There is no disclosure on which store you went to order this time. If I understand it, I could verify whether "I was able to order a phone" that Nikkan Gendai reported as a story of the stakeholders is true or whether round trip is possible in 3 minutes ... .... I believe that these details are wanted to convey to the media participating in the press conference without being touched.

As I was smoking from the time I saw the first news, I tried put together a bit of information in this way, but when I examine it, I will look up "3 minutes away from the phone", "buy a box lunch", "3 minutes early lunch break" etc. , The fact that the fact misunderstanding was made was conspicuous. Even such authors themselves wrote under the premise that "employees working at city halls" received the disposal in this case, but when I checked, I could not obtain confirmation. Because it was reported that "It is director" that I found, it may have been an outsourcing agency. Again, I sometimes stopped in the vast amount of information I receive on a daily basis, and I felt it necessary to think deeply.

( Sentence / picture: Takuya SAITO @ Charriderman) bicycle circulation all over the world coverage http://shuutak.com
Twitter @ shuutak
Facebook Page https://www.facebook.com/chariderman/
DMM lecture request https://kouenirai.dmm.com/speaker/takuya-shuto/ )