China's smartphone maker · OPPO recalled the advertisement strategy that appointed Greater China's big star · Jay Jeong-Ly who was the face of Xperia in Taiwan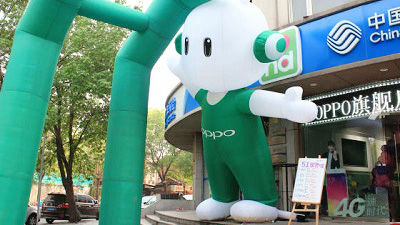 The big star in Taiwan is also a big star in China, so that's why I was puzzled because things close to pulling out were taking place. As you realize the momentum of "OPPO" that became a worldwide smartphone maker, at the same time, it seems like Sony's defeat as a result, sorry about this.

Hello, this is Takuya Sudo @ Charriderman who toured the world by bicycle . I listened to the news that the flag ship terminal " OPPO Find X " of the Chinese smartphone maker · OPPO which landing in Japan in 2018 was to be sold in Japan, I remembered the past advertisement.

About OPPO The first time I saw a smartphone manufacturer named "OPPO (Oppo)" was the Malaysian city / Million shopping mall on Borneo Island. Stylishly designed shops based on green are the ones that made a difference from those I have seen for Chinese enterprises. In the aisle of the shopping mall, the salespersons of OPPO were dancing promotional dance with patchy and mascot characters.

【OPPO】 Promotion in the dance by Chinese smartphone company In Malaysia - YouTube


This dance is impressive and a smart brand called OPPO is firmly carved in the brain. Examining it on the internet, it is a group company "Boogao Gao". It was a company that sold electronic educational toys such as Kids Computer · Pico, which used to exist in Japan. There was a memory that I saw at a Chinese book store.

When I traveled in Taiwan, I encountered OPPO's mascot character. This character has the name "Small Europe".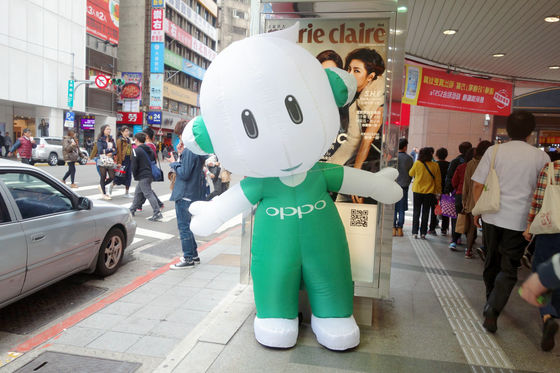 I also found "small Europe" in China.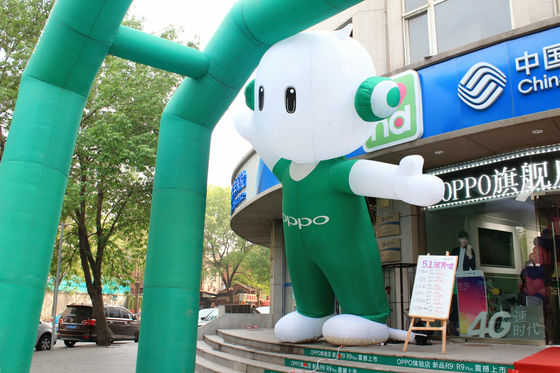 For Chinese companies not only in Huawai (Huawei), Xiaomi (Small America), ZTE (Chungkang), smartphones but also home appliances like Haier, Hisense, GREE, the Chinese company has two notations of English and Chinese general. Likewise, OPPO also has Chinese as the European, but it is strange that almost no Chinese characters are seen. In Malaysia and China, the entrance to the store is OPPO only. It seemed that the strategy of deliberately eliminating kanji was linked to sophisticated brand image.

In 2018, OPPO has also advanced into the Japanese market.

The fourth largest smartphone maker in the world "OPPO" The path of Japanese strategy - Nikkei Trendy Net
https://trendy.nikkeibp.co.jp/atcl/pickup/15/1003590/032801635/

Smaho World's fourth largest Chinese oppo landed in Japan, Can Apple's stronghold be destroyed - Bloomberg
https://www.bloomberg.co.jp/news/articles/2018-01-26/P302UY6TTDS001

Oppo, a major smartphone in China "Major manufacturers in the Japanese market" "Young people's hearts grasp" - Sankei Biz (Sankei Biz)
https://www.sankeibiz.jp/business/news/180322/bsj1803221736005-n1.htm

◆ China OPPO will appoint Jay Jeong
OPPO is a thin smartphone manufacturer that is familiar to Japanese people, but if it is a worldwide sales share, following Samsung and Apple's 2 tops, Huawei behind it, I am in a position to be fourth in a position. Huawei, Vivo also domestic market share of China has become a manufacturer to compete with the top. Vivo is also a mother group company with high stature.

In June 2017, OPPO released a flagship machine called R11 in China and appointed Taiwanese singer Zhōu Jiélún as advertisement character. In Simplified notation it is "Zhou Jie Ryi", English name is Jay Chou (Jay Chou). Although we see Jie as a simplified character of Jie and see it as "Zhou Zhi Lun", it is also appropriate to think of this as a separate letter, as it is written in Taiwan, which is a traditional Chinese character, too.

Jay-jeong is a great star boasting tremendous popularity in the Greater China. His songs that also perform lyrics writing themselves are those that everyone will hear once they start listening to C-POP (Chinese pop). From the light and rhythmic up tempo songs to the medium ballads of the slow tempo that moistly sings, the world of music he produces can not be conspicuous.

In December 2017, OPPO released a short film that appeared, "Zhou Jiei 2000 W Personal Circumstances". It is very well done, it is worth a visit.

Zhou Jie Ethical 2000 W Personal incident
http://hd.oppo.com/2017/jay/index.html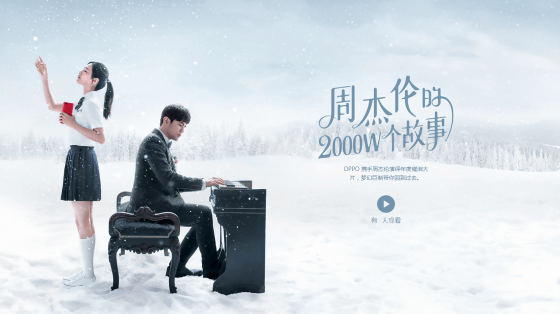 Considering what "W" is, apparently it seemed to be the initials of "wàn". "Individual" is simplified Chinese character. "Story" means "a story" as can be seen from the fact that the modernity of the movie "Police Story / Hong Kong International Police" starring Jackie Chan is "police incident". Together, the name of the short film means "20 million stories", the number of memories of the elderly crown and R11 in the middle, and the front camera which is the centerpiece of the new model R11s, the main camera 20 million pixels It seemed to be a word that went on.

I was impressed and I will explain the story. It is spoiler attention.

"There are two kinds of pianos in the world - piano that I own and it is nothing else," Jay Jin - ryu, his piano had the effect of reviving the memories of the people heard. One day in the winter of 2070, a pair of elderly couple who heard such a rumor visits him. Two people who sat on the sofa. When Jayoune begins to play the piano, two memories of the past are reflected. Celebration of encounter, relationship, distance, fight, and propose. The couple and the two who gave the children are aged older as the dance steps, 1, 2 and 3 scenes are switched. "Little laugh (Xiǎoxiào)" who became an old lady was demented. I do not know the husband's "Xi ǎoyǔ" who became an old gentleman. That is why Koo Uu brought a small lol under Jay Jeong. Small laugh reminds me of everything. Memory of Smile seemed to have stopped somewhere. While tears, I will say, "You were a little older" to Koo Ue. Nevertheless, Koo Ue said, "You do not change anything", a gentle reply. "60 years of marriage, congratulations on diamond wedding" 2 bless the time so far. Such happiness was also a moment. When Jayoune 's piano ends, the smile returns. "Where is this place, where is Kooha?" Smoke asking like a child "Small waits for you at home" is returned. Tears stopped stopping in gentle small fruit everywhere.

◆ Taiwan Sony also appointed Jay Jeong- Lyong, which is advertising character of OPPO like this, but in fact, in Taiwan he was advertising character of Xperia (Experia) which is a terminal of Sony Mobile.

My most pleased 4K HDR extreme quality - YouTube


My most open mind design - YouTube


It was appointed in October 2015, at the timing of the release of the Xperia Z 5 series, it became "face of Xperia" as it is in Taiwan.


Meanwhile, Jay Jin - ry starts similar activities even at OPPO. This timing was quite terrible.

On May 17, 2017, Jay Jeong attended a press conference of Xperia XZ Premium in Taiwan.

Jay Jeong 5/17 SONY Xperia XZ flagship press press conference - YouTube


From May 19th to May 30th, 2017, we held the Xperia XZ Premium promotion event using Jay - jin at the square in front of the department store.


Just after that, on June 2, 2017 OPPO 's official Maiho (Weibo) announced that Jay - jeong will be appointed as an advertising character.



The act that can be said to be withdrawal by OPPO has become a hot topic in Taiwan's media.

Sony Mobile surrogacy person Jay-joo Lam's act OPPO R11 departure table - SOGI hand knot
https://www.sogi.com.tw/articles/oppo_r11/6249337

Zhou Xuan Sony joining transportation platform! OPPO New machine "R11s" long like | Free Electronic news 3C Science
http://3c.ltn.com.tw/news/31773

OPPO R 11 Taiwan District Representative Unspecified Zhou Jie Meng Yuzhou! Taichung Outdoor Advertisement Exposure | ETtoday3C | ETtoday Newspaper Cloud
https://www.ettoday.net/news/20170609/941418.htm

As expected, OPPO did not appoint Jay Jeong in deployment in Taiwan, and he appointed Hebe as a popular music unit in Greater China as in Jay - joo.

As far as I confirmed, the activity in Taiwan Sony at Jay Jeong-ly is the last in Xperia XZ Premium, and at the time of Xperia XZ 2, which was released in July 2018, neither a press conference nor an advertisement is showing up, so contract It may have ended.

When I traveled to Taiwan, I saw the advertisement of Xperia where Jay - jeong was appointed. I was deeply moved by the sight that the Japanese makers struggled fiercely in the smart business that had become a total collapse. That is why the appointment of Jang Jin-ry by the competitor OPPO is shocking to me, a topic that has already been over a year, but I decided to write an article like this.

By the way, OPPO's latest flagship machine · Domestic sales of "Find X" have been decided. The review article is below.

A perverted smartphone "OPPO Find X" review where a camera unit jumps out for a true bezelless without notch, I experienced the cutting edge of smartphone technology - GIGAZINE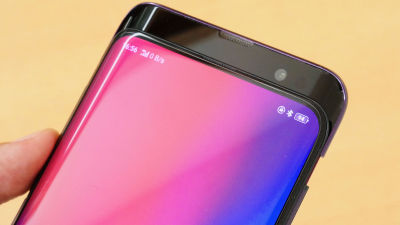 ( Sentence / picture: Takuya SAITO @ Charriderman) bicycle circulation all over the world coverage http://shuutak.com
Twitter @ shuutak
Facebook Page https://www.facebook.com/chariderman/
DMM lecture request https://kouenirai.dmm.com/speaker/takuya-shuto/ )