Clearly the benchmark score of the new iPad Pro is released, and some of the performance exceeds the MacBook Pro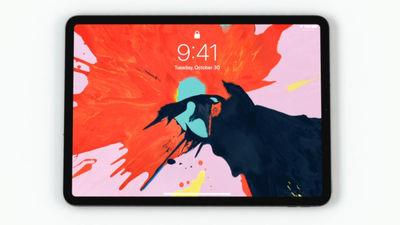 In Apple's new product announcement event held on October 30, 2018, iPad Pro which redesigned the design greatly was announced such as "A12X Bionic" chip is carried and the home button is eliminated. In the announcement event, the benchmark score by Geekbench of the new iPad Pro, which was appealed as "boasting high performance even compared with other PCs" is published online.

Geekbench scores for new iPad Pro surface, rivals 2018 MacBook Pro performance - 9to 5 Mac
https://9to5mac.com/2018/11/01/geekbench-ipad-pro-performance/

New iPad Pro Has Comparable Performance to 2018 15 "MacBook Pro in Benchmarks - MacRumors
https://www.macrumors.com/2018/11/01/2018-ipad-pro-benchmarks-geekbench/

The new iPad Pro was equipped with a 7-nm process SoC "A12X Bionic" of 8 core CPU / 7 core GPU, and was announced as "faster than 92% of all PCs" at the new product announcement event. This benchmark by Geekbench of this new iPad Pro has been released online, and the CPU performance evaluation shows that the single core performance is about 5000 and the multi-core performance is about 17000 to 18000 scores.

Looking at the score performance comparison by the same Geekbench below, iPhoene XS equipped with "A12 Bionic" chip which is known to have performance enough to drive a MacBook alone, not to mention the previous-generation iPad Pro iPhone XS Max · iPhoen XR is also outstanding. Also, with the 15-inch MacBook Pro released in July 2018, it turned out that it was winning with single core performance for 2.2 GHz · 6 core Core i 7 mounted type. 2.2 GHz · The 15-inch MacBook Pro equipped with 6 core Core i 7 is priced at 258,800 yen, while the new iPad Pro is 11 inches · storage 512 GB · Wi-Fi model is taxed by 12,8800 MacRumors is evaluating that "It is really impressive" that it is close to half a price.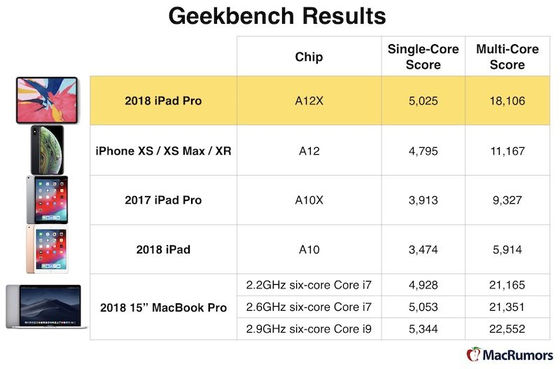 In addition, the report by Geekbench shows that iPad Pro has 6 GB or 4 GB of RAM. "IPad 8, 8" in the report has 5650 MB of memory and "iPad 8, 3" has 3769 MB of memory. The memory capacity of the new iPad Pro varies depending on storage (ROM). For models with 64 GB, 256 GB and 512 GB of ROM, 4 GB memory, and 1 TB ROM model is loaded with 6 GB memory.

Multiple people are telling me that only the 1TB iPad Pros get 6GB RAM. ... So that's a thing.

- Steve Troughton - Smith (@ stroughtonsmith) 30th October 2018

Although it seems that apps and functions that consume much memory so far are not likely to be available now, iOS 13 and iOS 14 which will be introduced in the future may add functions that require more memory than now, And 9 to 5 Mac predicts.