The possibility of the 2021 iPhone evolving into a complete wireless terminal without any port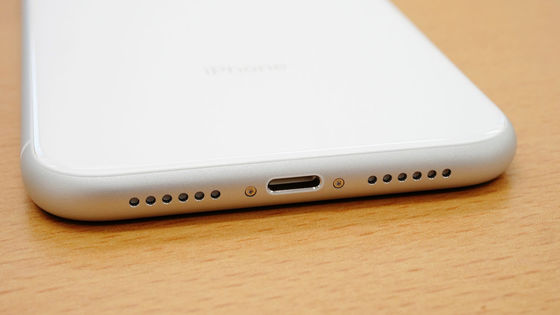 Minchi Kuo,
who is familiar with Apple-related leak information, has published predictions about the next-generation iPhone that is expected to appear in 2020 and 2021. According to Kuo's prediction, the iPhone that will appear in 2021 will be 'a complete wireless device, not just a Lightning port, but any other port.'
Kuo: Four new OLED iPhones in 2020, iPhone without Lightning port in 2021-9to5Mac
https://ww.9to5mac.com/2019/12/05/kuo-iphone-2020-and-2021/
Apple will reportedly release an iPhone without any ports in 2021-The Verge
https://www.theverge.com/circuitbreaker/2019/12/5/20997166/apple-iphone-no-ports-2021-oled-rumors-2020-se-kuo-research
Analyst Kuo released predictions about the next-generation iPhone based on information obtained from the supply chain. According to Kuo, in 2020, four iPhone models with OLED display will appear, and in 2021, an iPhone without a Lightning port will appear.
◆ iPhone2020 model
According to Mr. Kuo, the iPhone's display size in 2020 will be 5.4 inches, 6.1 inches (2 models), and 6.7 inches. All four models in 2020 are compatible with 5G communication, and other than the display size, the camera specs are different.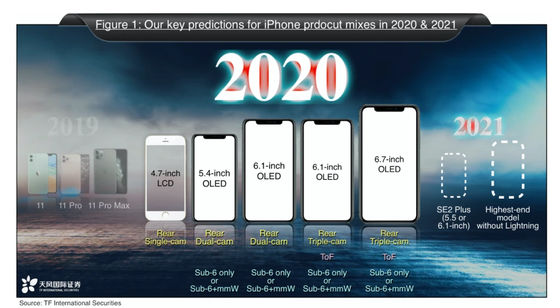 For the 5.4-inch model, the main camera is a dual camera. The 6.1-inch model has two main cameras, a dual camera and a triple camera, and the 6.7-inch model appears to be a triple camera. In the case of a model with a triple camera, 3D sensing technology is installed.

In addition, Mr. Kuo wrote that the 2020 model iPhone '
form factor
will be similar to iPhone 4.'
◆ iPhone SE 2
Kuo also expects Apple to release the 4.7-inch iPhone SE 2 in the first half of 2020. This terminal has almost the same form factor as iPhone 8, and the liquid crystal display (LCD) will be adopted as the display.
In addition, predictions about iPhone SE 2 have appeared in the past, and it seems that the same A13 Bionic chip as the new iPhone in 2019 will be adopted, and RAM (memory) will be 3 GB. The selling price is said to be equivalent to the original iPhone SE.
A famous analyst claims that `` iPhone SE 2 '' will finally appear in 2020-gigazine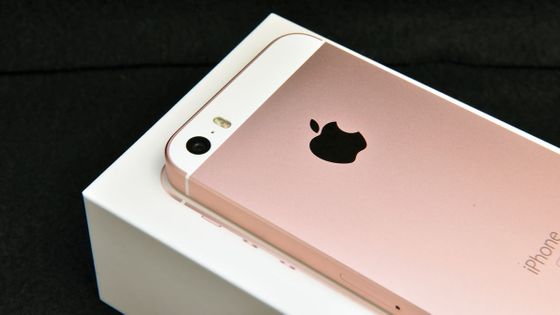 ◆ iPhone2021 model
Regarding the 2021 model iPhone, Kuo predicts that a new iPhone without a Lightning port will appear. Until now, there has been a rumor that the Lightning port of the iPhone
will be replaced with
a
USB Type-C port,
but Kuo predicts that the Lightning port will disappear and become a complete wireless device.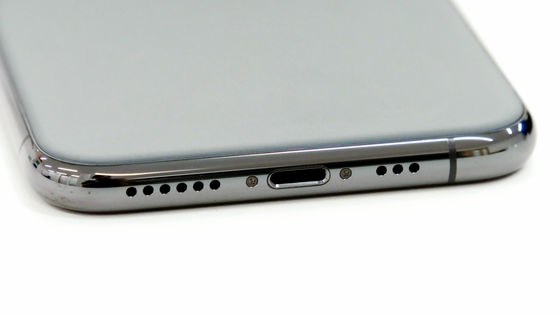 Mr. Kuo says that not all of the iPhones released in 2021 will have their Lightning ports gone, saying, 'We are planning to remove Lightning ports from high-end models.'

In addition, Mr. Kuo predicts that `` iPhone SE 2 Plus '' will appear in 2021 as the successor model of iPhone SE 2, and this terminal adopts a full screen design like iPhone 11, and the display size is 5.5 inches Or it will be 6.1 inches. However, despite the fact that the full screen design was adopted, Face ID of Face Authentication function is not installed in iPhone SE 2 Plus, instead, Touch ID of fingerprint authentication sensor is integrated in the side button part on the side of the terminal Kuo predicts.