I've been enjoying four kinds of Komeda's seasonal cake such as fruity `` strawberry strawberry '' whose sweet and sour strawberry pops in the mouth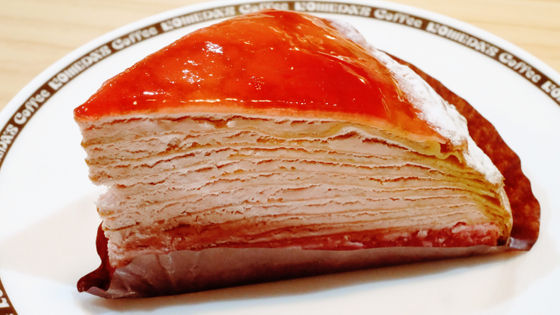 Komeda Coffee has launched a new winter / spring cake such as ' Strawberry Tree Strawberry ', topped with a fruity wooden strawberry puree topped with milk and rape sandwiched with sweet and sour strawberry cream. `` Teesmoose '' using Earl Gray milk tea mousse, `` Wait Mont Blanc '' combining matcha from Nishio, Aichi and brown sugar from Okinawa, and `` Natty Chocolat '' with ganache with almonds and shoramose The kind of seasonal sweets are perfect for tea and perfect for tea time, so they have all been tasted together at Komeda's coffee shop.

Four kinds of cakes that are perfect for tea time are renewed and newly available seasonally!

http://www.komeda.co.jp/info/campaign.php#id_2491
販 売 Starting sale of new cake in winter and spring from today ?? /
In addition to 'Tees Mousse', a mix of Earl Gray milk tea mousse and mascarpone mousse, 'Nati Chocolat,' 'Relax Mont Blanc,' and 'Strawberry Ichigo' have a variety of options. https://t.co/ccYD1Ke1g7

* Sale is excluded at some stores pic.twitter.com/bG6lfkqzMj

— Komeda Coffee (@KomedaOfficial) January 22, 2020


Arrived at Komeda's coffee shop.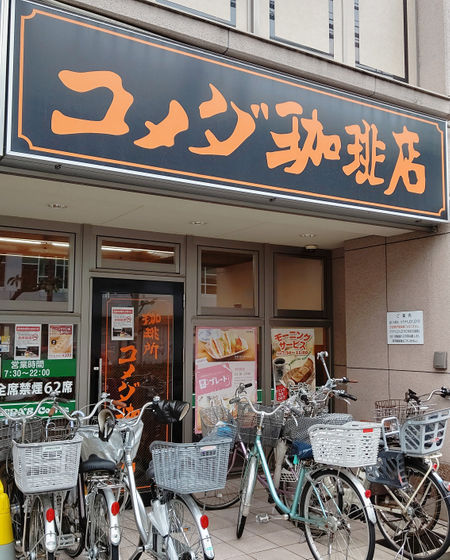 When I arrived at the seat, there was a menu of four new cakes, so I ordered immediately.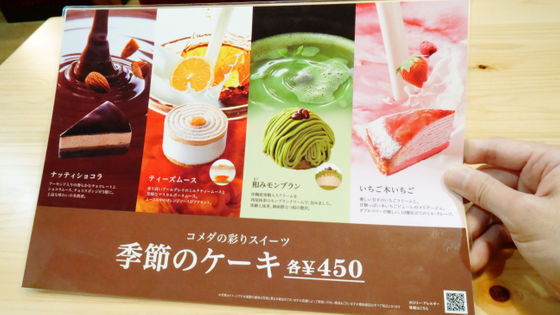 About 5 minutes after ordering, 'Strawberry Tree Strawberry', 'Natti Chocolat', 'Tea Mousse' and 'Relax Mont Blanc' arrive. The price of each new cake is 450 yen including tax.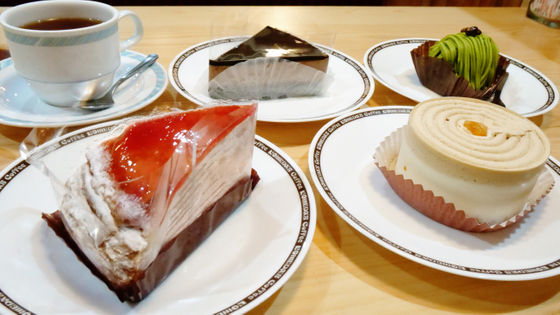 First, from 'Strawberry tree strawberry'. Remove the film ...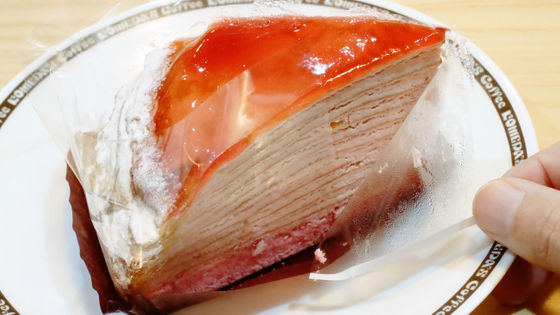 Looking from the side, you can see that the strawberry cream and the crepe dough are in multiple layers.



The top is colored with tree strawberry puree.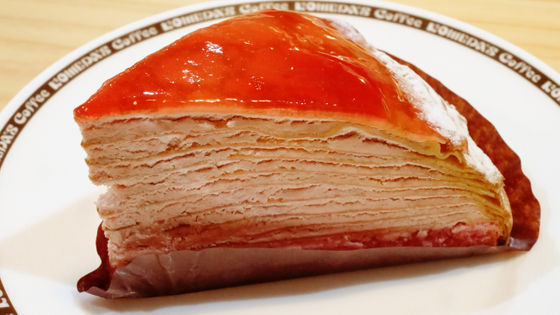 If you compare the size of the plate with a transportation IC card, it looks like this.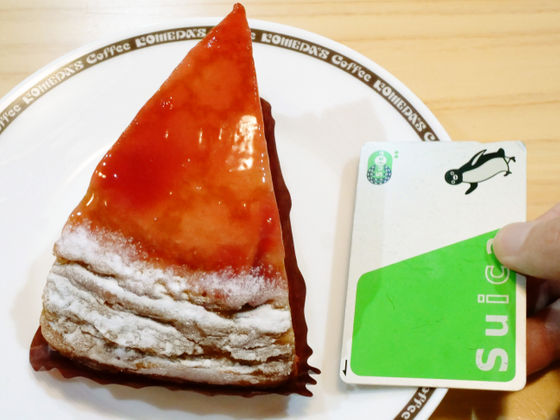 When you eat a sip, the fruity aroma of strawberry puree and the sweet and sour strawberry cream spread in your mouth, giving you a strawberry-like taste. The cream of low sweetness melts smoothly in the mouth, and you can enjoy the contrast of the texture like milk rape with the fragrant crepe dough.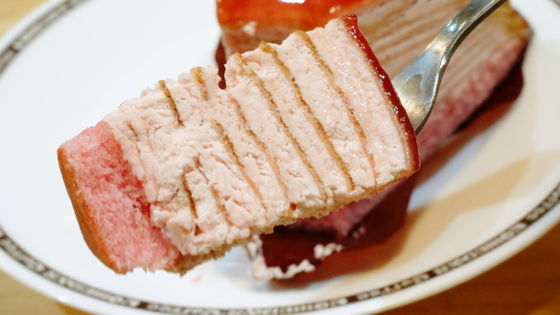 Next, I will try 'Natty Chocolat'.
Grasage on the
top is
glossy
.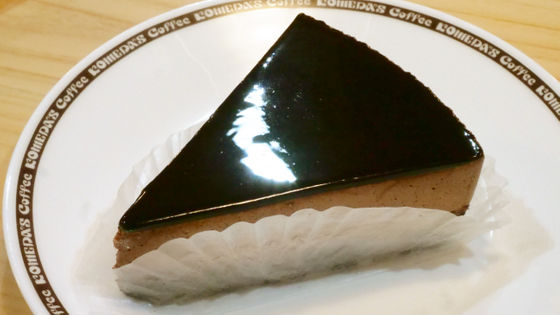 On top of the chocolate sponge, chocolate ganache and shoramose are layered, making it a whole chocolate product.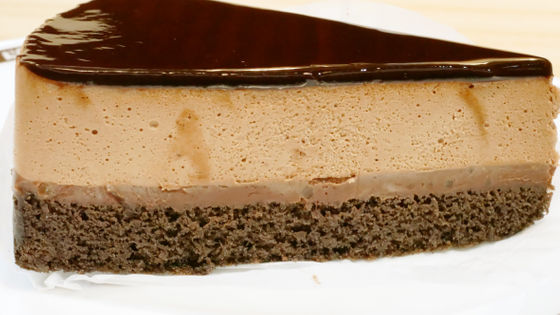 The moist Shokarasu has a rich chocolate aroma and a bitter taste.



The chocolate ganache contains grains of almonds, and the flavor of the savory nuts accentuates the rich chocolate flavor.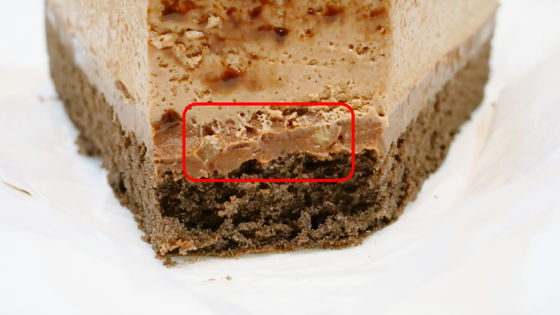 Next, we ate tea tea. A milk tea mousse is layered on a white
mascarpone cheese
mousse with orange peel at the top.


The two types of mousse melt on the tongue fluffy like a souffle. While the texture is light, the taste of mascarpone cheese is rich.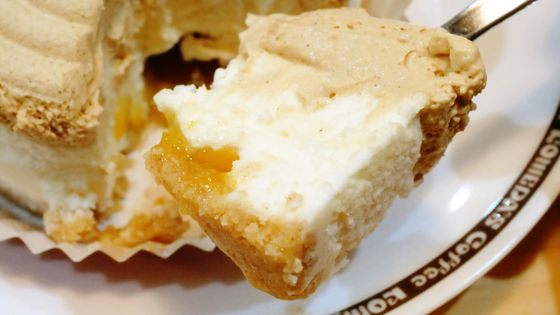 The orange sauce in the mousse added a refreshing acidity, so I was able to enjoy the scent of Earl Gray and the richness of cheese.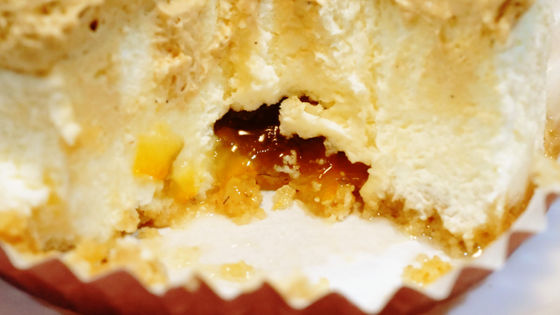 The last one I ate was 'Relax Mont Blanc'.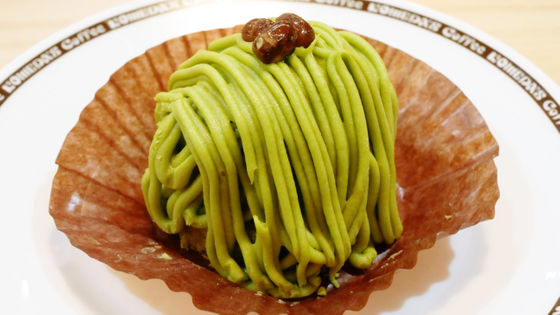 Red beans are on the top of Mont Blanc cream using
matcha
from
Nishio,
Aichi Prefecture.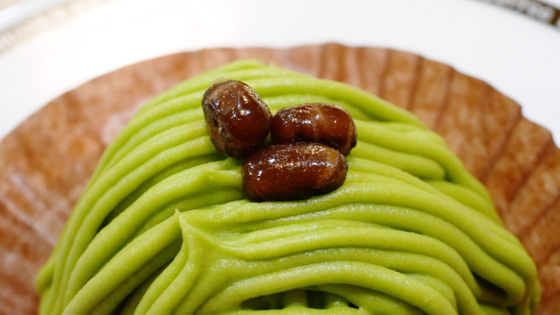 When you eat it, the elegant sweetness of brown sugar cream and the plump aroma of matcha spread in your mouth.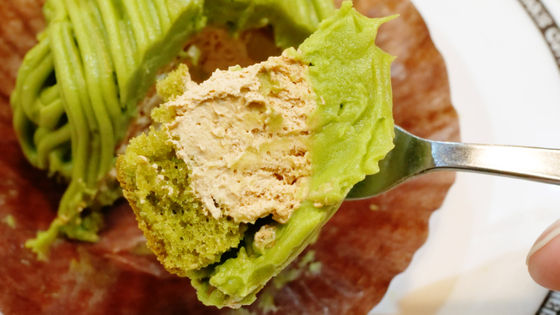 Under the Mont Blanc cream, there are chestnuts cut into pieces, and I was able to enjoy the taste of Mont Blanc.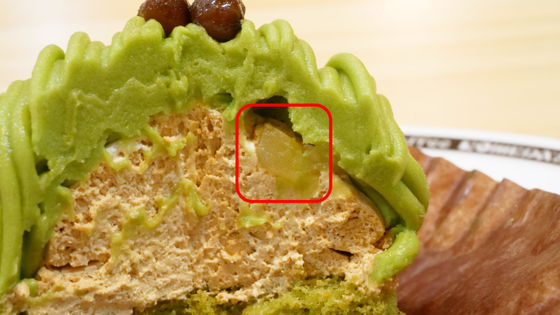 The astringency and aroma of the black tea will reset the sweetness of the sweets, so it is recommended to order a straight black tea with the cake.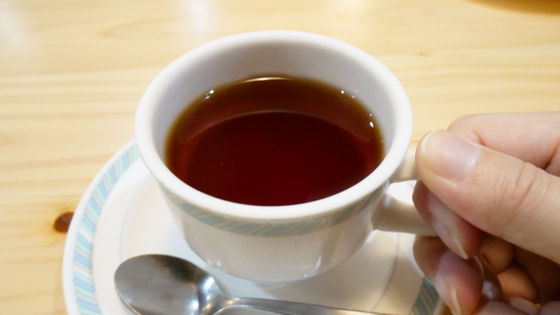 'Ichigo Ichigo', 'Natty Chocolat', 'Tea Mousse' and 'Relax Mont Mont Blanc' can be ordered from January 22, 2020 at Komeda coffee stores nationwide except for some stores.