Summary of what we did when we increased the influx of search results to sites and blogs from 0 to 200,000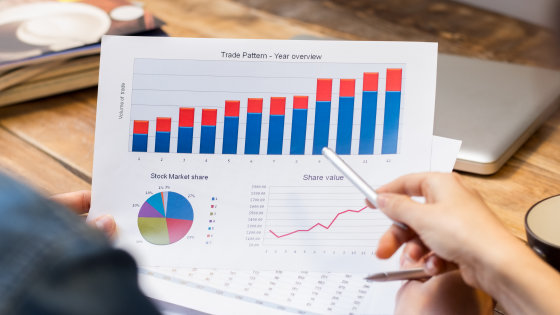 by
Rido81
No matter how good the text and content you create, if there are no people who visit your website or blog when you publish it on the Internet, your chances of getting people to like it will decrease. SEO measures are essential to display your site at the top of Google search results and increase the number of visitors, but what did you do when you actually increased the monthly inflow from search results from 0 to 200,000? Apollo Digital, a digital marketing company, has published an example.
SEO Case Study --0 to 200,000 Monthly Organic Traffic
https://apollodigital.io/blog/seo-case-study
When Apollo Digital started working with Tallyfy, a developer of business process management (BPM) software, in 2017, Tallyfy's software was still under development, and the current challenge was 'how popular products are focused on user acquisition. 'Do you want to make it?'
From that time on, there was a high-traffic, high-conversion keyword in a particular market called BPM software. These include 'business process management,' 'workflow diagrams,' 'process analysis,' and 'process improvement tools.' For this reason, Tallyfy also had a keyword-based SEO strategy, with the task of 'auditing keywords and content, supervising freelance writers, and creating 10 articles a month that are effective in search results.' Apollo Digital was hired to proceed. The initial goal was to 'get 50,000 traffic a month within a year.'
◆ 1: Keyword strategy
By the time Apollo Digital started working with Tallyfy, the keyword research had already been completed and 300 keywords were listed to cover a particular market. However, some of these keywords were highly relevant, such as 'project management' and 'process management,' while others were less relevant, such as 'content marketing,' 'SEO,' and 'computer science.' So Apollo Digital started by removing irrelevant keywords from the list.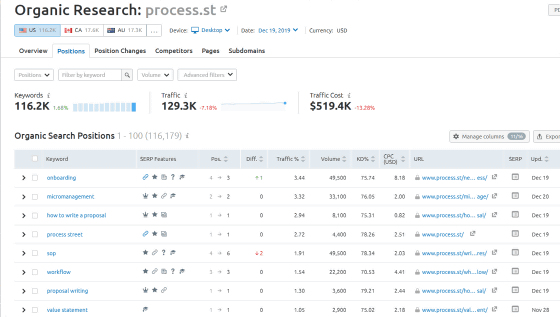 Apollo Digital encourages clients to 'target one or two specific markets first' when launching SEO measures. Since Google's algorithm makes a guess that 'it's a project management blog because I write a lot of articles about project management', it is very likely that the website will rise to the top of the ranking due to the influx of unrelated keywords. Because it is low.

Apollo Digital also mentions the problem of multiple keywords biting each other.

For example, Tallyfy uses three keywords to describe 'process management': 'business process management', 'process management', and 'BPM'. Google understands that the three keywords mean the same thing, so it gets confused with 'Which is the main article?' And 'Which should be ranked?' To solve this problem, Apollo Digital made a
301 redirect
from articles with different keywords to the main keyword.
Apollo Digital modifies existing keywords as described above and then explores new competitive keywords. The determined keywords are classified into the following three categories.
1. 1. Those with moderate to high traffic, less competition and higher
CPC
. Content containing these keywords has the highest priority and should be created immediately.
2. Those that are difficult to rank by keyword but can produce unexpected results. These keywords are said to have medium to high traffic, high CPC, and high competition.
3. 3. 'It's worth chasing keywords, but not as high as 1 or 2' keywords. Most keywords correspond to this '3'.
◆ 2: Supervise the content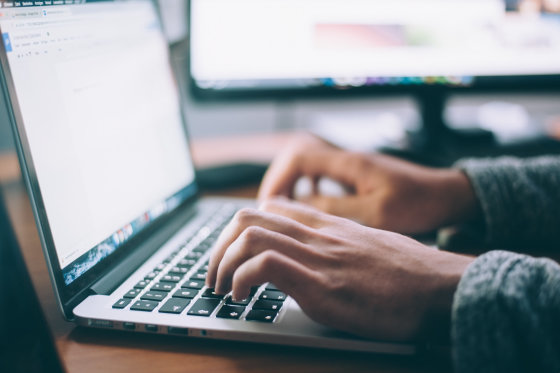 by
Glenn Carstens-Peters
Tallyfy has a team of writers who create content, and about 100 articles have already been published, and writers create content every week. However, Apollo Digital said that these contents had problems that 'they didn't match the intent of the person who searched for the keyword' and 'some content was just a fragment of opinion.' I will.
In order to make the best use of these contents, all the contents were first classified into three groups: 'great', 'helpful', and 'no help'. He said that while maintaining 'great' content, he renewed what was 'helpful' and rewritten or 301 redirected to better content for 'no help'.
◆ 3: Instruct new content marketing
One of the problems with Tallyfy's writer team was that the writer wasn't an SEO expert. Writers knew how to create good content, but good content isn't always good for SEO.
Therefore, Apollo Digital has implemented two points: 'creating an outline of content' and 'establishing guidelines for explaining content that excels in SEO'.
The difference between 'SEO-friendly content' and 'general content' is that the former is written with the user's search intent in mind. In other words, in order to create the former, it is necessary to keep in mind 'what kind of information do Google searchers want?' To solve this problem, an outline was created for each keyword. This outline is a summary of 'topics that writers should touch in order for an article to be ranked by Google.'
For example, the outline of the keyword 'Technical SEO' looks like the following. In addition to the main keywords, the number of characters, and the title, the checklist for SEO includes 'keyword frequency is 0.5 to 2% of the total', 'each keyword is used once or twice', and 'preferably keywords are used as headers'. It says 'use', '2-5 external links', 'only necessary internal links', and 'reference keywords in meta descriptions'. In addition, as an outline of the content, the flow of introducing up to 100 characters and 'writing what is Technical SEO' is explained under the introduction.
Technical SEO --Outline --Google Docs
https://docs.google.com/document/d/1scJEjANJY61X1uZpv7TPQln0mLZODGUaHMEhtGelYdI/edit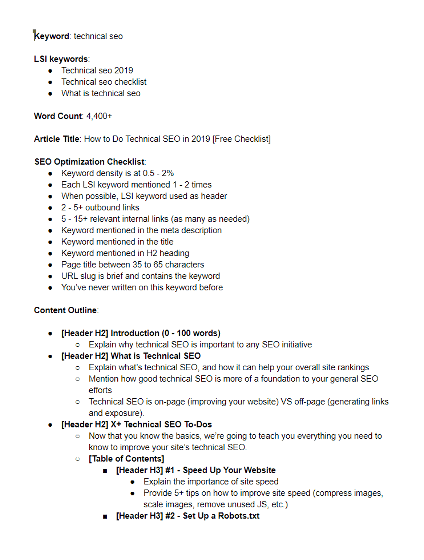 In addition, the following are stipulated as writer guidelines.
・ The content will be easier to read by making each paragraph 3-4 sentences.
· Use visual content when possible
・ Don't use mundane stock photos such as 'people laughing in the office'. These don't add any value and just get in the way
・ Avoid passive voice if possible
· Keep in mind your target audience
・ Readers are experts, so don't be ambiguous
· Use custom formatting when possible
◆ 4: Continuous internal link
Proper reciprocal linking is an important part of your SEO strategy. For this reason, the following three points have always been confirmed in the contents of Tallyfy.
・ Is the new content linked to an existing article?
· Improve internal links on existing pages and posts
· Does the new article have a two-way link to existing content?
That is, if the new content was writing about BPM, the content would link to all relevant articles. A good way to do these reciprocal links is to use a query like 'site: tallyfy.com' business process improvement '' to find articles on Google search and use the word 'business process improvement' in each article. With Control + F, and from there an internal link to an article about 'process improvement'. Since business process improvement has the same meaning as the word 'BPI' and 'process improvement', he said that he did this work for all these related phrases.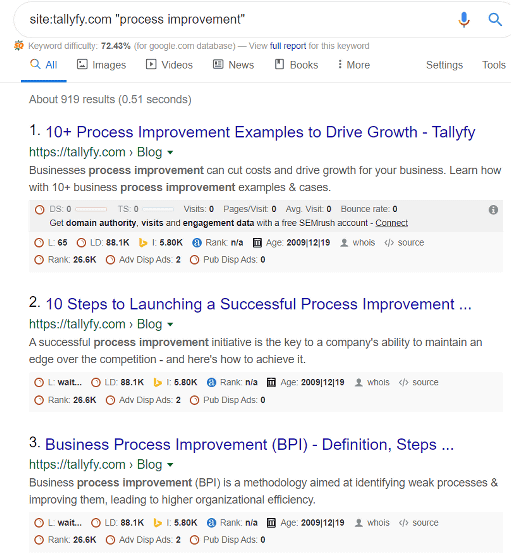 ◆ 5: Improvement of blog visual and readability
No matter how good you write, no one will read a screen full of characters like the one below.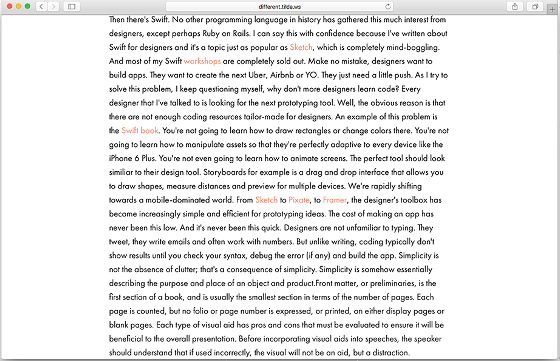 Also, in the case of long sentences, the reading experience will not improve even if it is combined with a photo that can be clearly seen as a stock photo. For this reason, it was recommended to prohibit stock photography and use graphs, charts, tables, etc. using
draw.io
and
Canva
. In addition, we used a custom CSS box to mention random and important facts about the topic and highlight important points to draw attention to.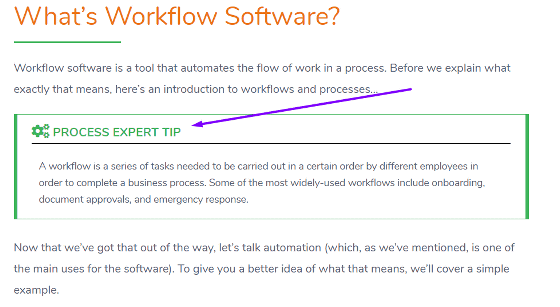 And, in order to encourage clicks on excellent popular articles, the CSS was changed and the text was emphasized more with the font size of the corresponding internal link.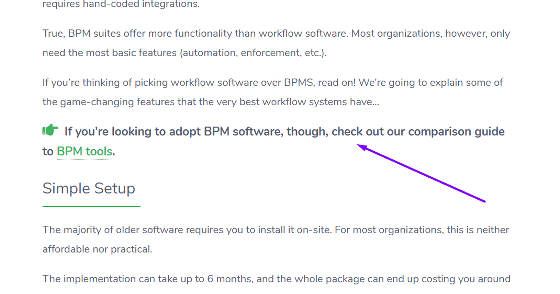 ◆ 6: Track and improve headlines
Article headlines play a big role in whether content is ranked. Google benchmarks the average CTR of your website. For example, if your content CTR is 12% while your content CTR is 20%, Google will consider your content to be more 'relevant' and rank it higher. Use Google Search Console to track your CTR and change the heading if necessary.

◆ 7: Continue to monitor and improve
SEO is endless, so you need to continually monitor your process and make improvements and adjustments. If the links for a particular content aren't ranked, you can find out why by following the checklist below.

-Is the content as comprehensive as possible? Is there anything I can add?
• Does the content match the keywords that should be ranked?
• Is the content linked to each other throughout the website?
・ Is the article headline clickable?
・ Is the quantity and quality of backlinks appropriate? If your rivals have more than 500 backlinks and you only have 2 backlinks, they probably won't be ranked

in Note, Posted by darkhorse_log