'IOS 13.5' released, Apple and Google's 'new coronavirus infectious disease contact notification API' will be implemented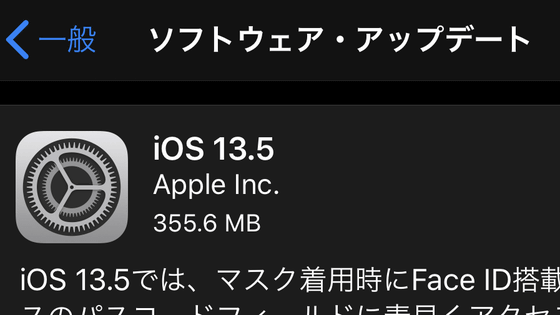 Apple has released iOS 13.5, the latest version of iOS, the OS for iPhone and iPod touch. With iOS 13.5, you can quickly access the passcode entry screen from Face ID when wearing a mask,
and
an API for the new coronavirus infection (COVID-19) contact tracking system that
Apple and Google cooperated
with has been introduced. The file size of iOS 13.5 is 355.6MB.
iOS & iPadOS 13.5 Release Notes | Apple Developer Documentation
https://developer.apple.com/documentation/ios_ipados_release_notes/ios_ipados_13_5_release_notes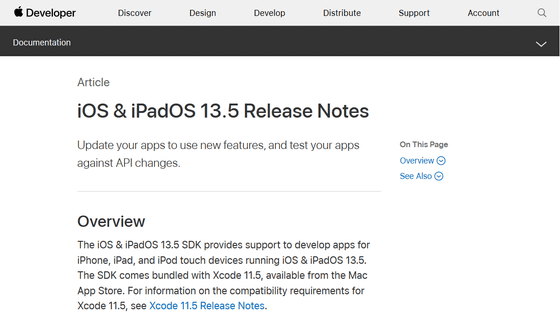 iOS 13.5 is out now with a faster way to unlock your iPhone while wearing a face mask-The Verge
https://www.theverge.com/2020/5/20/21265019/apple-ios-13-5-out-now-unlock-iphone-face-mask-id-exposure-notification-covid-19
Apple released iOS 13.5 on May 20, 2020 local time. Two new features related to COVID-19 have been added to iOS 13.5. One is the specification change to make it easier to unlock the device even when wearing a mask, and the other is the introduction of the COVID-19 contact notification API.
Until now, if you wear a mask on iOS, you can enter the passcode after Face ID tries to recognize the face and fails to unlock. Therefore, to use the iPhone while wearing the mask, there was a waiting time of every second for unlocking the terminal. However, in iOS 13.5, swiping the lock screen upward allows you to switch to the passcode input screen at any time, so you can quickly unlock even with the mask on.
In addition, Apple also supports a contact notification API developed jointly with Google. However, it remains inactive on the system until an app developed by a public health agency that uses the API is installed.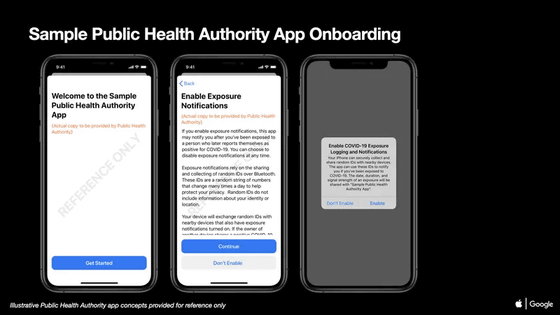 In the future, Apple and Google will 'incorporate directly into the OS instead of using API so that contact notification can be made even if the application of public health authorities is not installed'. More details on the security and privacy of the COVID-19 contact tracking system are summarized in the following articles.

Answer to questions about security and privacy that float with `` new corona virus tracking system '' jointly announced by Apple and Google-GIGAZINE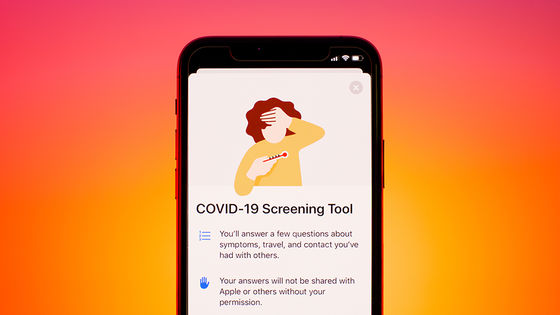 In addition, in iOS 13.5, it is also possible to turn off the 'function to automatically change the window size of the person talking' in Group FaceTime.