Microsoft announces new Windows 10 start menu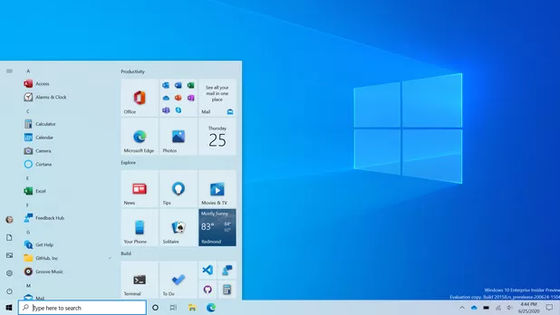 Microsoft has released the latest preview version of Windows 10, ' Windows 10 Insider Preview Build 20161, ' for developers. In Build 20161, the start menu has been revamped, and it has evolved from the traditional tiled design to a more sophisticated design.

Announcing Windows 10 Insider Preview Build 20161 | Windows Experience Blog

https://blogs.windows.com/windowsexperience/2020/07/01/announcing-windows-10-insider-preview-build-20161/
Microsoft announces new Windows 10 Start menu design and updated Alt-Tab-The Verge
https://www.theverge.com/2020/7/1/21310597/microsoft-windows-10-start-menu-design-new-alt-tab-features
Starting with the just-released Windows 10 Insider Preview Build 20161, the Windows 10 start menu is new. Until now, the start menu of Windows 10 was a 'tile design' in which the background of the application icon was displayed in a different color from the UI part of the start menu. However, in the new Windows 10 Start Menu, the background of the app icon is transparent, and Microsoft explains that it has become a Start Menu with a more streamlined design. 'In particular, the
standard icons
for
Windows, such as
icons for apps such as Office and Microsoft Edge, and
calculators, emails, and calendars that have been redesigned using
the
Microsoft design system Fluent Design have
become more beautiful,' said
Microsoft.
It was.
You can see at a glance how the start menu of Windows 10 has changed by looking at the GIF image below.
The new start menu in Windows 10 will work even if you turn on the dark theme in the UI.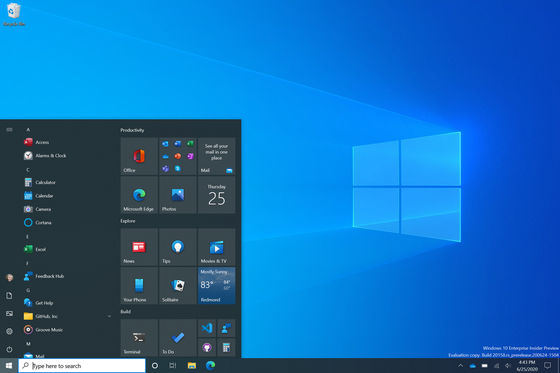 Also, if you set the accent color to the start menu, you can arrange the colors of the start menu as follows.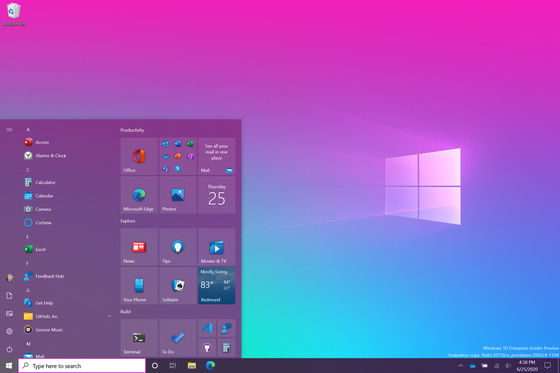 In Windows 10, pressing the 'Alt + Tab' key will bring up a window where you can quickly switch between applications. In Windows 10 Insider Preview Build 20161, each of the tabs opened in Microsoft Edge of the web browser will also be displayed in the application switching window. In addition, it is also possible to set the operation of the 'Alt + Tab' key back to the conventional one, that is, not to display each tab of Microsoft Edge individually.



In addition, Microsoft has arranged the taskbar layout to organize the content that users need and to provide a personalized experience to each user so that the user who is using a Windows 10 PC for the first time can make the most of the OS. Announced to change for each user.

The image below is the Windows 10 taskbar design that first appears when a new Microsoft account is created. The upper row is the normal taskbar, the middle row is the taskbar for Android users, and the lower row is the taskbar for Xbox Live account users. The following new taskbar design was initially proposed by Windows and does not change the taskbar layout for existing users.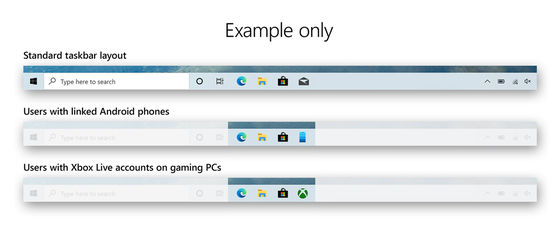 In addition, the Windows 10 notification experience has been improved. The following is a new notification, if you check the application icon at the top of the notification you can see from which application the notification is coming, after checking the notification content you can close the notification by clicking the X button in the upper right.




In addition, Microsoft has updated the version information part of the control panel of Windows 10, improved the experience of 2-in-1 device tablet mode, equipped with a graphing mode in the calculator application, and some other details. We are also making some changes.