The movie 'Deadpool 3' starts, becoming the first deadpool produced by Marvel Studios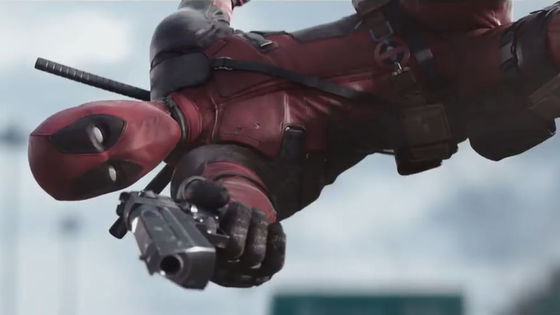 'Deadpool
' is a hero played by Ryan Reynolds,
but the hero, Deadpool, who is too rough is too impressive. The sequel '
Deadpool 2
' was also successful, but finally the sequel '
Deadpool 3
' It is reported that the production has started.
'Deadpool 3'Moves Forward With The Molyneux Sisters Set To Write – Deadline
https://deadline.com/2020/11/deadpool-3-marvel-ryan-reynolds-the-molyneux-sequel-1234617182/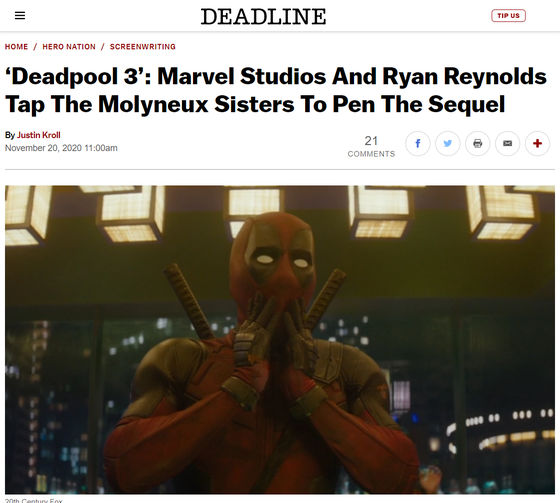 Among the movies based on Marvel Comics, there are
Marvel Cinematic Universe
(MCU) works, which are made into movies by
Marvel Studios
under Disney, and 'Dead Pool', which is produced and distributed by 20th Century Fox. '
X-MEN
' '
Fantastic Four
' and so on. Due to the different manufacturers, popular characters such as Deadpool never appeared on the MCU.
However, in March 2019, Disney completed
the acquisition
of 20th Century Fox, a movie production division under the umbrella of 21st Century Fox, and 20th Century Fox Television, a television production division. It is rumored that this will cause the deadpool to join the MCU. Whether or not this will happen, movie-related media Deadline reports that the production of 'Deadpool 3', a sequel to 'Deadpool 2' released in 2018, has finally started.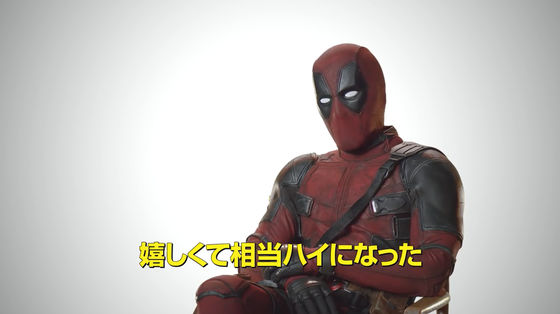 According to Deadline,
Wendy Molyneux
and
Lizzie
Molyneux, known producers of the
popular comedy Bob's Burgers
, are writing the script for Deadpool 3. According to media reports, the main character, Deadpool, will continue to be played by Ryan Reynolds.
The writer meeting by the Molino sisters has already been held for about a month, and Reynolds has already met to confirm the script. Since Deadpool 3 is still in the early stages of production, adopting the script of the Molino sisters will be the first step for the work.
Deadpool 3 is Marvel Studios' first opportunity to make a film with Ryan Reynolds and the Deadpool production team. According to sources, Deadpool 3 will be
R-
Shitei as in the previous work, and Deadpool 3 will have a new director.
In addition, since the schedule of David Leitch
who was in charge of the director in Deadpool 2 is filled until 2021, it is unknown whether he will be the director again in Deadpool 3. It seems that the director was not involved in the selection of the scriptwriter because the script was decided before the director was decided. 'It's unlikely that Reach will return to Deadpool 3,' said the person who provided the information to Deadline.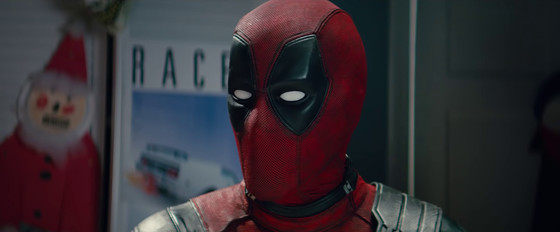 The scriptwriter, Sister Molino, is the showrunner and executive producer of The Great North , and the 2017 Emmy Award- winning Bob's Burgers scriptwriter and executive producer. In addition, 'Bob's Burgers', a masterpiece of the Morinault sisters, won an Annie Award for 'The Hormone-iums ' in episodes 6 and 14 of the season.

'The ongoing production of the Deadpool sequel will surely excite many fans who were worried about Deadpool's future with Disney's acquisition of 20th Century Fox.'