Animators need to balance quickly and well, interview with Hirofumi Morimoto of 'Sorcerous Stabber Orphen Hagure Journey'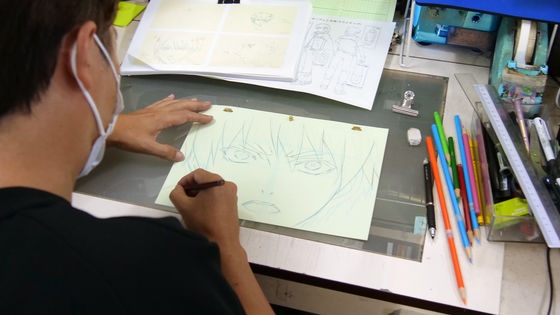 We
interviewed the director,
cinematographer
,
color designer,
and the staff of the anime 'Sorcerous Stabber Orphen Kimrak' which will be broadcast from January 2021. Next is Hirofumi Morimoto, an animator who was in charge of the general drawing director in the first term 'Sorcerous Stabber Orphen'. I've heard stories about how the first phase of drawing was done, and what it takes to live as an animator, beyond the scope of the work.
TV anime 'Sorcerous Stabber Orphen Hagure Journey Kimrak Hen' Official Website
http://ssorphen-anime.com/
Mr. Morimoto working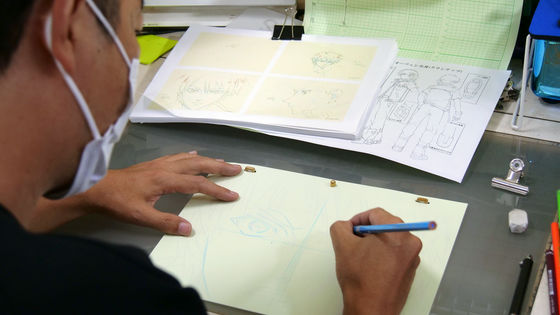 GIGAZINE (hereinafter, G):
There is a big LCD tablet next to the desk. Do you usually use an LCD tablet?

Drawing by Hirofumi Morimoto (hereinafter referred to as Morimoto):
At the time of copyright, I draw on an LCD tablet, but I don't usually use it. Most of my usual animation work is paper.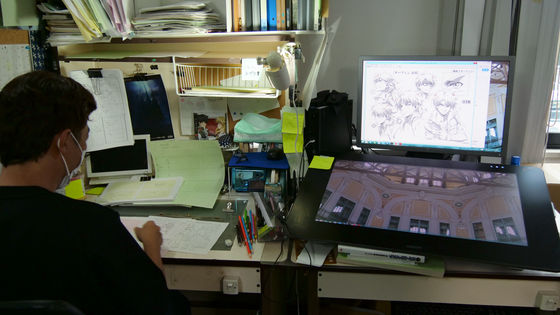 G:
So that's it. While talking, my hands do not stop at all and I will move forward with a tremendous momentum, but is it always so fast?

Morimoto:
Sometimes it's a clean copy, but it's still rough.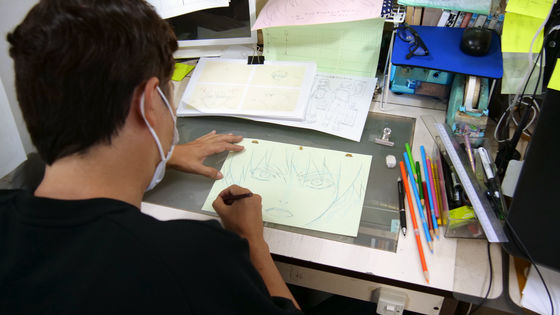 G:
Is this rough ... After all, does the animator have to increase the speed?

Morimoto:
The speed is different for each person, but since the unit price is how much per cut, there are still some places where you cannot live as an animator without speed. If you have to draw quickly, there are cases where it is in the rough state as before, and if you have time and spare time, you may make a clean copy and put it out in a clean state. It may take 10 minutes to draw a close-up of the face, but if there is movement, it may take a day to get rid of it.

G:
The difference is big ...

Morimoto:
There is a difference between the heavy part and the non-heavy part in all 300 cuts, and it seems that the average salary for one month will come out.

G:
So that's it. Mr. Morimoto was in charge of the general drawing director in the first term 'Sorcerous Stabber Orphen Hagure Journey', so I would like to ask about the appearance of the character.
In an interview
, character designer Takahiko Yoshida said, 'I am conscious of drawing the design as close as possible to Mr. Kusagawa's illustration image.' On the other hand, if you want to run it as an animation, I think it needs to be simplified. What kind of standard did Mr. Morimoto work on when drawing?
Morimoto:
Mr. Yoshida tried to match the pictures while looking at the animation director's materials that he did from the first episode of the first period, so there was a saying that 'the setting and the picture are slightly different' (laugh) Is the animation director more similar to the original? There was a difference in my eyes, so I was wondering which one to match, but since there was a revision by the general manager from the first episode, I managed to match it.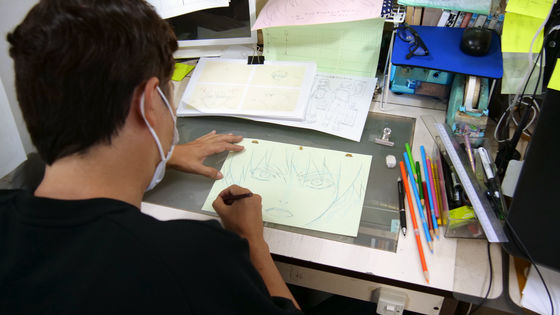 G:
Did you know this 'Sorcerous Stabber Orphen Hagure Journey' before you participated?

Morimoto:
When I saw it being broadcast on TV from 1998 to 1999, I had the impression that it was really moving. At that time, were you a junior high school student or a high school student? I miss it in the cell era.

G:
At that time, were you already aiming to become an animator?

Morimoto:
I decided to become an animator when I was in my second or third year of high school. After worrying about how to get a job, I tried to become an animator.

G:
It's possible that watching anime such as 'Sorcerous Stabber Orphen' had an impact just at a sensitive time.

Morimoto:
There were various animations at that time. Everywhere I looked, it was just amazing works. At that time, I was drawing pictures as it was, but when I heard various information, I said, 'Animators can't live' (laughs).

G:
(Lol)

Morimoto:
I was worried about what to do, but my parents told me that I could do what I wanted to do, so I came to Tokyo. Atsuko Nakajima, who liked 'Urusei Yatsura' and 'Ranma 1/2' and was the character designer at that time, was at Studio Dean at that time, so when I received it, I accepted it and came up with various works all the time.

G:
In 'Sorcerous Stabber Orphen Hagure Journey', I am in charge of the total of 7 episodes, including episodes 5, 7-9, 11-13.

Morimoto:
There is a place where I wanted a little more time. There are scenes such as actions, but there are also parts that I made in a hurry after discussing with the schedule. There were times when the number of stories to enter was larger than planned, so I wanted to concentrate on the number of stories I had and put more effort into it.

G:
Earlier, when I was drawing Orphen, there was a talk about whether to put it out in rough or clean copy, but if I could make that clean copy ...? What kind of part is 'this is done'?

Morimoto:
I was busy every day, but Orphen, Azary, and Krieou wanted to draw beautifully. Above all, it's Krieou. I was conscious that I had to draw it properly. The director said, 'My eyes are big' ...

G:
Did you get a little cute?

Morimoto:
It's too cute (laughs)

G:
So that's it. Kuriou, do you have big eyes?

Morimoto:
It was a retake because it was a little different from Mr. Yoshida's design, 'Isn't it big eyes?'

G:
Even if you have a career like Mr. Morimoto, who may be in charge of character design, the eyes of the character may get bigger.

Morimoto:
Before 'Orphen', I did a work of a character with big eyes, so that habit came out a little.

G:
It's because I draw every day, isn't it? But once you get used to it, you're already going to the next work.

Morimoto:
that's right. Once I get used to it, I feel like I'm going to the next work, and once I get used to it, it's a different work, so I have to practice each time.

G:
It's a waste even though I've learned how to draw.

Morimoto:
Actually, long works are the best.

G:
Work has a tug of war between quality and delivery. Mr. Morimoto, what is the standard for that division?

Morimoto:
Even if I was told by the production that I should put it out by the end of today, I sometimes do it until the next day. …… Until the production is "no good". Sometimes I overdo it.

G:
You're bargaining at the last minute that you need this much to improve quality.

Morimoto:
Just barely, somehow.

G:
In that day, I would bring it to the point where I could hand it over.

Morimoto:
There is also that, and if there is absolutely no time, I will make time to manage with the retake after the rush. If you have any leftovers as a feeling, tell the producer or producer, 'I want to fix this number of stories later.'

G:
So that's it. You mentioned that you have to draw the number of sheets in order to eat as an animator, but is there anything other than doing the number and speeding up in order to be able to draw the number of sheets quickly?

Morimoto:
I have no choice but to practice like that from the time I was a newcomer. In the first year of a newcomer, I can hardly draw the number of sheets, so I draw while measuring the time so that I can draw quickly. The rest is about middle-class splits, but if it's difficult, ask your seniors to take the Atari first, and then let them put it in until you get used to it, and increase the speed and number of sheets as much as possible. As you get used to it, you will become aware of it yourself. It will take some time before that. It will take two years or so for a video man to be able to live normally.

G:
2 years ... It's a long 2 years and a short 2 years.

Morimoto:
I agree. As for the video man among the animators, it is true that it is 50,000 yen or 100,000 yen higher a month, as it is said that it is black on the net, so it is almost impossible to live on this alone.

G:
You need to be quite prepared for the first two years.

Morimoto:
I was like that for about a year. Almost all of my savings are exhausted, and there is pressure to 'draw in order to live.' How quickly can I draw in a year, and how can I do the next in terms of content? Therefore, there are people who can do it and people who give up. As for video man, about 60-70% of people quit.

G:
Is the person who gives up unable to keep up with speed?

Morimoto:
I feel like I'm giving up because I can't live. The survivors become the original drawings and character designs, and go up steadily. If you go to the animation director, you can live normally ... or rather, you will be able to get a salary higher than that of a general company employee. That's hard.

G:
The first two years are too hard. So, if you want to enter the industry with drawing, should you learn the speed from the beginning?

Morimoto:
It's pretty tough without speed. You will not be able to live in the future.

G:
If you turn it over, if you can draw to some extent quickly, can you adapt to some extent even from the first year?

Morimoto:
After all, drawing power is also required, so it's both. Just having speed is enough to stop the video man. People who have speed and can draw pictures can go to the original drawing man, the character design, and the animation director, but if it is only speed, it is a video man even after 1 year, 2 years and 3 years. However, he is a video man who can live. I teach newcomers to the drawing department in the first year that they can improve their drawing skills and speed up. Practice drawing pictures on a regular basis. It also gives you the ability to copy.

G:
So that's it. The people in the video were working behind Mr. Morimoto's seat. At Studio Dean, I heard that one of the reasons is that videos are completely digital work. Is 'drawing by hand' near the end in the field?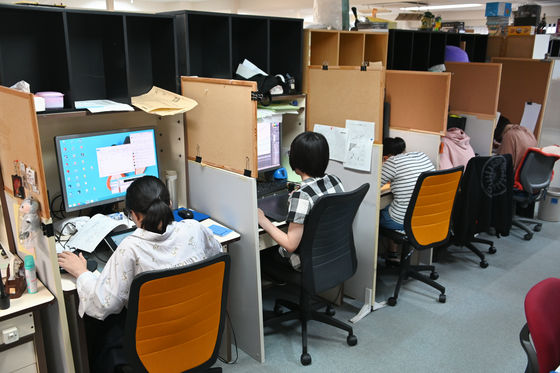 Morimoto:
Digital original drawings are not so popular yet. About 70% of the original drawing man and animation director in the industry are free, so many people who do not have the equipment can not provide digitization unless they belong to the company, so there are many people who are not digital. If you belong to a company, the company can provide the equipment, and there are study sessions so you can study, but it is quite difficult for individuals. That's why digitalization isn't progressing. I can teach digital to the video guys who are in the company because the company provides the equipment. I think that digitization will progress in 5 to 10 years, so there is still more. 30-40% of the industry, at most 40%. The original man who is becoming more digital.

G:
Haven't reached half yet?

Morimoto:
It doesn't reach. So, as I did earlier, I have to work with paper.

Large scanners were lined up because it needed a bridge between paper and digital.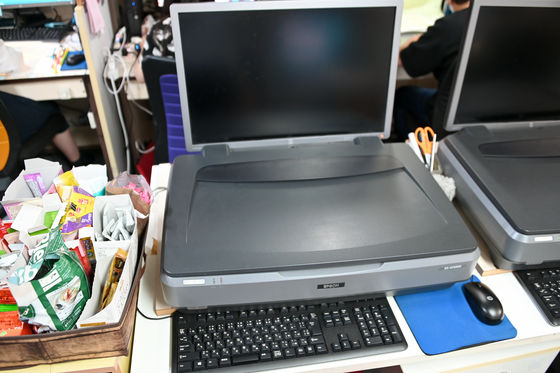 G:
If you show me a while ago, there is a huge liquid tab right next to it, and the copyright is done over there. Does that mean that Mr. Morimoto is now a hybrid type, or is he able to do both analog and digital?

Morimoto:
In the company itself, the video man is digital, and the original picture man is also digital, so sometimes I do it digitally at the time of checking, and I was told that 'I have to get used to it a little'. However, I'm not very used to it.

G:
I hear various stories that 'digitization of the entire process is quite difficult', but at the time of drawing and original drawing, it doesn't mean that you don't have the equipment ...

Morimoto:
I agree. I can't proceed, I think it will cost 500,000 to 600,000 if all the equipment is collected. From software to a set of tablets.

G:
There are high hurdles to introduce by individuals.

Morimoto:
I have to buy a new PC in about 5 years. LCD tablets will be useless in 5 to 6 years, and it will cost 600,000 each time, so it is quite a burden for individuals. After that, all of our companies are connected by servers, so we can communicate with each other, but in the case of individuals, that is not the case either.

G:
In the first place, there is a considerable amount of data drawn.

Morimoto:
If it's a company, it's easy to do because it's said that you enter here through the server, but there are also considerable individual differences.

G:
So that's it. Have you been working in the field for a long time and have there been any changes in the transition to digitalization?

Morimoto:
I think it's just a transitional period when I have to do both. I have to do both paper and digital, so I teach new employees in a way that they can do both. Basically, you can do the video digitally, but you can practice the original picture on paper, and it's pretty tough if you can't use both of them yet.

G:
Not only can you do completely digital work, but you are training people with both skills during the transitional period.

Morimoto:
It feels like nurturing both analog and digital. That way, even if I quit my job, I can work anywhere, so if I know about digital drawing, I can become the person I want anywhere, and I can do it on paper.

G:
I think I can work in a company that only does paper.

Morimoto:
There you can teach digital and become a teacher. I wonder if it will become widespread. Of course, I don't want to put it out (bitter smile)

G:
Earlier, about 6 people were lined up behind Mr. Morimoto ...

Morimoto:
There are about 25 people in all.

G:
Are there some people who are working from home with remote work?

Morimoto:
The remote is only the original man. Since the video man gets the work directly from the company, the work must be done at the company. If you're an original artist, you can work if you have an LCD tablet and a computer at home, so when you're done, you come to the office to hand over the data and print it out.

G:
So that's it. Have you hired about 5 to 6 or 10 people every year? ..

Morimoto:
That's about it. However, even if we put in 10 people every year, half of them will quit.

G:
'It's tougher than I expected' ...?

Morimoto:
Even if a vocational school says 'pictures are good', when you enter the industry, you will be treated as 'very bad', so you can clearly see the difference. There are many people who lose their confidence.

G:
So that's it. Are the people in the field good at drawing because of the difference?

Morimoto:
It's pretty good. If you do it near a person who understands the spatial perspective, a professional student who can only draw a flat surface will be asked for a deep picture. In the video. Professional students can't draw. I can't run in the back. I'm just running in front, so I have to teach the technique of how to run in the back. First of all, if you specialize in that, you won't tell me.

G:
Is that so.

Morimoto:
It only teaches the basics.

G:
Did some people say that if they had the knowledge in advance, they might have stayed in the industry for a while?

Morimoto:
Well ... well ... there is also that, and even if there are 10 people in the first place, if 5 of them are people who can draw amazingly, half of them will give up comparing themselves with synchronization. If a great number of members get together, there will be a difference even during the same period, so there will be a considerable difference in terms of money.

G:
Really. It all depends on the number of sheets drawn.

Morimoto:
If that happens, the salary will also be decided. When people who can do well can draw well and acquire speed, they will become more and more like original drawings and animation directors, so after all, the lowest position of video, juniors, will come in more and more.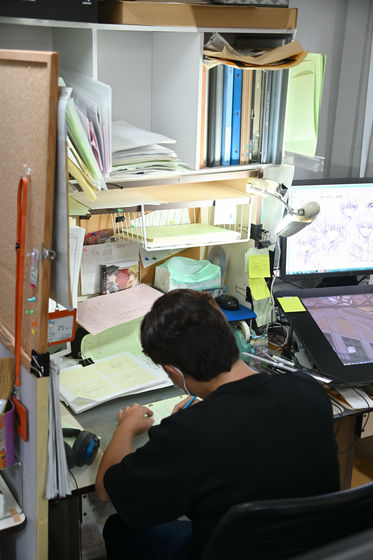 G:
There are many things you need to do in the industry. It's not good just because the picture is fast, and it's not good just because it's good.

Morimoto:
It's both.

G:
So that's it. It's been a bit of a painful story in the industry, so I'd like to go to a bright topic at the end. Is there any direction that Mr. Morimoto wants to work on such a work in the future?

Morimoto:
If possible, it's a modern work. In the past, I often do samurai, so if possible, I'd like to wear a work in normal clothes (laughs)

G:
It's not like a kimono (laughs)

Morimoto:
There are many kimonos. Kimono is annoying. It's annoying, isn't clothes attached to your body? Kimono has long sleeves, so it flutters when you run. That area is difficult. The line when I ran is annoying. There are quite a lot of swords. There is no ordinary one ~.

G:
(Laughs) The story has expanded from 'Sorcerous Stabber Orphen Hagure Journey' to the development of the anime industry, but thank you for talking in detail.

Some of the questions were answered while Mr. Morimoto was working, but during that time, I couldn't stop drawing Orphen.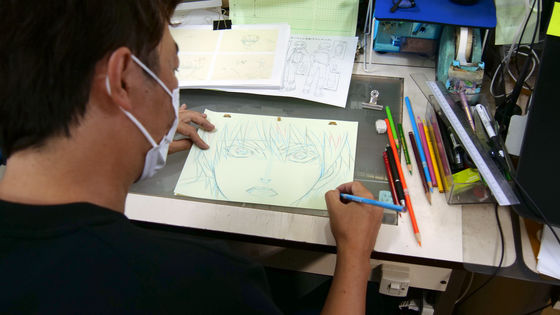 It was an interview with Mr. Morimoto, who clearly showed that animators fighting on the front line need both 'quickness' and 'goodness'.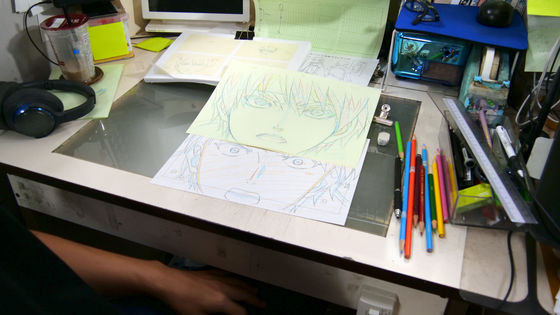 The interview will continue once more. The last is 'edit'.

・ Continued

Interview with Keiko Onodera, who is also in charge of editing 'Sorcerous Stabber Orphen Hagure Journey Kimrak Hen', what kind of work is 'editing' of animation --GIGAZINE