Apple overtakes Huawei in the world's smartphone shipment ranking and returns to the second place in the world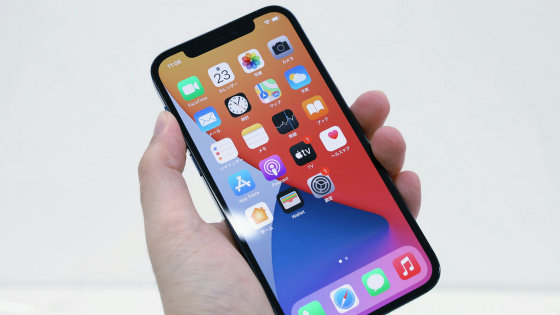 According to new reports released by market research firms
Counterpoint Research
and
Canalys
, Apple has surpassed Huawei in smartphone shipments and has returned to the world's second-largest smartphone shipment. Economic sanctions by the United States are believed to be behind the decline in shipments of Huawei smartphones.
Canalys Newsroom- Canalys: Apple takes global smartphone top spot as iPhone 12 demand surges in Q4 2020
https://www.canalys.com/newsroom/global-smartphone-shipment-Q4-2020
Apple Shipped Record iPhones, Global Smartphone Market Recovery Continues
https://www.counterpointresearch.com/apple-shipped-record-iphones-q4-2020-global-smartphone-market-continues-recover/
Apple retakes second place in smartphone shipment rankings as sanctions bite Huawei --The Verge
https://www.theverge.com/2021/1/28/22254368/smartphone-sales-2020-counterpoint-research-canalys-apple-samsung-huawei-xiaomi-oppo
The ranking of smartphone shipments in 2020 announced by Canalys is as follows. Total shipments through 2020 were 1,264.7 million units, a decrease of 7% from the previous year. Looking at shipments by manufacturer, Samsung is the top with 255.6 million units, Apple with the second place is 207.1 million units, Huawei with the third place is 188.5 million units, and Xiaomi with the fourth place is 149.6 million units. Oppo in 5th place was 115.1 million units. On the other hand, looking at the year-on-year growth rate, Samsung decreased by 14%, Apple increased by 5%, Huawei decreased by 22%, Xiaomi increased by 19%, Oppo decreased by 4%, and the light and dark are divided by manufacturer. ..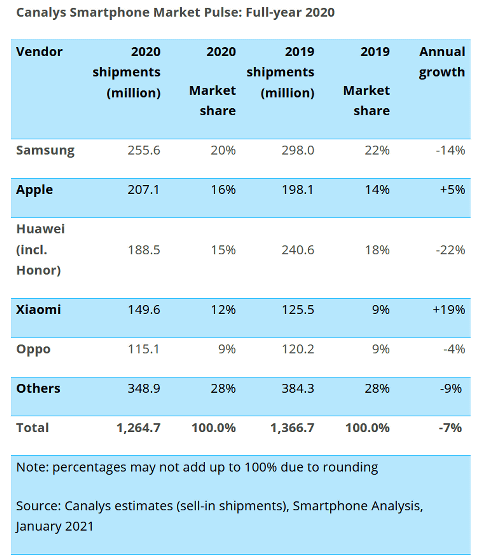 This is the 2020 smartphone shipment ranking announced by Counterpoint Research. The survey results are almost the same as Canalys, but the number of shipments by manufacturer is announced up to the 10th place.
Realme
, the maker that
broke
into 7th place, is a brand for emerging countries independent of Oppo, and
you
can see that the growth rate is tremendous growth of 65% compared to the previous year.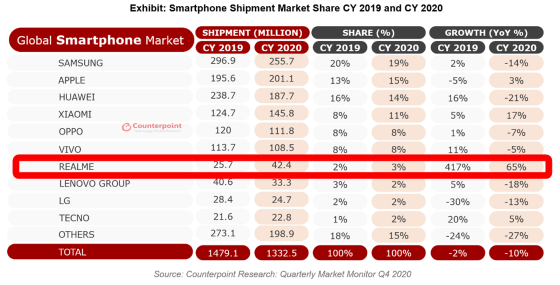 'The iPhone 12 was a hit. Apple is in a better position than its competitors in 5G and is heavily dependent on developed markets and mobile operators' sales channels,' said Vincent Thielke, an analyst at Canalys. This helped drive Apple's sales and profitability, 'he said. He also pointed out that the iPhone 12 did not include a power cable, which helped streamline logistics and reduce transportation costs.

In fact, Apple's January 27, 2021 earnings announcement for the first quarter of 2021 (October-December 2020) showed that Apple's flagship iPhone and wearable home accessories divisions were in the quarter. Sales were strong and total sales were record highs.


Apple announces first quarter 2021 results, iPhone, Apple Watch, service sales are strong and record high sales-GIGAZINE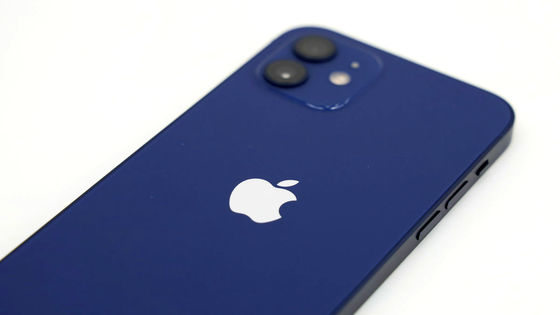 And the table below shows the shipment volume, share, and year-on-year growth rate of each vendor in the fourth quarter of 2020 (October to December 2020) announced by Canalys. Total smartphone shipments reached 359.6 million units in the quarter, down 2% year-on-year. Apple in first place shipped 81.8 million units, the highest number ever, up 4% year-on-year, Samsung in second place was 62 million units, down 12% year-on-year, and Xiaomi was in third place 31 year-on-year. It increased by% to 43.4 million units. Huawei, which shipped 32 million units and ranked 6th, is said to have fallen out of the top 5 smartphone shipments every quarter for the first time in 6 years.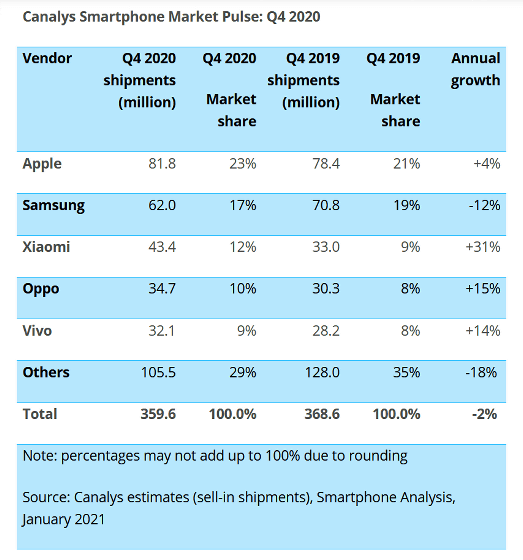 The graph below shows the number of smartphones shipped by each manufacturer on a quarterly basis. Huawei has long been in second or third place overall, but in the second quarter of 2020 (April-June 2020) it shipped about 55.8 million units , surpassing Samsung for the first time in the world. I won the 1st place . However, in the fourth quarter of 2020, shipments fell, surpassing not only Samsung but also Apple, Xiaomi, Oppo and Vivo to fall to 6th place.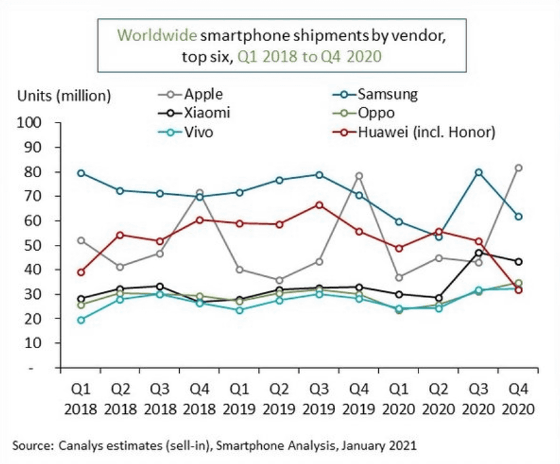 Amber Liu, an analyst at Canalys, said shipments of Huawei smartphones have fallen sharply due to economic sanctions by the United States. Although the independence of Huawei's sub-brand Honor may change the situation, it is not expected that Honor will regain a substantial market share in the short term.

US export control to Huawei and related companies has been further strengthened, 38 new related companies have been added to the list --GIGAZINE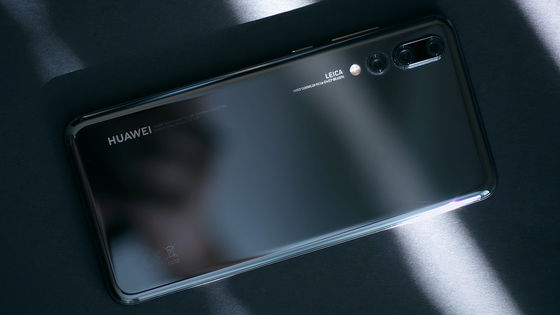 Although smartphone shipments in 2020 fell due to the effects of pandemics and other factors, they are expected to pick up in the latter half of 2020, and are expected to be on a recovery trend in 2021.