Twitter founder mobile payment company 'Square' announced that it purchased about 18 billion yen of Bitcoin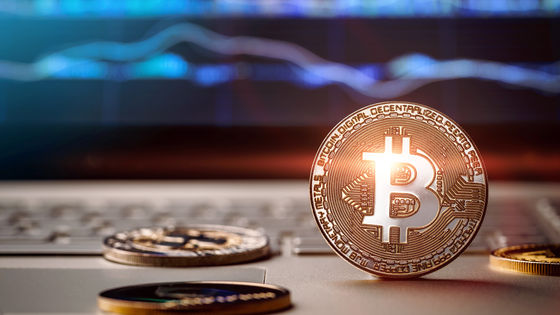 On February 23, 2021,
Square,
a mobile payment company founded by Twitter CEO Jack Dorsey, released its financial results for the fourth quarter of 2020 (October-December 2020). The company revealed that it had purchased a total of 170 million dollars (about 17,898,190,000 yen) worth of
Bitcoin
.
Square Inc. --Square, Inc. Announces Fourth Quarter and Full Year 2020 Results
https://investors.squareup.com/news/news-details/2021/Square-Inc.-Announces-Fourth-Quarter-and-Full-Year-2020-Results/default.aspx
Square goes even bigger on bitcoin with a new $ 170 million investment --The Verge
https://www.theverge.com/2021/2/23/22297935/square-bitcoin-purchase-170-million-investment-cryptocurrency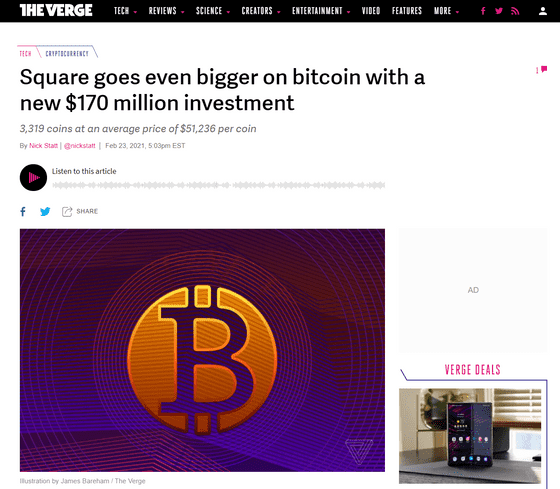 Square buys $ 170 million worth of bitcoin
https://www.cnbc.com/2021/02/23/square-buys-170-million-worth-of-bitcoin.html

Square announced on February 23 that it has bought more about $ 3318 Bitcoin for a total of $ 170 million at an average price of $ 51,236. The company had previously bought about 4709 Bitcoins for $ 50 million. With this additional purchase, about 5% of the current assets held by Square as of December 31, 2020 are Bitcoin.

In its earnings report, Square said, 'This investment is part of our ongoing commitment to Bitcoin, and we will continue to consider investing in Bitcoin while balancing it with other investments. We plan to do so, 'he said, showing his willingness to invest aggressively in Bitcoin.

Bitcoin, which has the largest market capitalization among crypto assets, exceeded $ 20,000 (about 2 million yen) for the first time in history in December 2020, and only two months later, in February 2021, it was $ 50,000 (about 530). Prices have skyrocketed in recent years, such as riding on the 10,000 yen mark.

Bitcoin hits the $ 50,000 mark for the first time, what is it that is raising the price of Bitcoin? --GIGAZINE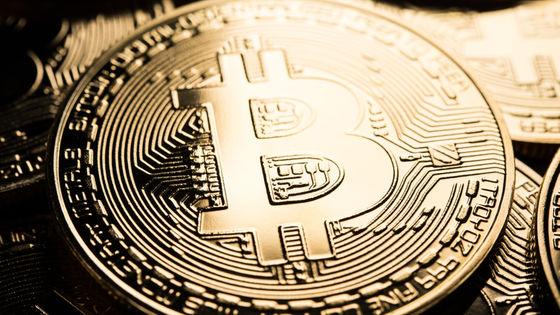 With the surge of Bitcoin, major companies are starting to invest in Bitcoin one after another. Tesla February 8 days of the electric car manufacturer, to buy a bit coin about 157.7 billion yen, a policy to accept the purchase of their products by bit coin announcement . Mastercard, a major credit card company, also revealed on February 17 that it will 'support crypto assets by the end of 2021' while hiding specific crypto assets.

Mastercard announces that it will support crypto assets by the end of 2021 --GIGAZINE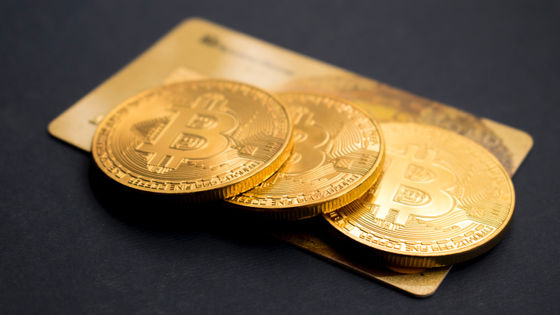 The Verge, an IT news site, said, 'Square first announced that it had made a large investment in Bitcoin in October 2020, when Bitcoin was just over $ 10,000. However, as of February 23, 2021, the price was just under $ 50,000 (about 5.27 million yen), and it settled down to a level slightly lower than the record high of $ 58,000 (about 6.11 million yen). 'We are,' he said, pointing out that the Bitcoin market has changed rapidly since the previous quarter.

in Note, Posted by log1l_ks