'Rurouni Kenshin Final Chapter The Final / The Beginning' Interview with So Hashimoto, the depth of the work is increased by reinforcing the parts that are not in the script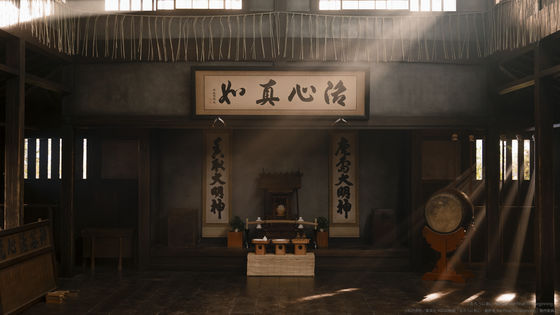 The movie 'Rurouni Kenshin Final Chapter The Final / The Beginning ' has been released as the 'final chapter' of a series that skillfully visualizes popular manga.
Following director Keishi Ohtomo
and
music director Naoki Sato,
we interviewed art designer So Hashimoto.
Movie 'Rurouni Kenshin Final Chapter The Final / The Beginning' Official Website
https://wwws.warnerbros.co.jp/rurouni-kenshin2020/
GIGAZINE (G):
This 'Rurouni Kenshin Final Chapter The Final / The Beginning' was even more difficult than making a normal two-part work because the times were different, such as 'The Final' after the Meiji Restoration and 'The Beginning' at the end of the Edo period. I asked Director Otomo about that. How was it in terms of art?
Art, So Hashimoto (henceforth, Hashimoto):
The previous work was also in the form of a two-part work of 'Kyoto Daiki Hen' and 'Legendary Final Hen', but that was a two-part story of a series of stories. However, this time, the background and contents of the era are different, so we decided to make two completely separate pieces ... But everyone didn't think so and thought, 'I've taken two pieces during this time, so it's okay.' It was really hard to say that the contents were different ... (bitter smile)
G:
also…….
Hashimoto:
There was no time going back and forth in shooting. The Meiji era depicted in 'The Final' was created so that the atmosphere of the city would be bright after the long-lasting Edo period. On the other hand, the late Edo period depicted in 'The Beginning' is a period of turmoil, so the town and people have a slightly depressed image.
G:
Certainly, there was a feeling of loneliness in the world of 'The Beginning'. Speaking of lonely scenes, the scene where it snows due to Kenshin and Tomoe's life became especially lonely.
Hashimoto:
That scene made a lot of snow. It was really snowing at the time of shooting, but that wasn't enough for a movie, so I made it snow for shooting. 'Rurouni Kenshin' has a lot of information as a work, and it is rather a 'flashy world'. It's a historical drama, but the part that can be interesting is to strengthen the keren taste based on historical facts. But 'The Beginning' is trying to do a more proper historical drama. I think I was aiming for a landscape that wasn't too gorgeous or an emotional background so that I could cut into the emotions of the person.
G:
Does it feel like it is realistic?
Hashimoto:
I agree. However, even though it is a reality, from the perspective of us now, the Edo and Meiji eras are no longer 'fantasy.' There may be some historical materials left, but that is only a part of the cut. There are many parts of how the common people lived that are not mentioned in history textbooks, so the form of imagining and filling them is the same every time.
G:
On YouTube's '
Warner Brothers Official Channel
',
many videos related to 'Rurouni Kenshin Final Chapter' are released
. Among them, there was a video showing the whole picture of the set of 'Kamiya Dojo' that appeared from the first work. It's also a key place, such as being attacked by the edge in 'The Final', but is this the same set for all five works?
The whole picture of Kamiya Dojo is released for the first time! Movie 'Rurouni Kenshin Final Chapter The Final' released on April 23, 2021 (Friday) --YouTube
Hashimoto:
The basic design is the same. In the movie 'Rurouni Kenshin', it is a place where Kenshin always returns and it is also a place where everyone gathers, so it is not so good that the basic structure is different every time you do it, so I keep it. I will. However, without breaking the shape I decided on, I sometimes make changes so that no one will notice the part that I thought 'I should have done this a little more in this kind of place' while shooting.
G:
It's a little different.
Hashimoto:
There are a lot of them (laughs), but there are some parts that I can't see anymore. It may be difficult to understand if the house next to Kamiya Dojo is raised a little higher, or if the season changes, try changing the trees to be planted, or if the time is New Year, try putting out a New Year decoration. It's a season. It's not just the same every time, it feels like it's changing according to the changing seasons and events.
G:
In 'The Beginning', there are inns like Ikedaya and Kohagiya. While Ikedaya was an orthodox two-story building, Kohagiya, where the Choshu clan stayed, had a fairly distinctive structure. Was that modeled after an existing building?
Hashimoto:
It's not a 'model', but first I thought about what to do with 'Kohagiya'. The script said, 'An inn called Kohagiya, an inn that hides the Choshu clan,' but I thought it wouldn't be fun to simply create an 'inn.'


So, there was a store behind the inn that was a geisha working in the Hanamachi district of Kyoto, but the owner of the Kohagiya bought it because the management went wrong, and the original building of the Kohagiya and the store that was the former Okiya. I thought about the side story that the Choshu clan came to stay at the same time when I was trying to renovate and use it. This is a side story that I thought of, which is not in the script.

In other words, although it has not been refurbished yet, it is decided to rent it out if it is okay. Therefore, the structure is a little complicated, and the former Okiya part is connected to Kohagiya by an aerial passageway. I decided to call 'Okiya' the place where the prostitute was, because the 15-year-old Kenshin had a life of slashing people, and he was in a very captivated state. I wondered if there was a part to synchronize. Kenshin's room is very clear, and you can see the cityscape of Kyoto outside the window, but what you actually have in the room is the image of a 'bird in a basket.' The woman who used to be in the room put a little love letter on the bran, or put a piece of paper cut in the shape of a cherry blossom on the torn shoji. I think it would be interesting to synchronize such elements as 'the sorrow of a prostitute' with the sorrow of a swordsman.

G:
Oh ... It's a part that you wouldn't notice if you were just looking at the behavior of Kenshin in the room.

Hashimoto:
I don't think you can tell. It's the part I'm doing on my own (laughs)

G:
When working on the art side of this work, are there any other parts that were created assuming such a side story?

Hashimoto:
There are quite a few. For example, in the case of Kamiya Dojo in 'The Final,' rather than Kaoru, 'What kind of person was Kaoru's father?'

G:
It's Mr. Koshijiro. It's a deceased person in the movie range, so he doesn't appear.

Hashimoto:
If it's an old building, it's because it was made by a father or an ancestor, so what kind of person would you think it was? I'm just imagining the parts that aren't in the original, but I wonder if he was a person like Yamaoka Tesshu, a person from both Bunbu and Budo who wasn't just swordsman. Therefore, the typeface of the calligraphy in the dojo is based on the image of Yamaoka Tesshu's calligraphy.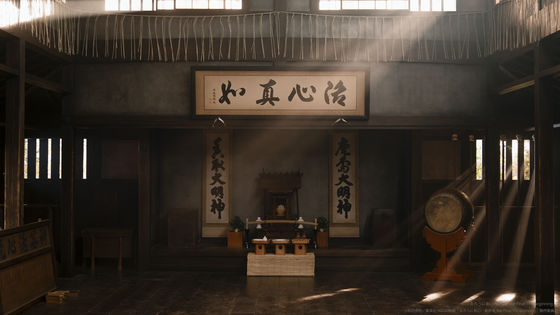 G:
Oh, that's the approach.

Hashimoto:
Although it doesn't actually appear in the video, I wondered how to show what kind of person it was as persuasive. Besides, in the case of 'The Final', Enishi Yukishiro went to Shanghai in his childhood and became a mafia and climbed to the top, but I always wondered what happened to that point. I was thinking. Find out what the rules of the Shanghai Mafia were at that time, and the closely related Confucianism. In fact, the Marriage Mansion in The Final also has a Confucian altar, which comes from something like a Shanghai Mafia test-taker. In that way, you think of a story that suits the person and put it into the set.

G:
I felt a unique atmosphere in the Ennokan, which is different from the Western style.

Hashimoto:
The Ennokan is a mixture of Western style and Chinese, and in terms of food, it looks like 'Nouvelle Shinova'. Just as there is a Japanese-style room in a Western-style building as a mix of Japanese and Western in Japan, what would happen if British culture entered China and the two merged, was that the cutting edge at that time? I'm sure that the people who lived there grew up seeing such things and would like them. Shanghai was prosperous as a trading port. …… And I'm thinking a lot about things that aren't in that script (laughs)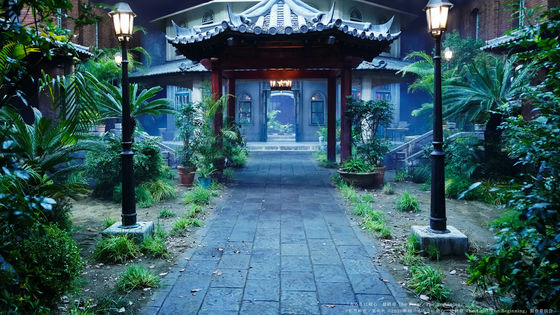 G:
It's awesome ... Mr. Hashimoto appeared in the first interview project called 'FROM PARTNERS' conducted by Director Otomo on the official website. Among them, Director Otomo asked, 'Why did you become an art director in the first place?' And answered, 'Do you ask the person who is the least suitable for talking about art director first (laughs)?' Why did you say that you were 'most unsuitable'?

Hashimoto:
I think that there are many people around us who are basically out of art school and have been studying art properly. Among them, I am not a college graduate but a junior high school graduate. Originally I liked to make things, I went to Kyushu for pottery, I did pottery while making a kiln, or when I was young, it was a boy who was scribbling all over the town (laugh)

I loved making things and drawing, but I'm a person who hasn't learned it academically. I think I answered in that sense. I entered this industry when I was doing ceramics, and when I happened to meet a movie crew member and drank, he said, 'You can do anything, so please help me a little' (laughs). It wasn't easy to live like a rail.

G:
Does that mean that you've learned about film art by entering the industry?

Hashimoto:
From a young age, I used to go out with the director rather than doing anything in the art club. That's why I often thought about 'what the director is thinking'. Since those people were directing with a very important consideration of the person's play, way of life, way of life, and what kind of feelings they had, I may have a big part of being 'bred up by the director'.

G:
Oh, I see.

Hashimoto:
It was pretty early to become a designer. I don't listen to people so much, so I can't do much as an assistant (laughs). So, when I actually tried it myself, I just wanted information on how to make it. It's very difficult for that character to be 'a person with nothing', and I just look for information that can get caught in making a set or decorating a room. The part that gets caught may be something unique to that person, parents, hiding in childhood, or coming from another friendship. Anyway, with that in mind, I have to build information to decorate. The script contains what is necessary for the story, but when turned inside out, it often does not contain what is not necessary for the story. However, by reinforcing that 'unnecessary thing', the character modeling will be deepened, and when the actor plays, 'Yes, I was the one who played'. Or. There are quite a few people who are highly sensitive.

G:
Somehow, it seems that it is not only the art side, but also the script or setting, that kind of work.

Hashimoto:
Well, there are many screenplays. If you do it, you may not do what is written in the script (laugh)
How should we think in order to delve into that person and move on? I don't dare to break it, but after all it is better for the work to be interesting, so I tried to consult with everyone.

G:
Is there any change you feel after completing the 'Rurouni Kenshin' series, which is a series of 5 works this time?

Hashimoto:
I'm sure there are many things that have improved, but rather than 'I grew up because I did' Rurouni Kenshin '', it's more about 'it's fun to work with people who have the same amount of energy'. Shin. Of course, it has grown in 10 years, but there are many other factors, so I'm not sure anymore (laughs).

G:
I see (laughs). In an article introducing the staff published in the magazine 'SWITCH' when the first movie in the series was released, Mr. Hashimoto said, 'The good thing about the director is that he can't decide, so he often comes up with ideas while talking. I have a comment. Were there many discussions in 'The Final' and 'The Beginning'?

Hashimoto:
Of course, there is a script that can be used as a guide, but that is not absolute. Of course, I'm still deciding whether it fits the flow of the work, but everyone thinks, 'If it gets more interesting, that's better.'

'Rurouni Kenshin' is a work that has a very long preparation period and shooting period, and if I include the preparation period, I will be involved for about a full year. Then, the part that I first thought 'this is' is 'more like this' when I look back six months later. Of course, I can do it with the picture I drew at the beginning, but I always have new information, and in the meantime, my feelings change due to my own growth, so I always write something that I wrote a few months ago. There is a part to do while wondering, 'Is it really correct?' Or 'I think this will be more interesting' rather than correct or incorrect.

G:
Oh ... stoic ...

Hashimoto:
It is possible because it is a work that requires a long time to prepare and shoot. Even in the field, new ideas may come up while talking with Mr. Otomo and Mr. Tanigaki. 'That's more interesting, let's do it,' I tried changing what I plan to shoot tomorrow (laughs). But this can only be changed because it is on a well-thought-out base. It's not just an idea, it's a 'part that has play' after stacking a lot of pieces. I do quite a lot of that.

G:
It's an environment where opinions are fairly easy to come out.

Hashimoto:
It's 'easy to get out' ... what is it? Mr. Ishizaka, who was filming, is working in the United States and looks like an 'American', Mr. Tanigaki is doing action movies and is 'Chinese', and Mr. Otomo is 'I don't know'. It seems that aliens are gathering. If you just say it normally, no one will wait, and there is no sense of humor, so it may be because there is something that 'the intention must be clear' anyway (laugh)

G:
Because of that kind of site, wonderful works are being created. Thank you for all the talk today.

The movie 'Rurouni Kenshin Final Chapter The Final / The Beginning' has exceeded the box office revenue of 5 billion yen and is still being released with great acclaim.


[㊗ Box office revenue exceeded 5 billion yen]

' #Rurouni Kenshin Final Chapter The Final / The Beginning' Thanks to everyone, the box office revenue of the two-part work exceeded 5 billion yen ????
6/20 is Kenshin's birthday ????
Please continue to experience the beginning and end of the legends of 'The Final' and 'The Beginning' at the theater! pic.twitter.com/LpiIdNFXpl

— Official account of the movie 'Rurouni Kenshin Final Chapter' (@ruroken_movie) June 18, 2021


Movie 'Rurouni Kenshin Final Chapter The Beginning' This Notice Released on June 4th (Friday) [The Final Big Hit Screening] --YouTube

© 和月伸宏/ 集英社 ©2020 映画「るろうに剣心 最終章 The Final」製作委員会
© 和月伸宏/ 集英社 ©2020 映画「るろうに剣心 最終章 The Beginning」製作委員会

At a later date, an interview with Mr. Daichi Watanabe, who worked on the decoration, and an interview with Mr. Keishi Otomo and Mr. Kenji Tanigaki, the director of action, will be posted, and we will dig deeper into 'Rurouni Kenshin'.