Interview with Mr. Daichi Watanabe, decoration of 'Rurouni Kenshin Final Chapter The Final / The Beginning', which established the detail 'No matter where you can see it with a magnifying glass'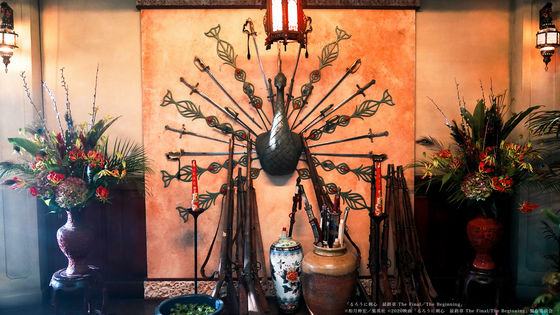 We interviewed the main staff at the time of the release of ' Rurouni Kenshin Final Chapter The Final / The Beginning'.
Following director Keishi Otomo
,
music director Naoki Sato
, and
art artist
So Hashimoto, there is decoration Daichi Watanabe. We asked him about what was the difference between the work of 'art' and 'decoration', and what kind of decoration was done in this work.
Movie 'Rurouni Kenshin Final Chapter The Final / The Beginning' Official Website
https://wwws.warnerbros.co.jp/rurouni-kenshin2020/
GIGAZINE (G):
Mr. Watanabe's 'decoration' is a position that is involved in the appearance of the movie along with 'art'. Director Otomo previously said at
the teach-in event
of the movie 'Museum' that 'if art is the job of thinking about the composition and outline, decoration is an important job of telling the story of the character's details.' In 'Rurouni Kenshin Final Chapter', what is the boundary between 'decoration' and 'art'?
Decoration, Mr. Daichi Watanabe (hereinafter referred to as Watanabe):
First of all, art reads the script and turns the world view into a single picture. For example, 'This set is like this' and 'This set is like this picture'. On the other hand, decoration is to prepare anything, such as what is placed and what is posted on it. We will talk with character designer Kazuhiro Sawata about the tools, swords, footwear and hats that each character wears.
G:
You're working on so many things that you can't start saying 'this kind of thing'.
Watanabe:
As long as a person moves in space, something 'things' will accompany them, but it is the job of 'decoration' in the movie to prepare something that matches the character. There are many people who have characters in 'Rurouni Kenshin' anyway, so I read the script ... Even though it's a script, I only write a certain amount of flow. In that flow, for example, when there is an action such as 'a person stands up', that means that it stands up for some reason. Did you try something, there was something you were interested in, or there was a fire somewhere.
If it is a novel, it may be written, but if it is a script, it is not written so much, so it is necessary to think that 'this movement may be due to such circumstances' Prepare. If you are going to walk in the dark, you have the option of illuminating with a smartphone if the work is set in the present age, or using a flashlight or a lighter, so ask the director 'What would you like to do?' I made a presentation. In the case of 'Rurouni Kenshin,' Director Otomo is a person who asks 'Do whatever you want,' so I am imaginative. There is room to play, or to lie to some extent, while not spoiling the sense of the times.
Art and decoration are really honeymoon relationships. Among them, the 'detail' part that Mr. Otomo often calls is done by our decoration department, but instead of simply saying 'do that, do this too', from here 'this kind of thing' I can do it, 'and I stepped on the accelerator and the brakes (laughs). I am allowed to create human activities in the world view.
G:
I've heard that Mr. Watanabe has a long relationship with Director Otomo. Is it a feeling that you can do it quite freely?
Watanabe:
'Freedom' doesn't mean that you can do whatever you want (laughs), but I wonder if you like the idea. He trusts not only me but the team very much. I was surprised to hear that I was interviewed in this way, but I did 5 series with this, but from the first work, the people of the team have hardly changed.
G:
Well, it's been amazing in 10 years.
Watanabe:
Of course, there are people who have left out, but the directors trust each one because they are a team that has made the same work for 10 years, and not only the director but also Mr. Tanigaki, art Hashimoto, Ishi Sawada of character design, everyone is easy to talk to, I think that they came from the same starting line and worked as a team with a common awareness of the work.
G:
When 5 works came together, I already knew the relationship (laughs)
Watanabe:
That's right, 'Indiana Jones' has four works so far (laughs)
G:
According to Mr. So Hashimoto of art, the Kohagiya that appeared in 'The Beginning' was connected to the former Okiya, where the geisha was originally, as a unique setting not found in the script, but from the perspective of decoration. But how do you pack that kind of image?
'Rurouni Kenshin Final Chapter The Final / The Beginning' Interview with Sou Hashimoto, the depth of the work is increased by reinforcing the parts that are not in the script --GIGAZINE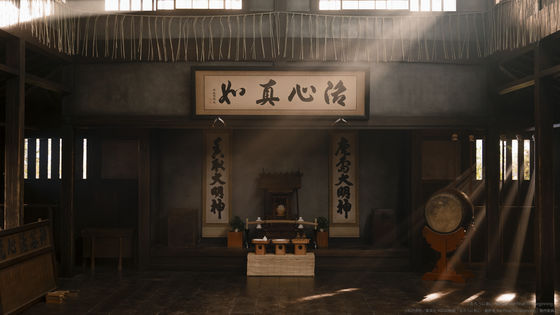 Watanabe:
Hashimoto said, 'I want to set it up as an Okiya,' so I thought it was an image of a space with women as a base. Also, with Tomoe Yukishiro, I thought that 'femininity' would be important in the movie, so I told the female staff in charge that I would like them to make use of 'femininity.' I told you that it would be nice to have flowers after Tomoe came. After that, I really valued the basement of the historical drama. Both 'Director Otomo's view of the world' and 'Hashimoto's view of the world' require a set that has multiple layers of humanity, so even if I look at it, 'I will decorate it like this! I decorated it as much as '?'.

G:
(Lol)

Watanabe:
'People's activities' are amazing. Kohagiya has a kitchen, but it is a space related to the act of 'eating', which is one of the very important themes for people to live, and it is not an ordinary private house, but for ourselves to eat. It's also a space where I'm doing it as a living business, so I thought that I had to go into it more firmly than I expected.

G:
As was the case with 'Akabeko' that appeared in the work, there were various types of dishes, and I felt that I could live in the work.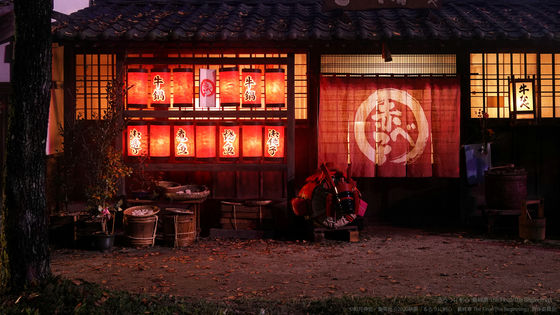 Watanabe:
After all, I think that everyone was thinking that steam would not be rising in the kitchen immediately after waking up in the morning, but steam would be rising during the time when rice is produced. Not only us but also the director and assistant director departments, and Mr. Otomo will want it. So, on the contrary, I have to be able to say, 'Isn't it better not to be here?' For example, some people want a picture of steaming from the morning, but it's strange that steaming up in the kitchen after getting up. The difference between 'whether or not there is steam' must be clear. Among them, is it better to lie? I think that the house where Kenshin and Tomoe live together also took good care of such a place. The staff of the decoration department actually lived in that house.

G:
eh? (Lol)

Watanabe:
After all, it's faster to actually live (laughs). Isn't it hard to make a fire? By actually trying it, the reality of when the fire is on and when it is not on will change completely, and even if it is two days a day, when I live, 'This is here. There are some parts that are different from the drawings, as I have come to understand that 'it is unnatural' and 'it is better to have this'. That is one of the real thrills.

G:
An impressive item is Tomoe's 'windmill'. It is natural that there is a handmade feeling, but among them, I got the impression that 'Mother did her best to make it for her child'. How was it actually made?

Watanabe:
How did you do it ...? Probably, there aren't many people who can make it now, so I think it was made by one of the staff or selected from the warehouse. One of the staff has a huge stock. 'Windmill' is actually important, and even in the second work 'Kyoto Daiki Hen', there was a scene where Kenshin bought a windmill for a child before Kenshin went to Arai Aozora's house. It is coming out as 'an item to remember'. Please review past works by all means. ...... I did it, this is the level that my work is over (laugh)

G:
(Lol). This is a point to be worried about when reviewing the series one more lap. In terms of items, many swords will appear in 'Rurouni Kenshin'. Especially in 'The Final', I get the impression that the number of swords has increased, including the swords of the edge.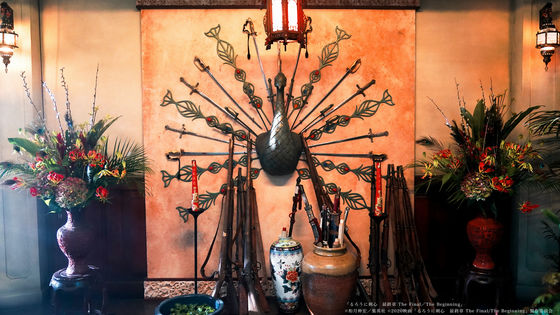 Watanabe:
The sword used by Kenshin in the battle scene of Toba-Fushimi in the first work is the sword used by Jine Udo, who is played by Koji Kikkawa. For the 2nd and 3rd works, Shishio's sword was made with particular attention. And when I did the first work, I didn't expect the series to continue so far, but I remake the sakabato every time.

G:
e!?

Watanabe:
It is quite expensive to make a sword, but at the time of 'Kyoto Daiki Hen / Legendary Final Hen', Hashimoto of the art consulted that 'There is a part that I want to remake because there is a part that I care about in the design'. , Remade. Then I made a perfect one and used it for shooting. This is the third one that has been remade in this 'The Final'. It cost me a budget, partly because the technology of the manufacturer has improved, but this time I made the best one I have ever made. I think it would be nice for the actors to be able to make new things like haute couture every time, and it's hard to make new things properly in the first place.

G:
So that's it.

Watanabe:
I was able to make the Wodao of the edge, thanks to Hashimoto's enthusiastic design. Already, what is written in the script is just something that you have never been to a prop company. 'Zhanmadao' or 'Gatling gun'.

G:
(Lol)

Watanabe:
If you don't, you'll have to make a new one every time, so the skill of the staff will be improved. In addition, it also means 'let's add new people who can make this kind of thing', so I feel that the team is getting stronger and stronger, and I think this time was the best for me. If there are five series, it will be connected somewhere. Among them, the sword is an important item, so I'm glad. Besides, I've loved Tatsuya Nakamura since I was a junior high school student (laughs).

G:
Arai Red Sky!

Watanabe:
Yes, Mr. Nakamura was cast in the role of Arai Shakko in 'Kyoto Daiki Hen', and we had the opportunity to drink together. 'Akasora is the person who made the most important sword in this work, so do your best!' While getting drunk, he said 'Oh, I understand.' There was a scene where I made a sword, so it was very rewarding. Those people (the cast and staff of 'Rurouni Kenshin') don't say much directly, but somewhere in their hearts they probably think of swords, so we can work. I think. It's a ramen shop, and it seems like you can make it because the customers say it's good, or because they think it's okay. Even if I didn't put it in words, when I was watching the play, I thought 'I'm glad I made it' and 'I'm glad I made this kind of set.' Rather, when I was directly told 'I'm glad this tool', I said 'Is that a character !?' (laughs)

G:
(Lol)

Watanabe:
Takeru Sato said, 'You should patent the rubber sword!' It's an action sword, and it's really amazing. It took about a whole day to make one, and only one of our props, Mr. Inamura, could make it. The action department asks me to give me a number like 'Isn't it a lie !?', so I'll do my best to make it (laughs). He said that at the time of the preview of this 'final chapter', 'It's a good sword that you should get a patent.' I even said 'I should get a patent' at the time of the first work (laugh)

G:
(Lol)

Watanabe:
But I think it was a work that could only be done with a sword made by Mr. Inamura. After that, when I saw Mr. Inamura making it, I started to imitate other props as well. It would be difficult to take this action without it, so I was happy to say that.

G:
Is it so different from the others?

Watanabe:
If you do that action with a hard thing, people will die, but if it is too soft, it will be like a variety show when you hit it (laugh)

G:
I see, the balance is exquisite.

Watanabe:
They made it one by one carefully. I think it's amazing that no accident actually happened. I'm really pulling on the spot (laughs). However, it doesn't hurt even if it hits, or it is designed so that it will not hurt.

G:
concern…….

Watanabe:
You will be surprised when you hear how to make it. It's a corporate secret (laughs)

G:
At the time of the teach-in of the movie 'Museum' that I mentioned at the beginning, Mr. Watanabe said 'I want you to see with a magnifying glass' because I want you to see the details, but in this work 'I want you to see with a magnifying glass' What is the point of 'I want you to do it'?

Watanabe:
This is 'all' when I say it (laughs). It's very devoted and has a surprising number of staff involved. No matter where you look with a magnifying glass, it's not embarrassing, so feel free to look at it with a magnifying glass. People who can see it with a magnifying glass are probably interested in this work or the times, so when you actually see it, I think there are many interesting things. I would be happy if you could take a closer look.

G:
'Steam' was mentioned earlier in the story, but are there many places that are particular about invisible places such as smells?

Watanabe:
It's not our job, but it's the steam locomotive that appears at the beginning of 'The Final'. I don't have a chance to smell the steam locomotive so much, but I think that even such a thing is shown in the reality that was in operation at that time. It's not just us who make the business, but all the staff of the movie. So I thought it was amazing to bring that scene to the beginning. When it comes to 'smell', if you keep shooting the Gatling gun, you will have that smell, if you are burning here and there in 'The Final', you will have that smell, and each food will have its own smell. is there. I think the shooting was such that you can feel it. The battle in the fireflies that appears in 'The Beginning' feels like 'the smell of summer.' I think I did my best in what I could see because I couldn't smell it, but I wanted the customers to smell it.

G:
Only the image and sound come out, but I try to convey the smell.

Watanabe:
Smell is something you can smell even if you don't want to smell it, but it's difficult to convey in a movie. I think Mr. Otomo was very careful about how to convey that with what he could see and hear.

G:
Although it is not directly related to this work, I heard that director Yasujiro Ozu was particular about matching the height of the drinks served as props in the movie 'Family'. Is that kind of commitment made in today's filmmaking? I wonder if there is anything good for a movie if you stick to it ...

Watanabe:
I think that such commitment is done every cut. Even if you take the amount of alcohol that is poured into it, for example, you can see the feelings of that person. That is one answer in the field. From the pouring side, it means 'to align the heights and make them together', and I think that it may be possible to play with confidence because there is an answer. When I read the script, I had a feeling that 'I'm going to take a closer look here', but it's better to have a meaning rather than a feeling. I think it's a standard for the scene, or something that can be called a 'bible.' I didn't know Yasujiro Ozu's particularity, but I think that's true.

G:
So that's it.

Watanabe:
However, it may be becoming more difficult in this age. I'm shooting at the scene, and there are many things I can say to that extent. However, I try to talk to the director when it comes to 'this makes sense'. I think it's okay because I'm doing the whole story with 'Rurouni Kenshin' in mind. That's exactly what I said 'please look with a magnifying glass'. In recent movies, 'Nomadland' is a lump, so I think it's interesting to see.

G:
How much was the original used as a reference when decorating this time?

Watanabe:
Actually, I didn't read much. Since all the other staff members are reading, it may not be possible to have a conversation at once if it is a deep story, but if you are reading the original, you know the context, so even in places where you just let it flow. There was also a place where I could take a different approach because I didn't know the details. It's nice to be able to notice for yourself what you can understand because it is written if you read the original. Of course, I read the place where I was told 'I should read here', but be careful not to be overwhelmed by the image of the original saying 'I think it is better to draw this'. Was there. For example, I was curious about what the Shanghai company was like and what the name was in the first place because I didn't know the original in detail.

G:
So that's it. Regarding the Shanghai era of ties, Mr. Hashimoto of art also fills in various parts that are not in the original with a side story, saying 'I think it was like this', and complements the parts that are not drawn in this way. I felt that it was a matter of building up.

Watanabe:
We talked about that. When I said 'Confucianism', I was able to talk like 'I'm already investigating it. How about this?' Hashimoto was very worried and thought about it, and I wanted to pursue it from various realities. How did the relationship come to Japan, and how did it go to China in the first place? If you think about it that way, you might have a great connection, and if that happens, you might be trading not only with China but also with the Arabs ...

G:
It will spread more and more. Do you have this kind of image in common in the decoration department?

Watanabe:
At first it's rather selfish (laughs)

G:
Eh (laughs)

Watanabe:
How to approach by reading the script, for a work of this scale, the first 1-2 months, anyway, there is a huge amount of time to research. It's a huge amount, but during that time, I try not to say, 'I've been investigating this kind of thing.' Then, everyone will look up various directions as they like, and the bookshelves will be lined with materials that look like they were obtained at a second-hand bookstore. If you look at it and think, 'This seems to be a little different in the direction you are investigating,' you say. At the starting point, I think it would be interesting if the knowledge is close to zero, because various things will be collected. Ultimately, we know that if we amplify what everyone brings, it will definitely be good. In our case, we have to shape what we collect, so even if we collect inexhaustibly what we can't do, we end up with 'I can't do it' and 'How much does it cost?'

G:
surely…….

Watanabe:
However, there are only members who have been doing the same work for 10 years, so it was possible to proceed without such waste. It's not that there were no problems as an organization, but I think that the decoration department was a 'good company' because everyone was facing the same direction when creating works (laughs). The reason is that there is a proper script, and since there are series works that I have made so far, there is no deviation, and it is easy to correct, so I thought that I could make it as a team by looking at the same place one by one. I answered the interview in this way, but I was just a face, and it was a team job. I really think I was able to work with a great team.

G:
Thank you for your valuable story today.

Finally, we plan to post an interview with action director Kenji Tanigaki, who worked on the action, which is also a major highlight of this series, and director Keishi Otomo, who will reappear.