Interview with director Keishi Otomo & action director Kenji Tanigaki of 'Rurouni Kenshin Final Chapter The Final / The Beginning', dyeing the work densely with the first tag in 5 years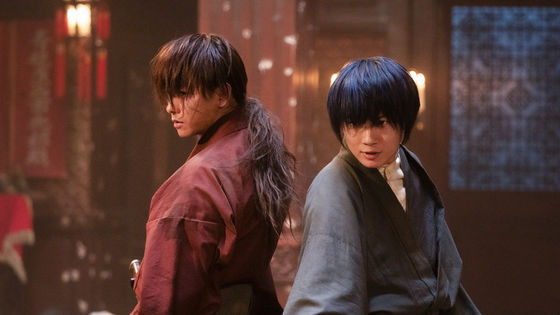 One of the big highlights of the movie 'Rurouni Kenshin' series is the speedy and intense action. In 'The Final' and 'The Beginning', the difference between the person named Kenshin Himura appears in the action. We talked to director Keishi Ohtomo and action director Kenji Tanigaki about how they created different actions.

Movie 'Rurouni Kenshin Final Chapter The Final / The Beginning' Official Website

https://wwws.warnerbros.co.jp/rurouni-kenshin2020/
GIGAZINE (G):
In an interview conducted
in 2015 after the release of 'Kyoto Daiki Hen' and 'Legendary Final Hen', Mr. Tanigaki was asked about the sequel and said, 'All the cast and staff are already doing their best, and in the current situation, the next work will be done. If you make it, you will die, isn't it? ' Actually make two 'final chapters' as a sequel ...
Action director Kenji Tanigaki (hereinafter referred to as Tanigaki):
As expected, there were no dead people (laughs). Perhaps it was hard to get to 'dying', but fortunately it was okay.
G:
When I interviewed Director Otomo
before the release of 'The Final,' it was said that the performers and staff had grown up compared to the previous three films. How was it from Mr. Tanigaki's eyes?
Tanigaki:
Everyone ate a year (laughs). In terms of 'growth', Kenshin Sato, who plays the role of Kenshin, already has his own 'Kenshin' in him, so we talked more about 'what to do if it was Kenshin'. Sanosuke and his colleagues are the same, and I think that such 'sense of actors' is more reliable than before, and since all the staff are people who came with me, I can understand it without having to bother to say growth. I think I had an 'implicit understanding'. It's teamwork.
G:
Looking at the two works in 'Final Chapter' this time, I got the impression that the action is accelerating more than before. Both works may have had such an impression because there was a tremendous action from the beginning, but is there any improvement in the actual movement?
Director Keishi Ohtomo (hereinafter referred to as Otomo):
'The Final' was written with the desire to put the action of two movies into one movie. The large-scale raid on Tokyo, which would normally be placed at the climax, is in the middle of the game, and at the end it is a match between Kenshin and Himura. As for variations, there are 1 to many Kenshin, 2 to many with Sojiro Seta, and various group battles, and Aoshi Shinomori, Misao Makimachi and others are doing completely different actions.
Kenshin Himura x Sojiro Seta Dream surprise co-star! 'Rurouni Kenshin Final Chapter The Final' Special Making Video Big Hit Screening! --YouTube
Otomo:
It was my first time working with Mr. Tanigaki in 5 years since the previous work, so I was thinking of creating a situation where the action team would go wild anyway. Until now, the idea of my script was that 'slow' in 'slow' is a drama, 'sudden' is an action, and the ratio is 7: 3. By nature, the amount of action on the script is small. I reversed it this time and wrote it with the intention that the action is 7 and the others are 3. Frighteningly, considering from the time of the preparatory draft, the action scenes are still 1 scene and 2 scenes down.
Tanigaki:
There were more. 'How much do you do!' (Laughs)
Otomo:
With that kind of feeling, he said, 'Anyway, go wild!'
G:
(Lol)
Otomo:
It may have been the stress of myself, who hasn't worked with Mr. Tanigaki for the past five years. I went to the site with the thought of 'please pour in what I have accumulated.' As a result, as far as I can see, the Tanigaki action team has accumulated new wisdom, technology, and various other things. Even if you try to handle weapons, it's completely different. After all, it was also great that the art team had one person from the action team.
G:
From action to art ...?
Otomo:
Last time, a person named Sakuma, who was a stuntman for Shishio, was making fragile things with the art team this time. Thanks to that, we have created a stage that will make the action more exciting, and with the wisdom and know-how of five years, it has become overwhelmingly dense. I don't know if it's from the eyes of the action director, Mr. Tanigaki, but from my point of view, I think it has definitely reached the 'world's highest peak' territory. From the perspective of a genuine action movie fan and the director who is shooting action movies, I think that the action of 'Rurouni Kenshin' this time really went to the highest peak in the world. It was about that evolution.
Tanigaki:
In that respect, Director Otomo is a little poor. In the past, I simply enjoyed watching action movies, but now I'm discerning and the hurdles are rising, and I have to shoot it myself (laughs).
Otomo:
'What are you doing!' (Laughs). Sometimes I'm not satisfied with watching a Hollywood movie because I'm experiencing the scene of 'Ruroken'. Experience in the field means sharing everything, including the process of making it. When the series was over, I felt like I was getting more discerning.
Tanigaki:
It's the same with me. In particular, 'Ruroken' is a work that is desired by various people, so it is my responsibility to keep them entertained. At the time of the first work, when we simply showed something that was 'cool', the fans thought that it was 'cool'. But when it comes to the 2nd and 3rd works, I'm aiming for a little more, 'If you do this kind of thing, you'll be happy' or 'You might have thought that it would come, but that's not the case. I have a desire to be surprised.
G:
Oh, I see!
Tanigaki:
This was the first time in five years, so in 'The Final', 'I wanted to see this part of Kenshin' and 'the figure of Kenshin that everyone wanted to see' were amplified with that hand so as not to get bored. It feels like. Even with Takeru Sato, who plays the role of Kenshin, there were many confirmations that most of the talk was 'this is what it is.' From among the various drawers, I tried to put out what would make me happy and what I was looking for. For example, when someone says that tomorrow is their birthday, they may choose a present asking, 'What should I give you to make me happy?' Is it a feeling that hundreds of people in charge of various departments gather and spend hundreds of days thinking about it?
G:
How can you please the other person?
Behind the scenes of 'serious' transcendental action! The movie 'Rurouni Kenshin Final Chapter The Final' training special video is showing a big hit! --YouTube
Tanigaki:
That's right. 'Is this what everyone wants from the'Ruroken'?' On the other hand, in 'The Beginning', after understanding such entertainment, 'I would have liked to see this kind of thing, but this time it's a little different,' he said, changing the vector. It's also the direction that I've shaken off because I thoroughly enjoyed entertainment in 'The Final'.
G:
In terms of service, there was a feeling of 'Oh, I came !!' when Sojiro took a rhythm with one foot and Kenshin took a step with 'Tensho Ryusen'.
Tanigaki:
I'm glad if people who see it for the first time think that it's a purely 'cool action', and I'm happy if people who understand or have a connection think 'Tensho Ryusen ... I'm here!'.
G:
Looking at the two works in 'Final Chapter', I felt calm in 'The Beginning' compared to the action of Kenshin in 'The Final' which seemed to be out of the ordinary.
Tanigaki:
The reason is that 'the sword is different' in the first place. Since 'Sakabato' cannot be cut even if it is cut, the opponent does not die with one shot, so you can shoot as many shots as you like. However, in 'The Beginning', Kenshin has an ordinary sword, so if you slash it, your opponent will die. As the number of steps increases, it becomes less real, so I thought about 'how to cut'.
Behind the scenes of 'serious' transcendental action! The movie 'Rurouni Kenshin Final Chapter The Beginning' training special video is showing a big hit! --YouTube
G:
In terms of the time axis, the swordsman before the first work, 'Hitokiri Swordsman,' was slashing.
Tanigaki:
In 'The Beginning', it became clear that you can express various emotions there because it is a sword that can be cut with one shot while doing it.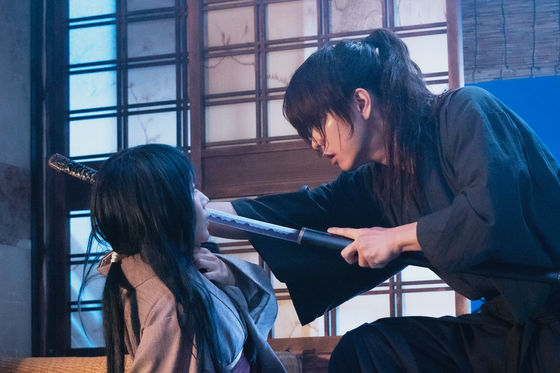 G:
What you can do only with a sword that can be cut ... For example?

Tanigaki:
For example, you can slash only the surface and kill it sharply, or you can slash it quickly and the blade will be caught in the meat once, and you can slash it with force. If the meat is thick, it can be stored for a long time. You can see how the blade passed through the body with just one slash. Even if it's 'how to kill', it's not interesting if it's all instant killing. That is a device each time. For example, in the opening battle, Kenshin fights with a sword in his mouth.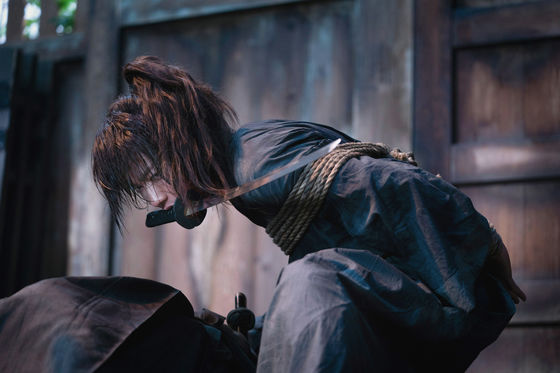 G:
That's right (laughs)

Tanigaki:
In that scene, I was conscious of the keren taste that you can feel in 'Zatoichi'. After that, instead of showing them to slash directly, let them imagine. Kenshin pushes the opponent's face into the water with his knees and thrusts the sword from the side. I don't know how he died, but the red water comes out of the hole in the vat, so I can tell what happened. There is a place that reminds me of such 'fear'.

G:
At the beginning, a fierce scene continued.

Tanigaki:
In 'The Final', the goal was to make customers think 'I want to be in this too', but in 'The Beginning', 'I don't want to be here, if I were there' I wanted to make you think, 'I'll be killed.'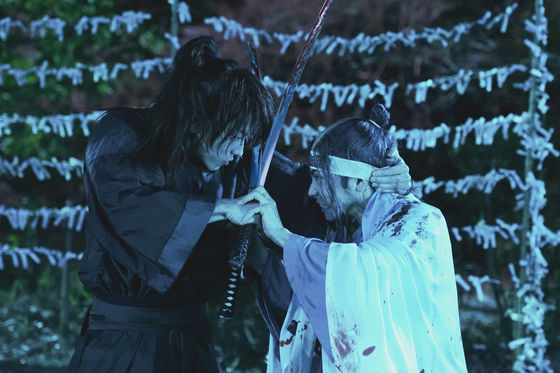 G:
(Lol)

Tanigaki:
I thought it would be great if such 'fun' and 'fear' came out.

Otomo:
After all, 'The Final' is the 'last', so it is necessary that the 'sword that makes the most of people' of the sword and the blue purples of the Oniwaban people 'inherit' that spirit. There, Sojiro inherits the way of life of 'Rurouni' by fighting with Kenshin, and the manipulator who fought with Aoshi inherits something ... Each has a story of 'inheritance'. In terms of action, what I clearly remember at the scene is Aoshi's last collection (director's gesture).

Tanigaki:
It's 'Rotating sword dance six reams'.

Otomo:
Finally, Tao Tsuchiya, the operator, does the same technique. That's the point that I made use of in the action while talking on the spot. At the end, I somehow understand the relationship between Kenshin's 'sword that makes the most of people'. Since it is 'The Final', I think it is important to have the impression that each person will connect something given by the main character to the next generation. Yahiko is also waving his sword at the dojo at the end. Yahiko, who has always said 'I want to be stronger,' learns 'a sword that makes the most of people.' He lived with Kenshin because he didn't want to be weak, but he said he would take over a new way of life.

Tanigaki:
In 'Legendary Final Edition', Kenshin used the technique learned from Seijuro Hiko in the subsequent battles, but even in the action of this work, 'If you do not notice it, that's fine, but if you understand it, it will be interesting.' I try to include the element.

G:
You have to pay close attention to even the smallest movements. In 'The Beginning', an assassination group, Yami Nobu, has appeared, and Kazuki Kitamura, who plays the role of Tatsumi, has joined. Did you ever have a hard time joining the already-experienced 'Ruroken' team?

Otomo:
It was all right. I matched the costumes first, and when I put on the costumes, it was really cool. I think he doesn't play such a bitter role. I grew my beard myself ... It seemed that my upper arm was also training unexpectedly.

Tanigaki:
I was pretty well trained.

Otomo:
When I saw myself in costume, I really liked it, and I was motivated. That person is that kind of person. I was sick.

Tanigaki:
When I asked my son, he said, 'Tatsumi is a delicious role.' (Laughs)

Otomo:
That's right (laughs). That's why, 'I have a high degree of liking because I carry the Tokugawa Shogunate on my back' (laughs). In fact, there are some lines that seem to carry the Tokugawa Shogunate for 300 years, so they enjoyed it.

G:
By the way, was the last episode of Kenshin 'The Final' released first, and later the episode before the first movie 'The Beginning' released from the beginning? ..

Otomo:
That was a fairly controversial part. But what I want you to see in 'The Beginning' is not 'who slashed who' or 'how the cross wound on the cheek of Kenshin was physically made', but the emotions that lead to it. In other words, it is not 'how it was cut' but 'why it was cut'. Everyone knows that Kenshin can be cross-scratched at the time of the first work, so that's fine. But what was your feeling about being 'cut' and what kind of flow is there? There is also an original manga, so you can know in advance that 'this happened'. However, 'The Beginning' responds to the desire 'Why was that? I want to know more.' What we want to give is not a 'mystery-solving story' but an 'emotional story'. So it looks like this.

G:
So that's it. 'The Beginning' is the first story of Kenshin, but at the end it was also a story that I wanted to taste slowly, so I was good at it.

Otomo:
It would be great if you could enjoy the actions that are taking place in front of you and the rich emotions that move, rather than 'matching the answers.' That's what makes me mutter unintentionally, or tears. I would be grateful if that happens.

G:
I would like to see it again with honest feelings. Thank you for today.

The movie 'Rurouni Kenshin Final Chapter The Final / The Beginning' is showing a big hit.

Movie 'Rurouni Kenshin Final Chapter The Final' This Notice Released on April 23, 2021 (Friday) --YouTube

© 和月伸宏/ 集英社 ©2020 映画「るろうに剣心 最終章 The Final」製作委員会

Movie 'Rurouni Kenshin Final Chapter The Beginning' This Notice Released on June 4th (Friday) [The Final Big Hit Screening] --YouTube

© 和月伸宏/ 集英社 ©2020 映画「るろうに剣心 最終章 The Beginning」製作委員会