Interview with Shinji Kimura, art director of 'Nikuko-chan at the fishing port', where 'don't put in bad things' is important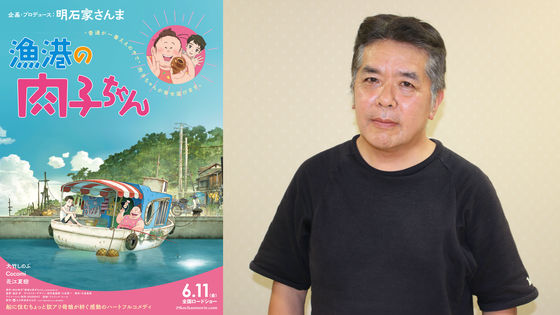 Following director Ayumu Watanabe
and animation director Kenichi Konishi
, we also interviewed Shinji Kimura, who was in charge of art director in the animation movie 'Gyoko no Nikuko-chan'. Mr. Kimura, who says, 'Anyone can do' only one is amazing ',' asked me variously how he is demonstrating his uniqueness in this work.
The official website of the theatrical anime movie 'Fishing Port Meat Child'
https://29kochanmovie.com/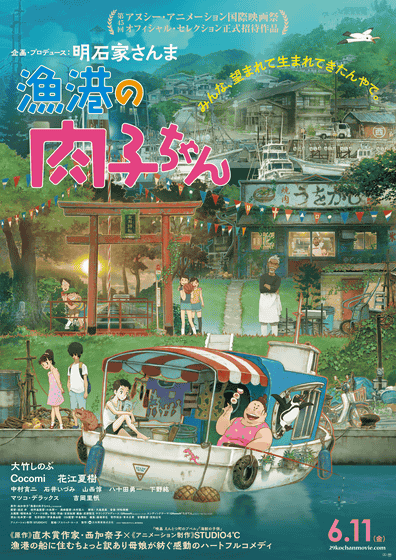 GIGAZINE (G):
According to an interview with the original author, Kanako Nishi, it seems that there is no specific model of the fishing port because
this work 'has come to mind while traveling to the fishing port in Tohoku.'
However, when I looked at the work, it was depicted as a fishing port with a very real feeling. How did you create this fictitious fishing port that seems to exist?
Art director Shinji Kimura (Kimura):
There is a flow from the previous work '
Children of the Sea
', so if I hadn't made the previous work, I might have had a hard time. The option 'Because it used to be like this, let's do it this time' was born within me. Only with 'Children of the Sea' is there 'Nikuko-chan at the fishing port'. 'Children of the Sea' is mainly set in Kamakura, but not all of them are in Kamakura, and they are mixed to some extent. When a real place is partially captured, it is not always good. In the case of this work, there is no specific model here.
G:
How do you decide on this 'picture' that has been decided with a click?
Kimura:
Mr. Watanabe, the director, can also draw pictures, so it was helpful to have a period of time to wake up things like rough settings. This time, Mr. Watanabe and Mr. Konishi took over from 'Children of the Sea' to some extent, but I went to another company for about a year with another work in between. During that time, the conversation was going on between the two, so I later matched the director's image with 'I think it's like this.' I think it was possible only with the trust of the team.
G:
What was the difficult point as an art director?
Kimura:
I'm reading the original, but since it's in print, what each reader envisions will be different. I can't express what's different in words, so I thought it was different from the original manga work.
G:
It's difficult to start from scratch with visuals.
Kimura:
But that's also what makes it interesting. It's hard to have such a project. This time, I think that it was established because pacific saury Akashiya was planning and producing. If we had a plan to make 'Nikuko-chan in the fishing port' into a movie without pacific saury-san, it would be difficult to know who would give the go-ahead.
G:
Art materials were also released at
the online original painting exhibition
of 'une nana cool'.
The room is drawn in great detail,
but when was this setting made?
Kimura:
Since Mr. Watanabe had a concept for the conte, I didn't talk about complicated things at the beginning of making it, but as the conte of that part goes up, there will be a place where it will be linked gradually. For example, furniture and home appliances, 'I moved and put it here.' There is no depiction of moving in the work, but the thing itself is still in use. Basically, I value the feeling of life. For example, the number of refrigerators with green doors may be drastically reduced now, but there are also things that were era like that at that time. Also, the important point is the floor. I'm watching anime and think that the floor and ceiling play a big role, so I'm concerned about making it interesting.
G:
Make the floor and ceiling interesting.
Kimura:
For example, instead of just using wooden boards, you can add patterns. For example, the floor of the hotel in
'The Shining' is very impressive.
G:
So that's it! surely.
Kimura:
The design of the carpet running around on that tricycle is characteristic, so if you use it, you'll know it right away (laughs), but no, I thought the carpet design in the room was good, so I used that kind of design. I'm doing it.
G:
Mr. Konishi, the chief animation director, laughed that the design of the 'Kotobuki Center' was such that Director Watanabe was also drawn.
Kimura:
I wonder why that happened (laughs). I knew that it would be such a reaction, but my personality was mean and I would do it.
G:
(Lol)
Kimura:
Later, I'll pull it out myself, 'I don't have this,' but after all I'm thinking of putting out something that has an impact first. I wonder if everyone said 'I don't like this' this time. Originally, I think I was able to be a little quieter, but ... In the past, there would have been a policy of distributing 100 million yen to each local government.
G:
It is said that some local governments bought gold nuggets. (* '
Furusato Creation Project
')
Kimura:
It's like using that. I think it suits the times.


G:
As for the first question, in the announcement of the release of 'Nikuko-chan ART BOOK at the fishing port', Mr. Kimura said, 'I thought it needed a little fun even on the premise that the original stage was Japan.' Has been said. What was this 'little fun' like?

Kimura:
When I have a job request, I think that kind of thing is complicated. I didn't expect normal background work to come.

G:
How (laughs)

Kimura:
It's a tacit understanding that you've ordered a strange job, or because it's a characteristic that you can't help but, there is a possibility that you'll even kill the character to some extent. Therefore, it may not be suitable for works with cute characters or honest characters (laughs).

G:
You said that this work was based on the image of the movie 'Chocolat ', but what kind of part did you refer to?



Kimura:
It doesn't mean that much, but the part that I thought 'it's a good movie' when I was watching the movie left an impression on me. Conceptually, 'Chocolat' had a link to the place where people who came to the village settled down. Also, the bird's-eye view of the town at the beginning is a good angle. So I thought it was a really good movie. As with ' Amelie, ' I think it would be nice to make a picture that might have been considered in various ways, such as color. But 'Amelie' is overkill and 'Chocolat' is just right. I'm not attacking too much.

G:
What kind of person is Director Watanabe from the perspective of Mr. Kimura?

Kimura:
I thought that this work called 'Nikuko-chan at the fishing port' fits Mr. Watanabe's production theory. The original story of 'Children of the Sea' was so great that I think there was a restriction that its interpretation should not be broken. I think it was a difficult work for anyone to do, and I think it was a pressure. In that respect, this is perfect. This time, I thought that it would be more fun than 'getting enthusiastic' because three people including Mr. Konishi could do it. In fact, I get the impression that it's just fun.

G:
What kind of person is Mr. Konishi?

Kimura:
When I was 'Children of the Sea', I was so stoic that it became tattered. So, as a common item, there was a saying, 'I think we can do it with a lighter feeling this time.' In fact, Mr. Konishi and I were exhausted, so this time I feel like I was able to do it reasonably well. Since the director is all about content, this work may be more enthusiastic.

G:
Did you get a enthusiastic order from the director?

Kimura:
It wasn't an order, but when I saw the storyboard, I felt that way. On the way, the part that I was wondering 'what will happen' was finally thought to be 'I see.' It's a performance output.

G:
It's a question that is different from the work, but how did Mr. Kimura decide to work on this kind of art?

Kimura:
I went to a vocational school and did design, but mass production of animation didn't come to my mind. As is often the case, I dropped out and quit. However, there was a
job offer for Kobayashi Productions
, a background company,
and it was written as 'The Gutsy Frog
that you can draw,' so I thought 'that's it.' You might get angry if you think it's easy.
G:
(Lol)
Kimura:
The art of 'The Gutsy Frog' was done by
Hiroshi Ohno
, who later did 'Witch's Takkyubin
' and '
AKIRA
'. I thought it was a group there, but the capacity was full. The next group was
Kazuo Oga and
Hiromasa Ogura
, all of whom were amazing people who became famous as art directors. But I was a paper, and it wasn't until after that that everyone became famous, so I wasn't aware that they were amazing people at the time, and people around me said, 'A cheeky guy came in.' Lol)
G:
There are only amazing people including Mr. Kimura.
Kimura:
Kobayashi Production's amazing people were all out, so it was cozy and quite long.
G:
Currently, you are working at STUDIO 4 ℃ in this way. What kind of connection did you come from?
Kimura:
I knew Koji Morimoto
, so I was invited when I was a '
Steamboy
', and from there.
I have known Eiko Tanaka
since '
My Neighbor Totoro
', but my job is from 'Steam Boy'. Before that,
Takashi Nakamura
and '
Totsuzen! I made a movie called 'Cat's Country Catnapped
!', And Katsuhiro Otomo and his colleagues seemed to see it and said 'to this person'.
G:
Is the work of 'art director' centered on controlling the background?
Kimura:
There are some things that cannot be said at once. In my case, I'm the type who doesn't understand unless I draw the background myself, but this time I got a lot of help from outsiders. I was able to do it without any difficulty, so I thought it would be nice to have such a short-term intensive work.
G:
I think that you may make corrections in background art, but when do you make corrections?
Kimura:
Well, maybe when something terrible comes ... but it might be thrown away instead of fixed. In order to prevent such a situation, I try to make not only the board but also the whole background, the necessary points, the feeling of the ground, etc. It's unreasonable to just hand over the board and say 'do it'. It is best to have them judge by looking at the ones that are close to them. Now that it's digitally made into parts, it's completely different from what it used to be.
G:
I heard from Mr. Konishi that Mr. Kimura gives a 'hand-painted feeling'.
Kimura:
In my case, I make parts from analog, so I think it gives a 'hand-drawn feeling'. Since all digital is made on the screen, it will be a little glaring, or the backlight will make the colors look beautiful and dark.
G:
Oh, I see.
Kimura:
The work that comes to me is to some extent 'old-fashioned', or the background that is drawn firmly and is drawn on paper is ordered, so I took the process of drawing and incorporating such a thing. is.
G:
What kind of part do you find to be an impressive work for this work?
Kimura:
In terms of art, rather than 'where', do you say that it is meaningless if everything is not good on average? Not only in movies, but also in TV works, if there is something strange even with just a few cuts, even non-professionals will get the impression that it is not good. The fact that 'something is not good' itself makes everything negative. Therefore, it is important not to put in bad things.
G:
So that's it.
Kimura:
Anyone can do 'only one is amazing', and I think the most important part of this job is to aim for above average as a whole. However, since the beginning is important in any work, it may be said that Kikurin's explanation of Nikuko-chan is particularly impressive in this work. Because it's 'meat child', I have to put meat in it, so the building is made of meat, the utility pole is wrapped in bacon, the meat is flying ... I am.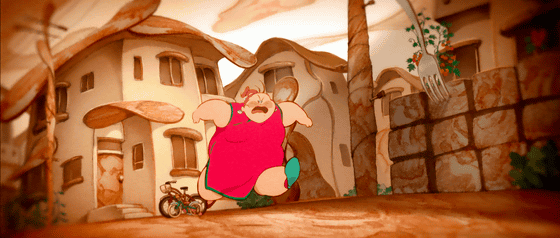 G:
Finally, please give a message that pushes your back to those who are thinking about going to see this work.

Kimura:
There are some live-action versions of Kanako Nishi's work, and the live-action film may be more like Nishi-san, but 'Gyoko no Nikuko-chan' is a work that may have problems if it is a live-action film ( (Laughs) I think there is a correct answer because it's an anime. Many of Nishi-san's works cover everything, both fun and relaxing, and I think that this work has exactly that Nishi-san's character, so I hope you enjoy watching it. ..

G:
Thank you for today.

The 'Fishing Port Meat Child ART BOOK', which includes art settings and background art by Mr. Kimura, character settings and animation director corrections by Kenichi Konishi, is on sale for 2750 yen including tax.

Gyoko-chan ARTBOOK | Beyond C., Kenichi Konishi, Yukie Saeki, Miyuki Ito, Shinji Kimura | Books | Mail Order | Amazon