Interview with Shinji Ishihira and Yuji Suzuki of 'EDENS ZERO', an animated version of Hiro Mashima's popular manga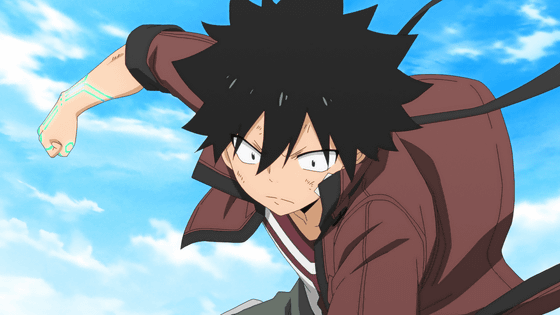 The anime 'EDENS ZERO ' based on Hiro Mashima's manga serialized in 'Weekly Shonen Magazine' is about to finish the first broadcast. Majima's work is the third animation following 'RAVE' and 'FAIRY TAIL'. Director Shinji Ishihira and director Yuji Suzuki, who are working on this work, are in charge of continuing from the animation of the previous work 'FAIRY TAIL'. We asked him about the fact that he was selected because he was accustomed to Mashima's work, and what kind of points he had a hard time making.

ANIME --Edens Zero Official Website

https://edens-zero.net/anime/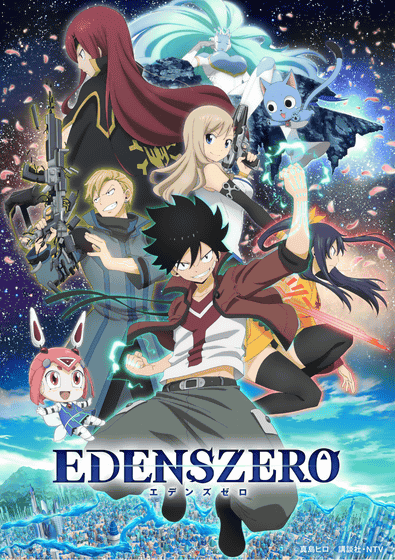 GIGAZINE (G):
How did you come up with the story of 'EDENS ZERO' animation in the first place?

Shinji Ishihira (hereinafter referred to as Ishihira):
Until then, JCSTAFF, the creator of 'EDENS ZERO,'
had only helped conte
via producer Matsukura. However, one day, I received an email from Mr. Matsukura saying, 'I'm going to do'EDENS ZERO', so I'm looking forward to working with you.'
G:
(Lol)
Hei Seki:
After
the final series of 'FAIRY TAIL
' was over, I contacted the place where I thought that I wouldn't come to my place. I had a plan for about two years from now, and until then I had been trying to 'don't refuse what came', but I was seriously worried about what to do because it might overlap with other titles. .. So I answered, 'I'm the general director, and I'll do it if it's okay for another person to stand as the director.'
G:
That was the background.
Hei Seki:
In the flow of the story about what to do with the director, Mr. Matsukura asked 'Is there anyone?' And Mr. Suzuki had asked me to enter several titles, so it will be the director soon. I called out to him.
Director Yuji Suzuki (hereinafter referred to as Suzuki):
Mr. Hei Seki called me and said, ''EDENS ZERO' has been accepted.' I said I would never come (laughs)
Hei Seki:
You said a lot (laughs)
Suzuki:
I've been saying this for half a year during the final season of 'FAIRY TAIL'. The serialization of 'EDENS ZERO' started, and he said, 'This is the pressure for those who undertake anime.' Another work called Mr. Mashima is also a big name work that has been animated, and the work itself is also large in scale.
Hei Seki:
It's hard to travel to the next star.
Suzuki:
Space battleships are coming out ... 'We will decorate the endless beauty of'FAIRY TAIL'and support the people in charge next,' he said. That was ... at the time of the launch, when Professor Mashima greeted him, Mr. Hei Seki said, 'I'm waiting for'EDENS ZERO'!' Mr. Mashima couldn't decide to direct the anime, so there was a scene where he laughed bitterly at each other. I got a call at the very end of the year.
Hei Seki:
so. I had heard that JCSTAFF was going to do 'EDENS ZERO', so I thought, 'If so, someone other than myself would be the director.'
Suzuki:
At the time of the '
Incompetent Nana
' rush when Mr. Matsukura of JCSTAFF called me, Mr. Ishihira was unusually silent, so I once asked 'What happened?', But I heard it later. When I tried it, it was a time when I was worried.
G:
There was such a flow. Watching 'EDENS ZERO' on air this time, I was surprised at the scene where Happy transforms into a blaster. In the original, it was a simpler expression, but how did it feel like such a deformed and united robot?
Suzuki:
'I want Happy Blaster to be transformed properly' was an order from Dr. Mashima. I want you to transform it into a 'mecha' rather than a 'transformation' or morphing. I was worried about what to do for a long time, but at the end, the person in charge of drawing made a clear decision in one shot, and everyone was very satisfied and relieved.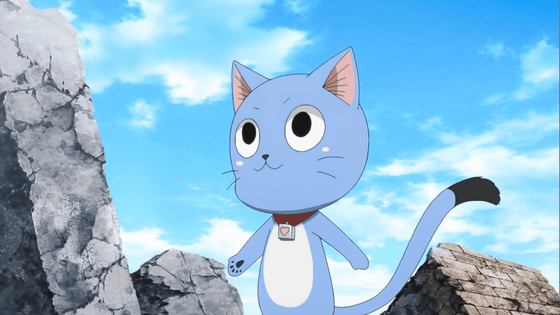 G:
Oh, I see. Was there anything like a request other than the transformation?

Suzuki:
Other than happy, the dots of light flowing in the ether gear ...

Hei Seki:
Also, regarding Shiki's action, it was an order that I wanted you to use gravity best from the beginning.

Suzuki:
Well, that's what makes me feel like that.

Hei Seki:
In 'FAIRY TAIL', there was a movement in which Natsu released the magic of flames like a fixed battery, then ran and hit him with flames, but there was almost no direction of 'flying in the sky'. So, the opposite is true. Spaceships will also come out, so 'fly a lot'. The structure of the action is completely different.



Suzuki:
Rather, 'FAIRY TAIL' is characterized by 'I can't fly without happiness', but 'EDENS ZERO' floats in the air from the beginning, so I will focus on that. The same is true for manga, but I asked for it again.

G:
What was the difficult or difficult part of your work as a general director and director?

Suzuki:
Where it was difficult, where it was difficult ... where is it?

Hei Seki:
I don't have one (laughs)

Suzuki:
'I'm in trouble here!' Hasn't happened (laughs)

Hei Seki:
If anything, 'How far do you order the 3D model?' Or 'Because this is done in 3D, I will postpone the content of the number of stories in front and have the CG battle action part done first', etc. There was a difference. Because the original is like this, there is no such thing as.

Suzuki:
It has been decided to fit 3D as a studio pipeline, and it works according to the schedule, but 3D tends to have meetings and making things first, so it feels like it has become an irregular movement. .. However, it is within the scope of normal manufacturing.

Hei Seki:
I wasn't a big fan of CG, but this time, 'EDENS ZERO' changed my perspective. After all, it is better to have CG.

Suzuki:
Space battleship, I can't draw it every time.

Hei Seki:
It was great that vehicles and night gear could be created with CG.

Suzuki:
It wasn't a problem, but rather a relief (laughs)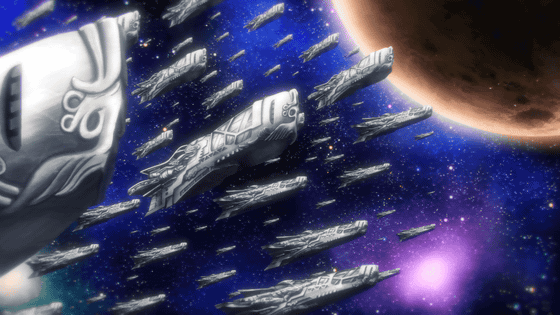 G:
In that very space battleship, there was a scene where the ship name was finally revealed at the end of episode 7. In the manga, the battleship appeared in a spread, and the name was quietly understood by the balloon, but in the animation, the battleship's mark work logo overlaps, and the ending theme flows there, which is an impressive production. Was there. Whose idea is that expression?

Suzuki:
I don't have the image of 'changing from the original' so much, it's like 'we saw the original'. The contest is Mr. Hei Seki.

Hei Seki:
In the 7th episode, it was decided at the stage of the script meeting that 'the work logo and the mark of battleship Edens Zero will be overlapped'.

Suzuki:
What I was particular about when making the anime was Homura's Soul Blade. In manga, if it's that frame, I already have it, and it's okay if it disappears, but in animation, I'll draw the parts that appear and disappear, so I was particular about making various orders.

Hei Seki:
The mechanical system is not a fantasy, but a mechanical description called 'mecha'.

Suzuki:
Although it is 'Space Fantasy', it was an order from Professor Mashima that I wanted the mechanical depiction to be persuasive.

Hei Seki:
As for the feel, I try to leave a mechanical part.

Suzuki:
The atmosphere is different from the crunchy military, and although it is in the category of fantasy, it feels like Gacchan moves because it is 'if it is a fun mecha'. It's a fun part even if you do it as an animation.

Hei Seki:
And I got hooked on 'Space Cobra ' at the perfect timing.

Suzuki:
Certainly, the number of stories I'm working on may have more 'space cobra' elements (laughs). In that way, there are times when something that suddenly sprouted in Mr. Hei Seki came in and made me feel good. One day, 'I'm worried about the mercenary corps Ganov.' It's neither Mosco nor Jin, it's the enemy that isn't the best, right? But he said, 'Isn't it interesting to move Ganov's earlobe one by one?', So when I told him, everyone in the studio actually did it, and as a result, it was a little fun.

G:
(Laughs) Is there anything else you've done like 'It's fun to do this?'

Hei Seki:
Since my pattern is to build up such things in detail, I may be doing something like 'If you do this' in unexpected detail. Of course, there are times when we do something like 'needless to say'.

Suzuki:
I think that the ratio of new elements appearing in Mr. Ishihira's contest charge is high.

Hei Seki:
'Because it's a mecha, you can break it violently.'

Suzuki:
Well, I think the depiction of the fake sister is a little more detailed than the original. That is Mr. Ishihira's hobby.

Hei Seki:
'Because it's a machine, let's break it more.'

Suzuki:
It's like a 'metal splatter'.

G:
A dialogue between Director Ishihira and Shoji Masuda was posted on Famitsu in 2014, saying, 'In the first place, the studio where I first got a job was a company that was also working on animation while making games. I like games, and when I entered the company because I thought it was good, I was turned into an anime. ' I get the impression that the topic of games, especially 'Monster Hunter', is often tweeted on Twitter. What kind of games have you played so far?

Hei Seki:
The first studio I entered was also making PC games, so I had a connection. After all, did you develop software up to Dreamcast or Sony PlayStation? However, I wanted to make action and shooting anyway, but I was making a text-based adventure. As a player ... Right now, it's ' Monster Hunter '.

Suzuki:
I hear about 'Monster Hunter Rise' almost every week. At first it was a bow, but after I recommended it, I became a gunlance and said this week that 'Charge Ax is fun'.

Hei Seki:
Basically, I like open world games that are mainly Western games and lick for dozens of hours.

Suzuki:
By the way, Mr. Hei Seki is a person who does not proceed with the main scenario at all and is just a free scenario (laugh). I feel like I'm on a par with people, but I'm glad I was able to keep up with Mr. Hei Seki's Western game story thanks to the fact that I happened to move on to Sega Saturn and Xbox 360. In the end, I think, 'If you own all the hardware, there will be no hard war.' This time, I also reviewed 'GRAVITY DAZE ' as a game that seems to be related.

Hei Seki:
I heard a story that Mr. Majima was referred to.

Suzuki:
Certainly, when I met him, I asked him a straight ball (laughs).

G:
Eh (laughs)

Hei Seki:
It was a story that 'there is also that', so I touched it to know the feeling of movement.

Suzuki:
However, Professor Mashima had a different image, and it was just a 'reference'.

Hei Seki:
As a result, I realized that it was 'a completely different thing.'

G:
Looking at Twitter, it seems that the two of you have been working together for a long time. Is this a big connection with 'FAIRY TAIL'? What was the reason for that in the first place?

Suzuki:
At the beginning of the second phase of 'FAIRY TAIL', I was involved in drawing, and when I asked the production company Bridge 'I want to do the production soon', Mr. Hei Seki gave me an OK and I became involved as a production. It was. Then. I didn't even meet face to face when I was drawing. Actually, I think that there wasn't much difference compared to other directors in the place where I worked on several productions ...

Hei Seki:
No, it's great that you can draw the effects yourself. It became 'Mr. Suzuki of Atlas Flame' for a while.

Suzuki:
Ah. Since I'm from drawing, I used to draw my own hands, but I was in charge of the 'Atlas Flame' dragon, which is a whole-body flame that appears in the work, and the movement of the flame that is not in the setting. I added it myself, but it seems to be memorable.

Hei Seki:
Then, after all, ' Hebot! 'right.

Suzuki:
From the last of 'FAIRY TAIL' to 'Hebot! ], I was able to entrust the storyboard to me, and I wondered if I was particularly impressed with the sixth episode.

Hei Seki:
The impression itself was a little while ago, 'Hebot! At that time, it was 'I should leave it to you' (laughs)

Suzuki:
At that time, the collar had already been removed ... I never had it in the first place (laughs). It's rarely said that 'this is better'.

Hei Seki:
I'm laughing at what's coming up.

Suzuki:
I followed that, and when I saw what came up from everyone, I was laughing, 'Oh, that's good. However, I am careful that 'some people want you to be careful'.

G:
Director Suzuki once uploaded a high-quality video to Nico Nico Douga under the name of 'Autumn Leaves Brush Club'. That's why I was strangely convinced when I saw the OP / ED of 'EDENS ZERO' and saw that the storyboard / director had the name of Director Suzuki, but how did you make the cool movement? Did you?

Suzuki:
Regarding the action scene of the OP, there was some agony (laugh)

G:
Not 'one' (laughs)

Suzuki:
That was finally completed by the power of JC STAFF's drawing staff. Apparently, I can draw the type of storyboard that the animation director will be happy to receive. I'm a drawing manga myself, so it's easy to understand even if I don't say 'I want to do this kind of thing' or 'I want to do this kind of thing'. But in the end, I think it's the power of the drawing staff of each part.

G:
The songs are also snapped together, but are you making fine adjustments?

Suzuki:
As for the work flow, I sometimes get a spotting sheet with a detailed 'here' mark, or I follow it in detail by editing ... It may be because I like music videos. Hmm. But I don't think it's doing anything special compared to other works. But if you feel well done, you're lucky.

G:
Mr. Ishihira was tweeted on Twitter that 'work progresses with the remote effect'. What kind of effect does remote work have?

Hei Seki:
First of all, the time spent on moving can be used for work, so it is great that the work time can be increased purely. At the moment, I try to get only the acoustics, but other than that, I can do things like meetings while working at home, and conte work at hand while having a meeting, so I can say 'progress', or the amount I can do has increased. It was. However, there is also the negative effect of the extremely reduced movement ...

Suzuki:
The amount of exercise is reduced, isn't it?

Hei Seki:
The store is crushed without knowing it. But at least when it comes to work, I feel that things are going very smoothly.

G:
When creating scenarios and storyboards from these original manga works, I think there will be parts to adjust so that they fit on the scale of the broadcast. At that time, what are the criteria for 'leaving here' and 'cutting here'?

Hei Seki:
Regarding this work, episodes with a lot of action tend to be too long, so I adjust it by adding a synopsis and scene description. By the way, I avoid adding scenes that are not in the original. In the case of an episode where the scale is not enough (more explanation), it seems that even if you scrape from the overscale, you are scraping fine words within the range that you can understand the intention, as long as you do not feel uncomfortable. I just want to faithfully animate the original, and I also want to see it as the original (especially this one).
As expected, a certain amount of volume is controlled during the script work, so there should be no ridiculous overscale or shortage in the contest work. Finer nuances are adjusted during dubbing. As long as it doesn't feel strange from the original.

G:
When Mr. Ishihira talked with Mr. Shoji Masuda in 2021 in line with the broadcast of 'Log Horizon Round Table Collapse ', he said, 'I'm imitating Mr. Masuda's way of reading the book of my work.' I'm doing pretty well following the idea of (laughs). ' Is this idea followed in 'EDENS ZERO'? What is it like?

Hei Seki:
Regarding the 'technique' at the time of the dialogue of Log Horizon, it will be a story of the mechanism for each number of stories. However, it has nothing to do with this work, and it will be applied to another work before the announcement (even at this stage). The flow of 'EDENS ZERO' is so complete that you don't have to apply that technique from the beginning. ...... I don't understand that area just by reading it, and I realize it again in the work process of animating it. There are many places where the content of the technique is similar to the method in the weekly serialization of Professor Mashima, but it is a corporate secret.

G:
So that's it. Thank you for talking with us!

'EDENS ZERO' is being broadcast on Nippon Television Network every Saturday from 24:55. In addition, it is being exclusively pre-delivered on Netflix / Hulu.

Anime 'EDENS ZERO' Non-credit opening / Takanori Nishikawa 'Eden through the rough' --YouTube

©真島ヒロ/講談社・NTV