Interview with director Shinichiro Ueda & director Miyuki Fukuda of the anime movie '100 Days Live Crocodile'.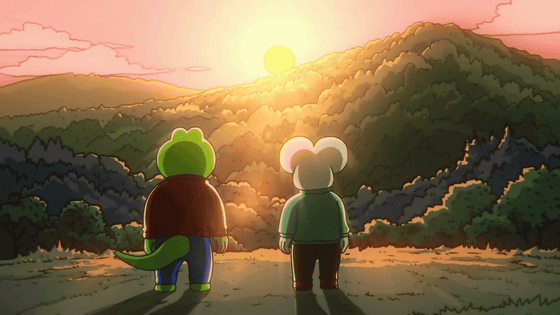 From December 9, 2019 to March 2020, the anime movie ' 100 Days Live
Crocodile
', which was serialized on Twitter and attracted attention, will be released from July 9, 2021 (Friday). It is open to the theater. This time, I had the opportunity to interview Shinichiro Ueda and Miyuki Fukuda, who were the directors, so I asked them how they made the work.
The official website of the movie 'Crocodile that lived for 100 days'
https://100wani-movie.com/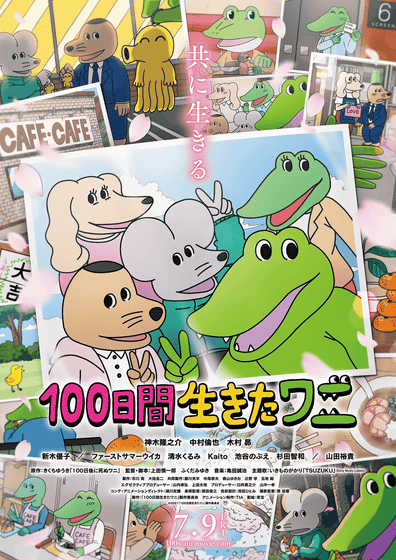 GIGAZINE (G):
Director Fukuda tweeted that the production of this work was the first time for the two to be co-directors and screenwriters in the same standing position. In an interview with CREATIVE TRAIN, Director Ueda mentioned that they are in charge of each other's strengths. What kind of roles did you divide into?


[Vol.28] Shinichiro Ueda (Film director) ''The crocodile that lived for 100 days' will be a strange movie ...? A valuable interview before the release of the topical work [CREATIVE TRAIN] --YouTube
Director Shinichiro Ueda (hereinafter referred to as Ueda):
Even in my director's work, Fukuda is always helping me as a staff member, but I trust Fukuda in costumes, art, and, broadly speaking, visual aspects. Also, regarding the subtleties of women's minds, I try to believe what Fukuda says.
Director Miyuki Fukuda (hereinafter referred to as Fukuda):
I've been painting for a long time, so I made some minor adjustments to my facial expressions. Ueda's style is always more like 'entertainment', but since I have a lot of daily life, I think that this time, the amount of time and daily conversation was a big part of believing in me. I believe in Ueda when it comes to editing and composition, the sense of balance that goes into entertainment, the sense of tempo, and the part of 'I want to add sound at this timing.'
G:
So that's it. Regarding this work, in
an interview
with Weekly Playboy, 'I brought in a plan for making a live-action movie about the 30th day. It was put on hold once, but after that,' Mr. and Mrs. Ueda made it with animation. How about it? "Was suggested.' If it had been made into a live-action movie, would the crocodiles have been acting as human beings by real actors instead of CG?
Ueda:
Well, in live-action, I didn't wear a headgear, but I wanted to replace the characters with humans and make a movie that spells out everyday life.
G:
If it was a live-action film, was the content different from this animation?
Ueda:
I think it has changed. In the case of a live-action film, it will be a 'human modeled on the crocodile', so if you take over the character as it is, whether it is a crocodile, a mouse, or a mogura, I think it will be strange. That's right. So, the events that are happening may have been traced to some extent, but I think the characters were completely different.
G:
In the same interview, there was a story that the script was originally a script that was faithful to the original and the last 5 minutes was a later talk, but the script was changed due to Corona. In fact, when I saw the main story, I felt, 'Is it going to be drawn so thoroughly?'
Ueda:
Is it 'thorough'?
G:
I thought that I would take a closer look at the loss of the crocodile's disappearance. I got the impression that it was a Japanese movie.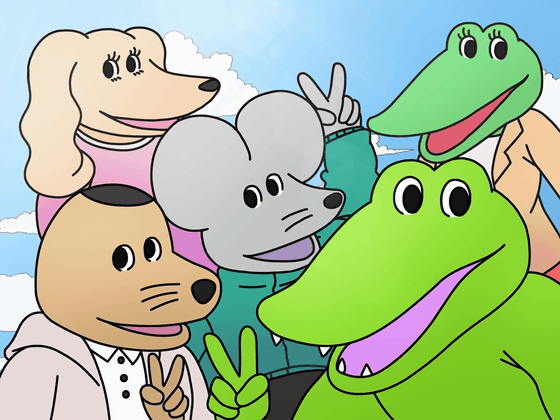 Ueda:
When it came to making anime, the concept was to make an anime that looks like a simple Japanese movie. We can't help fighting on the same ground as the people who have been making anime, so we decided to make our own work. In the second half, after the corona wreck, I thought about what kind of story I wanted to see now, thought about the outline of what I wanted to rewrite, and discussed with Fukuda to polish it.

Fukuda:
At a meeting including the original author,
Yuuki Kikuchi,
we discussed the direction of the discussion at a later date. It was decided that a new character would be added, and that was Frog-kun, so I first created a scenario for the platform, Ueda fixed it, and I rewrote it again.
G:
What kind of points are connected to the 'Japanese movies' that you can see and feel?
Ueda:
I think it's a 'pause'. Hollywood movies generally have less 'pause'. There are exceptions to Japanese movies that are like Hollywood movies, but I think that the time without dialogue leads to that feeling.
Fukuda:
The original work itself isn't superfluous, and it feels like everyone can imagine the space between frames. In normal animation, there is a dialogue between pompoms and lines, and the development is tightly packed, but in expressing the 'pause' that makes you feel the connection between frames.
I think it's better to make it a Japanese movie to reduce the charm of the original. I think it's best to let people feel a lot more time than ordinary animation, so it has become the current form.
G:
Director Ueda is conscious of 'making it precisely, destroying it on site, and playing it back by editing' when making a movie. Without this destruction process, it would be beautiful and cohesive. I feel like it. ' What is 'destruction' in this work?
Ueda:
This is like 'preparing something that cannot be avoided'. This time, we received opinions and advice on the script from Mr. Kikuchi, and as an animation director, we have
Mr. Tomonori Kogawa
, a legend in the animation world, participate. If we go in this group, we will be inevitably destroyed to some extent ... In other words, in a good way, we will not be able to do what we want. I think that creating such a group or situation that goes beyond our minds and desks is the 'destruction' in this case.
G:
Oh, I see.
Ueda:
Also, there is another easy-to-understand 'destruction', and animation usually involves deciding the scale and then making the necessary pictures, but this time after recording the lines, 'In this way, the scale is about this. I want it, 'he said, changing the scale quite a bit based on his voice. It seems that this is impossible in animation production, and it may have made it quite impossible, but the feeling like a Japanese movie, the unique maai, was not created by the destruction here. I think.
G:
What kind of advice did you receive from Mr. Kikuchi?
Fukuda:
Crocodiles have a unique dialogue, and I feel that there is something like their way of talking. The lines we wrote also seem to be different for Crocodile-kun, so I asked Kikuchi-san to look at them and tell me that they would develop a conversation like this, or that they would use this phrase. I did. Also, as what Kikuchi cherishes, he firmly said that he does not want to affirm only one path, 'This is the correct way of life' after the death of Crocodile. rice field. You may or may not move forward. I was very concerned about the idea that everyone who saw it would be affirmed, and I wanted to take good care of it. We talked about the view of life and death, how it would be received, and how it would be output.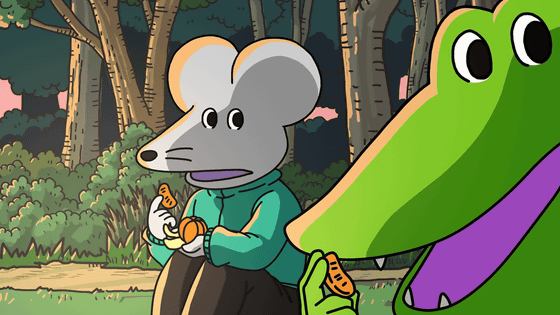 G:
As for the question once away from the work, the director has set up the official blog ' push your back ' in Ameba Blog, but the update has stopped since February 3, 2017. Is this because Twitter etc. have become the mainstream?

Ueda:
I just quit writing blogs (laughs), but it's true that various SNS such as Twitter and Facebook came out, and I stopped writing blogs before I knew it. Do you feel that the place you send out has changed?

G:
In an interview with Agenda Note in 2019, there was an episode when this blog was on fire, and it was said that he was able to overcome the fire, 'Is it because there was a companion beside me who made me laugh at the fire? I've been living together for a long time, and even if it's a criticism, I'd be grateful as a creator if there was some kind of reaction. ' 'The crocodile that dies in 100 days', which is the original of this work, was on fire on the net after the final episode was released, and I think that the work of this movie was risky, but how was it received? Did you?

Ueda:
You're really looking it up (laughs). First of all, it burned on the day of the final episode. However, the proposal was published about 30 days after the serialization started, and the production of the movie started before the final episode. The movie adaptation and merchandise sales were announced immediately after the final episode, but it didn't happen at all. I didn't think 'I want to do it because I'm doing it', but 'I want to make a movie based on this original'. Of course, it was on fire, some anti-people came out, and my spine was even stronger.

Fukuda:
It feels like we were concentrating on facing the work in good faith.

Ueda:
As readers, we read the final episode without knowing the ending, so we can understand the criticism that the sale of goods came out all at once, after all. Because of this story, I can understand the feeling that I wanted a lingering sound. However, at that timing, I can understand the feelings of the people who sent out with a motivation, 'I want you to know more about this story.'

G:
' Don't stop the camera! In an interview with FILMAGA that was held on the 95th day after the release, Director Ueda said, 'If I succeed or become rich, I think that happiness for me may escape. I mean ... there are some places where I live so that I don't succeed ... When I succeed, maybe the most enjoyable time is over. ' What was the most enjoyable time in making this work?

Ueda:
Where was the fun time ... No, it was really hard (laughs). There were about three times when I thought it was too difficult and I couldn't do it anymore.

G:
(Laughs) What was so hard?

Ueda:
Really ... I couldn't say it, it was the last minute of the deadline. It wasn't once or twice that 'no more' passed, but at that time everyone clenched their teeth and decided 'it's okay, let's do it' and took a step in the blood. Time is the type that burns the most (laughs)

G:
(smile)

Ueda:
It's a moment when you feel like you're alive or making something.

Fukuda:
This time, I feel like I've been running with anxiety. It's the first time that it's the original, and it's also the first time I've asked a production company to make an anime. As a production company, we were confused because we were overwhelmed by the challenges, and we made it while approaching each other. In the second half, the feeling of team or groove came out, and everyone had an atmosphere like a comrade, and I was very happy when I felt, 'Oh, I'm making a work together.' ..

G:
In the same interview, Director Ueda commented on the expected next film, 'I think it's the worst thing to fall halfway. It's best to go into defense and make about 60 to 70 movies. The damage of the turn. I feel that 'OK' is the most dented, and it is the most difficult for creators, isn't it? ' How does Fukuda see Ueda's thoughts?

Fukuda:
I agree with that. The reason why I got married to Mr. Ueda is that I got married because I couldn't read what kind of life it would be like.

G:
(smile)

Fukuda:
There are places where it's not fun to marry someone who can see the future, so it's like Ueda-san's feeling of rebirth, or even if he falls, it doesn't happen. I borrowed money about twice and paid it off on my own (laughs)

Ueda:
(smile)

debt:
I like the feeling of not dying just like 'zest for life', so I think that he is a person who will definitely get up no matter how many years it takes, even if he gets ridiculously criticized. I think that's more interesting, so I think, 'If you're in the defensive, do it.'

G:
How about as director Ueda?

Ueda:
No, no, no, ok. Even if you ask me (laughs), I think that's the case with Fukuda, and I'm grateful. Not many people will say that.

G:
I asked some strange questions, but thank you for your time today.

The movie 'Crocodile that lived for 100 days' is being screened at movie theaters nationwide.

Movie 'Crocodile that lived for 100 days' notice [Released on Friday, July 9] --YouTube

©2021「100日間生きたワニ」製作委員会