Xiaomi finally takes first place in global smartphone market share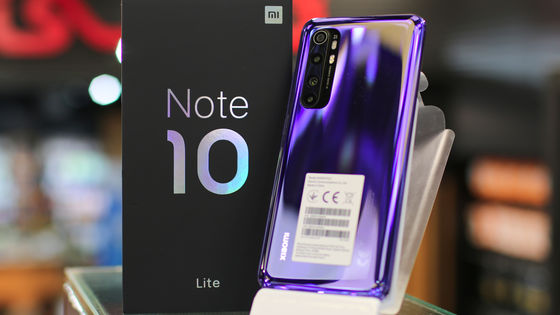 Chinese smartphone maker Xiaomi has been
revealed to
have the highest smartphone shipments in Europe in the second quarter of 2021 (April-June). And newly, from the '
Global smartphone sales share data in June 2021
' released by research company Counterpoint
, it is clear that Xiaomi's smartphone sales share in June 2021 has finally reached the top of the world. ..
Xiaomi Becomes # 1 Smartphone Brand Globally for First Time Ever
https://www.counterpointresearch.com/xiaomi-becomes-1-smartphone-brand-globally-first-time-ever/
According to Counterpoint's monthly report, Market Pulse,
which checks the market share of mobile devices based on shipments, Xiaomi overtook Samsung and Apple in June 2021 for the first time as 'the manufacturer with the largest smartphone sales share.' 'have become. Xiaomi's sales in the same month increased by 26% month-on-month, and in June 2021, it became the 'fastest growing smartphone maker'.
The graph below shows the percentage share of Xiaomi (orange line), Samsung (blue line), and Apple (black line) in global smartphone sales by month. As of January 2015, Samsung had 21.9% of the market share, Apple had 14.2%, and Xiaomi had 5.2%, and Xiaomi's sales share was far from the top two, Samsung and Apple. However, after that, the monthly sales share increased, and in June 2021, it finally reached the top of the sales share. It is a graph that clearly shows that Samsung and Apple have not increased their sales share so much while greatly increasing or decreasing their sales share, but Xiaomi has steadily increased its share.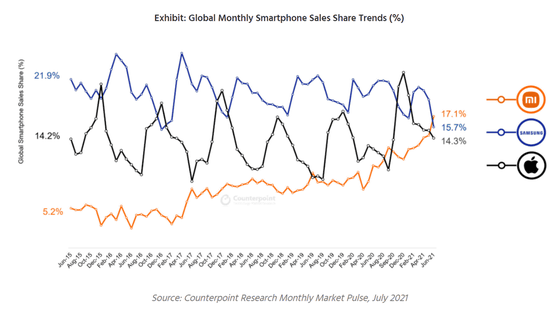 In addition, Xiaomi is the
world's second largest smartphone maker in terms of sales in the second quarter
of 2021, and since its establishment in 2011, it has sold a total of 800 million smartphones.
'OEMs
continue to expand in markets such as China, Europe, the Middle East and Africa where Huawei and
Honor
had a large share,' said Tarun Pathak, Counterpoint Research Director. In June 2021, Xiaomi It was helped by the economic recovery in China, Europe and India, and the decline in Samsung's share due to supply restrictions. ' This is because the
United States has imposed transaction restrictions on Huawei and related companies,
and manufacturers such as Xiaomi and Samsung, which manufacture Android-equipped smartphones, have expanded their sales share in regions such as China, Europe, the Middle East, and Africa. It means that you are doing it.
In addition, the company's senior analyst, Varun Mishra, said that Xiaomi actively marketed and increased sales at China's largest e-commerce sale '618 sales' held on June 18, 2021. , Pointed out that it led to an increase in sales in the same month. Meanwhile, Samsung suffered an accident in June 2021 that production would be suspended due to the spread of the pandemic of the new coronavirus in Vietnam, where one of its manufacturing plants is located. As a result, Samsung was out of stock and couldn't grow sales as expected, Mishra points out.
'If the situation in Vietnam doesn't improve, Samsung's production could continue to be hit, and Xiaomi could continue to grow its share of sales,' Counterpoint said. However, if Samsung's production recovers, it is quite possible that it will regain the top share in sales.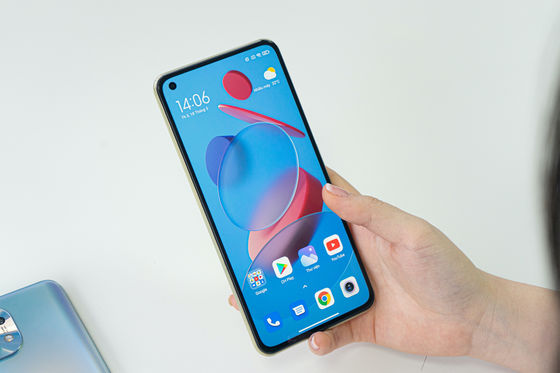 Looking at the second quarter of 2021 (April to June), Samsung ranked first (58 million units), Xiaomi ranked second (53 million units), and Apple ranked third (4900) in terms of worldwide smartphone shipments. (10,000 units). The second quarter of 2021 was a record high for Xiaomi, and it is analyzed that shipment growth in China, Southeast Asia and Europe led to an increase in market share.