TikTok strengthens efforts to protect teenagers, limits the amount of time push notifications can be received, etc.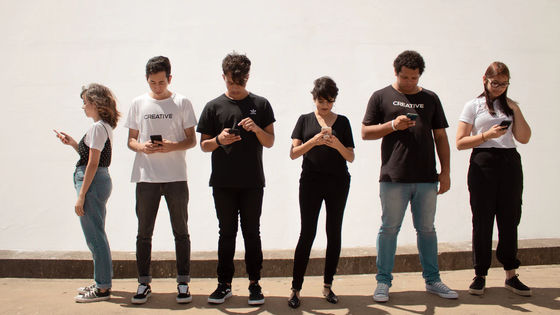 'The
most downloaded app in the world
', TikTok has announced new feature changes to
protect children, following private accounts for users under the age of 15 and disabling video downloads.
Furthering our safety and privacy commitments for teens on TikTok | TikTok Newsroom
https://newsroom.tiktok.com/en-us/furthering-our-safety-and-privacy-commitments-for-teens-on-tiktok-us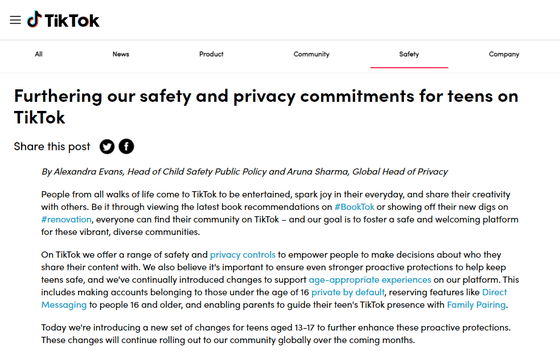 There are four major changes:

1: Direct message (DM) privacy settings
If the new user is 16 or 17 years old, the direct message setting will be 'No One' by default, and you will have to switch the setting to send a message to another person. Also, if your existing account has never used the DM feature, you will be prompted to confirm your privacy settings the first time you use the DM feature.

2: Selection of people who can watch the video
When users under the age of 16 publish their first video, they will now see a pop-up asking them to choose the scope of the video (who to show it to). Unless you choose, you will not be able to publish the video.

3: Select who can download the video
A function has been added to display a confirmation dialog when other users download videos of 16- and 17-year-old users. Please note that video downloads by users under the age of 16 have already been disabled .

4: Limit of push notification reception time
To help teenagers develop positive digital habits, push notifications are limited to 21:00 for accounts aged 13 to 15 and 22:00 for accounts aged 16 and 17.

The changes will be rolled out over the next few months.